Apologies in advance for such a long piece. I didn't realize how long it would be until I started writing it. I hope you enjoy the existential threats that keep me awake at night.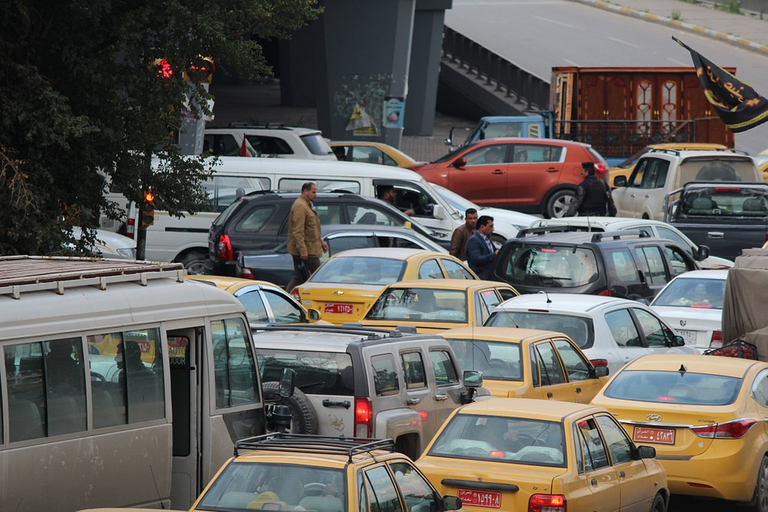 Image Source
"It all started a month ago", detective Murad told The Green Day journalist Salma "I have been noticing feelings of unrest in Baghdad before that, people, especially men, walking more overwhelmed with their heads facing down. They almost seem like walking ghosts"
"And what happened a month ago?", Salma asked "Are you talking about the case of the man who killed his wife that I came to interview you about?"
"There was a case before that", Murad answered "At six in the morning I got a call telling me about the case of a man who was run over by a moving train. A suicide according to six people who saw him. It was an open and shut case. The circumstances were kind of odd, however"
"How so?", Salma was intrigued.
"The man was newlywed", Murad answered "He took his life about a week after he had married his childhood sweetheart"
"Why did he do that?"
"According to his now-widow, for the entire week they were married, he couldn't get it up"
"Get what up?" Salma looked baffled.
"You know, it", Murad struggled to find the term "His self-esteem, his pony, his best leg of three"
"Huh?", Salma "What are you on about?"
"His..", Murad takes a deep breath as he looked at a baffled Salma "He.. he couldn't consummate the marriage"
"Ooooh", Salma understood Murad at last "And he killed himself for that?"
"Well, consider the case you came for me about", Murad explained "That was a slightly better outcome"
"What do you mean?", Salma wondered.
"Alaa Falih", Murad elaborated "He had a similar issue, his reaction was different to that of the groom"
"Is that what he told you?", Salma continued her line of questions.
"Not immediately", Murad answered "And not officially either, he had told me that after clearing the room. Apparently, he has been fulfilling his role as a provider, but that was the one thing he couldn't do. His wife has made few passing jokes and his reaction was deadly. However, as I said, that was an unofficial admitting of guilt. And that's where you come in"
"What do you mean?"
"After I had brought Falih into the police station, it was crowded", Murad explained "There were maybe hundreds of married couples fighting physically, a man who hit his wife, a woman assaulting her husband, and many gripping each other by the neck. Sadly, in the end, none of them was willing to share the real reason the fights broke. Some went as far as crediting it to boredom"
"And what's my role in all of this?", Salma looked eager.
"When I went to my higher-ups, all the way to minister of interior", Murad explained "They all seemed unwilling to bring it to the floor of discussion. They all claimed they had no problems in the bedroom. Some said this might be God's way of population control. I have volunteered to monitor the situation in the streets to see what's causing it, or simply how people are reacting. However, I can only do that with men. I will need you to monitor the women"
Murad and Salma parted ways. Murad had gone home. As he went to wear casual clothes in preparation for his night mission to monitor the situation in the streets of Baghdad. As he was leaving, he shared a look with his wife, a look that only meant that whatever got to the men of the cases Murad investigated lately has also gotten to Murad.
On his walk, Murad started remembering how he pleaded with the couples who were fighting outside the police station to come forward with the truth. He saw nothing but men looking down in shame. The laughter of his superiors as he brought up his case to them in order for them to shed a light on the issue he saw.
Murad walked stood in line to get what people referred to as "the magical cone". A long line with hundreds of people standing in order to get a paper cone filled with random stuff they were told to boil and drink its water before each sexual encounter.
"Do you think this would work?", Murad asked the man in front of him.
"Well,", the man said in a desperate tone "We'll try it. If it doesn't work, we'll try something else"
"What do you think is causing this?", Murad asked again.
"Beats me", the man answered.
"It has to be one of two", a man standing behind them in line interjected "There's either something in the water or something in the air"
"What will we do if it doesn't work?", Murad wondered loudly.
"Do you have children", the man behind Murad asked.
"Yes", Murad answered.
"How about you make yourself useful at home and make them breakfast in the morning instead of your wife" The man elaborated.
It was Murad's turn now to get the magical cone, he paid two hundred dollars for it. Murad continued his night tour around Baghdad until he went home to sleep.
The next morning, Murad had another meeting with the minister f interior.
"You are sounding like a broken record, detective Murad", the minister screamed "I only agreed to this meeting because you had called Iraq's liaison in the American agency Khalid and he set up this meeting. A call you shouldn't have made"
"I actually agree, sir", Murad said with a serious look on his face "I shouldn't be making a call to someone I helped in an old case to have a meeting with you to talk about saving Iraqi lives"
"Iraqi lives aren't in more danger than they have ever been before", the minister continued in anger "You are looking too deep into this"
"Sir, let me tell you about something that happened yesterday", Murad said calmly "I found that an ex-con man I arrested few times was running a scheme where he pretends to be a godsend Shiekh aiming to help all the impotence people. I paid fifty dollars to buy a chicken before going into his room, then another twenty when they took away the chicken and handed me one of its feathers. Essentially, I paid seventy dollars for one feather."
"It's not my problem you are an idiot", the minister laughed at Murad.
"That's not the issue, sir", Murad explained "I was planning to bring him in with me today to show how people are being tricked due to this pandemic. However, I couldn't get him two steps outside his base of operation without getting surrounded by people who were willing to kill me even though I had introduced myself and had a gun to their faces. They didn't even care about the fact that I exposed who he is"
"What do you think is doing all of that to them?", the minister asked.
"Sir, sex is the only source of enjoyment to these people that they can afford as it is free", Murad explained "Take away a child's toy and he will start screaming and crying, do it long enough and they might even punch you. Do you know the equivalent of that for millions of grown-ups? Could you afford to find out?"
"Fine", the minister submitted "I will bring it up to the higher-ups and The Iraqi Council of Representatives. That is all I can do"
The next day, Murad and Salma went for breakfast at a restaurant as they watched The Iraqi Council of Representatives on the T.V waiting for the case to be brought up in order for the issue to be acknowledged and investigated.
"So,", Murad looked at Salma "Did you find anything?"
"It seems that everyone is affected, at least everyone I know", Salma said "My female friends all had their husbands coming up with the excuses. I went to a female bathhouse, heard a couple of housewives talk about their husbands'... Uhm.... performance inability"
"Can you get any of them on the record?", Murad asked.
"No, I couldn't get my friends to do it". Salma explained.
"Can you at least publish something in the newspaper as an incentive or an encouragement?", Murad desperately suggested.
"I couldn't even get what you told me published, and that was on the record from an official", Salma answered "What about you? Did you find any new information?"
"Well, let's see", Murad took a deep breath "Brothels have been completely abandoned. The prices of heroin, cocaine, and other illegal drugs have gone up by four hundred percent. I bought a paper cone filled with pistachio, hazelnut, dry cucumber slices, and apple seeds for two hundred dollars. And I paid seventy fucking dollars for a feather. People have resorted to illusions, to something to numb them, to witchcraft. The worst thing we can do about it is silent as mosques and churches start to blame homosexuality, songs, and whatever it is that they believe to anger God"
"The next subject was brought up by the minister of interior", said the head of The Iraqi Council of Representatives "However, due to requests submitted by the representatives. The notion was rejected unanimously due to it going against our beliefs as an eastern, religious state"
"What the hell is happening?", Salma asked Murad "Are they not going to at least discuss it?"
"Doesn't seem like it", Murad said in a hopeless tone "The case didn't have a single person willing to be an example to study officially. Now it's just silent as the population slowly loses its mind"
"Have you noticed something?", Murad asked Salma "People stopped dating, I have yet to see a restaurant where a guy and a girl are having a meal."
"You might be right", Salma responded "Come to think of it, my fiance and I haven't spoken more than few words for the past month"
Salma and Murad walked out of the restaurant to see crowds of people fighting and punching each other. Loud screams matching the loud honks drivers press at the slight sign of traffic. People with looks of despair, anger, and desperation.
As Murad and Salma walked around by The Iraqi Council of Representatives building. They saw thousands of people standing in silence.
"What do you think is happening here?", Salma asks Murad.
"Nothing,", Murad answered "It's the mute talking to the deaf. No one is going to whisper, let alone scream about the problem. And no one is going to hear it"
"So there's nothing for the people to chant", Salma thought loudly "And there's nothing for the people to repeat"
Murad walked among the crowd standing in silence, all have their heads down. Standing in shame, desperation, and fury as they do their best to avoid ridicule and mockery. Murad stood in the middle of the crowd and screamed from the bottom of his lungs
"AAAAAAAAAAAAAAAHHHH", he screamed over and over again as the crowds chanted after him "AAAAAAAAAAAAAAAHHHH"
People then started throwing feathers in the air and paper cones on the floor.
"AAAAAAAAAAAAAAAHHHH", the chants got louder and louder as more people joined.
Thousands of security officers showed up to protect The Iraqi Council of Representatives members and the building as millions started gathering on the other side. Angry people on both sides all hoping for an eruption of any sort. People with weapons started infiltrating the crowd of angry people.
The cause of illness remained unknown, some say it was a gas the government leaked into the population to control its growth. Some said it was viruses put in the water by another country. Some say it was an experiment gone bad. Some saw it as God's punishment. But the cause remained unknown, much like who was the side that shot the first bullet outside The Iraqi Council of Representatives that caused chaos to erupt and an inside war to break.