A plantation owner with a conscience in the pre-Civil War South sounds like pure fiction, but good people have existed in the worst of times, and this novel brings some of them to life. "Down Freedom River" by Joseph Green is the first historical fiction from a prolific writer and veteran of the Golden Age of Science Fiction. A now-retired NASA scientist, Green socialized with Asimov and Heinlein and other greats from the famed "stable" of Joseph Cambell. Green is still prolific, and his foray into historical fiction deserves to be an instant classic.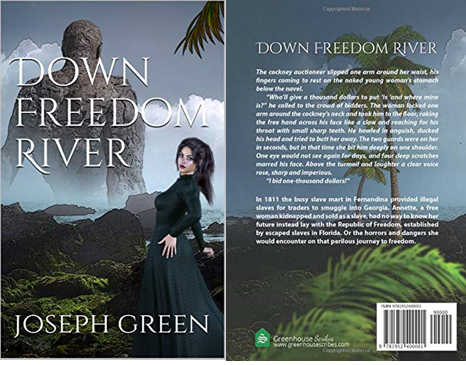 Down Freedom River by Joseph Green
Never mind the cover art--this is more than a bodice ripper!
"A narrative of struggle, of people escaping bondage and establishing a free community, only to have liberty cruelly extinguished." [1]
---
After the War of 1812, the British left behind a fort on the Apalachacola River in Florida, and it became a nation of enterprising souls who escaped the bonds of slavery. Joseph Green grew up in this region and brings it to life with strong prose and riveting characters. Most of them are fictional, but the battle that decimated Fort Negro is, sadly, a historical fact. Andrew Jackson destroyed a people, and U.S. History classes seldom mention or commemorate their incredible legacy.
In his own words, in a press release he emailed to me,
"This is a fictional treatment of an actual historical event that took place where I was born and grew up, the northwest Florida Panhandle. In the years before and after the War of 1812, over a thousand escaped slaves created a republic in what was then the Spanish territory of Florida. They occupied and farmed numerous tracts of land near or adjacent to the Apalachicola River. They took over a British-built fort that controlled ship traffic on what was then a major artery of commerce for central Georgia and the eastern part of the territory of Alabama. They reached out to slaves on plantations near the Chattahoochee and Flint Rivers, encouraging them to flee by boat to Florida and join their free community. They became an early danger to the slave-holding gentry of the lower South, who after the war applied pressure on the then Military Commander of the Southeast, Andrew Jackson, to attack them (which meant invading sovereign Spanish territory, an inconvenient fact Jackson ignored) and return the escaped slaves to their owners.
"DOWN FREEDOM RIVER incorporates the known facts in a fictional framework that provides one possible explanation of how the Republic of Freedom originated, then grew to the point where it declared its independence. The existence and tragic end of this republic made headlines at the time, but has since been largely forgotten (though a recent book by history professor Matthew J. Clavin, THE BATTLE OF NEGRO FORT, is attempting to reignite interest. I hope my fictional treatment will sell better than a historical treatise, and help accomplish that result.)"
The cover art and the excerpt you see at the Amazon site do not do justice to this story. The cast of characters is large and the storyline is packed with historical incidents and epic heroes. While most of the protagonists can be hard to like or easy to hate, a few stand out: David, the educated and emancipated slave; Annette, the free woman abducted, raped, and sold as a slave; and Louise, an abolitionist and daughter of a plantation owner. The Laudonnire family is remarkable: daughter Jacqueline is entirely lovable and vivacious; Nicholas, heir to his father's plantation, is authentic and believable, a mixed bag of enlightened white man with a conscience, and a product of his times, a womanizing cad, a spoiled white boy educated in Paris. Younger brother Louis-Charles is pure evil. Garcon, governor of Negro Fort, is a giant of a man but another womanizer who'd rape and kill if he can get away with it. All these characters and more (Shirley!) are complex, layered, believable, authentic, and vividly brought to life.
Most of us are unaware that in the early 1800s, escaped or manumissioned (freed) slaves created their own nation in Florida, "Negro Fort," a thousand civilians strong. Seminole and other Native tribes sometimes cooperated with them and sometimes worked as mercenaries for the British or the Americans to do battle with them. Neamathla, a leader of the Red Stick Creek (1750s-1841), is mentioned here as "a veteran warrior of great renown among the Seminoles" and chief of the closest village to the Laudonnire family plantation.
It wasn't just unethical men like Louis-Charles who would profit from human trafficking, "smuggling slaves from Folrida, and selling throughout Georgia as native-born ... the authorities look the other way because all the plantations need more adult slaves. Cotton requires them. And no one thinks twice of ignoring the importation act the abolitionists managed to get passed in 1807."
Even those who'd never been slaves were at risk of becoming one. "Slave catchers from Georgia and the Alabama Territory were constantly raiding into Florida. Anyone living alone or as a single family was vulnerable to capture and return to slavery." Fleeing into the swamps was their only escape, but even there, they weren't safe. With so many easy targets for the slave catchers, David and Garcon organize with a message that resounds today: "In unity there is strength. Our people must learn to live together and defend themselves, not hide like frightened rats."
Runaways and free blacks who settled along the Apalachicola began calling it Freedom River. "Former slaves now ran their own affairs, elected their own leaders, and negotiated trade agreements with other countries." Well organized, profitable and productive, these people of color proved what is common knowledge today:
"...given the same opportunities, black people are equal in every way to the whites. But southerners believe we're some sort of inferior race. They have to, or they couldn't justify slavery."
and
There was no basic difference between these people and anyone else, white, black or Indian. These freemen had thrown off the air of dumb docility which was the customary protective attitude of a slave. Here they could be themselves, and that made a noticeable difference in how they addressed others.
The purchase of a sawmill plays a shining role in this novel, and it's clear that the author worked in one. You can see, hear, and smell the blades digging into pine logs. Great description - #LOVE it!
I plan to write a longer and more detailed review, but for now, this is my urgent recommendation that readers buy this book and tell everyone about it. It's a heartbreaking story that needs to be heard and remembered as part of our nation's history, and the history of a people.
DOWN FREEDOM RIVER is now available at Amazon Books, as an e-book or quality paperback (other venues to follow).
You can read more about this author at my Wordpress blog:
Joseph Green is "Running Wild" after his NASA career–and still writing SciFi
I'm amazed at the variety of stories (seventy and still counting) Joseph Green has written over the years – so much richness, world building and character development....
Born during the Great Depression (1931), Joe Green grew up in a tiny town in the Deep South (fewer than 500 people, mostly rural), with first grade through twelfth in the same building, no kindergarten, and no special classes for the talented and gifted. Only in America does a farm boy become a rocket scientist and a legendary author, right? His work has been translated into German, Italian, Spanish, French, Polish and Dutch. His novel Gold the Man, also known as The Mind Behind the Eye (1971), may be his most famous. Joe is a charter member of the Science Fiction Writers of America, he's rubbed elbows with superstars of the Golden Age, and is himself one of those legends–but the closest he'll come to boasting is an understated I 'spose I am a member of the SF 'establishment.'
"I've been around a long time," Joe says.
Much has changed since his childhood in the segregated South, "before the racial integration that has tremendously improved our society," he writes in his Introduction to "The Seventh Floor." However, "we still have a long way to go… I took in prejudice with my mother's milk, not learning better until about age 14, when I read a book on anthropology and discovered all humans are basically equal. For many older people of that time, such deep-seated beliefs can't be expunged, which helps explain why major societal change seems to occur by generations." Only a few manage to shed old fallacies along the way–"though not without trauma, trouble and strife."
Joseph Green worked for 37 years in the American space program, building missile bases throughout the USA and later supporting the Apollo and Space Shuttle programs at the Kennedy Space Center. As a part-time freelancer he published five novels (Doubleday, DAW, Ace, Harlequin, Gollancz, Hayne Bucher, Urania) and about 80 short works, the latter primarily in Analog, F&SF, and original anthologies. Some stories translated into Spanish, French, Polish and Dutch. All five novels and one collection of shorts appeared in hardcover in the UK, with mass market reprints and one book club sale. All five novels were published in Germany (including one "Reader's Digest" reprint) and one in Italy. The five novels and a short story collection were reissued by Orion as e-books in 2011.
Now he serves as chief writer for Greenhouse Scribes. His past experience includes working as a mill hand, a construction worker, and a shop supervisor for Boeing. His formal education includes a B.A. from the University of Alabama.
The Battle of the Negro Fort: The Rise and Fall of a Fugitive Slave Community by Matthew J. Clavin
The dramatic story of the United States' destruction of a free and independent community of fugitive slaves in Spanish Florida
"A must-read for those interested in early American republic history." (STARRED Library Journal)
In the aftermath of the War of 1812, Major General Andrew Jackson ordered a joint United States army-navy expedition into Spanish Florida to destroy a free and independent community of fugitive slaves. The result was the Battle of Negro Fort, a brutal conflict among hundreds of American troops, Indian warriors, and black rebels that culminated in the death or re-enslavement of nearly all of the fort's inhabitants. By eliminating this refuge for fugitive slaves, the United States government closed an escape valve that African Americans had utilized for generations. At the same time, it intensified the subjugation of southern Native Americans, including the Creeks, Choctaws, and Seminoles. Still, the battle was significant for another reason as well.
During its existence, Negro Fort was a powerful symbol of black freedom that subverted the racist foundations of an expanding American slave society. Its destruction reinforced the nation's growing commitment to slavery, while illuminating the extent to which ambivalence over the institution had disappeared since the nation's founding. Indeed, four decades after declaring that all men were created equal, the United States destroyed a fugitive slave community in a foreign territory for the first and only time in its history, which accelerated America's transformation into a white republic. The Battle of Negro Fort places the violent expansion of slavery where it belongs, at the center of the history of the early American republic.
---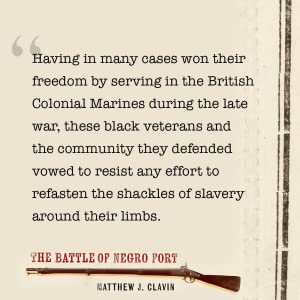 Search online for more of the history, e.g.
Abandoned by fleeing British soldiers, after The War of 1812, Fort Negro served as a rendezvous point for fugitive slaves from the Southern states in the early 1800's. Led by a man simply known as Garcia, the heavily armed fort was occupied by more than 300 Black and Native Americans.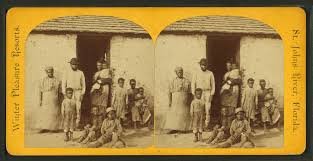 .... July 27, 1816, The U.S. Army & Navy surrounded-then launched an assault on Fort Negro. The first attack failed. But the second attack led to an explosion of the fort's Ammunition storage. An estimated 270 Fort Negro soldiers were killed & buried in a mass grave. Only sixty four of the inhabiting soldiers survived. On three of the sixty four escaped injury. The fort's leader Garcia was executed, and the rest were sent back into slavery. Fort Negro [and] nearby Fort Mose stand as little known moments in the struggle against the oppressive & violent occupation of this land, by invading European forces.
---
Reply
[1] Down Freedom River, like Clavin's The Battle of the Negro Fort, is what STARRED Library Journal calls a narrative of struggle, of people escaping bondage and establishing a free community, only to have liberty cruelly extinguished.