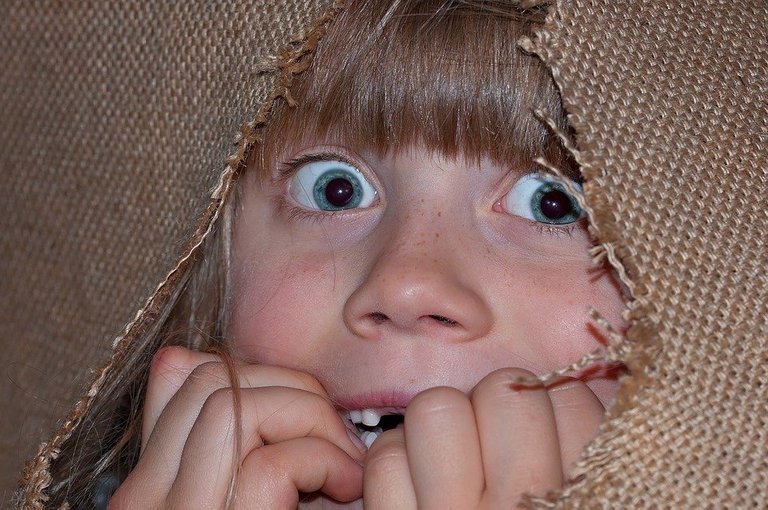 Source
It was a stormy night when Juanchito was about to go to sleep, but he could not fall asleep because of the noise of the thunder and the flash of lightning, suddenly he began to remember those horror stories that his grandfather told him in detail when he was visiting his house, then spontaneously his hands began to sweat and he felt a shiver that ran through his body.
Juanchito was very scared thinking about everything when from the closet a strange noise began to be heard: WICHII, WICHII! Juanchito immediately covered his head with the sheet, but out of nowhere, some steps were heard, Juanchito could not stop sounding his teeth as if they were castanets: TIKITIKIKITIKI!
For a moment he felt the need to peek out his eyes to see who it was? But obviously there was no one, he heard some wailing as if it was the same weeping woman, Juanchito more scared than ever threw pillows, cushions, bedspreads on himself so that no ghost would see him, but it didn't take long to hear another noise, this time it came from the room at the end of the hallway, TAC TAC TAC!
Then Juanchito very bravely ran down the hallway until he arrived screaming at his parents' room and with wild eyes and a broken voice he told them everything he had heard. His father told him not to worry, he would go and check his story himself.
Juanchito huddled with his mother waiting for his father, it wasn't long when he returned laughing loudly and giving his report he said: my son! There is no one or nothing, what you heard in the closet was some little mice that nibbled on your tennis shoes, the steps were your pet guinea pig that got into a boot that I left in the hallway, but as the animal could not find the exit it pushed and jumped to get free, but I helped it to do it.
Well, I also heard the wailing and it is Lola the cat that is looking for a boyfriend and finally the creaking of the door was simply that with the storm the wind opened the windows that are in very bad condition and that is the noise that finally made you come here.
Juanchito, a little embarrassed and a little mischievous, said: "Ah, good, I'm sorry to have scared you, I know ghosts don't exist, but I have a doubt, who is the man with the axe behind you? The father didn't turn around but threw himself on the bed and Juanchito and his mother started laughing non-stop, his father instead of getting angry did the same and Juanchito told him: NO AND THAT THERE ARE NO GHOSTS AND THAT WE DON'T HAVE TO BE FEARED! HOW BRAVE WE ARE!