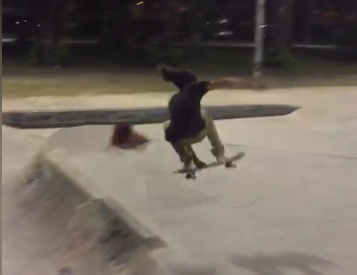 ---
Small video at Aterro Skatepark, based near Rio de Janeiro's city center. Famously known as Atehell, a place where the sun toasts you, reason why people prefer skating at night. The thing is the place is also known for being place to assaults, mugging and police arrests - they're there just after stoners.
Pequeno vídeo na pista do Aterro, localizada perto do centro do Rio. Conhecida popularmente como Atehell, um local de muito sol na cabeça, razão pela qual as pessoas preferem andar a noite. O problema é que ali tem um histórico fatídico de assaltos e abordagens - polícia ali só pra coibir maconheiro mermo.
---
Back then, I was learning to have a better flow in transitions, learned a lot. Hope you enjoy it.
Nessa época, tava aprendendo a ter um flow melhor em pista transicionada, época de muito aprendizado! Espero que curtam.
---
Cheers / É Nós!
---
(Unsupported https://odysee.com/$/embed/skate-aterro/322c23d52c3239d77f43ba6756a219298a34f72e?r=ENqme8jzF1XCoEn7btuZcCQzBbsLXscq)
---
Odysee link: https://odysee.com/@BernardoCanela:d/skate-aterro:3?r=ENqme8jzF1XCoEn7btuZcCQzBbsLXscq
---
Invites
If you want to join Odysee and get 8 LBC to start your posting, just click here.
---
To join me on Peakd, you can click over here.
---
---
You can check both SkateHive and SoMa (my local skateshop where I work at) on Odysee as well! And if you like SoMa's content, consider buying some stuff online, I can accept your cryptocurrency !
---
Don't have an account on any exchange yet? Consider using Bittrex. With this link, both you and I get Bittrex Credits for free exchange taxes.
---