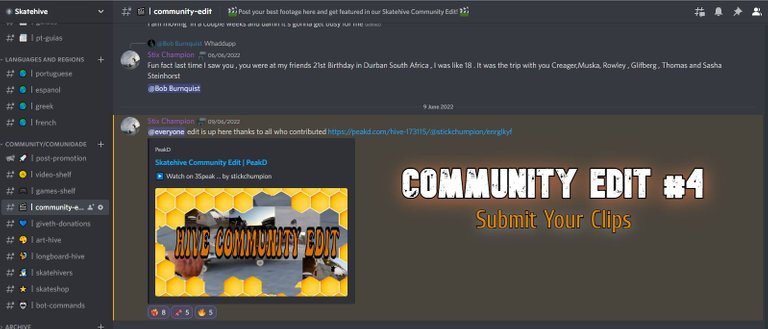 It's time for the next Skatehive Community Edit everyone
It's summer, it's sunny it might be hot but it's the best time to stack them skateboarding clips so let's take advantage of that and put forth the next Skatehive Community edit.
If you are new and not familiar with the community edit then all you have to do to participate is to follow the instructions bellow.
How to get featured
All you have to do to get featured is to share your RAW clips at the # 🎬丨community-edit channel inside the Skatehive Discord Server and @stickchumpion will do the heavy lifting of organizing and editing those clips. Easy right?
P.S Please film your clips horizontal, not vertical
Deadline of sumbitting your clips is on August 31 2022.
Click the image bellow to join the Skatehive Discord
and submit your clips 👇

Watch The Previous Skatehive Community Edits 👇
Let's Make A Beautiful Edit Skatehive Fam
We wanna show everyone how diverse and awesome our community is so send us your favourite clips and expect a dope video dropping by the end of September 🔥🔥🔥
Also don't forget to join our Discord channel so you can chat with lots of Skatehivers from all over the world and of course earn some crypto tips while you are at it 😉
---
About Skatehive
SkateHive is the house of Web 3.0 skateboarders and our goal is to onboard skaters and "extreme" artists in the blockchain world.
SkateHive is built on top of decentralized platforms that allow us to own our accounts, our communities, which means that instead of allowing others to advertise on our content to generate value, we tokenize interactions, allowing us to retain value generated by our content, to be sold on the free market in the form of cryptocurrency.
This has allowed this humble community to self fund huge online Games of S.K.A.T.E, giveaways, rewards for contests, events, and even help skaters buy new equipment! Everyone is welcome in this community, so long as you are respectful to others.
Cheers everyone and #SKATEHIVE4LIFE