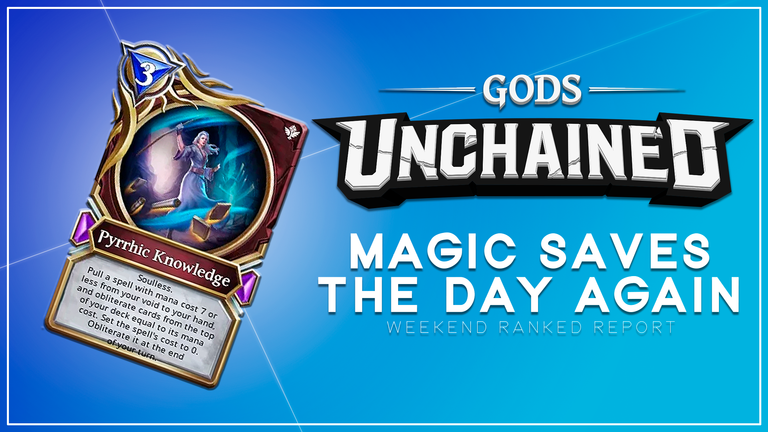 English
A Weekend Ranked that started very badly ended relatively well. I could imagine a worse final result when, after 10 matches, I only got three wins and went down from Mythic to Solar Gold. However, I switched decks at the right time and thanks to the magic I was able to save the competition and finish with a decent score of 9/9.
Español
Un Weekend Ranked que inició muy mal terminó relativamente bien. Podría imaginarme un resultado final peor cuando, luego de 10 partidas, solo obtuve tres victorias y descendí de Mythic a Solar Gold. Sin embargo, cambié de deck a buena hora y gracias al mago pude salvar la competencia y terminar con una descente marca de 9/9.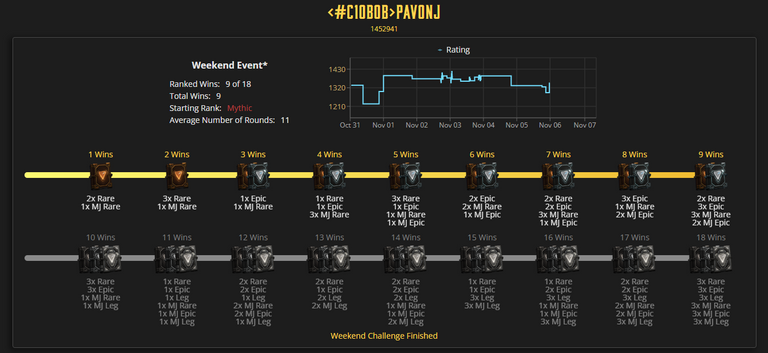 Deck code: GU_1_4_KCyIBmBHMIBDIBDCANCANCEkCEkKAnKAgKAgLAEKApKApCFrCFrIBsIBsCBmCBmKAqKAqCGFGCYIBSCBjCBjCAlCAl
My original idea was to start the WR with Aggro Light, an archetype that has worked very well for me these last months, but after starting with three losses in a row, I played a game with Control Magic (which I also lost), then two with Zombie Death (one win and one loss) and again Aggro Light (also one win and one loss). Finally decided to make some adjustments to Control Magic and that ended up being the "definitive" deck.
Mi idea original fue la de arrancar el WR con Aggro Light, un arquetipo que me ha funcionado muy bien estos últimos meses, pero tras empezar con tres derrotas al hilo, jugué una partida con Control Magic (que también perdí), luego dos con Zombie Death (una victoria y una derrota) y de nuevo Aggro Light (también una victoria y una derrota). Al final opté por hacerle unos ajustes al Control Magic y ese terminó por ser el deck "definitivo".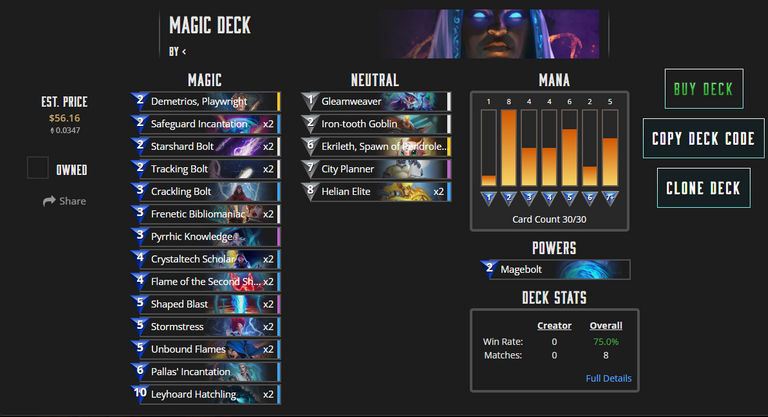 From then on everything went much better: I won six of the next seven matches; with four consecutive victories. I was getting closer and closer to the tenth victory and MJ's legendary pack. Unfortunately I lost in the last match. So, even though the magician saved the day and I reaped very good rewards from this WR, I am left with a bittersweet taste.
A partir de ahí todo marchó mucho mejor: gané seis de los siguientes siete enfrentamientos; con cuatro victorias consecutivas. Viéndome cada vez más cerca de la décima victoria y del pack legendario de MJ. Desafortunadamente caí en la última instancia. Por ello, a pesar de que el mago me salvó el día y coseché muy buenas recompensas de este WR, quedo con un sabor agridulce.

The good
Magic is my favorite domain so I'm glad to have good results with it again. About the strengths of or, better said, the most powerful cards, I put in special mention to the Pyrrhic Knowledge. Specifically for the combination of this with Flame of the Second Shattering that makes it a brutal finisher of games. Besides, given the freedom it gives you to reuse almost any spell Pyrrhic by itself is very versatile.
Lo bueno
El de magia es mi dominio preferido así que me alegra tener otra vez buenos resultados con él. Sobre los puntos fuertes de o, mejor dicho, las cartas más poderosas, pongo en mención especial al Pyrrhic Knowledge. Específicamente por la combinación de esta con Flame of the Second Shattering que lo hace un finisher de partidas brutal. Además de que dada la libertad que te da poder volver a usar casi cualquier hechizo Pyrrhic por sí solo es muy polivalente.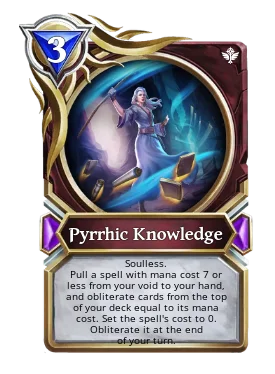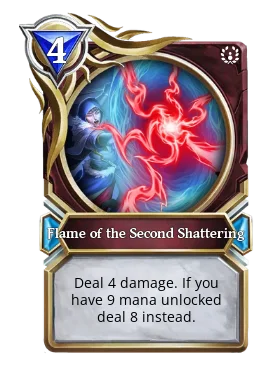 Para esta ocasión añadí un Iron-tooth Goblin a mi colección; puedo asegurar que es el mejor removedor de reliquias que hay en el juego. Aunque es equiparable a Bronze Servant, tener un punto de mana menos que el antes mencionado le da un plus de utilidad.
Para esta ocasión añadí un Iron-tooth Goblin a mi colección; puedo asegurar que es el mejor removedor de reliquias que hay en el juego. Aunque es equiparable a Bronze Servant, tener un punto de mana menos que el antes mencionado le da un plus de utilidad.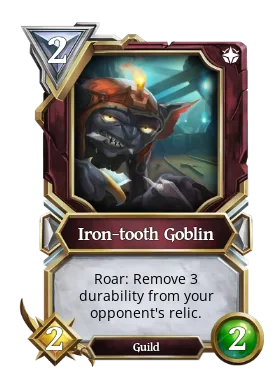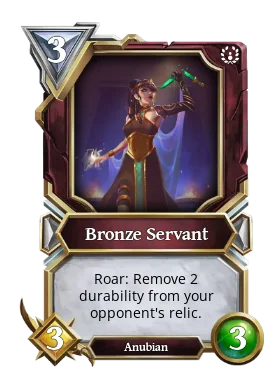 Finally, as this is a control deck, designed for the turns with more mana, having the possibility to accelerate that process, thanks to the Crystaltech Scholar is a huge advantage that many times allowed me to win. So the Scholar are irreplaceable and, perhaps, the best cards in the deck.
Por último, al ser este un mazo control, pensado para los turnos con mayor cantidad de mana, tener la posibilidad de acelerar ese proceso, gracias a los Crystaltech Scholar, es una enorme ventaja que muchas veces me permitió ganar. Así que los Scholar son irremplazables y, quizá, las mejores cartas del mazo.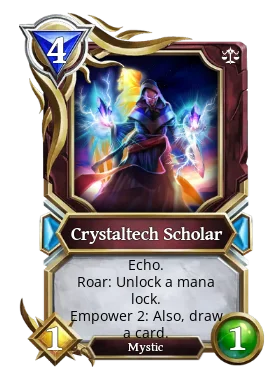 The Bad
Despite having something to counter the Heirloom Death it is still a headache. The last match, with which I could have reached 10 wins, I faced it against that archetype, in a very simple (cheap) version and I lost largely because, with eight cards left in the deck, I didn't have Pallas' Incantation or Gleamweaver in hand, so not having these cards, whose probability of appearing is diminished by only having a copy of each one, is fatal.
Besides that I have many possible adjustments in mind; like replacing a Helian Elite or City Planner with Helmna, The Spear of Life, maybe adding Serris, Arbiter of the Trial or even a Moramag, Bane of Black Isle, but I have to put my options on the table.
Lo malo
A pesar de tener con qué contrariar al Heirloom Death este sigue siendo un dolor de cabeza. La última partida, con la que pude haber llegado a 10 victorias, la enfrenté contra ese arquetipo, en una versión muy simple (barata) y perdí en gran parte porque, quedándome ocho cartas en el mazo, no tuve a la mano el Pallas' Incantation ni Gleamweaver. Así que no contar con estas cartas, cuya probabilidad de aparecer se disminuye por solo tener una copia de cada una, es fatal.
Además de eso tengo muchos posibles ajustes en mente; como sustituir a un Helian Elite o al City Planner por Helmna, The Spear of Life, quizá añadir a Serris, Arbiter of the Trial o hasta un Moramag, Bane of Black Isle, pero tengo que poner mis opciones sobre la mesa.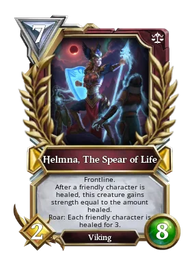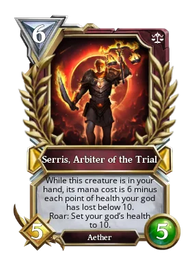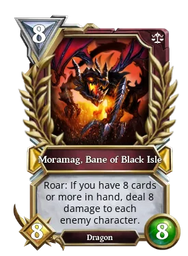 Previous rewards
In the last WR I also finished with a 9/9 mark. To my surprise, between the two epic packs and the three rare MJ packs, a legendary appeared: *Garron, The Red.
Recompensas anteriores
En el WR pasado también terminé con marca de 9/9. Para mi sorpresa, entre los dos packs épicos y los tres raros de MJ, apareció una legendaria: Garron, The Red.





Juan Pavón Antúnez
Translated with the help of DeepL || Traducido con la ayuda de DeepL