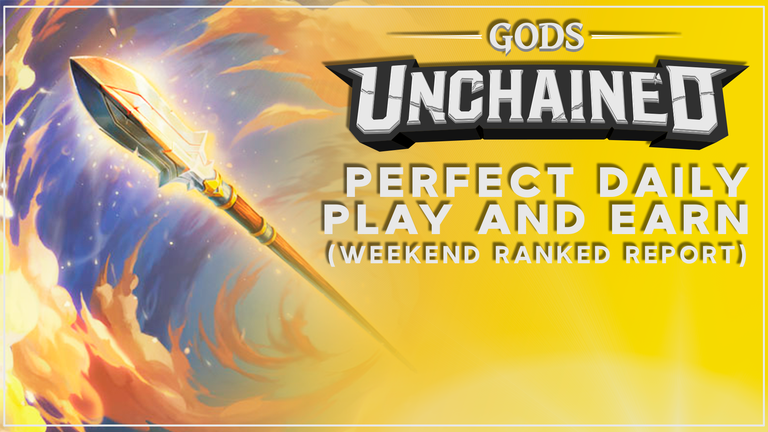 English
This Weekend Ranked was the best I've played in a long time. Even though I started in Solar Gold, a couple of ranks lower than last WR, I had an excellent streak that allowed me to compete for decent prizes and complete my first daily play and earn with no losses.
Español
Este Weekend Ranked fue el mejor que he jugado en mucho tiempo. A pesar de que inicié en Solar Gold, un par de rangos más abajo que el WR pasado, tuve una racha excelente que me permitió competir por premios decentes y completar mi primer daily play and earn sin derrotas.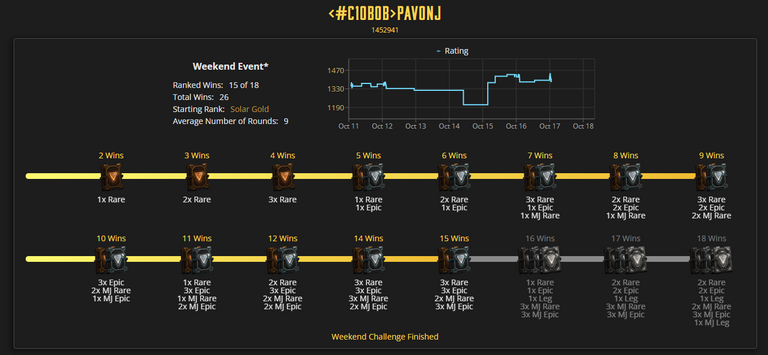 Never before I had such a good start as in this edition: 11 consecutive victories is not something that happens every day. Especially for being inside the WR and Daily P&E. Once again the aggro light deck, which I made a post about last week, was my best ally to achieve this performance. Although I made some small modifications to that one (I replaced the two Olympian Guard by two Vexing Vicar and replaced the Eucos in Eclipse by Holy Writ) it is essentially the same deck.
Nunca antes tuve un inicio tan bueno como en esta edición: 11 victorias consecutivas no es algo que pasa todos los días. En especial por estar dentro del WR y Daily P&E. Nuevamente el mazo de aggro light, del cual hice un post la semana pasada, fue mi mejor aliado para conseguir este desempeño. Aunque le hice unas pequeñas modificaciones a aquel (reemplacé los dos Olympian Guard por dos Vexing Vicar y reemplacé el Eucos in Eclipse por Holy Writ) en esencia es el mismo deck.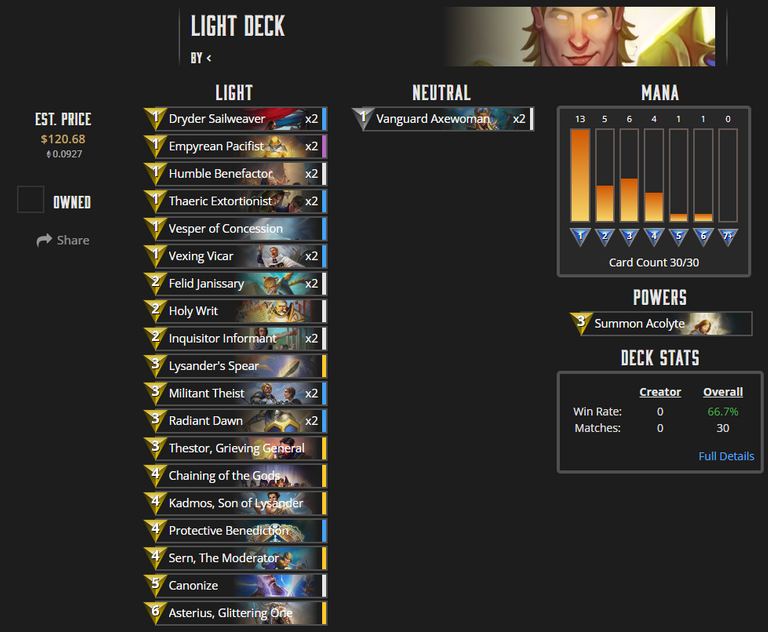 On the other hand, the good streak also allowed me to return to Mythic, where I had my last WR victories. In the end I only lost against a Sleep Death, an Aggro War and another Aggro Light. In the table below I detail better my clashes and wins/losses with the different domains.
Por otra parte, la buena racha también me permitió volver a Mythic, donde tuve mis últimas victorias del WR. Al final solo perdí contra un Sleep Death, un Aggro War y otro Aggro Light. En la tabla de abajo detallo mejor mis enfrentamientos y victorias/derrotas con los diferentes dominios.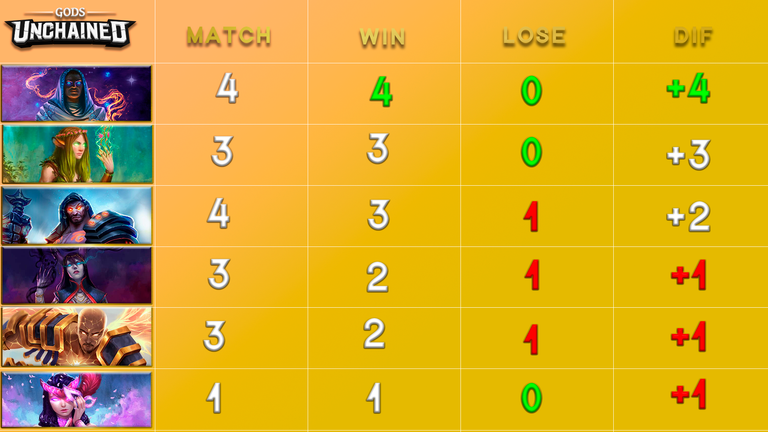 A destacar:
Definitivamente Lysander's Spear y Sern, The Moderator son, por mucho, las mejores cartas de este deck; y reafrimo mi postura sobre que son irremplazables en este arquetipo. Ahora, también agregaría a los Thaeric Extortionist que, gracias a que la versión base de las criaturas "transformadas" ya no van al cementerio, es el arma perfecta contra las combinaciones más peligrosas de los arquetipos de Muerte. Por otro lado, en las oportunidades que he tenido de enfrentarme a rivales con combinaciones de Engaño comprobé lo útil que puede ser Militant Theist: más allá de buffear criaturas propias, es letal contra esbirros con poca salud base, como Switch Duelist y Armor Lurker, dos fijos en los decks de ese dominio.
Posibles cambios
A pesar de que Holy Writ puede ser muy útil contra los magos, es un hechizo para momentos muy puntuales, ya que también podría beneficiar a las criaturas del rival, así que fueron muy pocas las ocasiones en las que pude tenerla y usarla en el momento ideal. Mientras, todavía me fastidia un tanto no tener formas de hacer daño al rival si no tengo criaturas que previamente estuviesen en el campo. Perder el control del tablero en los primeros turnos casi siempre es fatal para mí; sigo buscando la forma de contrarrestar un poco eso. Por último, aunque Kadmos, Son of Lysander es una cartaza, su costo de cuatro puntos de mana a veces es muy caro. Es posible que pruebe variantes aggro sin esa criatura.
Últimas recompensas
Un Pyrric Knowledge más a la cuenta, y ahora tengo dos; justo antes de que Light's Veredict terminara. Por ahora me conformo con eso.
To note:
Definitely Lysander's Spear and Sern, The Moderator are, by far, the best cards in this deck; and I reaffirm my stance on them being irreplaceable in this archetype. Now, I would also add the Thaeric Extortionist which, thanks to the fact that the base version of the "transformed" creatures no longer go to the graveyard, is the perfect weapon against the most dangerous combinations of the Death archetypes. On the other hand, in the opportunities I've had to face opponents with Deceit combinations, I've seen how useful Militant Theist can be: beyond buffing its own creatures, it's lethal against minions with low base health, such as Switch Duelist and Armor Lurker, two of the most common decks in this domain.
Possible changes
Although Holy Writ can be very useful against mages, it's a spell for very punctual moments, as it could also benefit the opponent's creatures, so there were very few occasions when I could have it and use it at the ideal moment. Meanwhile, it still bothers me a bit not having ways to do damage to the opponent if I don't have creatures that were previously on the field. Losing control of the board in the first few turns is almost always fatal for me; I'm still looking for ways to counteract that a bit. Finally, while Kadmos, Son of Lysander is a great card, its four mana cost is sometimes very expensive. I may try aggro variants without that creature.
Last rewards
One more Pyrric Knowledge to the account, and now I have two; just before Light's Veredict ended. I'll settle for that for now.



Juan Pavón Antúnez
Translated with the help of DeepL || Traducido con la ayuda de DeepL