---

---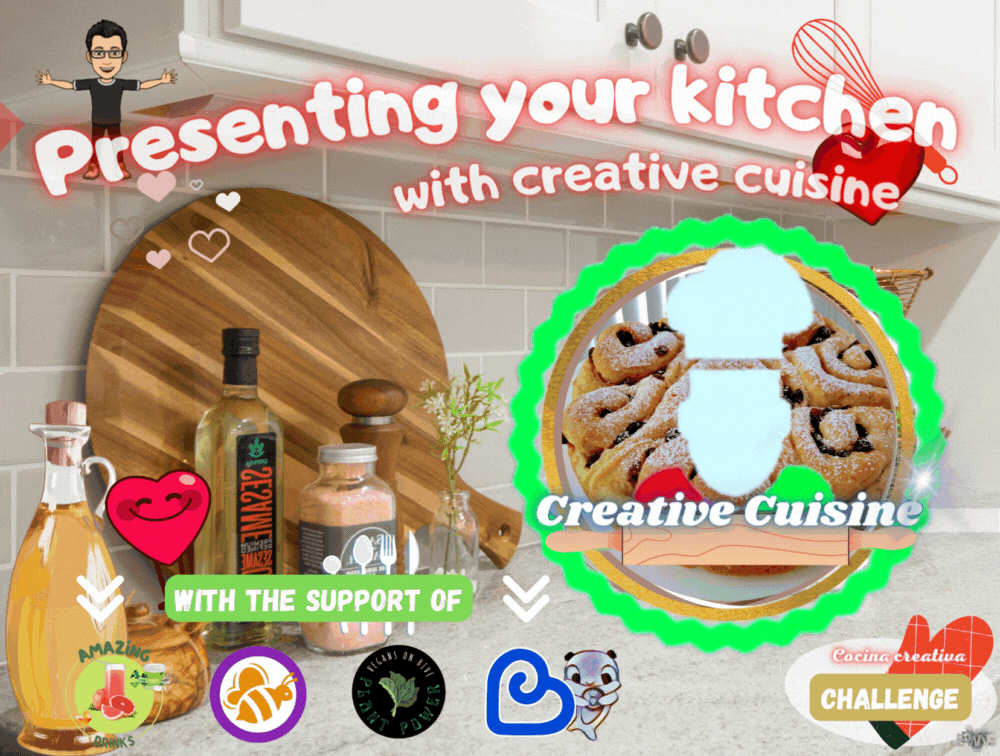 ---

---
Present your kitchen
Contest
---
Hello dear lovers of creative cuisine, we know you were all waiting for our initiatives for a long time 😊 and the time has come!
---
Your dreams have come true hahaha, we want everyone to participate in our first edition, so this round will be super easy.
---
We hope you are encouraged and above all that you have a lot of fun, that you let your ideas flow, your emotions, that you share with us with the best vibes every part of your participation, that if, before starting read carefully every word of this publication ok 😉
---
Let's get started!
---

---
Your post must contain quality images, avoid blurry photos (just to participate and without love), you can share as many images as you want, but it is not that you will only put two photos 😜 and always remember that you must be in your presentation to validate the entry to the contest.
---
You have the option to publish in video, but you must put mandatory subtitles, so that those who do not speak your native language can read and understand your ideas.
---

---
The spelling and layout will be evaluated as well as the photos, if you want to participate you must do it with dedication, it is your presentation to the world, it is your art, you must strive to make us want to visit your kitchen at lunchtime 🍴
---
Something important: to make community is fundamental, commenting on other users with respect, if all this seems simple to you, you are already inside 😊
---

---
What is the contest about?
---
You must present your kitchen, tell us why you are a lover of gastronomy, where your love for this art comes from, show us your work space, your favorite utensils and tell us their history.
---
You can tell us a little bit about its function in your kitchen, how you learned to cook and more...
---
Remember that in creative cuisine we have no limits in the imagination, develop the content with creativity and most importantly, with love, let your thoughts come out and show us who you are in your culinary world.
---

---
Rules for participation
---
Give re blog to the call for entries
You must join our community
Be in your photos
We want quality content (please sharp photos)
A minimum of 500 words in one language
Main language English (we accept/bilingual)
Comment on entries with respect (community building)
Invite two users
Share your entry in the comments of this post
Etiquetas: #creativecuisine #vegan #amazingdrinks #ecency #foodies #kitchenweb3 #hive-173296
---

---
Awards to be distributed
---
50% of the rewards of this publication (first prize)
3 hives to the best post (first prize)
1 hive to the second and third place
5000 foodies tokens (distributed among the participants)
ecency points, distributed among the winners or participants (according to the number of entries)
---
Supported by:
@plantpower
@foodiesbeehive
@amazingdrinks
@ecency
@melinda010100
@sagarkothari88
@sirenahippie
---
Important note: we invite you to publish using the @ecency app, which is kindly supporting us from their front end 😊
---
Extension: deadline, May 2
---
---

---
Always welcome to the world of creative gastronomy
We cordially invite you to be part of our project, by supporting us with your delegations or by entering the voting trail at @creativecuisine.
---

---

---
follow me 👉 DISCORD - TWITTER - REDDIT 👈 follow me
---

---
Creative Cuisine 2023