Hello everyone, this is the DCity Manager, undercover as Brofund BRO manager of our enormous DCITY hive NFT collection. DCity is a game, and in order to win, that is in order to maximize the rewards, you must play. Since we have begun to play, the rewards increases have been fantastic.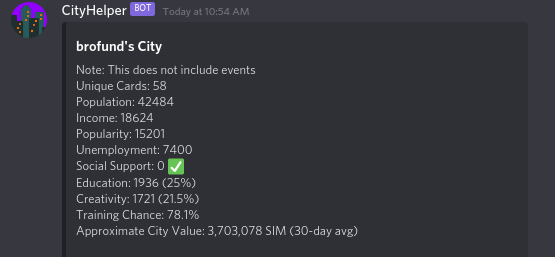 Take a look at that value! The calculations based on average values are not always great, and the rarest cards have no value thus aren't included, but even so we can see we are north of 15k hive in the main city.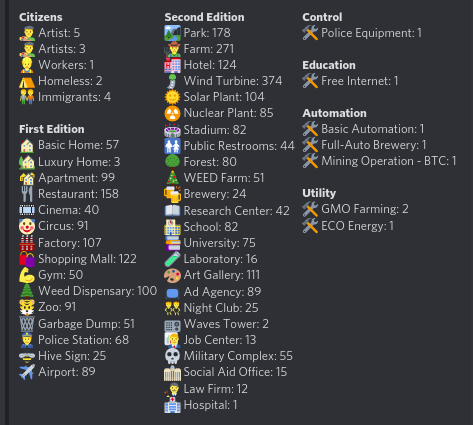 One of the first thing we did was to dump the job centers. Job center prices were high, and we dumped them. Instead, we have increased our investment in the Military Industrial Complex, which has yielded a HUGE boost to our SIM income, over 5000 SIM per day.

The next most important things we did when we came onboard, was to optimize a second city with maximum Research. We haven't even gotten all the tech unlocked yet, and already it has paid off BIGLY.
Our Shiny new BTC Mining TECH - yielding a 6% bonus in SIM income, came from this 'side city'.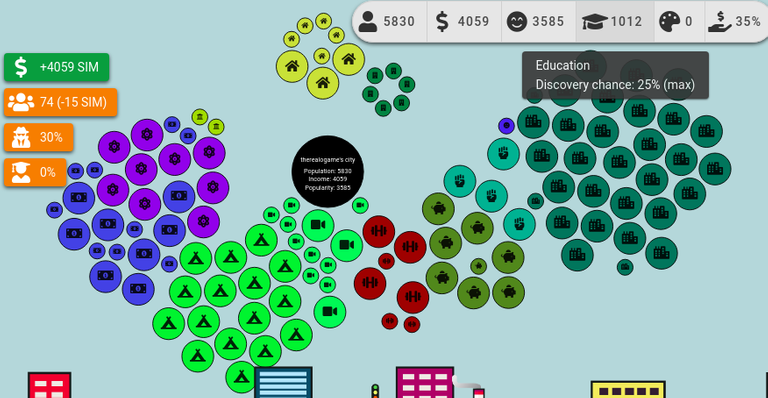 We combined it with casinos, banks, luxury homes and just enough Police to ensure no crime would ever happen.
As you may know, SIM is one of the most liquid tokens, and has been used to help pay the divs. And in the future, these SIM divs will go directly to the BRO holders pockets.
You can be happy to see that our daily SIMs are cranking high up over 27,000!
And don't forget rank. We cling to the top 25 and those hive rewards get passed on to you, as this fund also keeps on growing. This is one of the reasons we do not have a third research city, for the education buildings are wonderful for soaking up workers.
Ranking is quite competitive due to the nature of reinvestment.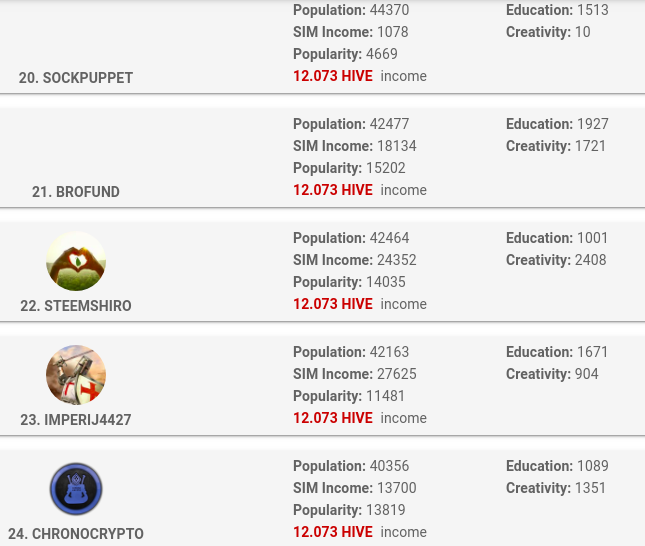 We will keep working hard for you - to grow and do!
Here is a peak at our third city - @brofund-leo.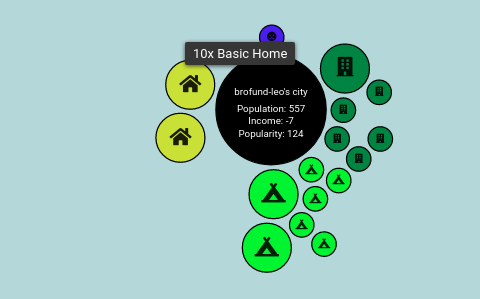 Just a bit off the top! If any BRO holders are interested in some cheap population cards, comment on this post!
Almost any card in @brofund-leo is negotiable at below market prices for practically any token type! Apartment, Basic Homes, and Park. Get started or expand below cost by being a BROFUND member :)