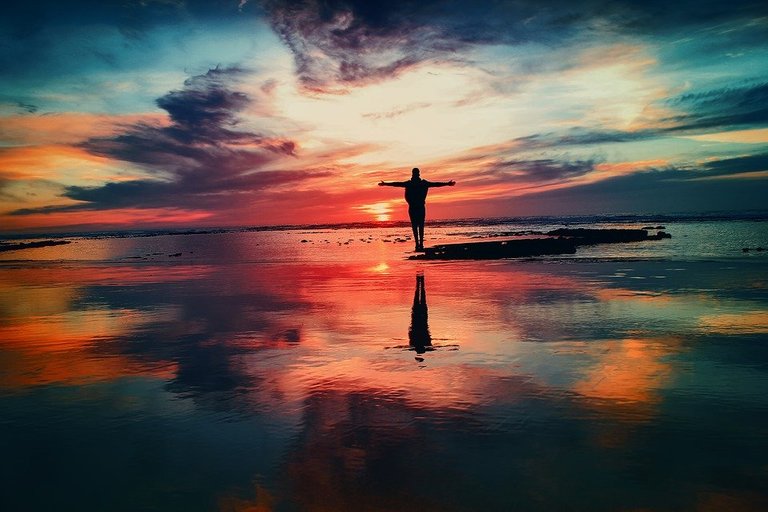 Welcome, to the dawn of a new era.
Many of you have been waiting on this for a couple of months now. We've definitely kept you hanging, that's for sure. So, without further adieu, I give you our product in the next phase of BRO, "DreamR"
To be clear (and before we move on), DreamR will be a standalone app, in the sense that BRO will feed into DreamR and not the other way around. This all may sound terribly confusing for now so I'll get straight to the point.
Welcome to Social Media 2.0
One of the problems that has plagued hive, other dpos platforms and perhaps the entire cryptosphere since inception is ease of use. Along will come John Smith to look into how this whole Bitcoin thing works but it's just so entirely confusing that he gives up.
I myself have been a publisher and a columnist on various mainstream magazines for many years, and most of the people I work with struggle with the most basic concepts of computing, never mind having to learn the mechanics of an entirely new currency.
Hive is perhaps one of the easiest platforms to onboard willing participants. Those that aren't afraid to learn something new on their device will have found their way here already. Hive and most services like hive act as a sort-of gateway (or bridge) to our world from the regular one.
This is where DreamR will step in. DreamR will act as a bridge from platforms such as Hive, blurt, and others from places such as Facebook.
Perhaps since the first day that you found Hive you wanted to show your social media friends all that you had been up to, and how worthwhile it was. They have a look, and just don't get on with it because it's too much learning, work, or they just don't understand it.
Imagine this. You are in your DreamR portal and so far you've collected $100 in crypto and share a nice share-graphic of your earnings to your friends. This is going to be much harder to resist than say a raw paste.
Money won't be the only irresistible thing you can share to your social media friends though! Communities, posts, you name it! They just won't be able to resist it.
But, of course it's not only about the money.
DreamR will be easy to use for the tech noob. It will essentially be like every other sign up platform on the planet right now. Sign up, start earning. The most awesome part about this entire concept is that people signing up won't need to make a crypto account unless they really really want to. Their account will exist on the DreamR app. Crazy, right?
And yes! There will be tutorials for those that want to learn more and make their own accounts.
Let's talk community
This is where The Man Cave will come in. When Alpha is ready we will be one of the first communities to get to take it for a whirl.
We will essentially be a decentralized community-powered blog pool.
Does that mean more coin rewards?? Yes, yes, it does. For every crypto community that hops on board with us we will have more content to share and reward.
This will also mean far more engagement on your posts too. I don't know about you but one of the hardest things I've found about crypto blog chains is the content discovery system. We plan to really make a difference with this in our app. Communities, people, and content will be easily discoverable.
To recap
At the beginning we will be looking to:
Use our tools to make your writing & posting flow more seamless & easy
Increase & automate the content on your site by setting up your own niche with your custom curated whitelisted authors
Get extra eyes on your site by being listed in the main Dreamr discovery feed
We will exist on the second layer
Roadmap
We have a Roadmap. Please see below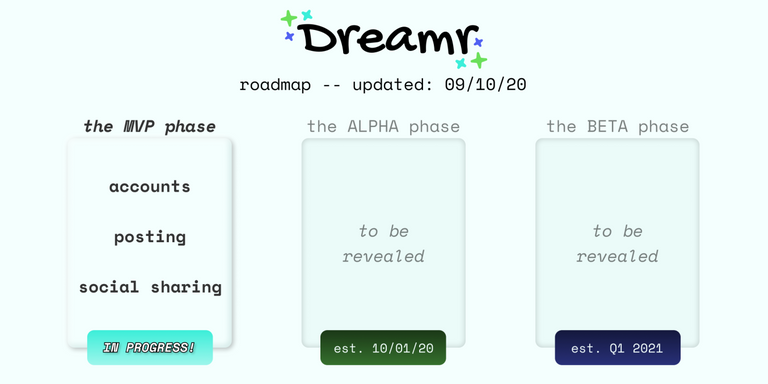 Any questions?
And that's it for now. If you have any questions you may ask :)