I really need my own shop, or at least clean off my work bench I have in the garage. That might help. Instead I spent the other evening tearing apart my driver side wheel hub assembly in the driveway. The fun part was sitting in the driveway pressing out and in ball joints and an axle U-joint. I punish myself to encourage myself to clean up my garage to make it easier to work on things... that is what I am telling myself now anyway.
After I swapped my leaf sprung Dana 60
out for a 2005 coil sprung Dana Super 60 in my 1997 Ford F-350, I had to get an alignment. They gave me some bad news. It couldn't be aligned because my tie rod ends were destroyed, and I had sloppy ball joints that will need replacing along with an axle U-joint that was completely blown out. Well Crap!!. The ball joints weren't too bad and since I wasn't going to use the 4 wheel drive the axle u-joint can wait. So to get the truck on the road I just did all the tie rod ends, drag link, and track bar. Welp, there goes $500!!! OUCH!!!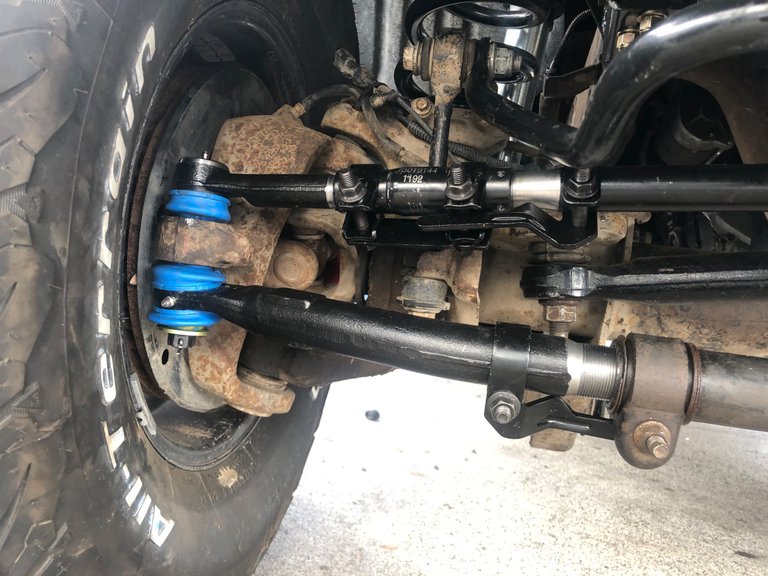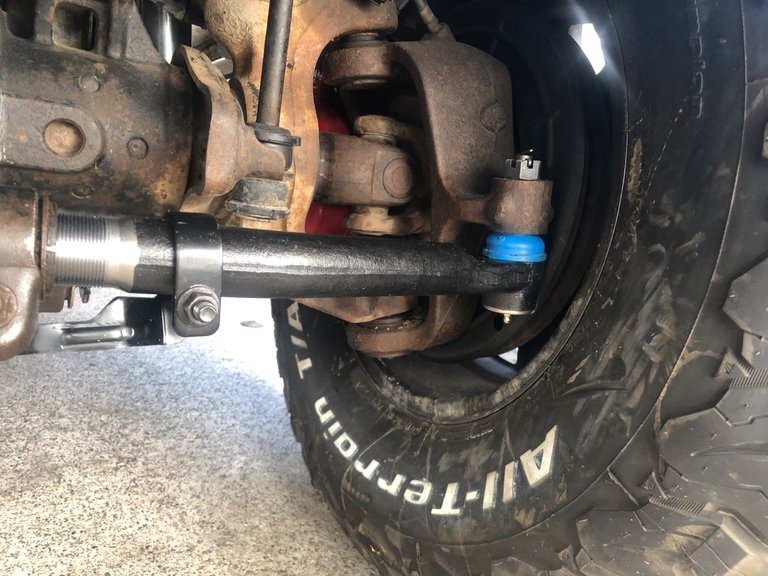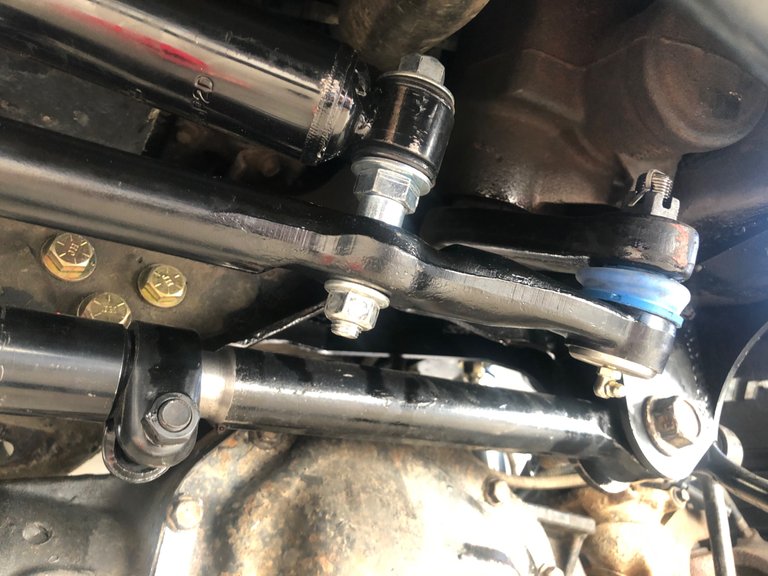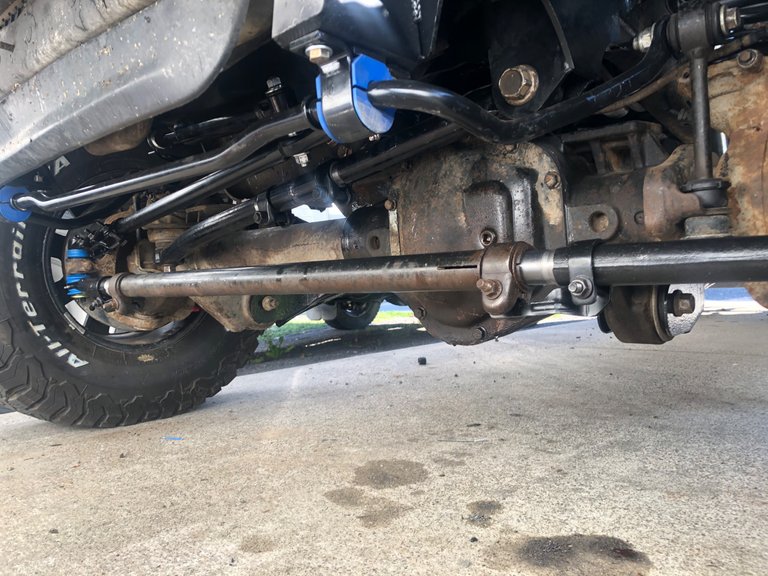 When you realize how big and heavy all these components are, you will understand why it costs so much. They have got to be twice as heavy as the old Dana 60 tie rods. No wonder they call it a Super 60. Super heavy and Super expensive. This axle has proven itself, it is still used in the brand new Ford F-250/350 trucks today.
Anyway, I got an alignment done and took the truck on it's maiden voyage and on the way back blew apart an intercooler pipe. Blew that sucker right in half at the weld. Limped it home, ordered a couple new 90 degree aluminum bends and took them to a machine shop to have them welded up. I finally got that pipe back and installed and the truck was roadworthy once again... until now. I found a killer deal on a kit that included, upper and lower ball joints, axle u-joint, inner axle seal and an outer axle seal... for both sides!! Spicer brand even!! Only $300!! At Napa they wanted $500 just for the ball joints and U-joints... welp... add to cart.
I might seem crazy but winter isn't too far away if you think about how time flies. Around here 4 wheel drive is a must... for me anyway. So in order to be able to use it I have to get the blown apart axle u-joint replaced. So I might as well do the ball joints too. It's a pretty labor intensive job to do, so you take care of all the stuff you can while you are in there. As you can see, there is a lot of stuff that comes off in order to access the axle shaft u-joint and ball joints.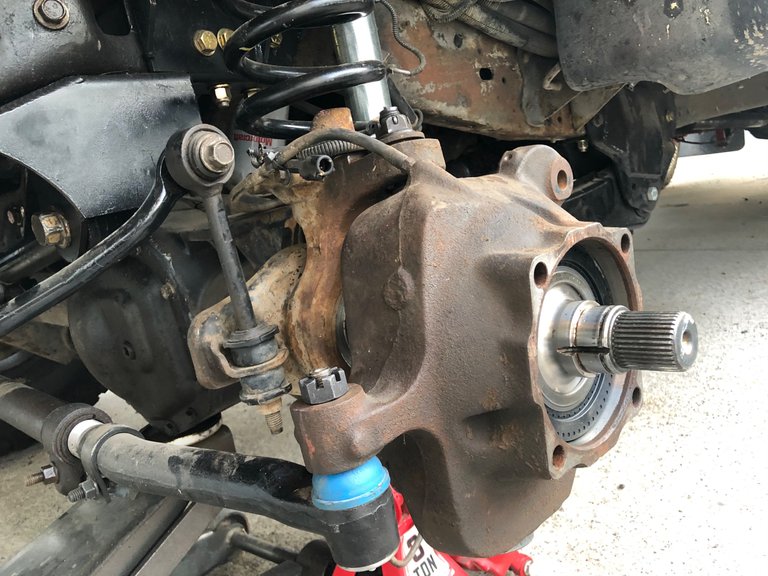 Basically the only special tool needed is a ball joint press. It's basically a big C clamp with a bunch of adapters for various sized ball joints. I picked mine up at Harbor Freight for less than $100 I believe. Oh ya, and this big hunk of metal that fits over the end of the axle and seats the outer seal perfectly. That one I am currently waiting on to get here so I can finish the driver side. This seal is important to seat in correctly. It is used for the vacuum operated locking front hubs. Granted I won't have that option now, but I would like to figure it out one day.
Outer Axle Seal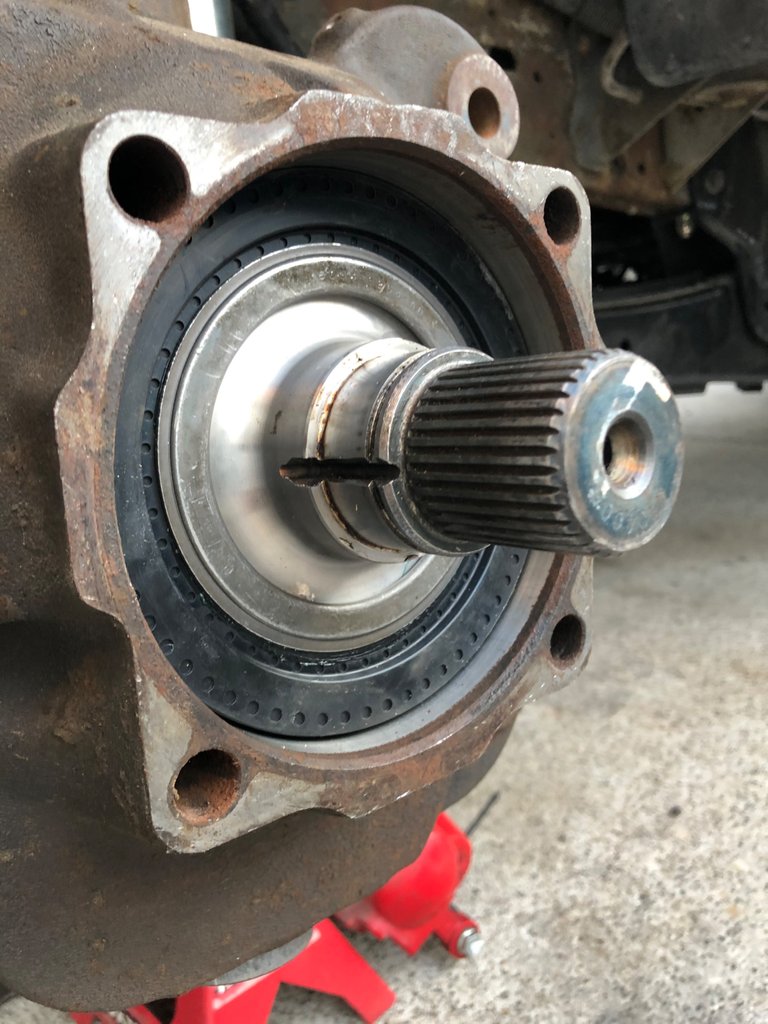 Axle U-joint
Lower Ball Joint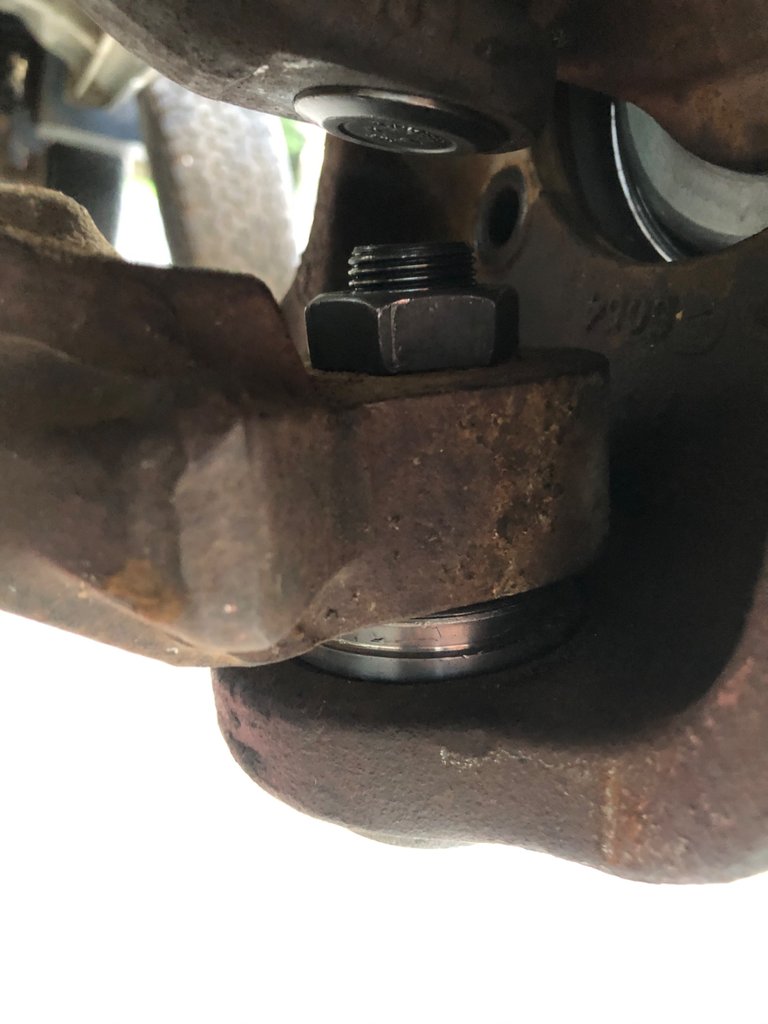 Upper Ball Joint
Inner Axle Seal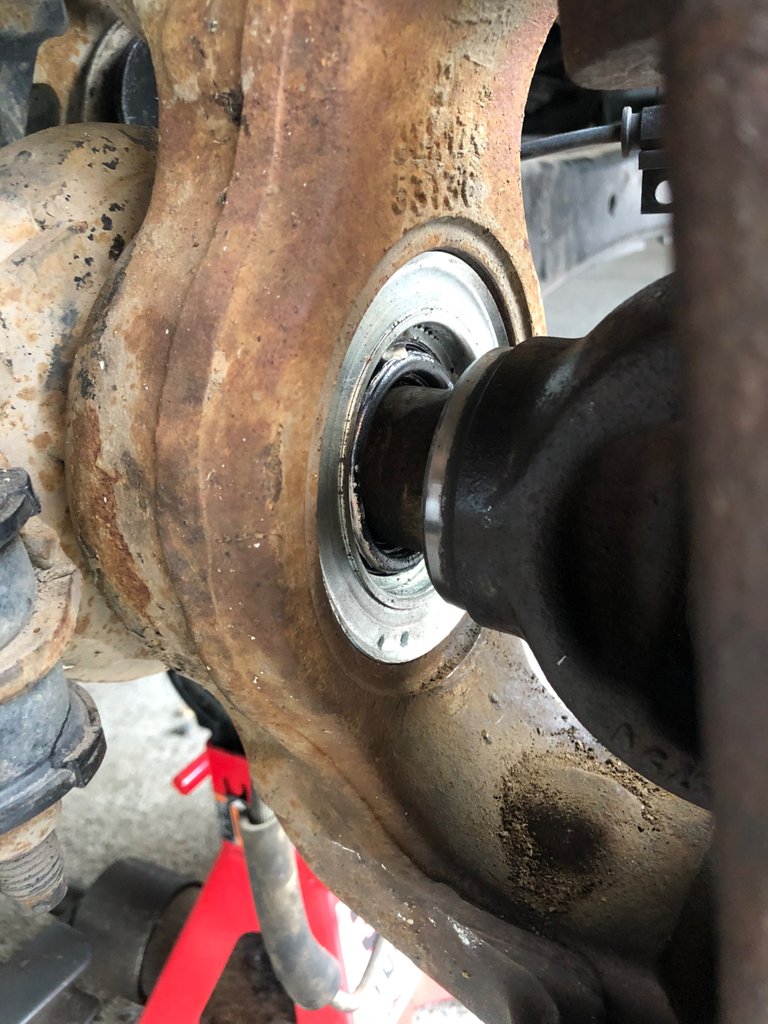 Once that stupid tool gets here, I will be putting the Driver Side back together, then tackling the Passenger Side. The passenger side axle shaft is a lot longer due to the offset front differential. It's big and heavy and should be loads of fun. :wink:wink
Now that I kind of know what I am doing, my plan is to make a How To Video when I do the work on the passenger side. Plus you will be able to see what a blown out u-joint looks like. I just need to finish up the driver side and finish cleaning off my work bench and I will be ready to go... I hope. Stay tuned for that Video, "How to replace ball joints and axle U-joint on a Dana Super 60 I should have it up later this weekend... should... I said should... that is if life doesn't get in the way.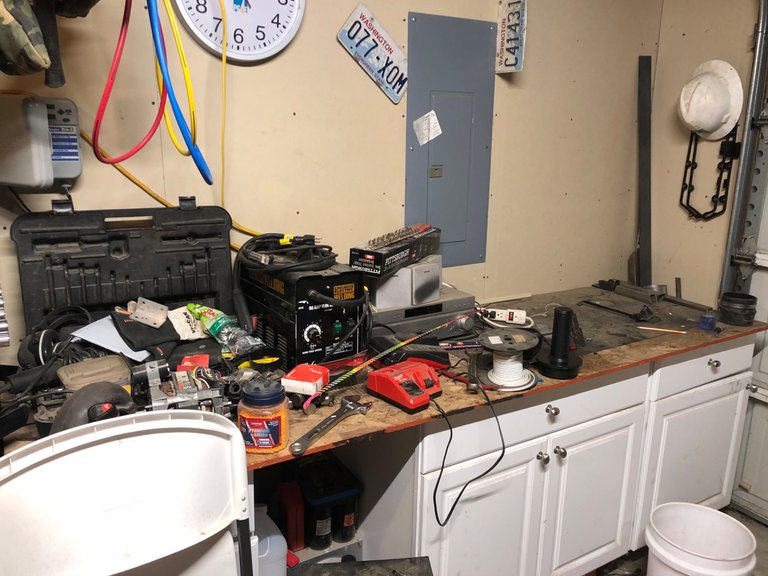 What a Mess!!
Until Next Time...



Hive On
and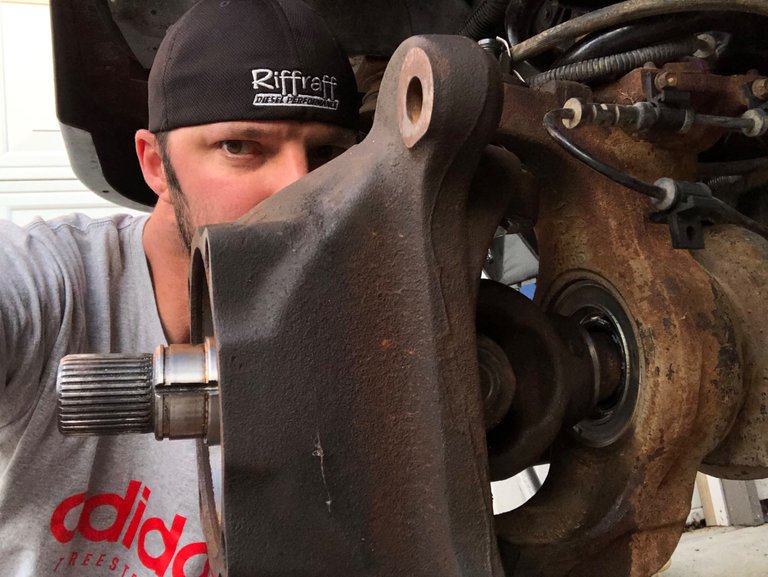 Save Yourself $$
And Learn Something New
By
Doing It Yourself
DIY