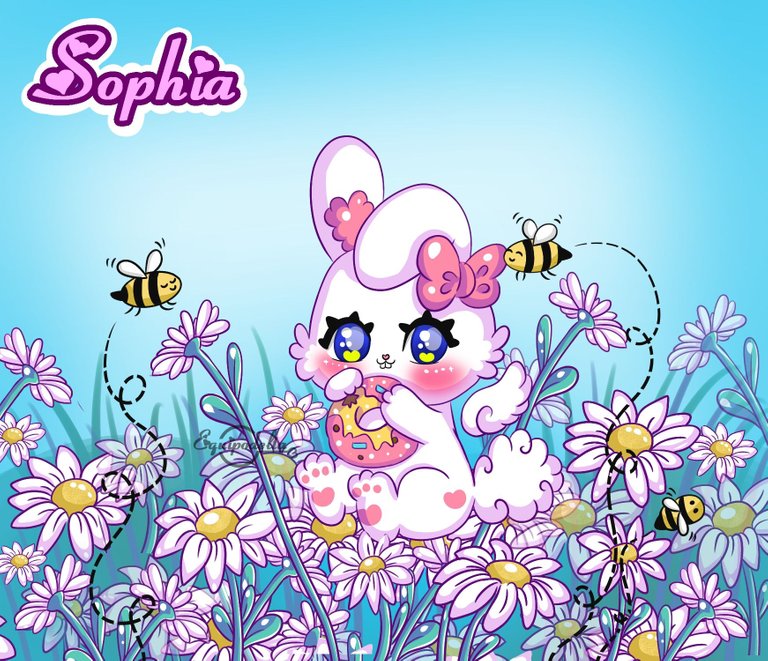 Greetings community! Welcome to all of you, visitors, fans, friends, family.
I finally knew what name to give to my bunny, in some past posts, I titled it "Tulips for Sophia" but it didn't allude to her, but to the dedication to someone called like that, I realized that it's a beautiful name and it fits my bunny, therefore, my three characters, Pily, Poly and Sophia... are already here...
¡Saludos comunidad! Bienvenidos sean todos, visitantes, fans, amigos, familia.
Al fin supe qué nombre ponerle a mi conejita, en unas publicaciones pasadas, coloqué por título "Tulipanes para Sophia" pero no aludía a ella, sino a la dedicatoria a alguien llamada así, me di cuenta que es un nombre hermoso y le queda bien a mi coneja, por lo tanto, ya están mis tres personajes, Pily, Poly y Sophia...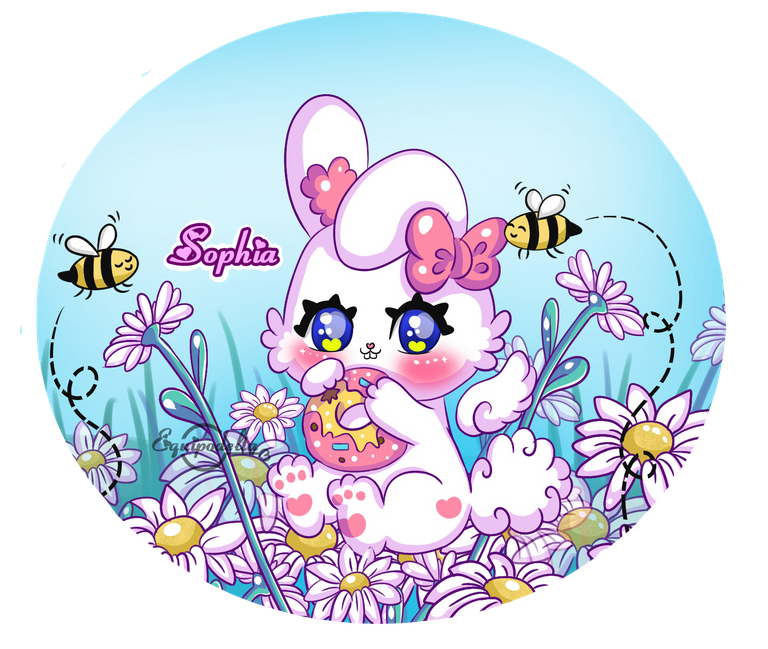 [ENG]
My beloved Sophia, a character that will fill me with memories, will remind me forever of the experiences I have at this moment where I drain, where I do catharsis with them, as well as all my characters from the past, that I remember very well. Those that were engraved in the memories of my old followers, of those who have been faithful, of those who have been witnesses of all that I have grown. Glory to God. Thank you very much.
Do you remember them? Do you remember my old Trolomargo? Remember my Sweet Pedro Enrique Ortega? Remember him? my space stories, my logs, remember the famous characters of my Space Log? Oh God I have been blessed, I can only give thanks for so many characters that have accompanied me, so many stories, so much journey, years and years of dedication, working every day to improve my strokes.
Each character is a story, someone in real life, either good or bad, that make me understand and comprehend more than ever what Walt Disney felt. It must be similar.
Each one of my characters, I love them, are made by me digitally, even with their imperfections.
There are those who have asked me to retake them, they would like to see them remastered, but, my beloved, those were other times, freer times perhaps. Times that were so hard for me that I don't want to draw them again, because even though you perceive the sweetest and most tender part of me, they contain the most painful stories. Stories that I would like to bury in my memories.
However, they are there to remind me not to return.
You know I love you, you are important to me, I have changed a little, the world, people have made me change, sometimes I take a look at the past to see my roots, where I come from, where I run away from, in order to move forward. life goes on.
My journey with you has been wonderful, the most beautiful thing that could happen to me artistically, it has been great, full of magic, tenderness and color, a lot of learning. I hope God continues to give me health, blessing me, continue to have the privilege of sharing my things with you and let's continue to grow like beautiful flowers regardless of the type of soil, fertile or dry where we are growing, let's do our best and give our best.
Millions of blessings to all of you.
[ESP]
Mi amada Sophia, un personaje que me llenará de recuerdos, me recordará para siempre las vivencias que tengo en este momento donde dreno, donde hago catarsis con ellos, así como todos mis personajes del pasado, que recuerdo muy bien. Aquellos que quedaron grabados en las memorias de mis viejos seguidores, de quienes han sido fieles, de quienes han sido testigos de todo lo que he crecido. Gloria a Dios. Muchas gracias.
¿Los recuerdan? Recuerdan a mi viejo Trolomargo? A mi Dulce Pedro Enrique Ortega ¿Lo recuerdan? Mis cuentos espaciales, mis bitácoras, recuerdan a los personajes célebres de mi Bitácora Espacial? Oh Dios he sido bendecida, no puedo mas que dar las gracias, por tantos y tantos personajes que me han acompañado, tantas historias, tanto trayecto, años y años de entrega, trabajando cada día por mejorar mis trazos.
Cada personaje es una historia, alguien en la vida real, sea bueno, sea malo, que me hacen entender y comprender más que nunca lo que sentía Walt Disney. Debe ser semejante.
Cada uno de mis personajes, los amo, son hechos a puño por mí de forma digital, aun con sus imperfecciones.
Hay quienes me han pedido los retome, quisieran verlos remasterizados, pero, amados míos, eran otros tiempos, tiempos más libres quizás. Tiempos que fueron tan duros para mí que no quiero volver a dibujar, pues a pesar que ustedes perciben lo más dulce y tierno de mi, encierran las más dolorosas historias. Historias que deseara enterrar en mis memorias.
Sin embargo allí están para recordarme no regresar.
Ustedes saben que los amo, son importantes para mí, he cambiado un poco, el mundo, las personas me han hecho cambiar, a veces doy un vistazo al pasado para ver mis raíces, de dónde vengo, de dónde huyo, para poder avanzar. la vida continúa.
Mi viaje junto a ustedes, ha sido maravilloso, lo más hermoso que pudo sucederme a nivel artístico, ha sido estupendo, lleno de magia, ternura y color, muchos aprendizajes. Espero, Dios me siga dando salud, bendiciéndome, seguir teniendo el privilegio de compartir mis cosas con ustedes y sigamos creciendo como hermosas flores sin importar el tipo de tierra sea fértil o seca donde estemos creciendo, hagamos lo mejor y demos lo mejor.
Millones de bendiciones para todos vos.

Step by step / Paso a paso

Step 1️⃣ / Paso 1️⃣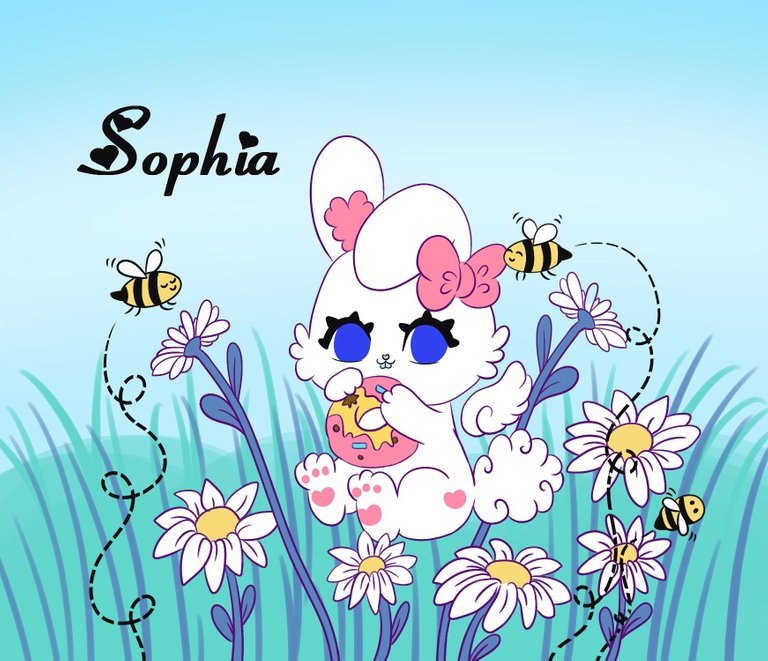 [ENG]
Three main steps that some designs need: Sketch, lineart (not necessary) Base color. These steps are the ones that help the draftsman to see his idea materialized.
Sophia is white, as white as a snowflake, her color can sometimes make the whole drawing difficult, so it's not very easy to say.
Working on the perspective of daisies or flowers in general is not so easy either, I'm still learning.
Sweet, very sweet, many elements so identify it, the bees, the cotton candy shape of the doe and on top of that, she is eating a donut.
The bees swarm happily and freely in harmony, they have everything that could make them happy, food, company and their beautiful freedom.
[ESP]
Tres pasos principales que algunos diseños necesita: Boceto, lineart (no necesario) Color base. Estos pasos son los que ayudan al dibujante ver su idea materializada.
Sophia es blanca, tan blanca como un copo de nieve, su color a veces puede dificultar todo el dibujo, así que no es muy fácil que digamos.
Trabajar en la perspectiva de las margaritas o las flores a nivel general tampoco es tan fácil, yo sigo aprendiendo.
Dulce, muy dulce, muchos elementos así lo identifican, las abejas, la forma de algodón de azúcar de la coneja y además de ello, está comiendo una dona.
Las abejas pululan alegre y libremente en armonía, tienen todo lo que pudiera hacerles feliz, alimento, compañía y su hermosa libertad.

Step 2️⃣ / Paso 2️⃣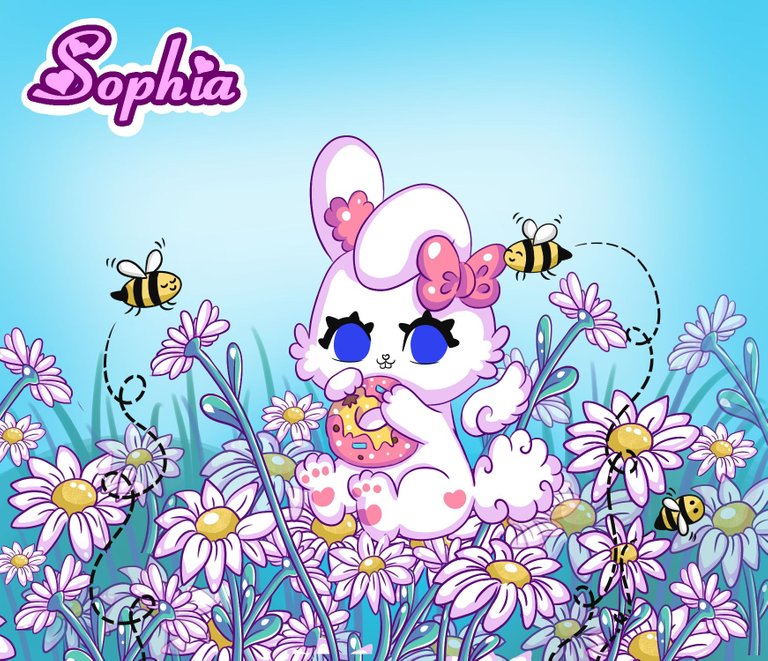 [ENG]
I worked on the shading and details of the flowers first, as I needed to populate the ground more, so I could reproduce them many times as you can see between one capture and another.
I try to keep Sophia's style in my previous versions, so I work out the shading and use the same colors and elements.
[ESP]
Trabajé en el sombreado y los detalles de las flores primero, pues necesitaba poblar más el suelo, de forma que pudiera reproducirlas muchas veces como pueden ver entre una captura y otra.
Trato de mantener el estilo de Sophia en mis versiones anteriores, por lo que elaboro el sombreado y utilizo los mismos colores y elementos.

Step 3️⃣ / Paso 3️⃣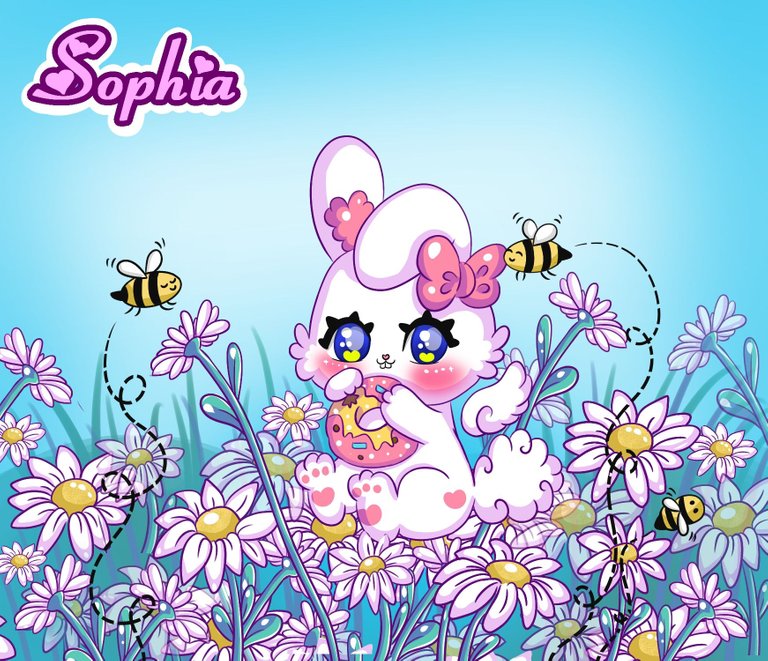 [ENG]
Here I give the final details, I work on those expressive kawaii style eyes, doll eyes.
Thanks for joining me today. It's been great.
[ESP]
Acá doy los detalles finales, trabajo en esos ojazos expresivos estilo kawaii, ojos de muñeca.
Gracias por acompañarme el día de hoy. Ha sido estupendo.


Credits / Créditos.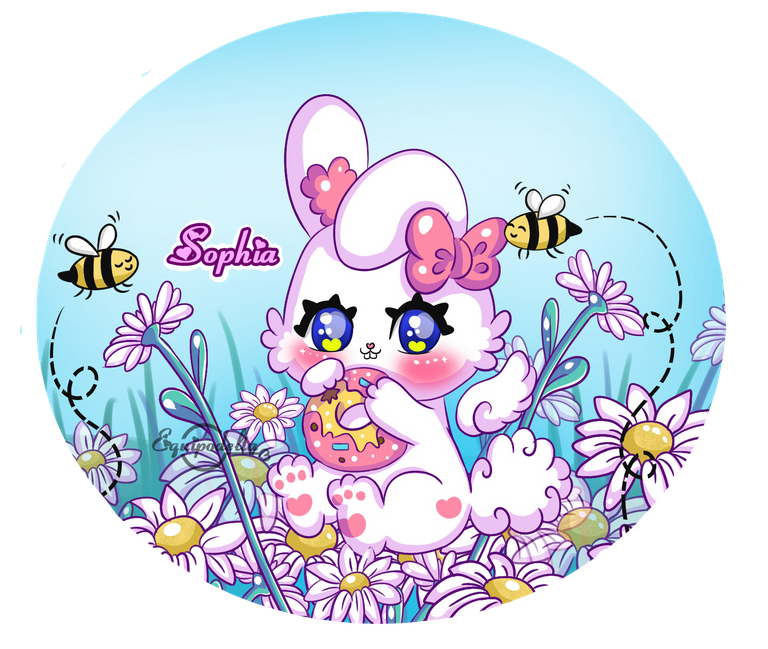 Vote la-colmena for witness
By @ylich



Hacks, DIY, Crafts, handmade arts Community