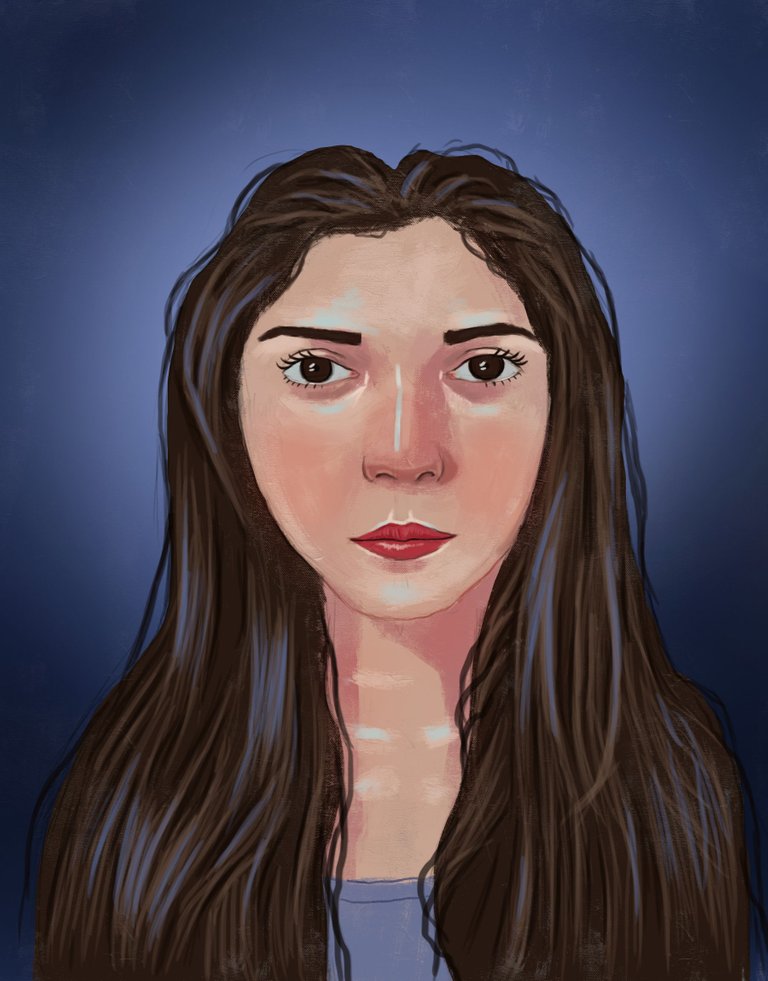 Hi all! Be welcome again to my blog! How are they going through it? Today I want to show you a little symmetrical portrait by the composition and pose, with a blue atmosphere and a little darkness and with a lot of patience I have drawn the textures of your hair to give a semi-realistic touch to the drawing. I show you the process below. I hope you like this drawing and write me that it seemed.
¡Hola a todos! ¡Sean bienvenidos nuevamente a mi blog! ¿Cómo la están pasando? Hoy les quiero mostrar un retrato un poco simétrico por la composición y la pose, con una atmosfera azul y un poco de oscuridad y con mucha paciencia he dibujado las texturas de su cabello para darle un toque semi realista al dibujo. Les muestro el proceso a continuación. Espero que les guste este dibujo y me escriban que les pareció.
---

---
PROCESO - PROCESS
I started tracing the entire structure of the head by contouring everything, then draw the silhouette with gray to obtain a guide in the following steps.
Comencé trazando toda la estructura de la cabeza contorneando todo, luego dibuje la silueta con gris para obtener una guía en los siguientes pasos.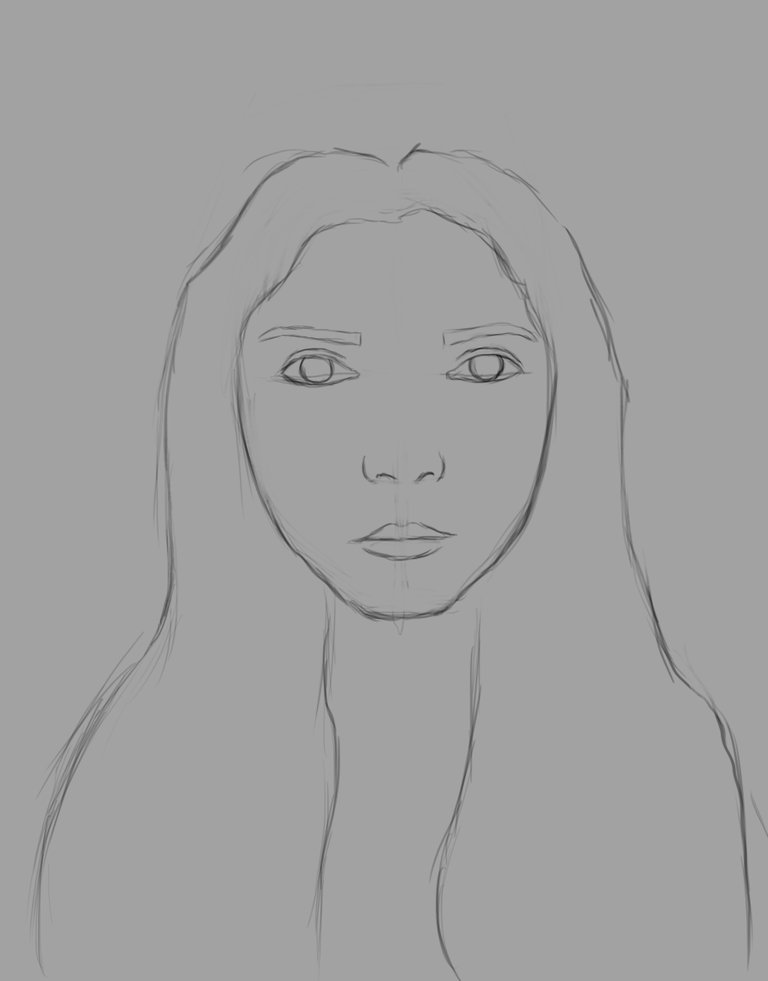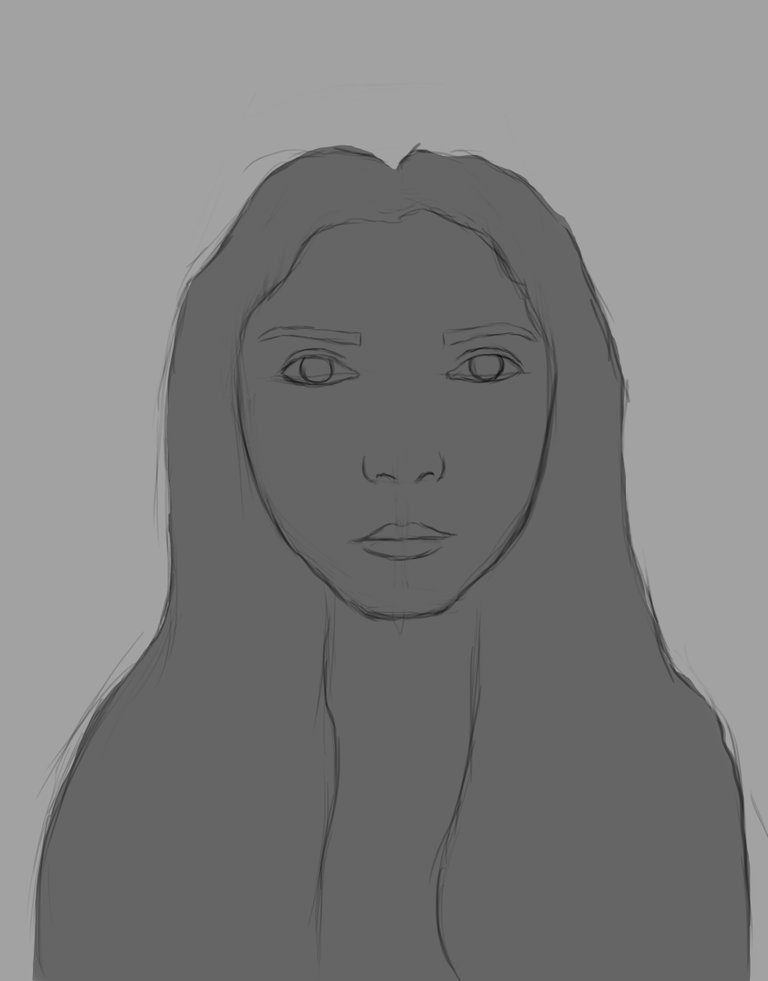 Subsequently, I proceeded to add color to the bottom, where I decided to add a dark blue, and did the same with the colors of the figure, the colors, the brown of the hair and the eyes, red for the lips and that are these elements that stand out by The strong contrast that is with the cold atmosphere of the drawing and how warm the lips are. This is how the color palette was defined.
Posteriormente procedí a agregarle color al fondo, donde decidí agregarle un azul oscuro, y hice lo mismo con los colores de la figura, los colores piel, el marrón del cabello y los ojos, rojo para los labios y que sean estos elementos que destaquen por el fuerte contraste que hay con la atmosfera fría del dibujo y lo cálido que son los labios. Así estaba definida la paleta de colores.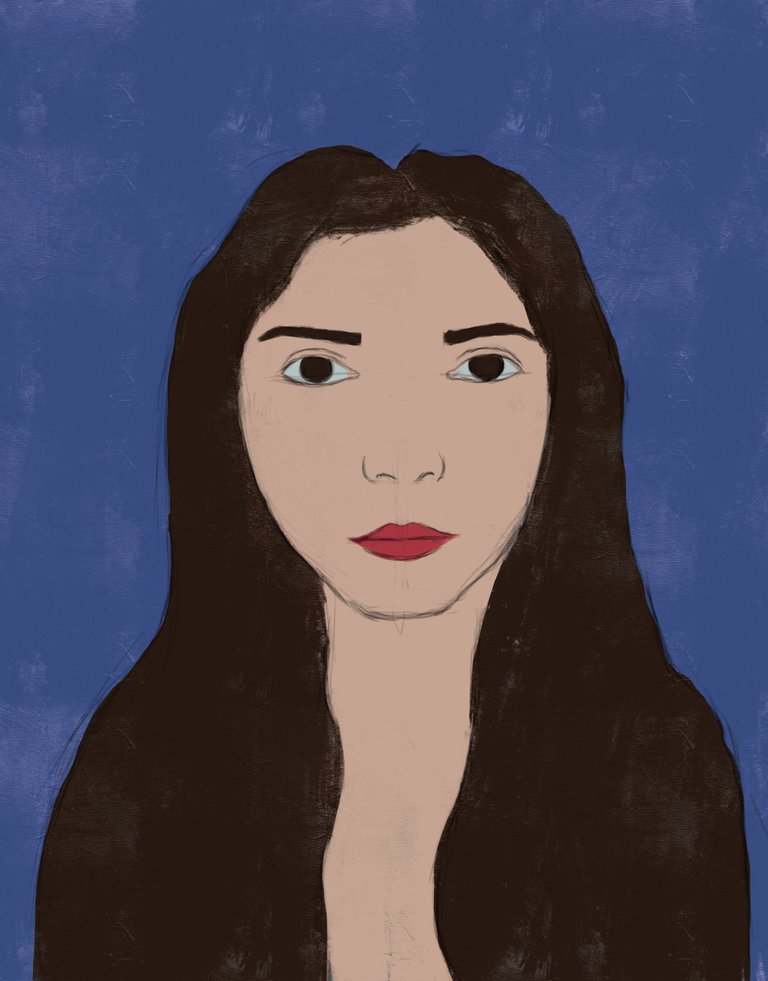 The next step was to work on the volume of the figure. Where I started drawing the shadows and lights of the face, use a dry brush to give it a particular texture to the face and idea is also to develop a different style of making semi-realistic portraits, one language of my drawings.
El siguiente paso era trabajar en el volumen de la figura. Donde comencé a dibujar las sombras y las luces del rostro, utilice un pincel seco para darle una textura particular al rostro y la idea también es desarrollar un estilo distinto de hacer retratos semi realistas, un lenguaje propio para mis dibujos.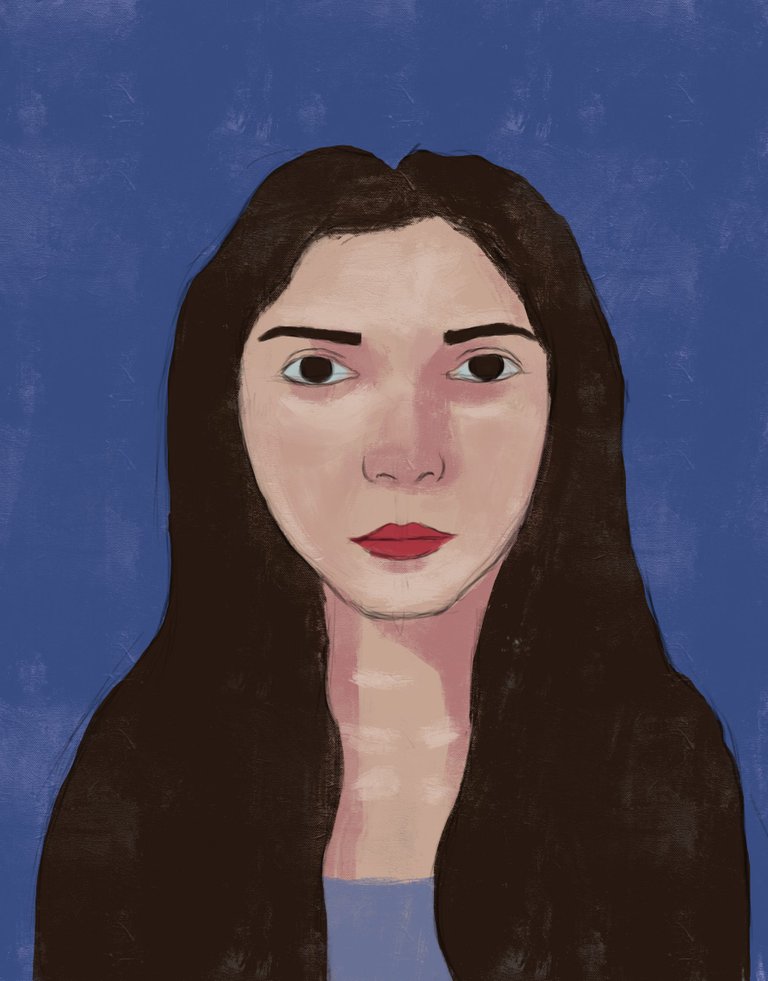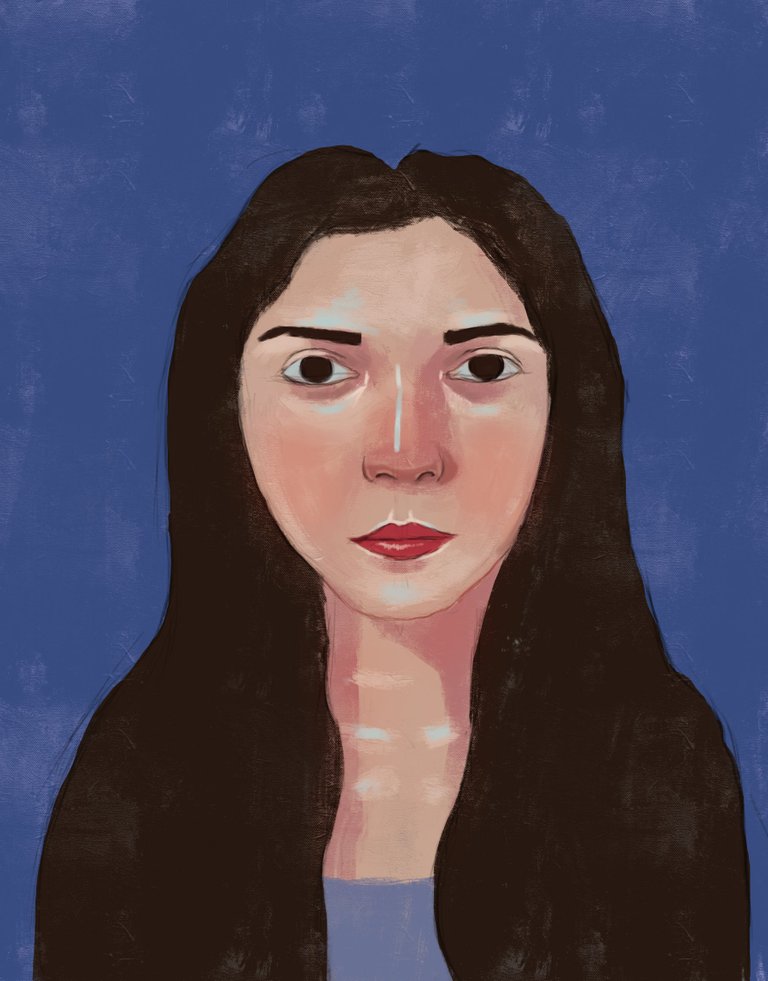 After finishing the face, I started drawing the textures and lighting of the hair. This is the part that I like the most about the drawing, because the hair comes alive and the face changes and as it is an element that does not have a pattern to do it but it is the most organic part in its realization I really enjoy doing it.
Luego de terminar con el rostro comencé a dibujar las texturas y las iluminaciones del cabello. Esta es la parte que más me gusta del dibujo, porque el cabello cobra vida y el rostro cambia y como es un elemento que no tiene un patrón para realizarlo sino que es la parte más orgánica en su realización disfruto mucho hacerlo.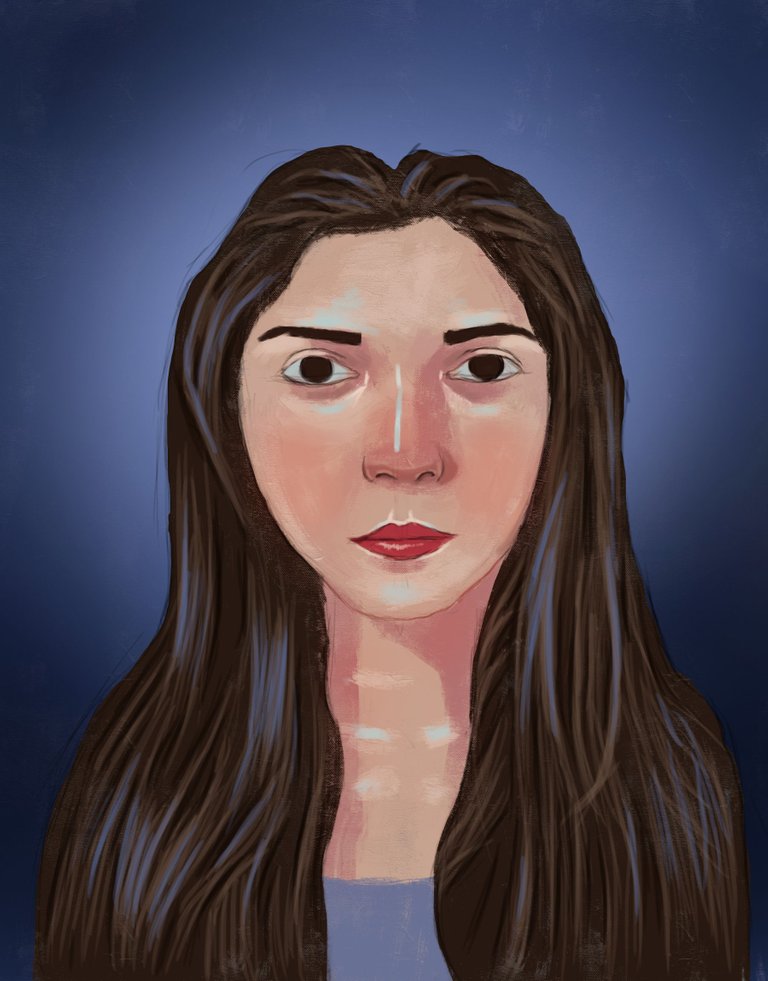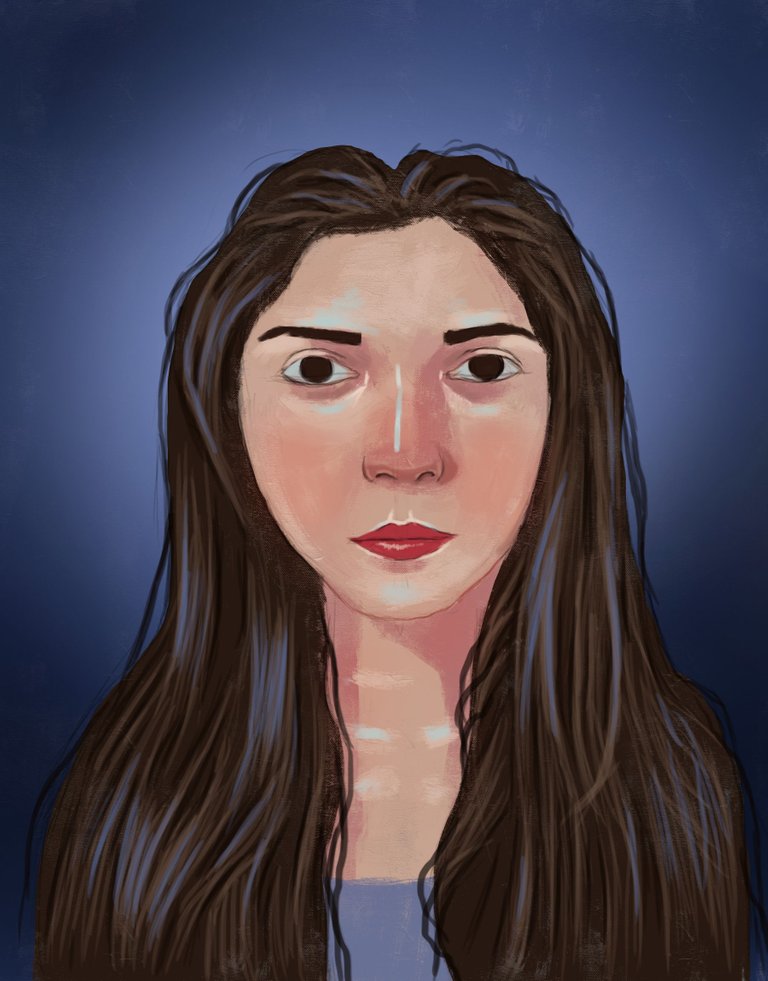 Finally, work on the details of the look, the brightness in the eyes, drew the eyelashes, and gave him some textures on his lips. And this was the result of the final art. What did you think?
Por ultimo trabaje en los detalles de la mirada, el brillo en los ojos, dibujé las pestañas, y le di algo de texturas en los labios. Y este fue el resultado del arte final. ¿Qué les ha parecido?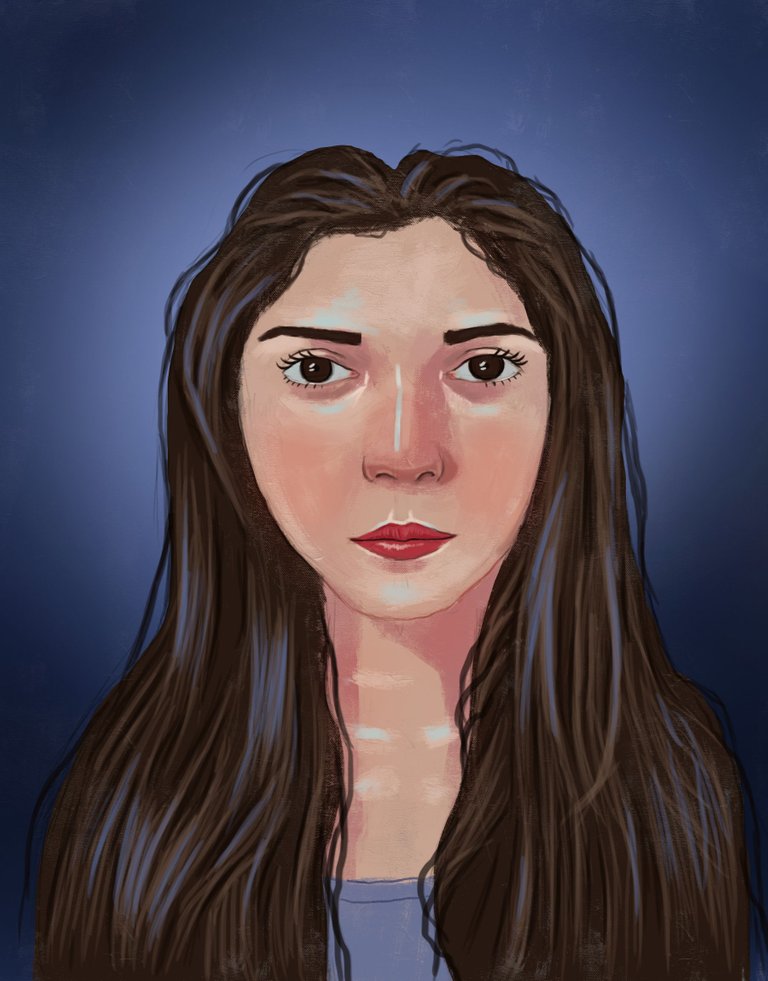 ¡Muchas gracias por leer este Post! Si te gustan mis contenidos, puedes apoyarme y seguirme en Hive Blog y en mis otras redes sociales.
.
Thank you very much for reading this Post! If you like my content, you can support and follow me on Hive Blog and on my other social networks.
.