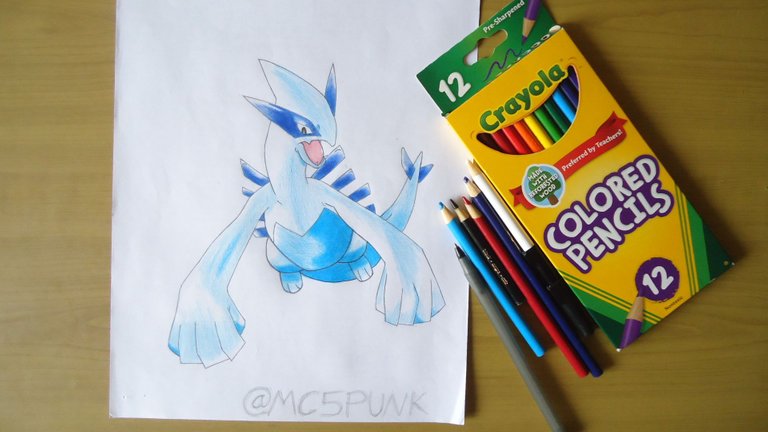 Greetings friends of the community. I come to present another of my drawings made recently, it is about a Pokémon whose name I don't know because I got the reference image from a videogame magazine, so if some of you know the name, please let me know in the comments box.
Saludos amigos de la comunidad. Les vengo a presentar otro de mis dibujos hechos recientemente, se trata de un Pokémon cuyo nombre desconozco debido a que la imagen de referencia la obtuve de una revista de videojuegos, así que si algunos de ustedes conoce el nombre, por favor, háganlo saber en la caja de comentarios.
Another thing I should also mention is that the quality of the pictures I'm going to show below may not be very good because I'm trying a new camera and I'm just getting familiar with it.
Otra de las cosas que también les debo de comentar es que la calidad de las fotografías que voy a exponer a continuación pueden que no sean muy buenas debido a que estoy probando una cámara nueva y apenas me estoy familiarizando con esta.
Now without further ado let's start with the tutorial.
Ahora sin mas rodemos vamos a empezar con el tutorial.
This drawing is simple to make so the initial steps have been discarded for the same reason since it is all about geometric figures such as: triangles, rectangles, and half-circles; so let's see the character as it is.
Este dibujo es sencillo de hacer por lo que los pasos iniciales han sido descartados por lo mismo ya que todo se trata de figuras geométricas como son: triángulos, rectángulos, y semis-circulos; por eso vamos a ver el personaje como esta.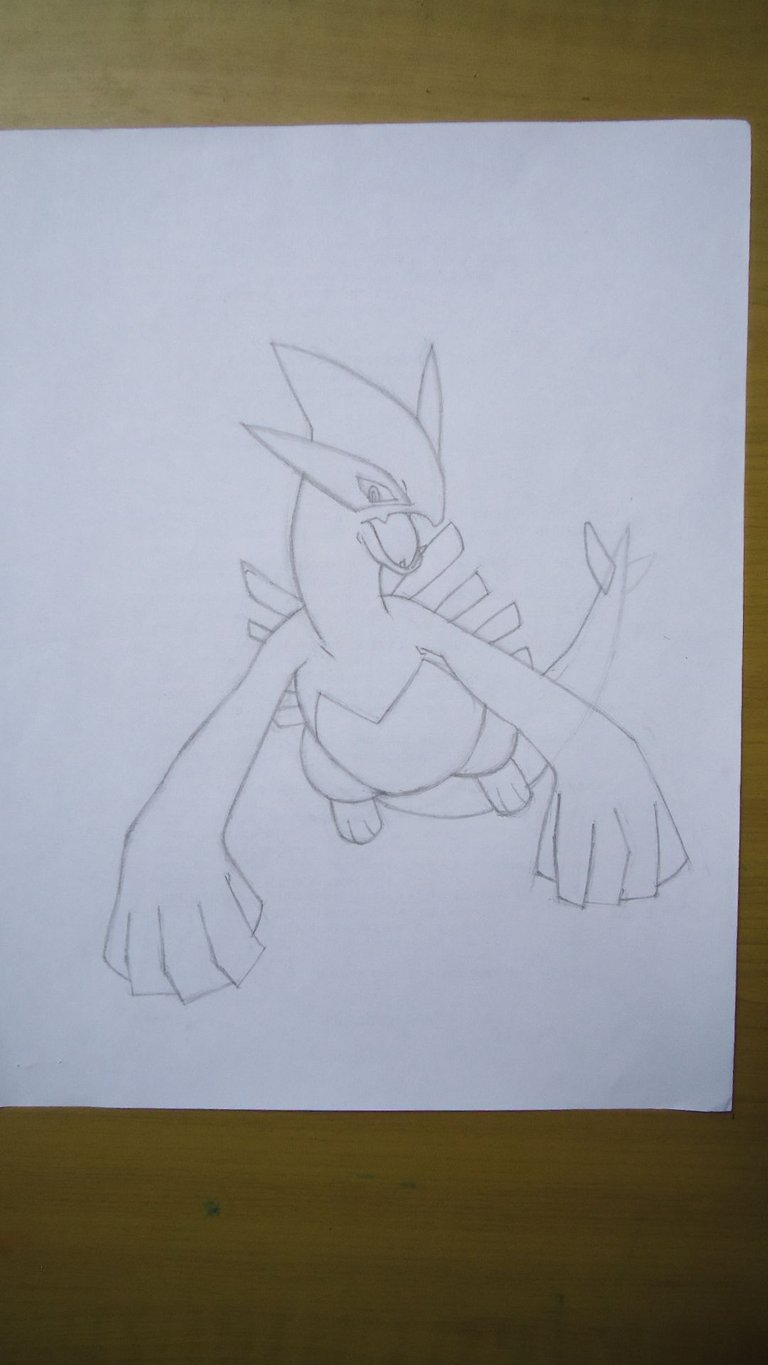 Then we are going to proceed to outline the lines with a black pen and then remove the graphite with an eraser. Then we will highlight the lines again for a better aspect.
Luego vamos a proceder a remarcar las lineas con bolígrafo negro para después quitar el grafito con borrador. Acto seguido volvemos a remarcar las lineas para un mejor aspecto.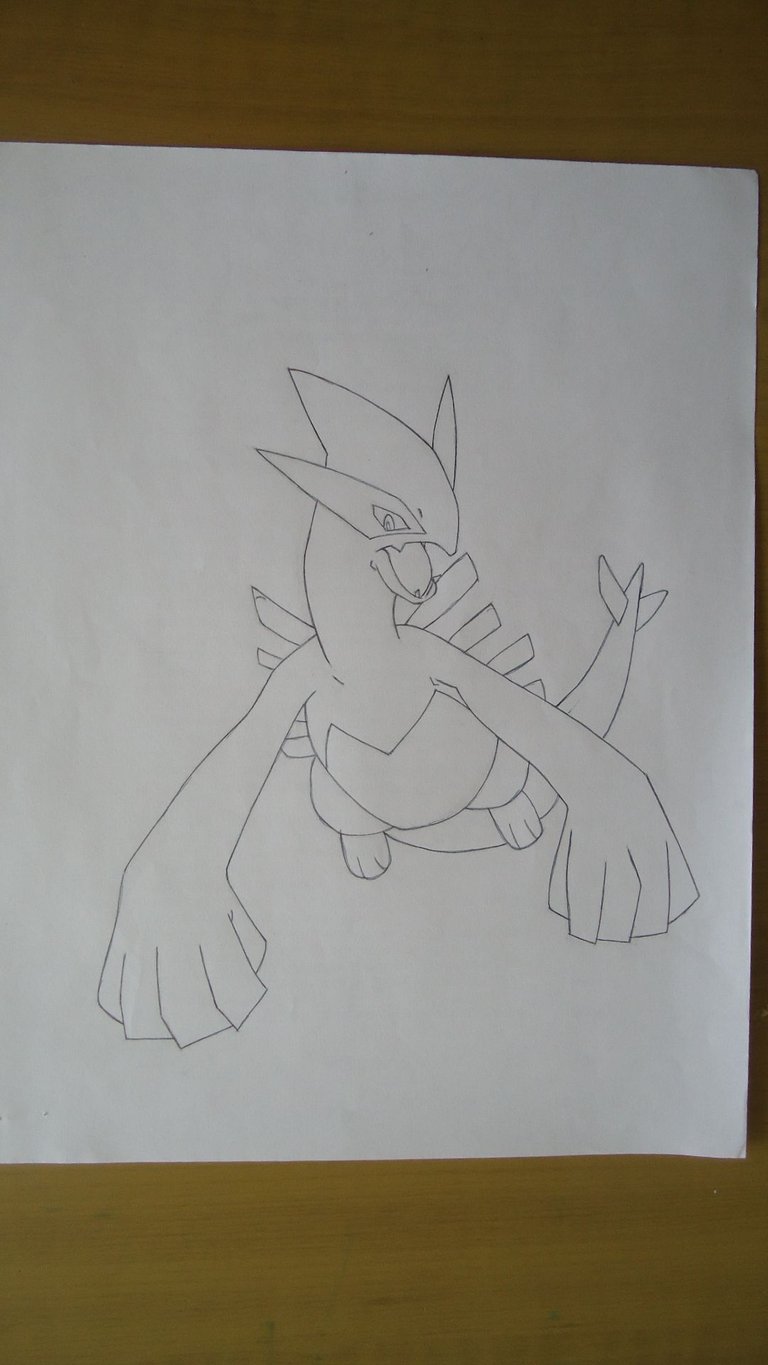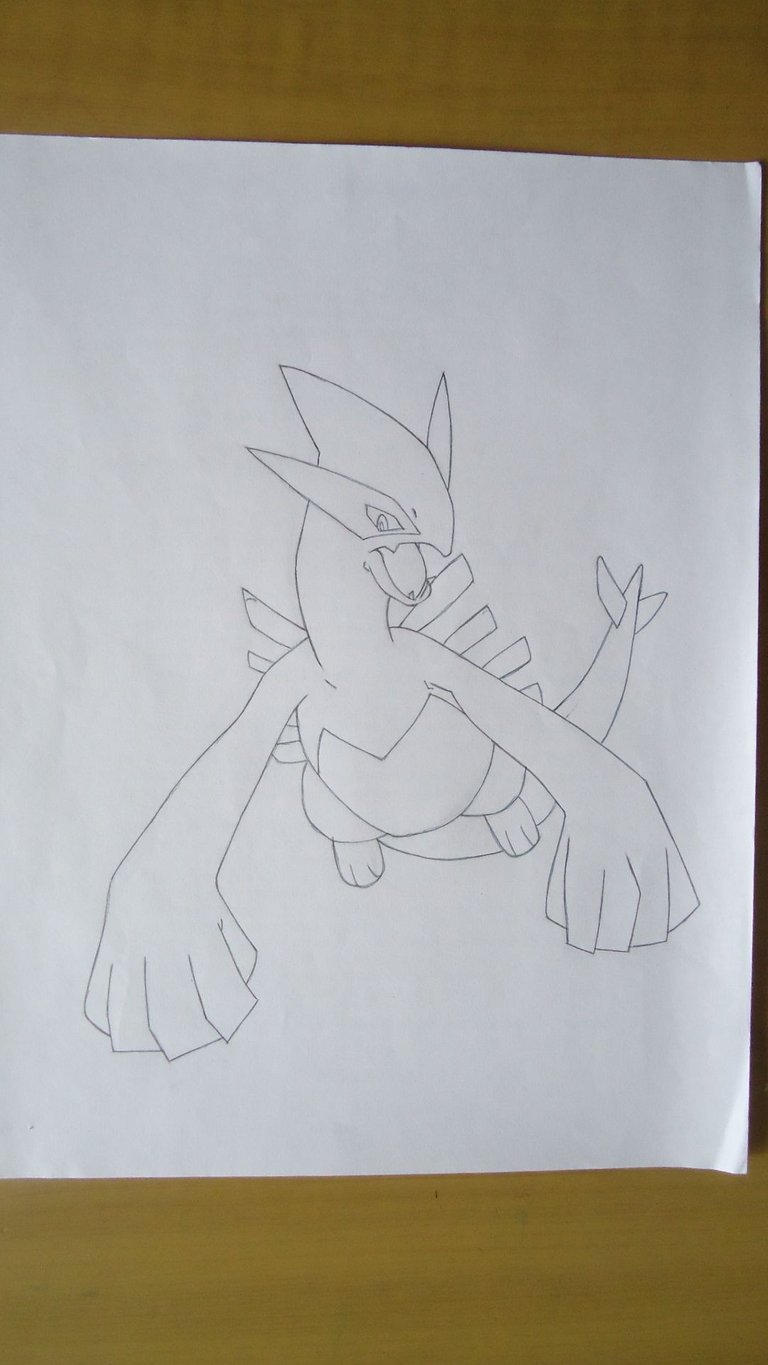 Now we are going to color with blue color the scales (or whatever they are called) leaving white spaces to give a sense of brightness. We will also color the tongue pink using just a touch of red mixed with white. And the eyes black color.
Ahora vamos a colorear con color azul las escamas (o como se llamen) dejando espacios en blancos para dar una sensación de brillo. También se coloreará la lengua de color rosa usando apenas un toque de color rojo mezclado con blanco. Y los ojos color negro.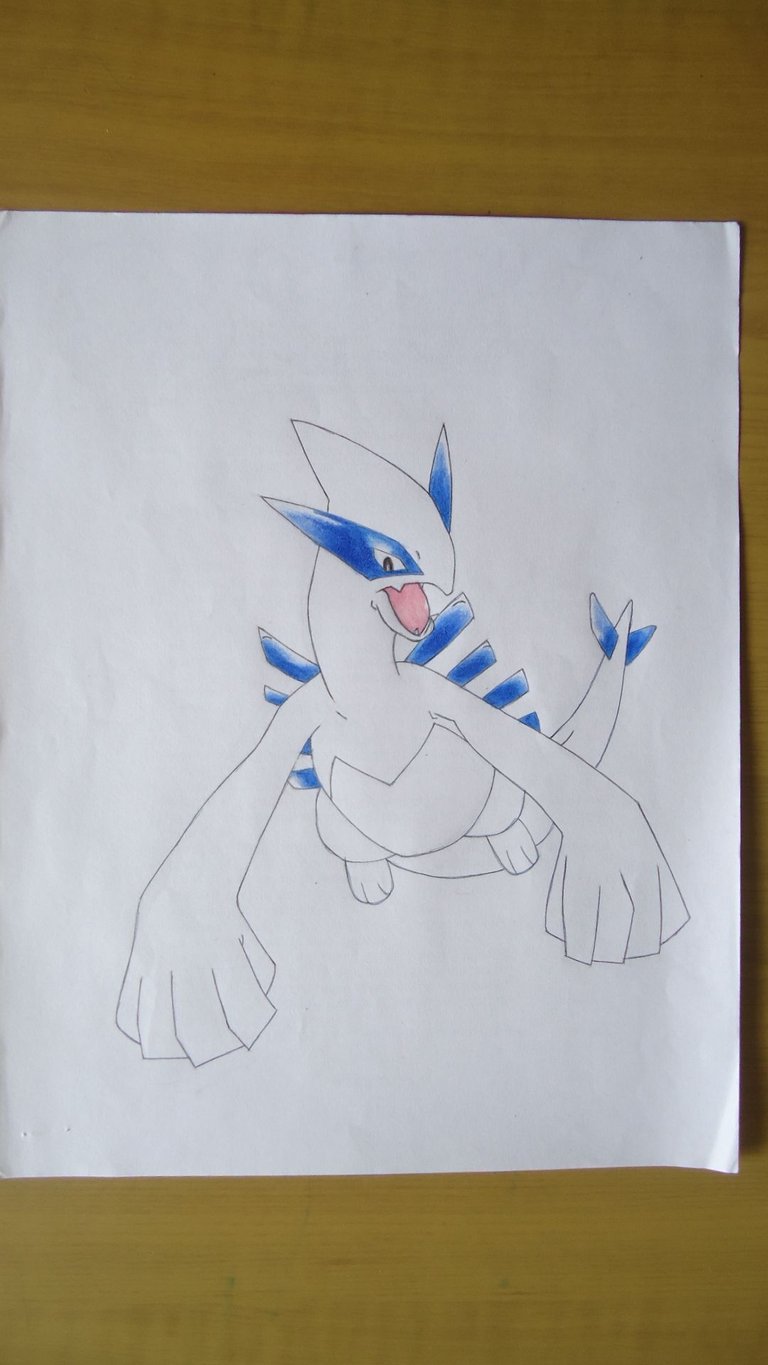 To finish we paint the rest of the body with light blue color.
Para terminar pintamos en resto del cuerpo con el color azul celeste.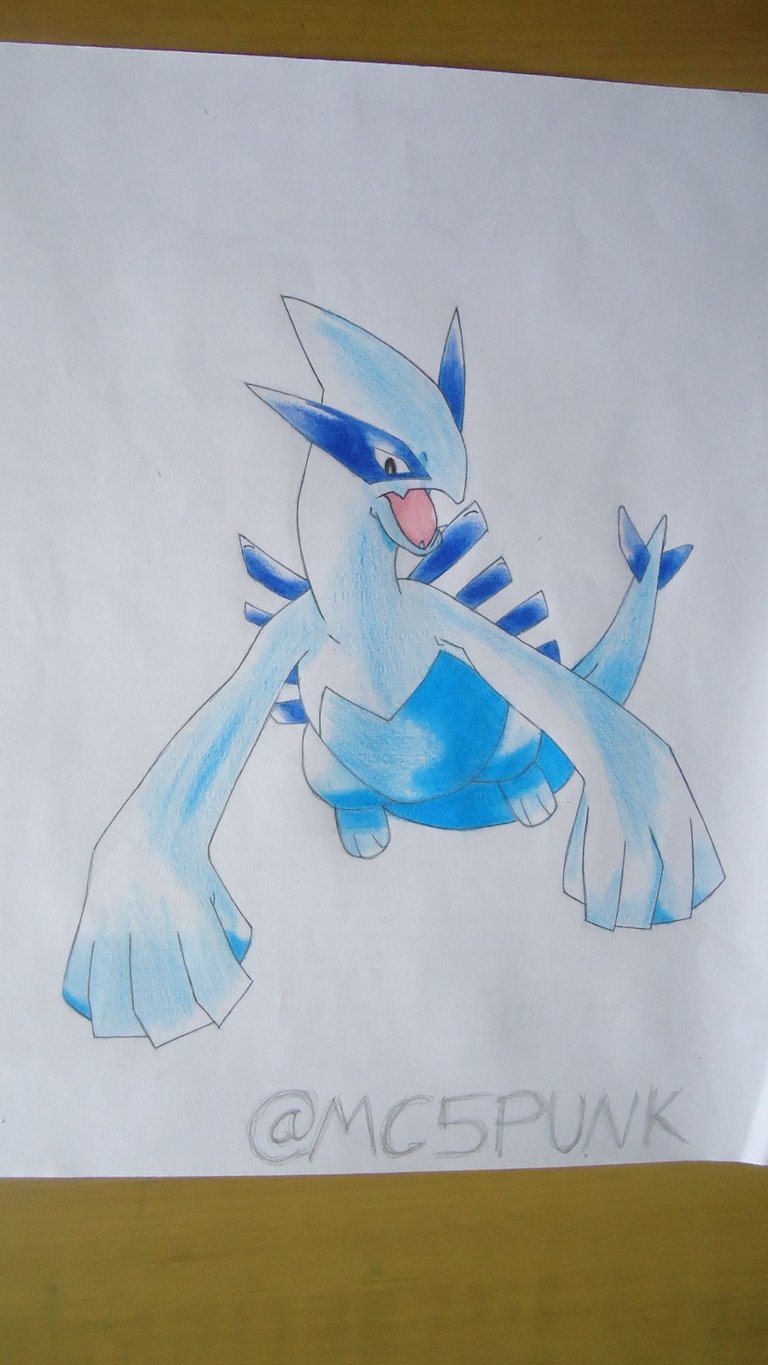 What do you think?
¿Qué opinan?
I thank all of you for your attention and support to this publication. Best regards to all of you.
Agradezco a todos ustedes por su atención y el apoyo a esta publicación. Un abrazo para todos.
The materials used for this work were:
HB pencil.
Eraser.
Pencil sharpener.
Recycled sheet.
Crayola colored pencils.
Paintbrush.
Black ink pen.
Los materiales usados para este trabajo fueron:
Lápiz HB.
Borrador.
Afilador de lápiz.
Hoja reciclada.
Lapices de colores Crayola.
Brocha.
Bolígrafo tinta negra.
Source of the images
Images obtained with my Sony Cybertshot camera.
Fuente de las imágenes
Imágenes obtenidas con mi cámara Sony Cybertshot.