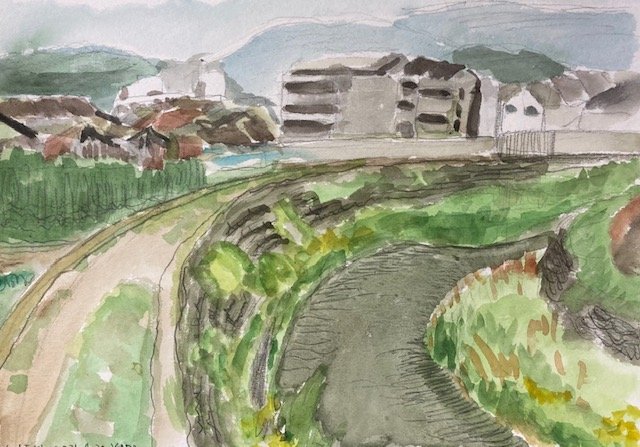 (ENG)
Golden Week started yesterday, but there was a heavy rain yesterday. It finally cleared up today, so I went to a river called Arisugawa near my house. At first, we were planning to go to the Katsura-gawa River, but we changed the destination to Arisugawa because we had to walk for about 40 minutes to get to the place where there is a restroom, and many people would have a barbecue.
Unlike the Katsura River, which is wide enough for many people to barbecue, the Arisu River is small enough for people to walk their neighbors' dogs. But it is a place with rich greenery and a field next to it. It has a suburban scenery even in Kyoto City.
The place I drew was a 7-8 minute walk from my house.
The mountains looked hazy in the distance, and the distant view was full of apartments and houses, especially small houses. And Nakakage drew a field and Arisugawa River which turned to a near view.
The building was simply painted with the flow of a river and the green of beautiful grass on both banks.
I wanted to make the green of new green more vivid, but this was the best I could do.
When I finished sketching, I wanted to go to the bathroom, so I quickly went home.
On the other hand, there are many restrooms in the Kyoto Botanical Garden, so you can sketch with ease, but it is closed because of the declaration of a state of emergency .......
(JPN)
ゴールデンウィークは昨日から始まっていますが、昨日は一日大雨でした。今日やっと晴れたので、自宅近くにある有栖川という川へ行きました。当初は桂川へ行く予定でしたが、トイレのある場所に行くには40分ぐらい歩かねばならないこと、またバーベキューなどやる人が多いであろうことから、行先を有栖川に変更しました。
たくさんの人がバーベキューをやるほど河川敷が広く、川幅も広い桂川と違って、有栖川は近所の人の犬の散歩やウォーキングをする人がたまに通るぐらいの小さい川です。でも、緑が豊かで、隣には畑もあるという、京都市内でも郊外らしい風景が残るところです。
私が描いた場所は自宅から徒歩7、8分歩いた地点です。
遠くの方に山がかすんで見え、遠景はマンションや家が立ち並び、特に小さな家は何軒も固まっていました。そして中景は畑、近景に曲がって流れる有栖川を描きました。
建物はあっさりと、川の流れとその両岸の美しい草の緑を主に描きました。
新緑の緑色をもっと鮮やかに出したかったのですがこれが精いっぱいでした。
スケッチが終わったらトイレに行きたくなったのでさっさと帰宅しました。
その点京都府立植物園は園内何か所もトイレがあるので安心してスケッチできるのですが、ただいま緊急事態宣言が出ているため休園中……。
---
Akiko Yada Solo Exhibition "waxing and waning of mind"
Date: Wednesday, May 12, 2021 - Monday, May 17
11 : 00 - 19 : 00 (Last Day 17: 00)
Venue: Art Gallery Kitano
(439 -4 Ebisu-cho, Kawaramachi Higashi-iru, Sanjo-dori Street, Nakagyo-ku Ward, Kyoto City)
---
矢田明子個展「こころの満ち欠け」
日時:2021年5月12日(水)~5月17日(月)
   11:00~19:00(最終日17:00まで)
会場:アートギャラリー北野
   (京都市中京区三条通河原町東入ル恵比須町439-4 コーカビル)
---
Call for Mail Art! / メールアート募集中!
https://ydart.exout.net/mailart.html