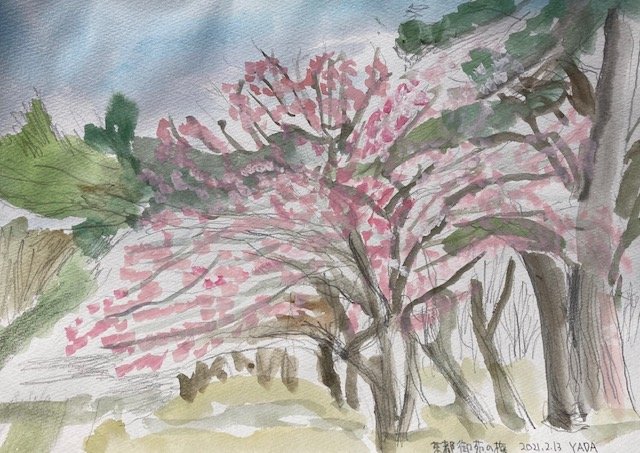 (ENG)
Today I went to Kyoto Gyoen to sketch plum blossoms for the first outdoor sketch of this year.
The plum blossoms in my neighborhood were blooming beautifully, so I thought I would be able to see many beautiful plum blossoms in Kyoto Gyoen, so I went there.
I took Kyoto bus and Kyoto city bus from my home, got off at Karasuma Marutamachi bus stop, and bought a lunch box at a nearby convenience store. You can also get there quickly from Marutamachi subway station.
Located in the center of Kyoto City, Kyoto Gyoen is a roughly rectangular park measuring approximately 700 meters from east to west and 1300 meters from north to south. The Kyoto Gyoen National Garden, excluding the Kyoto Imperial Palace, is open to the public as the "National Park" and is a place of recreation and relaxation for the citizens of Kyoto. Today, there were many people walking, shopping, riding bicycles, walking dogs and so on.
There are various kinds of plants and animals, and the season of plum, peach, cherry and flower will start soon. The plum grove is on the southwest side of Kyoto Gyoen. There are some early blooming and some late blooming of the plum trees, so it was not long before, but some plum trees were in full bloom. I sketched the first picture with Kobai and the second picture with pink Ume.
When I drew the second picture, I was hungry so I ate the bento I bought earlier, but I didn't have much energy left so I went home in the afternoon.
(JPN)
今日は今年初の野外スケッチとして、京都御苑へ梅のスケッチをしに行きました。
自宅の近所の梅の花もきれいに咲いていたので、京都御苑ならさぞかしきれいな梅がいっぱい見られるのではないかなと思い、出かけました。
自宅からは京都バスと京都市バスを乗り継いで烏丸丸太町バス停で降り、近くのコンビニで弁当を買って行きました。地下鉄丸太町駅からでもすぐに行けます。
京都御苑は京都市の中心部にあり、東西約700m、南北約1300mのほぼ長方形の公園で、このうち京都御所などを除いた部分が「国民公園」として開放されており、京都市民の憩いの場となっております。今日もウォーキング、ショギングをする人、自転車で走り抜ける人、犬の散歩をする人、色々な人がいました。
動植物も様々な種類があり、これから梅、桃、桜と花の季節に入ります。梅林は京都御苑の南西側にあります。梅は早咲きのもあれば遅咲きのもあるため全体としてはこれからでしたが、何本かの梅は満開でした。私は1枚目に紅梅を、2枚目にピンクの梅をスケッチしました。
2枚目を描いたらお腹が空いたので先ほど買った弁当を食べましたが、あまり余力も残っておらず昼過ぎに帰宅しました。
---
My Website / 私のウェブサイト
https://ydart.exout.net/
My Artwork sales site / 私の絵の販売サイト
https://ydart.stores.jp/