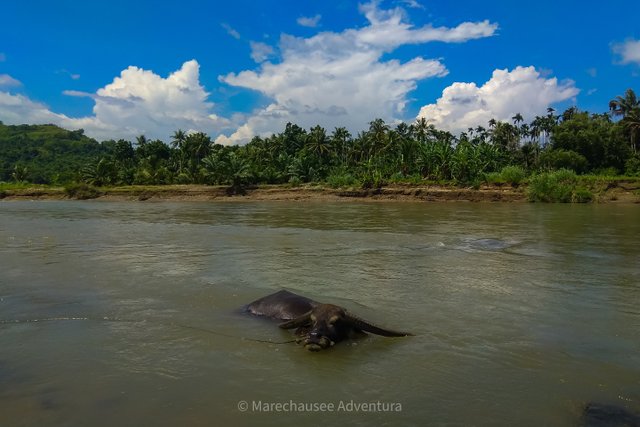 ---
Nature always has a story, which is why I often spend time in the countryside to capture pleasant moments. The beautiful river in the village became one of the food sources for animal habitats such as buffalo and cattle.
Alam selalu punya cerita, itulah sebabnya saya sering menghabiskan waktu di daerah pedalaman untuk mengabadikan moment yang menyenangkan. Sungai indah di perkampungan menjadi salah satu sumber makanan bagi habitat hewan semisal kerbau dan sapi.
This time I was lucky to get a friend, a buffalo who was enjoying his food on the banks of the river Peusangan. Beautiful river flow complements that rare moment.
Kali ini beruntungnya saya mendapatkan teman, seekor kerbau yang sedang menikmati pakannya di bantaran sungai Peusangan. Aliran sungai yang indah menjadi pelengkap moment langka itu.
The buffalo really enjoyed its activities, after eating it he soaked his body into the river, it seemed he really enjoyed the freshness after his body was sunburnt all day.
Kerbau tersebut sangat menikmati aktivitasnya, setelah makan Ia pun merendamkan tubuhnya ke dalam sungai, tampak Ia sangat menikmati kesegaran setelah tubuhnya seharian terjemur di mentari.
I capture it for some beautiful images, the weather is quite sunny and cloudy into a background that is very complete natural scenery there.
Saya mengabadikannya untuk beberapa gambar yang indah, cuaca cukup cerah dan berawan menjadi background yang sangat melengkapi pemandangan alam disana.