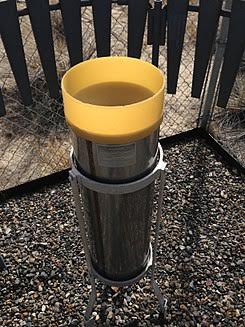 source:wikipedia
** Have a good day my fellow hivians !**
I'm here to inform you all about these particular write up that basically refers and deals with rain guage system so am glad to be able to come along with my intentions of writing this particular thing, and secondly am glad to be in this platform called (hive) so God bless you as you read my write up.
Although rain gauge system have become a part of an a practice, that those in rural area used bucket, booter and other facilities in measuring the rainfall and those in the urban area have been equipped with knowledge of how to measure the rainfall with some scientific comprehension because they are educated more than those in the rural area, so with the help of these scientist known as cheugugi invented this pattern during the reign of sejon the great of the joseon dynasty of Korea discover this method in 1441, Christopher wren created the tipping bucket rain gauge in Britain with Robert hooke.
Rain guage can be define as material use to collect the amount of liquid precipitation over an area in a particular period of time. It is used by those known as meteorologist, hydrologist and others. These rain gauge is capable of measuring a rainfall intensity. Rain guages are the most commonly instrument used to measure precipitation.
**Uses of the rain gauge **
It is used to measure climatic change.
It is used for agronomical influence
It is used to measure patterns and monitoring hazard such as flood
**The 5 major types of rain gauge we have **
Tipping bucket rain gauge
These refers to the chemical procedure that certain gauges embattled to measure precipitation at any time. It is the most commonly type available and it is known to manufacture an accurate results. Below is the image that illustrates how tipping basket rain gauge looks like: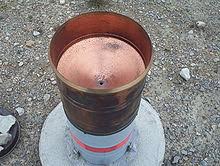 Source:wikipedia
Acoustic rain gauge
It is an a material that is design to determining rainfall, lakes and oceans it is equally called a sounds guage,there is a sensitive sounds, signature for each drop size of a rain known as hydrophone.
**Optical rain gauge **
It is used to measure an optical beam of a rain drop and it is an a automatic rain gauge so it in between a source of light and optical receiver.
standard rain gauge
Its an a 8 inch guage, used in weather service , the inner measuring tube of the large national weather service, gauge holds 2.0 inches of precipitation so it is design through out the whole world for official rain fall measurements.
Weighing rain gauge
Is use for recording a gauge and can be use for determining rainfall rate and depth, the mass of the collected water is a function of time and conversion of rain fall depth.
**Materials used to make a rain gauge
Two empty liter plastic bottle
Scissors
Rainy weather
A clean pebbles, gravel or marbels
Ruler
Permanent marker
Tape
Water
Conclusion
In full conclusion of my details I hereby inform all about my specific aspects of rain gauge system and it was invented by a white man from Korea and how it undergoes beyond the rural and urban area, so am here to notify you all that the modern method of rain gauge is good than that of the ancient individuals.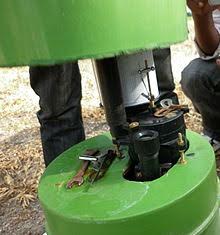 Source:wikipedia