I created a monster...Not a bolted together, stitched up creation like Dr. Frankenstein created, although that would have been cool...No, a pretty blonde one who looks good in a pair of tight jeans and can rock a tea-cosy on her head and actually make it look good...A stacking-monster is what I created...You can see her here panning for gold in the creek...I mean, that's dedicated right?
But it wasn't always that way.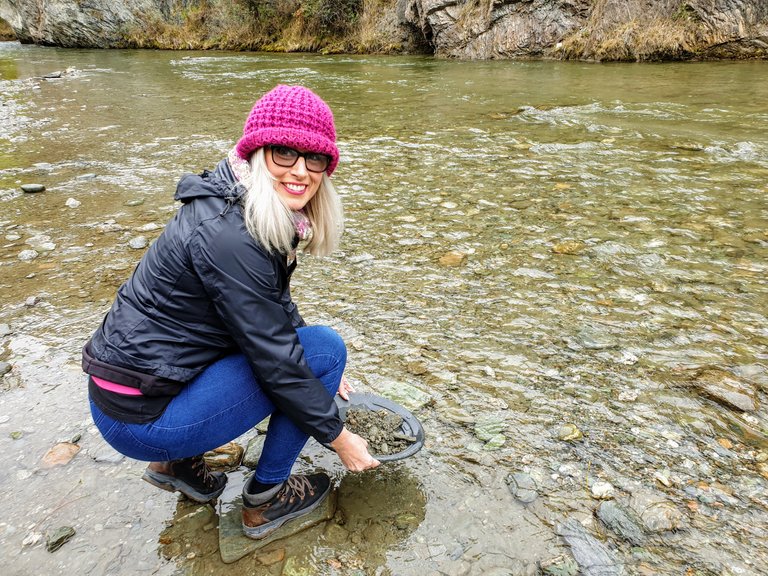 I've been a stacker for a while; I see it as a legitimate option to fiat and when I can afford to I purchase some silver or gold.
Prior to the virus situation, since which both our incomes have significantly reduced, I had a strategy that permitted me the opportunity to stack a little metal away each month for a rainy day...I'm a silver and gold loving stacking-squirrel, so to speak.
Faith was never on board though; She knew I bought it, but never really showed an interest in my reasons for doing so. It seemed as pointless as cryptocurrency did. I'd explain the concepts, the reason for having some stacked away, but she saw it as pointless; Not a waste of money, just not the best use of it. Money in the bank seemed more appropriate to her. I know why that is of course, and understand it, but just couldn't sway her thoughts...Until the virus changed everything.
The financial scenarios around the virus situation brought it all together for Faith...She actually brought it up right at the start, the fact that money in the bank didn't seem like a great idea and maybe some more gold or silver would be a smarter choice.
I didn't say "I told you so," but wanted to.
From an early stage in the current virus situation we went over the conversations we'd had previously and it all simply fell into place in her mind. She even said that she wished she'd listened to me earlier, which was nice to hear; It meant I knew she was on board.
We managed to secure a little gold and silver at about that time fortunately and since have sought out some more silver but it is simply not available. My silver guy can't get any and Perth Mint consistently sells out...I don't like buying directly from there anyway though, they only take payment by credit card which I don't like to use for silver or gold for obvious reasons. (My silver/gold guy takes cash.)
It's all good though, I'm just pleased she sees the merits of stacking now...It took a global pandemic to bring her around so...Thanks COVID-19, you did one good thing at least!
I wish Faith and I could spend our days out panning for gold, and that the return was commensurate to the effort, however we can't.
We can work on our savings plan though, and exchange the useless polymer notes the government pass off as currency for something with real value; Silver and gold. With both of us focused on it I think we'll do better, save better and gain more...Once it's available and our incomes go back to normal.
I don't think I'll ever get her onto hive considering how much she hates social media, she leaves me to gather our magic internet money, but together we're going to push forward with a little stacking and hope that we get some benefit down the track.
She's not really a monster, I actually made that bit up...But she talks about stacking, asks about the prices, actively thinks about it and how we may be able to afford a little extra...It's fantastic to have her on board as we work better together as a unit than individuals.
Oh, you have to promise me...If you ever get to meet her don't tell her I made a tea cosy remark about her beanie.
---
Design and create your ideal life, don't live it by default - Tomorrow isn't promised.
Be well
Discord: galenkp#9209