¡Saludos comunidad! Aquí la segunda parte de esta interesante bebida, la absenta.
Greetings community! Here the second part of this interesting drink, absinth.
El ritual de la toma de la absenta
La absenta es famosa por su color, su elevado grado alcohólico y sus supuestas propiedades alucinógenas, pero como si todo esto no fuese suficiente para darle una mayor aura de misterio, tiene un ritual muy especial y particular que hay que cumplir para beberla. Debido a que la absenta posee un altísimo grado alcohólico, no se puede tomar así no más sino que debe ser rebajada con agua, este proceso se realiza en varias partes y con unos utensilios especiales.
The ritual of taking absinth
Absinth is famous for her color, high alcoholic strength and supposed hallucinogenic properties, but as if all this weren´t enough to give her a greater aura of mystery, has a very special and particular ritual that must be followed to drink it. Due to the fact that absinth has a very high alcoholic degree, it can´t be taken just like this but must be reduced with water, this process is carried out in several parts and with special utensils.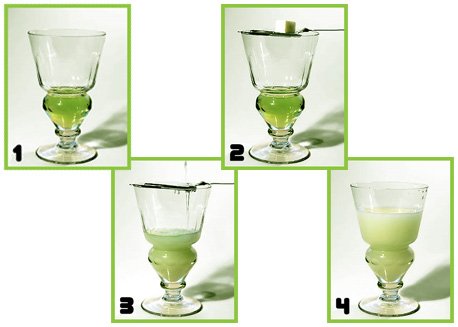 El ritual de la preparación de la absenta / The ritual of preparing absinth
Fuente / Source
Para beber la absenta como debe ser, se necesitan, a parte de la bebida claro está, una copa especial, una cuchara con huecos, agua fría para rebajar el porcentaje de alcohol y un terrón de azúcar para eliminar el amargor. Aunque en el mercado se pueden conseguir una gran variedad de copas tan exóticas y originales como el mito del Hada Verde, la copa tradicional para la absenta tiene una pequeña burbuja o esfera en la base con la justa medida de una onza donde se vierte la absenta en estado puro, seguidamente, se coloca la cuchara especial tipo colador sobre el borde de la copa con un terrón de azúcar en el centro y sobre el terrón de azúcar se echa lentamente el agua fría en la proporción que se guste para que este se vaya disolviendo y se mezcle con la absenta, mientras más agua, menos concentración alcohólica. A medida que el agua cae, la bebida va adquiriendo un color blanco nublado y con aspecto lechoso conocido como "louche" (turbio en español) o "palomita".
To drink absinth as it should be, needed, apart from the drink of course, a special glass, a spoon with holes, cold water to lower the alcohol percentage and a sugar cube to remove bitterness. Although in the market you can get a great variety of glasses as exotic and original as the myth of the Green Fairy, the traditional glass for absinth has a small bubble or sphere at the base with the right measure of an ounce where the absinth is poured in her pure state, then the special spoon type strainer is placed on the edge of the glass with a sugar cube in the center and cold water is slowly poured over the sugar cube in the proportion that you like until this dissolves and mixes with the absinth, the more water, the less alcoholic concentration. As the water falls, the drink takes on a cloudy white color with a milky appearance known as "louche" (cloudy in english).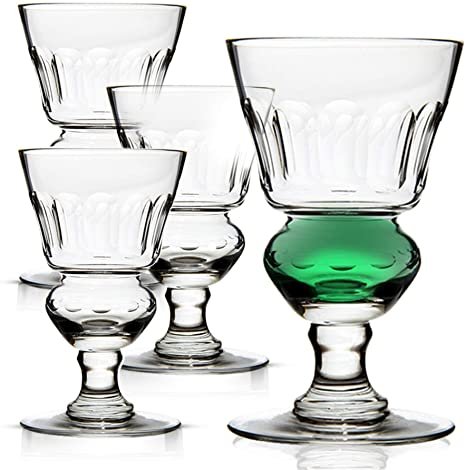 Copa clásica para beber absenta / Classic glass to drink absinth
Fuente / Source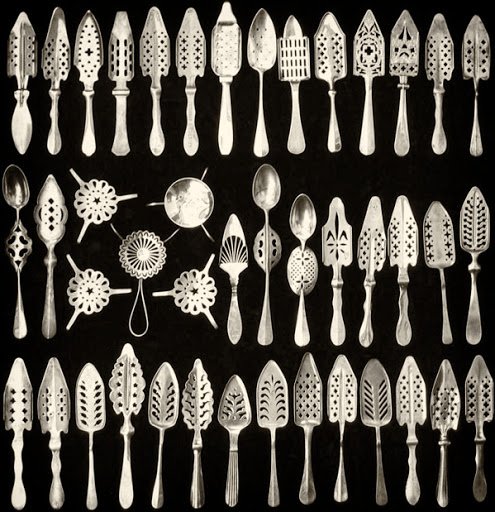 Modelos de cucharas perforadas para todos los gustos / Models of perforated spoons for all tastes
Fuente / Source
Esta transformación que ocurre con la absenta luego del ritual contribuyó a alimentar su fama de misteriosa bebida mágica. Sin embargo, este efecto de lento nublamiento se produce por la evaporación de algunos de los aceites esenciales y otros componentes de las plantas presentes en la bebida que no son solubles en agua mientras que el azúcar ayuda a contrastar el amargor típico del ajenjo. El agua y el azúcar hacen que la absenta libere todas las notas aromáticas y de sabor de las plantas que contiene.
This transformation that occurs with absinth after the ritual contributed to her fame as a mysterious magical drink. However, this slow clouding effect is produced by the evaporation of some of the essential oils and other plant components present in the drink that aren´t soluble in water while the sugar helps to contrast the typical bitterness of absinthe. The water and sugar cause absinth to release all the aromatic and flavor notes of the plants that contains.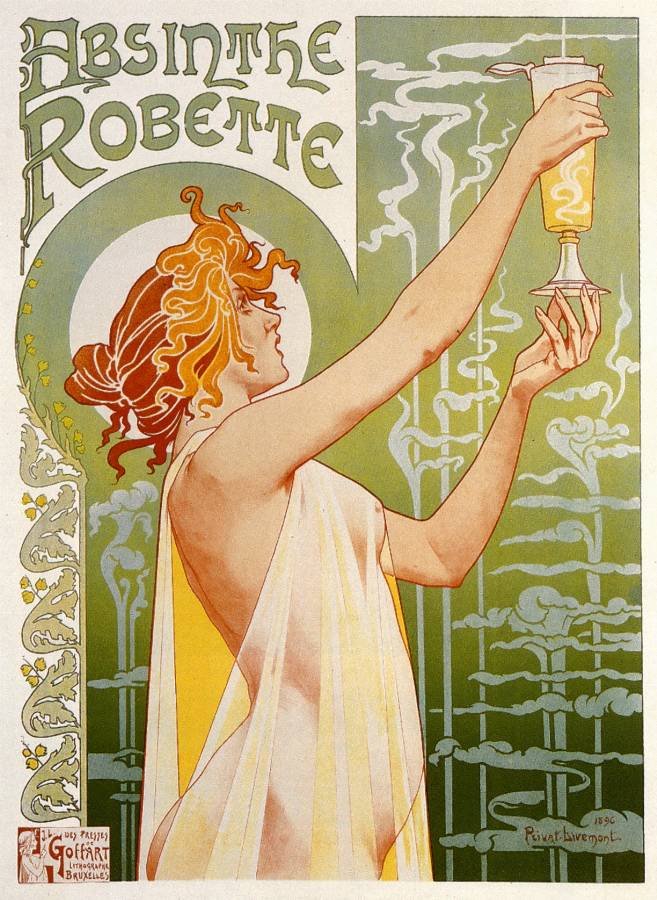 Afiche de Henri Privat-Livemont / A poster from artist Henri Privat-Livemont
Fuente / Source
Este es el método tradicional de tomar la absenta y se le llama método francés, existe una variante donde el terrón de azúcar es previamente tostado o calentado al fuego para que se caramelice antes de ponerlo sobre la cuchara y verter el agua o bien, se moja en absenta, se pone sobre la cuchara perforada y se enciende dejando que se vaya derritiendo sobre la bebida para al final rebajarla al gusto con agua, a este método se le conoce como método bohemio, checo o del fuego, sin embargo, los puristas y conocedores de la absenta lo rechazan porque altera el sabor original del destilado. Por último hay dos métodos rusos, el primero consiste en diluir la absenta con jarabe de azúcar (hecho en una proporción de 1:2, azúcar y agua), en el segundo, se sirve absenta pura en un vaso y se prende fuego, se tapa con otro vaso y se voltea metiendo un pitillo o pajita, la idea de esto es aspirar el humo que salga y luego tomarse la absenta de un trago.
This is the traditional method of taking absinth and it´s called the French method, there is a variant where the sugar cube is previously toasted or heated on the fire so that it caramelizes before putting it on the spoon and pouring the water or, you can also wet the sugar cube with absinth, put it on the spoon and turned on until it drops completely over the drink and then pour the water you want to reduce the alcoholic strength, this method is and it is known as Bohemian, Czech or the fire method, however, purists and connoisseurs of absinth reject it because it alters the original flavor of the distillate. Finally there are two Russian methods, the first consists on diluting the absinth with sugar syrup (made in a ratio 1:2, sugar and water), in the second, pure absinth is served in a glass and set on fire, it´s cover with another glass and turn around putting a straw between, the idea of this is to inhale the smoke that comes out and then take the absinth in one gulp.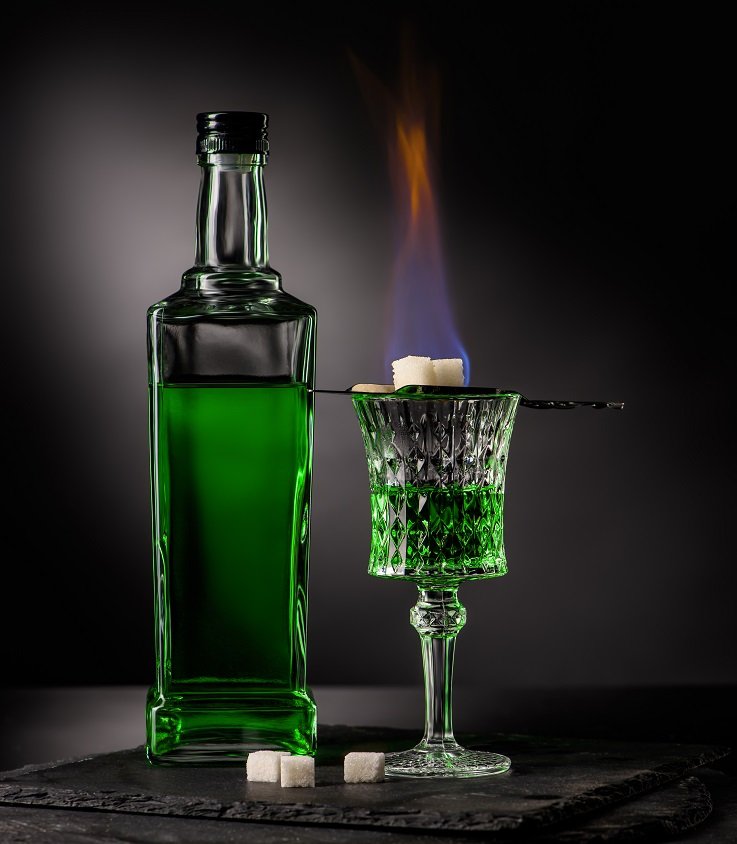 El método checo o bohemio de tomar absenta, aunque rechazado por los puristas es el más popular por ser el más llamativo / The Bohemian or Czech method to drink absinth, although rejected by purists is the most popular for being the most striking
Fuente / Source
Aunque la absenta se puede tomar en su estado puro, cosa para nada recomendable debido a su elevadísimo grado alcohólico, hacerlo es un acto de locura reservado sólo para algunos osados y experimentados bebedores. Sin embargo, para esos pocos atrevidos que deseen vivir esa experiencia, se recomienda enfriar la absenta hasta 0° C y beberla en un solo trago. Desde su aparición a mediados del siglo XVIII, el agua siempre ha acompañado a la misteriosa Hada Verde y es por eso que en todos los lugares donde se podía comprar y consumir, había bidones o fuentes de agua fría con grifos en el centro de las mesas para que los clientes pudiesen rebajar la absenta a su gusto en cualquier momento y a su vez socializar con otros catadores del preciado elixir verde.
Although absinth can be taken in her pure state, which is not recommended at all due to her extremely high alcoholic strength, doing so is reserved act of madness reserved only for a few daring and experienced drinkers. However, for those daring few who want to live that experience, it´s recommended to chill the absinth until 0°C and drink it in one gulp. Since her appearance in the mid-18th century, water has always accompanied the mysterious Green Fairy and that´s why in all the places where it was possible to buy and consume her, there were cans or cold water fountains with taps in the center of the tables so that customers could reduce absinth to their liking at any time and in turn socialize with other tasters of the precious green elixir.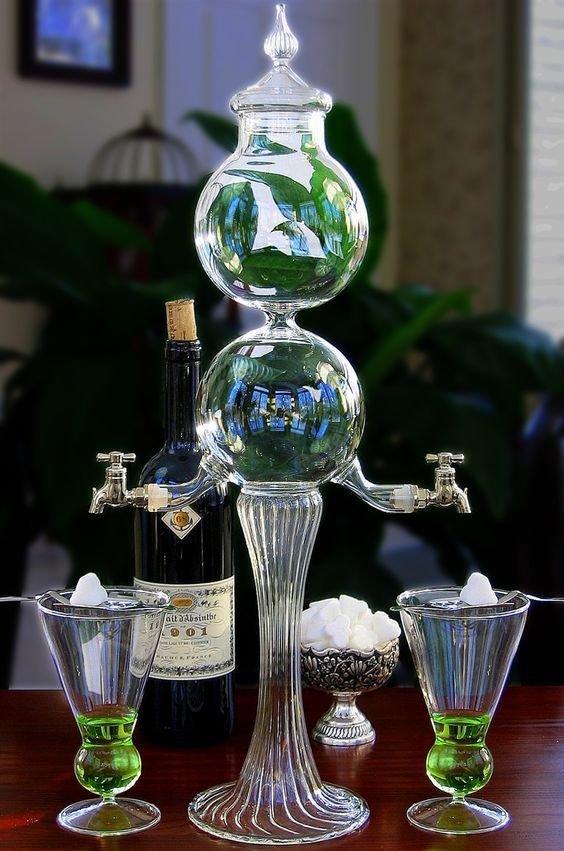 El accesorio que más explota el mercado de la absenta son las fuentes de agua, cientos de modelos, uno más hermoso que el otro / The accessory that exploits the absinth market the most are water fountains, hundreds of models, one more beautiful than the other
Fuente / Source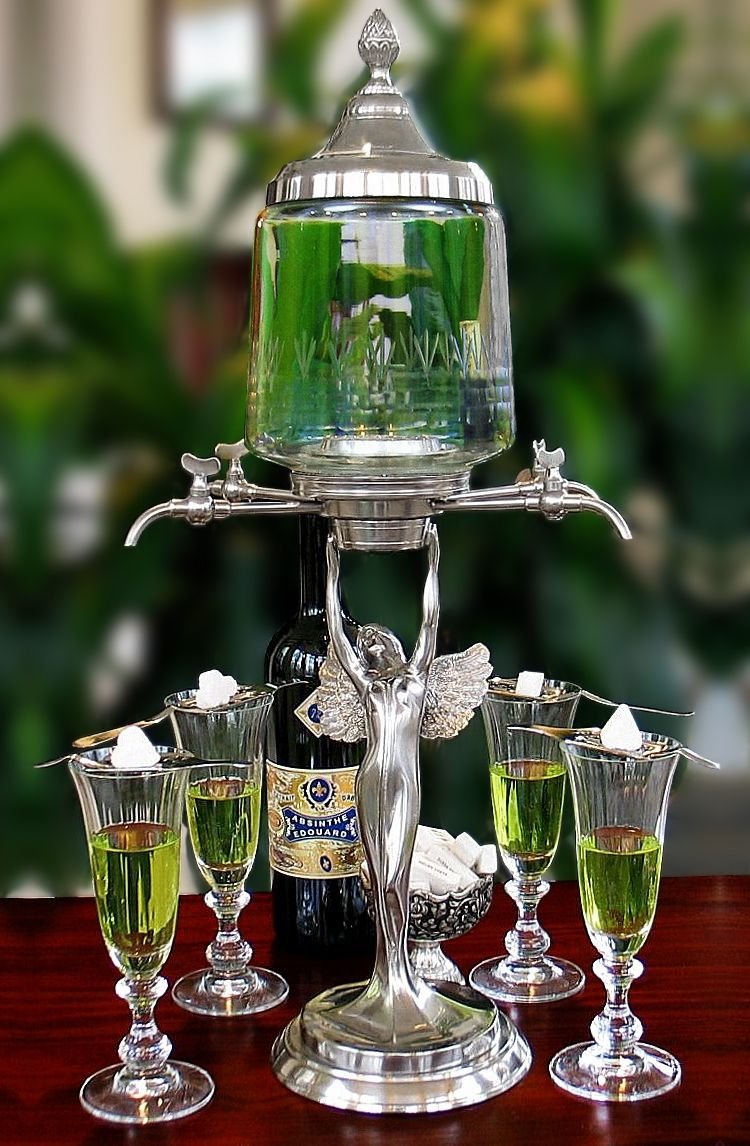 Fuente / Source
La absenta y las Leyes
El controversial preparado de ajenjo, que en un principio era una medicina que se vendía en las farmacias, y que aun se consigue en muchos herbolarios, siempre ha estado de alguna manera en problemas con la Ley. Desde que comenzaron a prohibirla por supuestamente generar locura, alucinaciones y hasta conductas inapropiadas (consecuencias para nada discutibles si se llega a tomar en estado puro y en grandes cantidades considerando su alta concentración alcohólica que puede llegar a los 90°), la absenta se mantuvo en el anonimato haciéndose cada vez más codiciada y misteriosa y forjando aun mas su fama.
Absinth and Laws
The controversial absinthe preparation, which at first was a medicine that was sold in pharmacies, and which is still available in many herbalists, has always been in some way in trouble with the law. Since they began to ban it for supposedly generating insanity, hallucinations and even inappropriate behaviors (consequences that aren´t at all debatable if it´s taken in her pure state and in large quantities considering her high alcoholic concentration that can reach 90°), absinth remained anonymous, becoming increasingly coveted and mysterious and further forging her fame.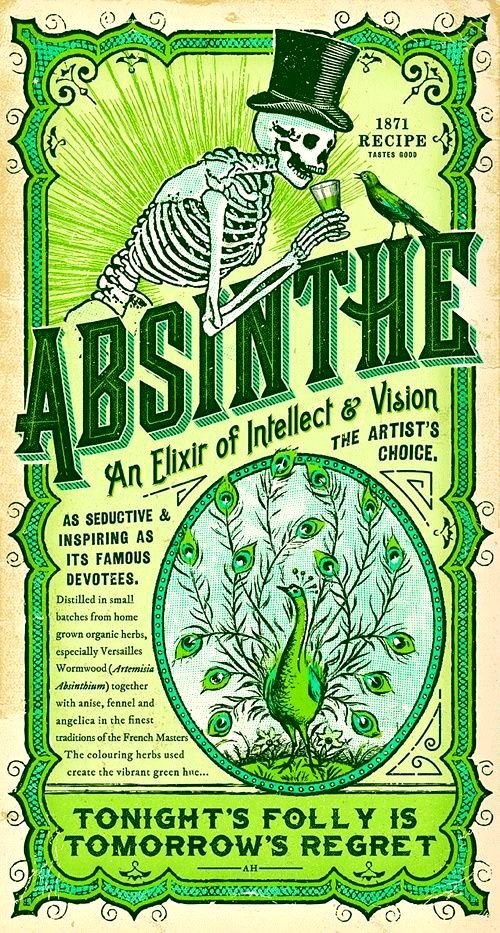 Fuente / Source
En cuanto a la libertad de venta, distribución y consumo en Francia, aunque la absenta ya es legal y puede ser exportada, debe ser etiquetada como "spiritueux à base de plantes d'absinthe" (bebida espirituosa a base de extractos de la planta de ajenjo) para su venta y consumo dentro del país. Así mismo, en la Unión Europea, el ajenjo es legal desde 1988, pero el organismo regula la cantidad máxima de tujonas por mg/kg en cualquier bebida alcohólica ya sea elaborada a partir de la Artemisia (35 mg/kg) o no (10 mg/kg). En Suecia, debido a su alto grado alcohólico, la absenta solo puede ser vendida por el Estado a través de su red de licorerías llamadas Systembolaget.
Regarding the freedom of sale, distribution and consumption, in France, although absinth is already legal and can be exported, it must be labeled as "spiritueux à base de plantes d'absinthe" (spirit drink made from extracts of the absinthe plant) for her sale and consumption within the country. Likewise, In the European Union, absinthe has been legal since 1988, but the organization of the European Union regulates the maximum amount of thujones per mg / kg in any alcoholic drink, whether made from Artemisia (35 mg / kg) or not (10 mg / kg). In Sweden, due to its high alcohol content, absinth can only be sold by the state through its network of liquor stores called Systembolaget.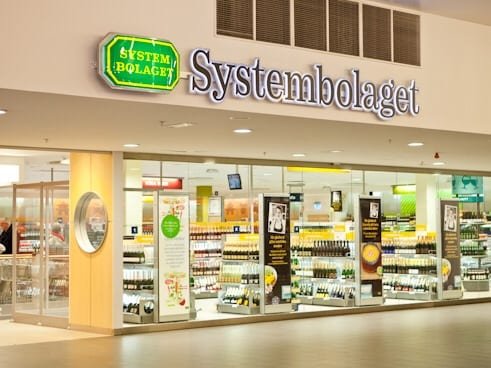 En Suecia, cualquier bebida superior a 3,5° de alcohol sólo puede ser vendida de manera individual a través de la red de licorerías del estado llamadas Systembolaget / In Sweden, all the alcoholic drinks with more than 3,5° of alcohol can only be sold individually through the liquor stores network of the state called Systembolaget
Fuente / Source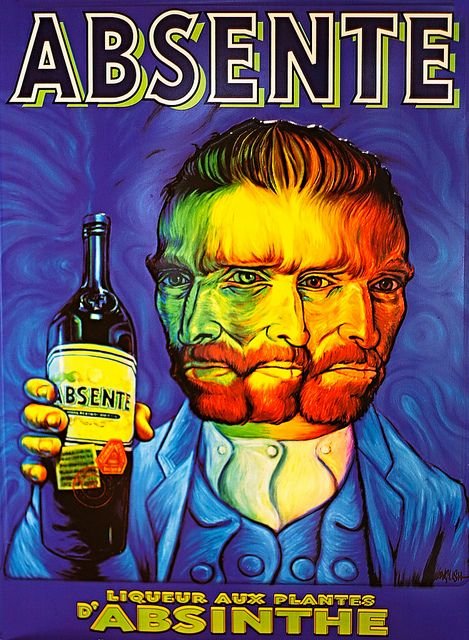 Fuente / Source
Pasando al continente americano, la absenta, es legal en algunos estados de Estados Unidos desde el 2007 con un límite en tuyonas de 10 mg/l establecidos por la Food and Drug Administration (FDA), sin embargo, al igual que en Francia, no se permite el uso de la palabra "Absenta" para identificar la bebida ya sea en marcas o etiquetas mientras que en Canadá hay restricciones en la cantidad de botellas que puede comprar cada persona y en México puede circular libremente controlando su graduación alcohólica. En Sudamérica es legal en Chile desde 1978 siempre y cuando no supere los 35 mg/l en tujonas. En Argentina tiene restricciones de venta y aunque está prohibida por ley, su tenencia o consumo no se consideran delitos, sin embargo, en los bares se suele solicitar con claves secretas. En Brasil, aunque se consigue clandestinamente, está prohibida su venta legal ya que supera el límite máximo de concentración alcohólica permitida en ese país que es de 53,8°. En cuanto a África, la absenta se utiliza en varios países del Norte durante el invierno como sustituto de las hojas de hierbabuena y menta para servir el te verde.
Moving on to the American continent, since 2007, absinth is legal in some states of the United States, with a limit in thujones of 10 mg / l established by the Food and Drug Administration (FDA), however, as in France, the use of the word "Absinth" to identify the drink either in brands or labels isn´t allowed, while in Canada there are restrictions on the number of bottles that each person can buy and in Mexico it can circulate freely by controlling her alcohol content. In South America has been legal in Chile since 1978 as long as it doesn´t exceed 35 mg/l in thujonas. In Argentina has sales restrictions and although is prohibited by law, her possession or consumption aren´t considered crimes, however, in bars she is usually requested with secret codes. In Brazil, although it can be found clandestinely, its legal sale is prohibited since it exceeds the maximum limit of alcoholic concentration allowed in that country, which is 53,8 °. In Africa, absinth is used in various northern countries during winter as a substitute for spearmint and mint leaves to serve green tea.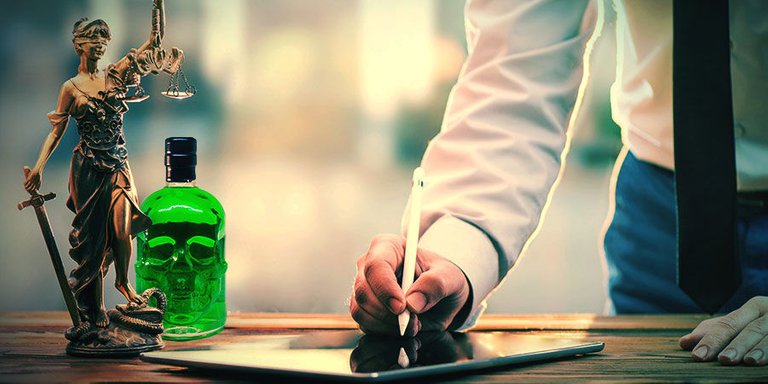 Fuente / Source
Musa de los artistas
Desde que la absenta comenzó a hacerse popular, el círculo bohemio de La Belle Epoque formado por artistas e intelectuales, la transformó en musa e invitada especial de sus reuniones. El misterioso elixir verde fue catalogado por muchos artistas, poetas y escritores como fuente de inspiración que abría la mente y los ayudaba a crear.
Muse of the artists
Since absinth began to become popular, the bohemian circle of The Belle Epoque made up of artists and intellectuals transformed her into a muse and a special guest at their meetings. The mysterious green elixir was listed by many artists, poets and writers as a source of inspiration that opened the mind and helped them create.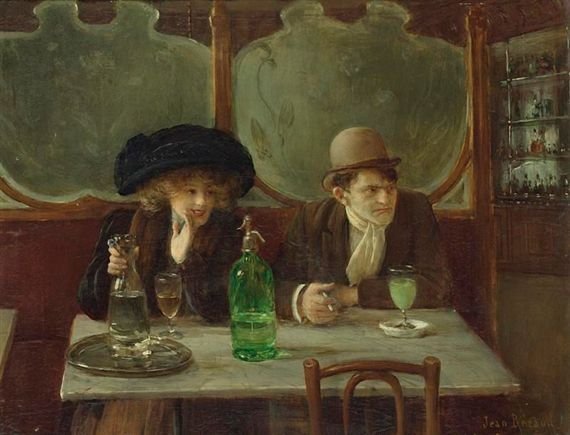 Bebedores de Absenta - Jean Beraud / Absinth drinkers - Jean Beraud
Fuente / Source
La absenta ha sido protagonista de muchas historias detrás de artistas famosos, una de las más conocidas es la de Vincent Van Gogh. Según cuentan varias fuentes, la tristemente célebre auto mutilación de su oreja fue culpa de una borrachera con absenta. El famoso pintor holandés se había enamorado de una prostituta y estando en un bar bajo los efectos del Hada Verde, no encontró una manera más original de declararle su amor a la dama en cuestión que cortándose la oreja para regalársela. Mito o realidad nunca lo sabremos. Por otro lado, dicen que la debilidad de su colega Gauguin por el color verde en la mayoría de sus obras era una especie de homenaje a su amor hacia el destilado esmeralda.
Absinth has been the protagonist of many stories behind famous artists; one of the best known is that of Vincent Van Gogh. According to several sources, the infamous self-mutilation of his ear was the fault of a drunk with absinth. The famous Dutch painter had fallen in love with a prostitute and being in a bar and under the influence of the Green Fairy, he didn´t find a more original way to declare his love for the lady in question than by cutting off his ear to giving it to her. Myth or reality we will never know. On the other hand, they say that his colleague Gauguin's weakness for the color green in most of his works was a kind of homage to his love for the emerald distillate.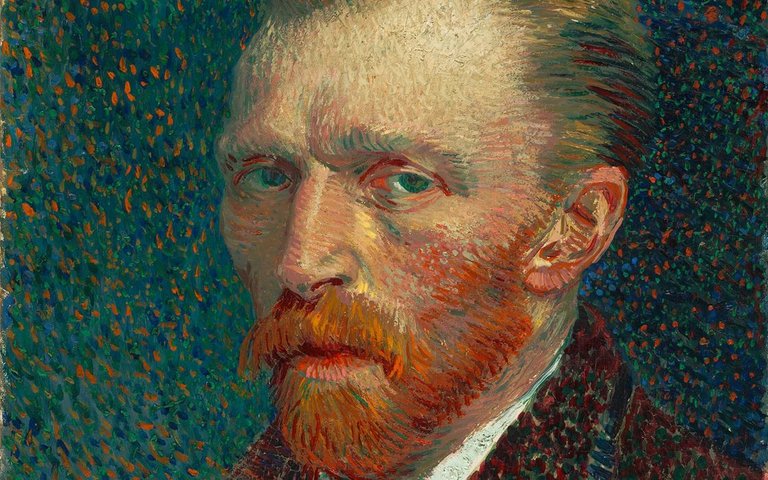 Vincent Van Gogh
Fuente / Source
Ciertamente la misteriosa absenta ha sido fuente de inspiración para el mundo de las artes y su divina presencia se puede encontrar en pinturas, poemas, canciones, literatura y hasta en películas. Venerada por impresionistas, románticos y modernistas que la llevaron al estatus de bebida de culto. En la mayoría de las expresiones artísticas es caracterizada como su famoso alter ego, un Hada Verde, aunque entre sus detractores se le conozca como Diablo Verde. La sola pronunciación de su nombre alude a un mundo prohibido pero a la vez atractivo y eso lo sabían muy bien los artistas de finales del siglo XIX y principios del siglo XX.
Certainly the mysterious absinth has been a source of inspiration for the world of the arts and her divine presence can be found in paintings, poems, songs, literature and even in movies. Revered by Impressionists, Romantics and Modernists who brought her to the status of a cult drink. In most artistic expressions she is characterized as her famous alter ego, a Green Fairy, although among her detractors she is known as the Green Devil. The very pronunciation of her name alludes to a forbidden world but at the same time attractive and that was known very well by the artists of the late nineteenth and early twentieth centuries.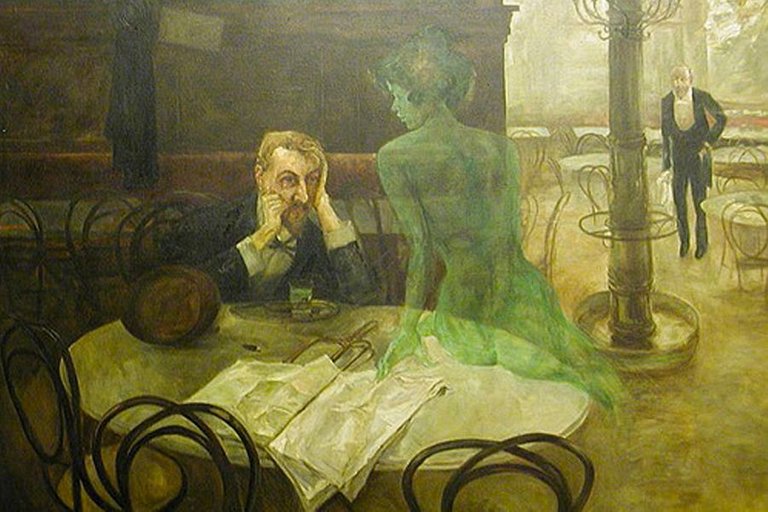 El bebedor de absenta – Viktor Oliva / The absinth drinker - Viktor Oliva
Fuente / Source
Cada escritor, artista o adepto a la absenta tiene su opinión sobre ella, así podemos citar a Oscar Wilde cuando dijo: "Tras la primera copa de absenta ves las cosas como querrías que fueran. Tras la segunda, ves las cosas como no son. Finalmente, ves las cosas como realmente son, y eso es lo más horrible del mundo." Ya por estos lados, está muy presente en el tango "Copa de ajenjo" donde Juan Canaro y Carlos Pesce cantan: "Sirva otra copa de ajenjo, si a nadie le importa si quiero tomar, porque esta noche la espero y sé que no ha de llegar". Por su parte el autor de Los Tres Mosqueteros, Alejandro Dumas decía que: "La absenta ha matado a más soldados franceses en África, que las balas árabes", apoyando a los detractores del destilado que lo consideraban un veneno.
Every writer, artist or follower of absinth has his/her opinion about her, so we can quote Oscar Wilde when he said: "After the first glass of absinth you see things as you would like them to be. After the second, you see things as they aren´t. Finally, you see things as they really are, and that is the most horrible thing in the world". Here in South America, she is very present in the tango "Copa de ajenjo" (Glass of absinthe), where Juan Canaro and Carlos Pesce sing: "Serve another glass of absinthe, if nobody cares if I want to drink, because tonight I wait for her and I know that she hasn´t to arrive". For his part, the author of The Three Musketeers, Alexander Dumas said that: "Absinth has killed more French soldiers in Africa than Arab bullets", supporting the detractors of the distillate who considered it a poison.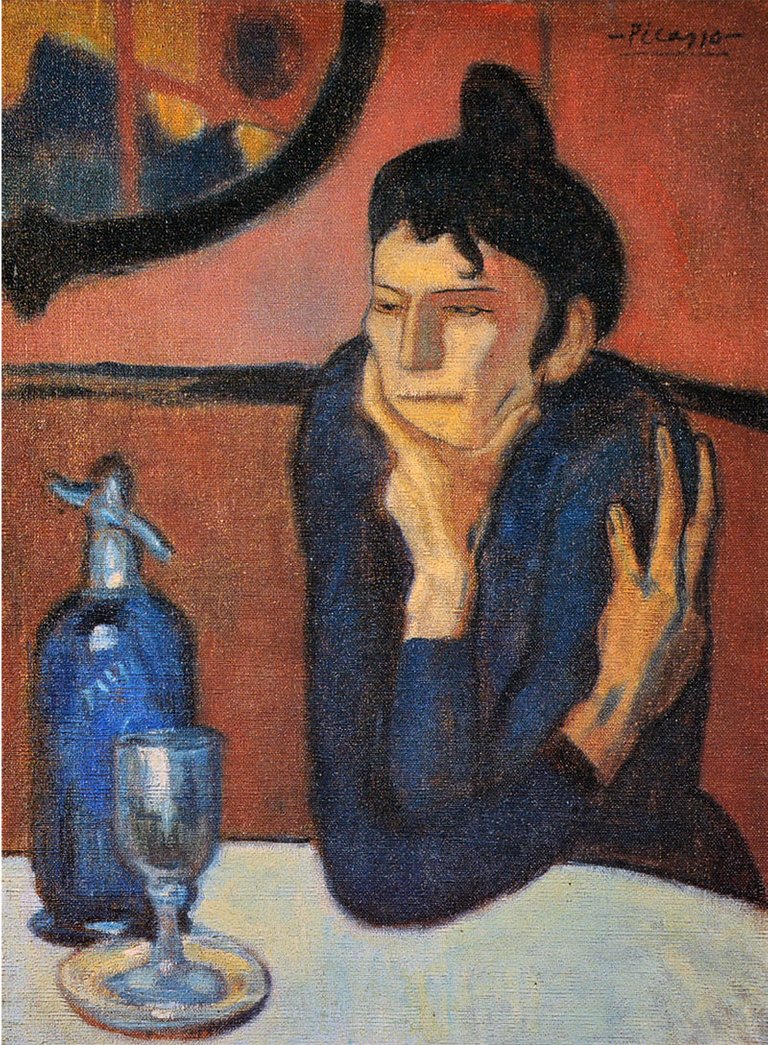 Bebedora de Absenta - Pablo Picasso / Absinth drinker - Pablo Picasso
Fuente / Source
Ernest Hemingway expresó su amor hacia la absenta a través de un cóctel que llamó "Muerte en la tarde", el escritor decía: "Verter una medida de jigger de absenta en una copa de champagne. Agregar champagne helado hasta que alcance la opalescencia lechosa debida. Beber de tres a cinco de éstos lentamente." En la Nueva Orleans de principios del siglo XX se usaba la absenta para preparar un popular cóctel llamado Sazerac. Algunos de los cócteles que llevan absenta son: el Crisantemo (Vermut seco, Benedictine y absenta), el Bestia Verde (absenta, zumo de limón, sirope de azúcar, agua fría y pepino) y el Absinthe Suissesse (absenta, nata, clara de huevo y jarabe de almendra Orgeat), este último se toma en Nueva Orleans por las mañanas como sustituto del café.
Ernest Hemingway expressed his love for absinth through a cocktail he called "Death in the Afternoon", the writer said: "Pour a jigger measure of absinth into a glass of champagne. Add iced champagne until it reaches the due milky opalescence. Drink three to five of these slowly". In New Orleans in the early 20th century, absinth was used to make a popular cocktail called Sazerac. Some of the cocktails with absinth are: Chrysanthemum (Dry Wermut, Benedictine and absinth), Green Beast (absinth, lemon juice, sugar syrup, cold water and cucumber) and Absinthe Suissesse (absinth, white of the egg, cream and Orgeat), this last one is popular in New Orleans where people use to drink it in the morning instead of coffee.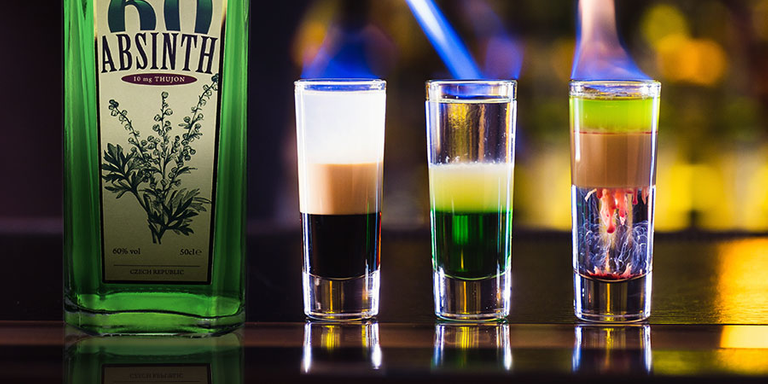 Fuente / Source
En los tiempos más recientes, uno de los más fervientes adeptos de la absenta es el cantante y compositor Marilyn Manson, quien no solo ha afirmado haber realizado varios de sus discos bajo la influencia del Hada Verde sino que hasta cuenta con su propia marca del controversial destilado de ajenjo llamada Mansinthe. Elaborada por la destilería francesa Matter-Luginbuehl y siguiendo el método tradicional, ingredientes naturales y una receta del siglo XIX, Manson ha colaborado en su producción para darle su toque personal en cuanto a sabor e intensidad alcohólica. Según los entendidos en absentas, Mansinthe es una absenta de muy buena calidad, 100% natural y sin colorantes ni añadidos artificiales.
In more recent times, one of the most fervent supporters of absinth is singer and songwriter Marilyn Manson, who hasn´t only claimed to have made several of his albums under the influence of the Green Fairy but also has his own brand of the controversial absinthe distillate called Mansinthe. Made by the French distillery Matter-Luginbuehl and following the traditional method, natural ingredients and a 19th century recipe, Manson has collaborated in its production to give his personal touch in terms of flavor and alcoholic intensity. According to absinth connoisseurs, Mansinthe is a very good quality absinth, 100% natural and without artificial colors or additives.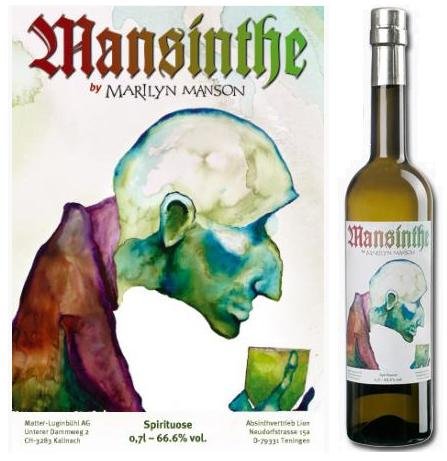 Mansinth tiene una graduación alcohólica de 66,6% (¿les recuerda algo este número? jeje) y el arte de la botella es obra de Marilyn Manson / Mansinth has an alcohol content of 66,6% (does this number remind you something? hehe) and the art of the bottle was made by Marilyn Manson
Fuente / Source
Lugares dedicados a la absenta
Cualquier adepto a la absenta o simplemente curioso de conocer más de cerca todo lo relacionado a este destilado de culto estará encantado de visitar "La Maison de l'Absinthe" (La Casa de la absenta), ubicada en Motiers (Suiza), un museo dedicado a la historia, elaboración y todo lo relacionado a esta bebida. Suiza es el país de origen de este controvertido destilado y todos los 5 de Marzo se celebra el Día Internacional de la Absenta.
Places dedicated to absinth
Any absinth adept or simply curious to learn more about everything related to this cult distillate will be delighted to visit "La Maison de l'Absinthe" (The Absinth House), located in Motiers (Switzerland), a museum dedicated to the history, elaboration and everything related to this drink. Switzerland is the country of origin of this controversial distillate and the International Day of Absinth is celebrated every March 5.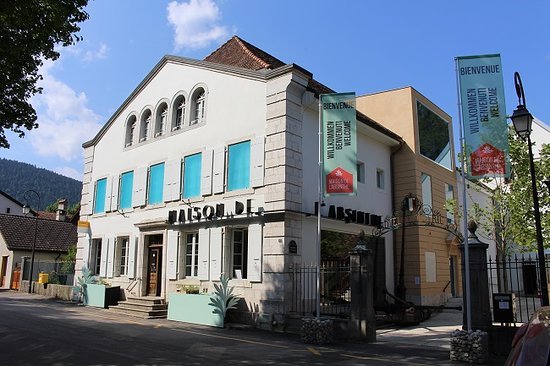 La Casa de la Absenta / The House of Absinth
Fuente / Source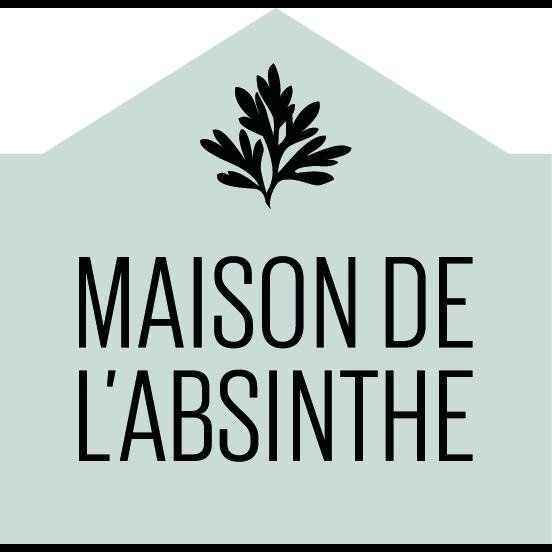 Fuente / Source
Para los más aventureros ya existe La Ruta de la Absenta, un paseo que empieza en las montañas del Jura en Pontarlier, Francia, y termina en Couvet, Suiza, (también se puede hacer al revés), allí, se hace un recorrido por los extensos sembradíos de ajenjo y los lugares relacionados a su elaboración, así como sitios culturales, históricos y turísticos relacionados al Hada Verde. En estos dos lugares operaban las dos primeras destilerías de la absenta fundadas por el mayor Dubied y Louis Pernod, hoy en día se pueden visitar las muchas destilerías que han surgido en la zona.
For the more adventurous there is already the Absinth Route, a walk that begins in the Jura Mountains in Pontarlier, France, and ends in Couvet, Switzerland, (it can also be done from Couvet to Pontarlier) where people can do a tour through the extensive fields of absinthe and the places related to its production, as well as cultural, historical and tourist sites related to the Green Fairy. In these two places operated the first two absinth distilleries founded by Major Dubied and Louis Pernod, today people can visit the many new distilleries that have sprung up in the area.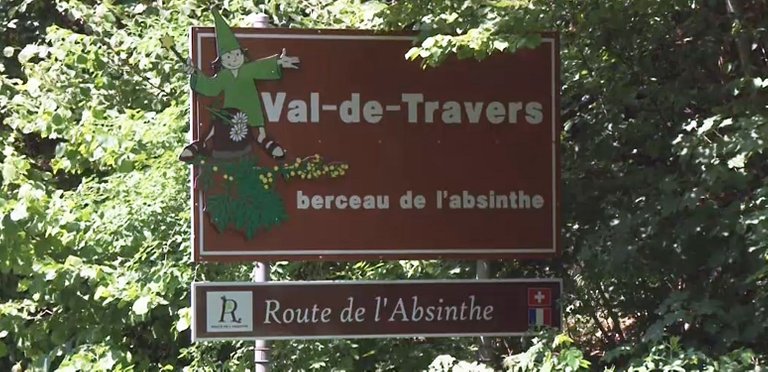 La Ruta de la Absenta / The Absinth route
Fuente / Source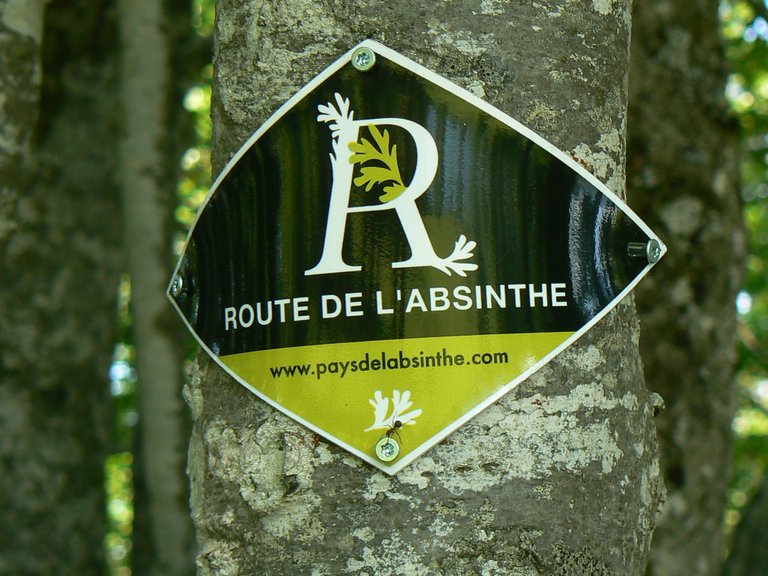 Toda la ruta esta debidamente señalizada / All the route is properly signed
Fuente / Source
Inaugurada en el 2009 por una comisión conjunta entre Suiza y Francia, la Ruta de la absenta consta de un recorrido de 48 kms. (aproximadamente unas 12 horas de duración) que requiere de una muy buena condición física ya que tiene un nivel de dificultad moderadamente alto. Con una temperatura promedio anual de unos 4°C, los excursionistas se pueden encontrar durante la larga caminata con las "Fontaines froides" (o fuentes frías) donde gracias a donaciones, los lugareños esconden entre la maleza botellas de absenta, vasos y cucharas para que los turistas puedan preparar esta bebida y refrescarse.
Inaugurated in 2009 by a joint commission between Switzerland and France, the Absinth Route consists of a 48 kms route (approximately 12 hours long) that requires a very good physical condition as it has a moderately high level of difficulty. With an average annual temperature of about 4°C, the excursionists can find themselves during the long walk with the "Fontaines froides" (or cold fountains) where, thanks to donations, the locals hide absinth bottles, glasses and hole spoons in the undergrowth so that tourists can prepare the drink and refresh themselves.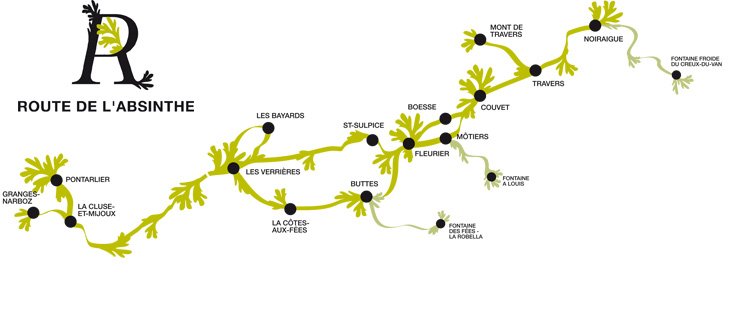 Mapa del recorrido de la ruta de la absenta / Map of absinth´s route journey
Fuente / Source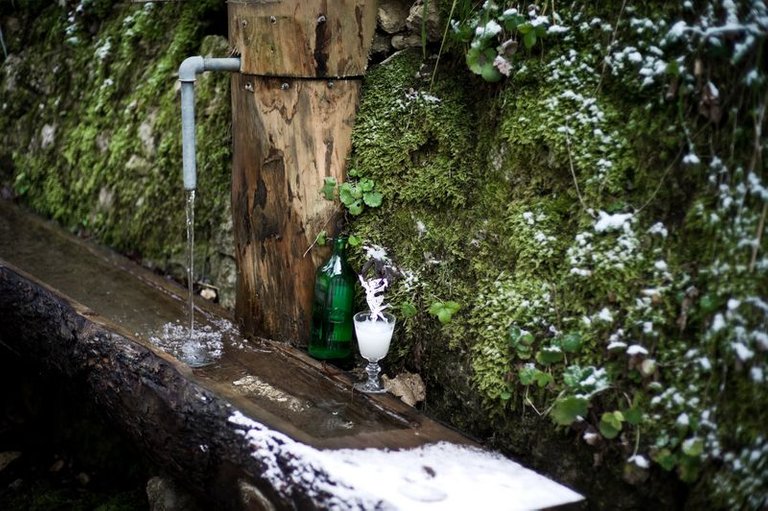 Una de las fuentes donde los lugareños esconden botellas de absenta / One of the fountains where villagers hide absinth bottles
Fuente / Source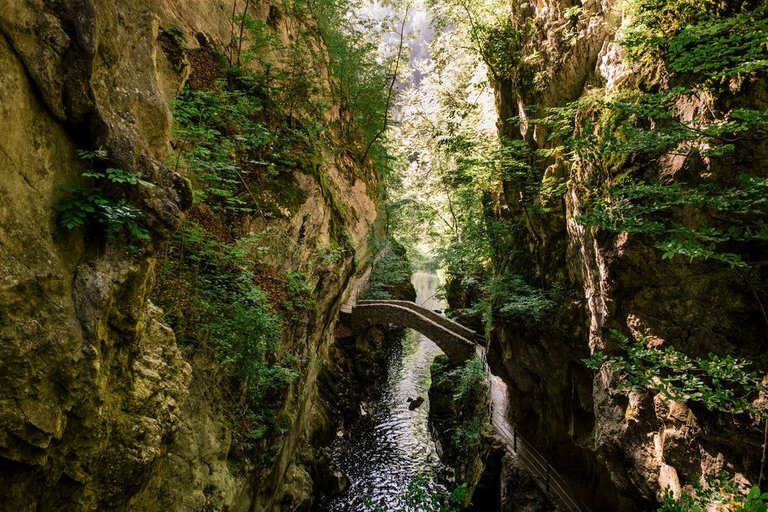 Sin duda parece el mágico hogar de muchas hadas / It certainly seems like the magic home of many fairies
Fuente / Source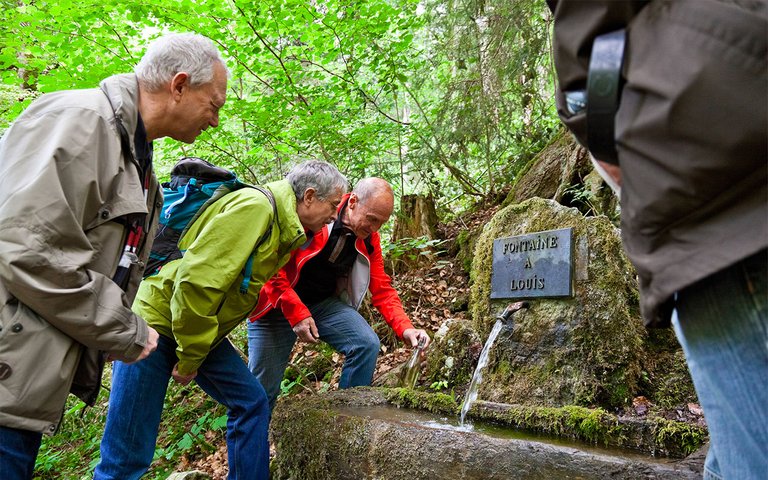 Fontaine a Louis (Fuente de Luis), una de las tres fuentes principales de la ruta / Fontaine a Louis (Louis fountain), one of the three main fountains of the route
Fuente / Source
Chile inauguró en el 2006 su primer bar dedicado totalmente al destilado de ajenjo, el mismo se encuentra en la ciudad de Valparaíso y se llama Verde Absenta. En la vecina Argentina, se consigue en los bares porteños bajo la palabra clave "tanqueta" y aunque no exista un bar como tal dedicado a la misma, los curiosos se pueden topar con The Green Saints (Los Santos Verdes), grupo de personas que se dedican a tomar absenta a la par de conversaciones sobre cine, poesía, literatura, etc.
Chile inaugurated in 2006 its first bar dedicated entirely to absinth distillate, it is located in the city of Valparaíso and is called Verde Absenta (Green Absinth). In neighboring Argentina, you can ask for her in the bars of Buenos Aires bars under the keyword "tanqueta" and although there is no bar as such dedicated to her, the curious can run into The Green Saints, a group of people who they devote themselves to drinking absinth along with conversations about cinema, poetry, literature, etc.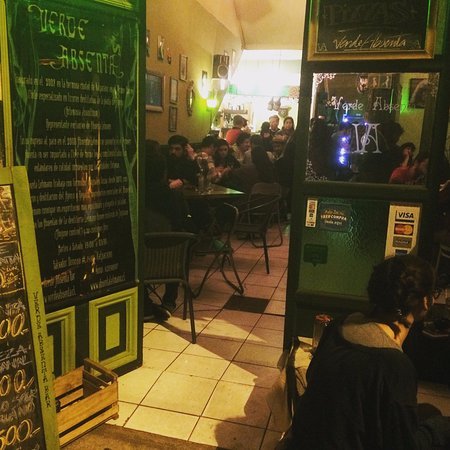 El bar Verde Absenta en Valparaíso, Chile / Verde Absenta (Green Absinth) bar in Valparaiso, Chile
Fuente / Source
Sin duda la absenta es una bebida tan interesante como misteriosa. Su fama de elixir mágico con efectos psicotrópicos que llevaba a los artistas hasta la más suprema inspiración la convirtió en una bebida de culto. Fue una bebida maldita que pasó por la popularidad, la prohibición, la clandestinidad y el regreso triunfal a las copas de los bebedores más osados. Las leyendas que la acompañaban y que ayudaron a establecer su estatus de preciado destilado han quedado atrás como recuerdo de una época donde el romanticismo daba espacio para soñar, creer e imaginar que dentro de cada botella de absenta se escondía una pequeña Hada Verde dispuesta a llevar a su catador a un dulce sueño lujurioso y lleno de misterio. Hoy en día sabemos que la absenta, aunque poderosa en su composición, no es culpable de ninguna alucinación o locura si se toma conscientemente.
Absinth is undoubtedly a drink as interesting as mysterious. Her fame as a magical elixir with psychotropic effects that led artists to the highest inspiration made her a cult drink. She was a cursed drink that went through popularity, prohibition, secrecy and a triumphant return to the glasses of the most daring drinkers. The legends that accompanied her and that helped establish her status as a precious distillate have been left behind as a reminder of a time when romanticism gave space to dream, believe and imagine that inside each bottle of absinth there was hidden a little Green Fairy willing to carry her taster to a sweet lustful dream full of mystery. Today we know that absinth, although powerful in her composition, isn´t guilty of any hallucination or insanity if taken consciously.
La musa verde - Albert Maignan / The green muse by Albert Maignan
Fuente / Source
Nunca he probado la absenta, mi contacto más cercano con el Hada Verde ha sido a través del ajenjo, lo he tomado en forma de té o infusión algunas veces y puedo afirmar que es sumamente amargo, casi imposible de tomar sin echarle aunque sea un poquito de azúcar. En cuanto a información sobre la absenta aquí en Venezuela, no encontré nada y en las licorerías de mi ciudad donde he preguntado no la conocen así que me queda como tarea pendiente, cuando pueda ir a Caracas (la capital), preguntar por allá a ver si se consigue, el máximo grado alcohólico permitido en Venezuela es de 55º así que lo más probable es que no se consiga.
I have never tasted absinth, my closest encounter with the Green Fairy has been through the plant of absinthe, I have taken it as tea a few times and I can affirm that is extremely bitter, almost impossible to drink it without put at least a little bit of sugar. As for information about absinth here in Venezuela, I didn´t find nothing and in the liquor stores of my city where I have asked, they don´t know her so it remains as a pending task, when it would be possible for me to go to Caracas (the capital), to ask there to see if it´s achieved, the maximum alcoholic degree allowed in Venezuela is 55º so it´s most likely that it will not be achieved.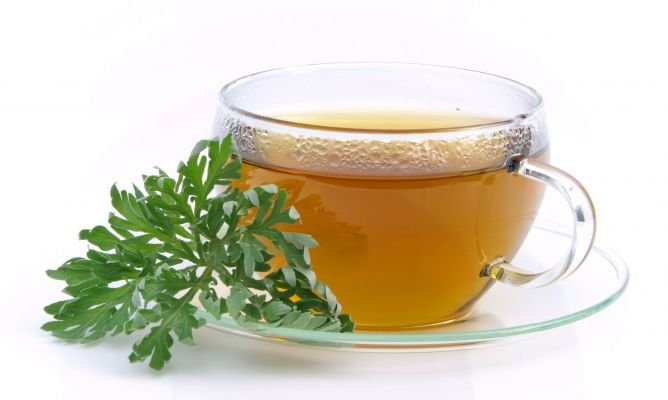 Fuente / Source
Este extenso viaje investigativo que hice consultando libros, revistas e Internet para descubrir lo que había detrás de un misterioso líquido verde esmeralda que llamó mi atención desde la primera vez que lo vi, me dejó fascinada, quedé impresionada con la increíble historia que hay detrás de ella, tanto así que aunque no soy de beber alcohol sin duda quiero degustar ese misterioso elixir prohibido llamado absenta. Bueno, espero que hayan disfrutado esta lectura y ya que todo esto comenzó con este vídeo de rock, no me queda más que invitarlos a ver a NIN con "The Perfect Drug".
This extensive investigative journey that I did consulting books, magazines and the Internet to discover what was behind a mysterious emerald green liquid that caught my attention from the first time I saw it, fascinated me, I was blown away by the amazing story behind the Green Fairy, so much so that although I´m not into drinking alcohol, I certainly want to taste that mysterious forbidden elixir called absinth. Well, I hope you liked this reading and since all this started with this rock video, I invite you to enjoy NIN with "The Perfect Drug".
Gracias por leer, compartir, apoyar, votar y comentar.
Hasta la próxima.
¡Miau!


Thanks for read, share, vote and comment.
Until next post.
Meow!