What's Buzzin Hive!
During our recent visit with a friend, we had a chance to visit other areas of the Rockies/ foothills we had never seen before having a local as our unofficial guide. I feel like I'm going backwards here with my posts starting with the last day instead of first but hey, I'm a mess and always have been anyway so why change now! With the truck still broken down on this day, our friend became our chauffeur so we stuck closer to Turner Valley rather then going deep into the Rockies via unknown roads. Just outside of Turner Valley near Okotoks Alberta, hides many wonderful provincial parks to be discovered with some amazing trails and some rather eerie local rumors and folk stories based around a hidden abandoned mining town.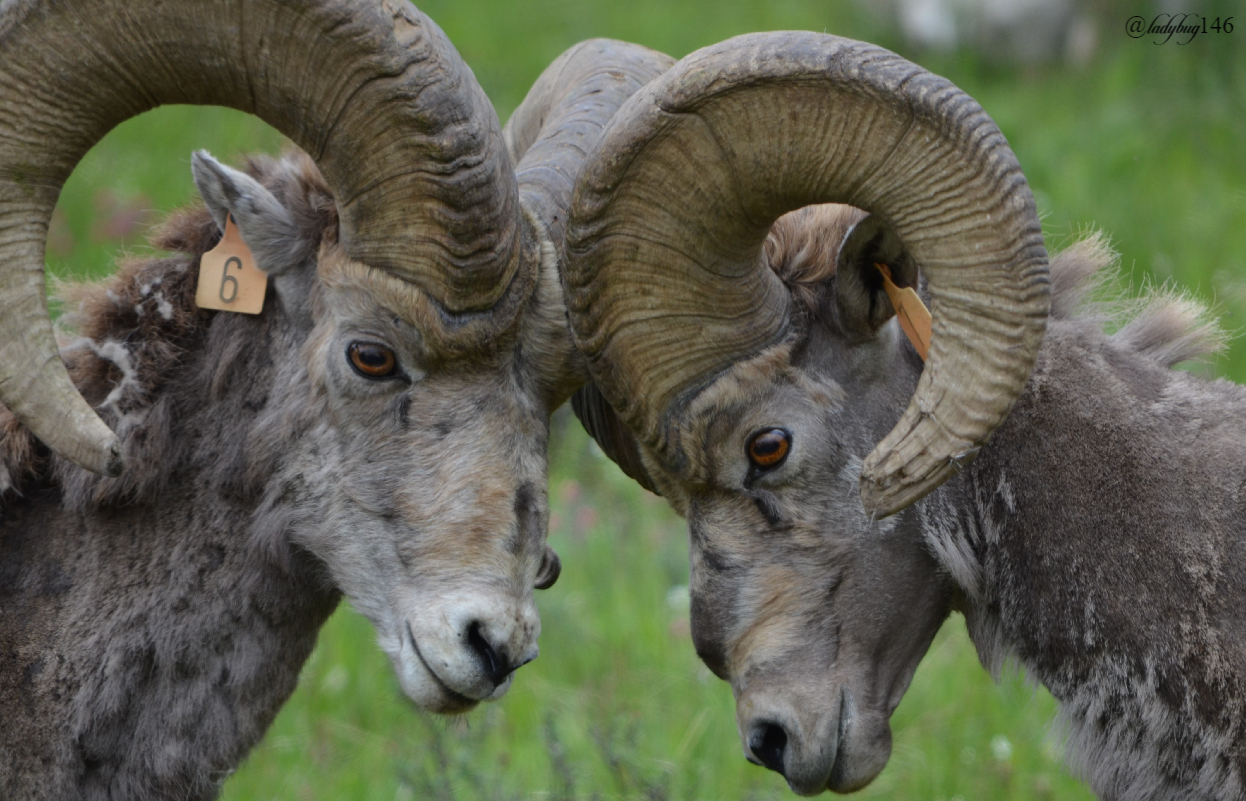 Shot 1/500 sec. f/5.6 280 mm, ISO 360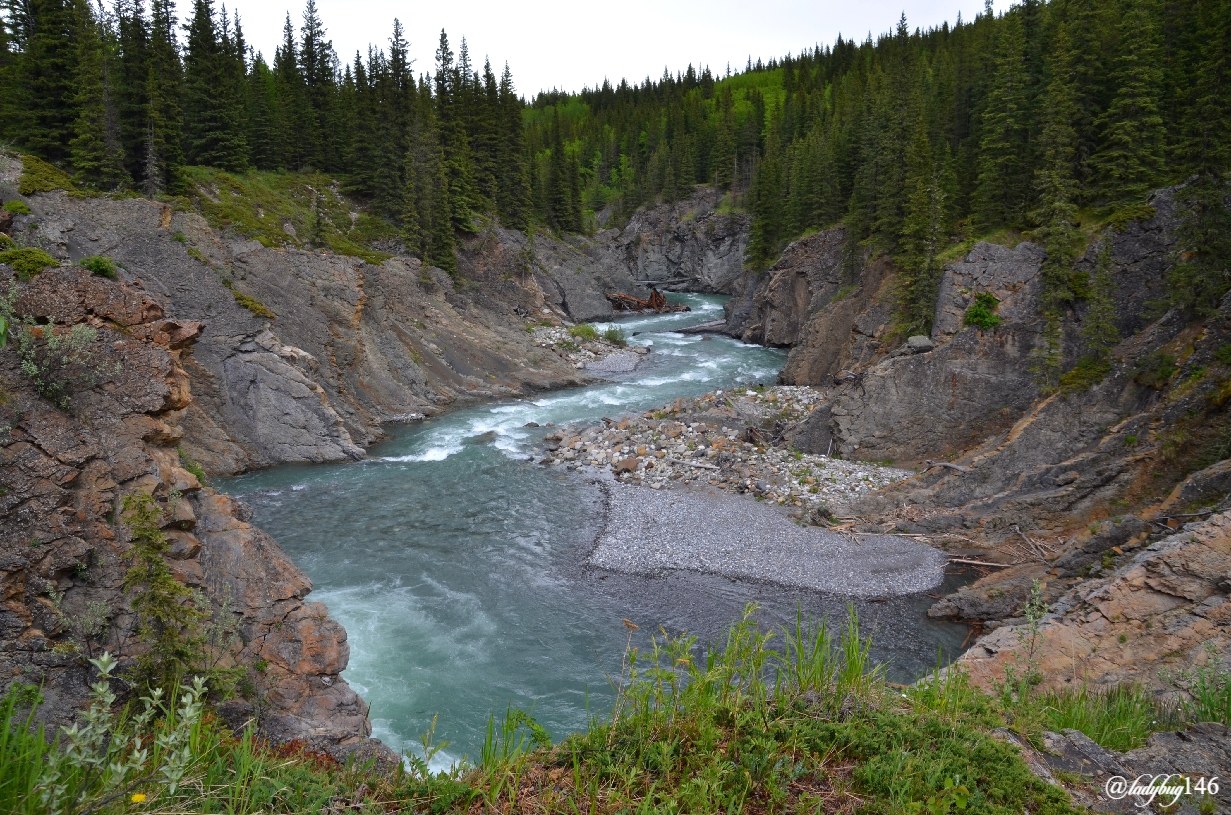 Shot 1/250 sec. f/8 18 mm, ISO 140
We decided to visit Sheep Valley Provincial Park, of course given it's name, herds of Mountain Sheep aka Rams roam the hills and can be spotted at anytime especially in late spring before they make their way up the mountain but that will be for another post since we didn't really see them the day of our hike. We did see them the day before so maybe I'll give you a sneak peek of what's to come in a future post as I continue to go backwards in time. Sheep Valley is also the home of many smaller but violent waterfalls of the Rockies. Spring melts and higher than average snowfall over the winter with a dash of intense rain/hail that tore thru Calgary just days before gave us some intense river flow for our visit. The water was kind of murky, so not it's usual mesmerizing blue colors we expect out of the Rockies but on the other hand, the murky waters carry the rock flour down from the mountain and that is the silt that gives our lakes and rivers it's intense colors as it settles at the bottom when the flow of the water returns to normal.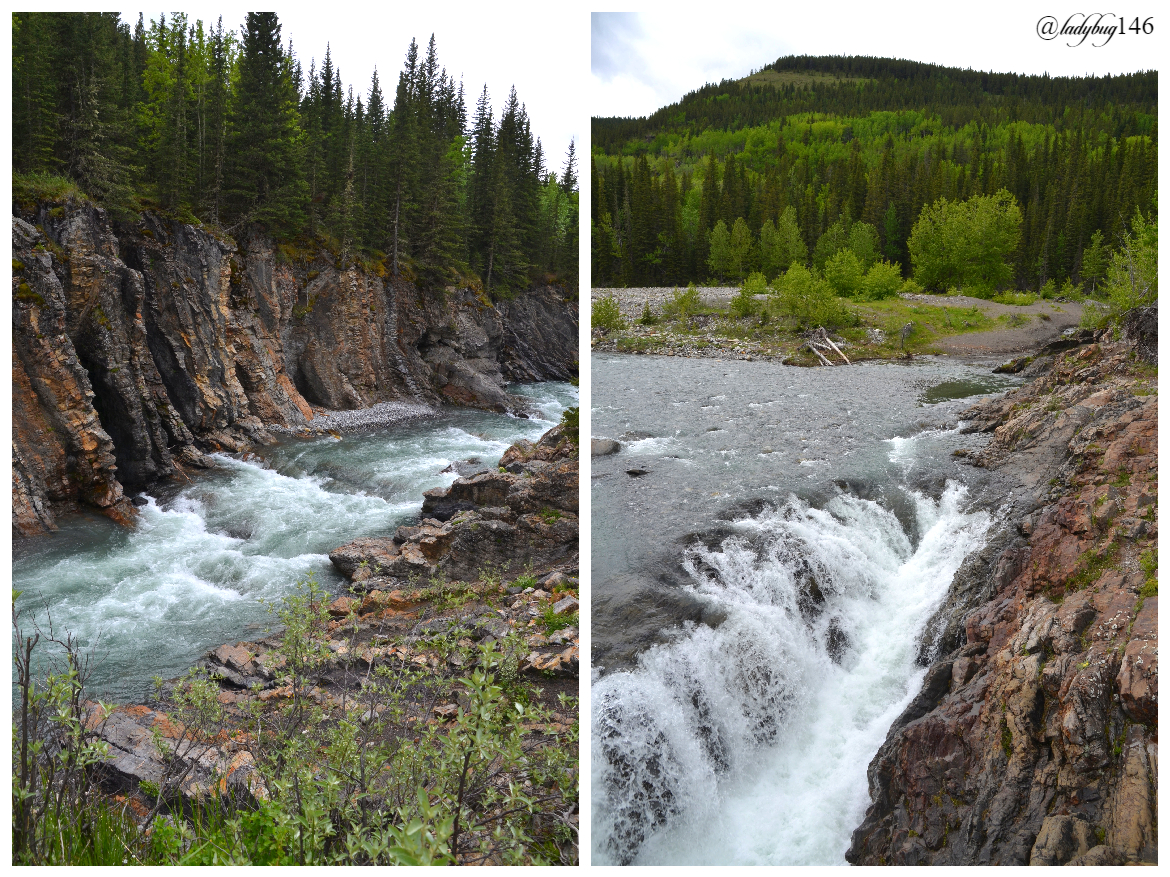 As we drove up the park on the way to the trail-head, we drove along the Sheep river that snakes around the valley dividing the Rockies and the foothills area with a few stops along the way to view different sections of rapids or small waterfalls. Unlike what we see in national parks with barricades preventing daring travelers to climb down the rocks into the waterfalls, this park offers the agile a closer view from below. I advise to not go in the rain as these rocks can get slippery and could easily end in falling into the river or injury but on this day, it was mostly dry...well at least for the first part of the day. Other activities like fishing (with appropriate provincial park fishing license & following park's guidelines), horseback ridding, cross-country skiing (in winter) are popular. Camping is generally available but with covid, things are a little quieter and no promises on the current available activities (horseback ridding should be available but camping is a grey area at the moment). Being part of the foothills, all the snow is melted by this time in the lower areas but can still be seen on the rocky peaks on the horizon.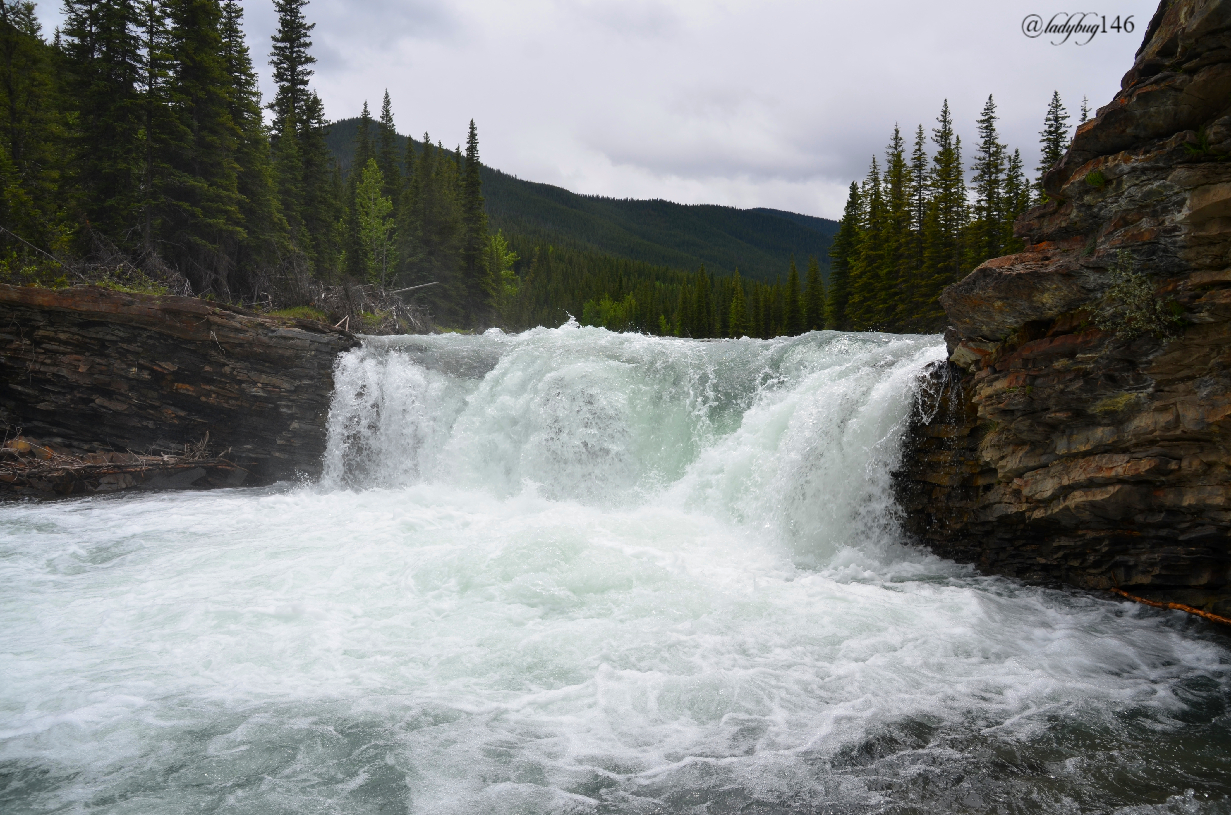 Shot 1/320 sec. f/9 18 mm, ISO 100
For the most part, the park is only accessible from mid-June until closure in October partly because of snow and bad conditions an other reason most of Kananaskis remains closed later than other parks to allow the wildlife to feed and have their young in peace as food is abundant in the valley but scarce higher up on the mountains at this time. The park areas are still available to hikers and bikers just no motorized vehicle access. In other words, your chances of seeing wildlife during the closed season and shortly after opening is greater than normal. What once was a quiet more local part of our landscape is becoming a more popular tourist attraction being a little over one hour's drive from Calgary and the Banff area and is getting busier as the years pass.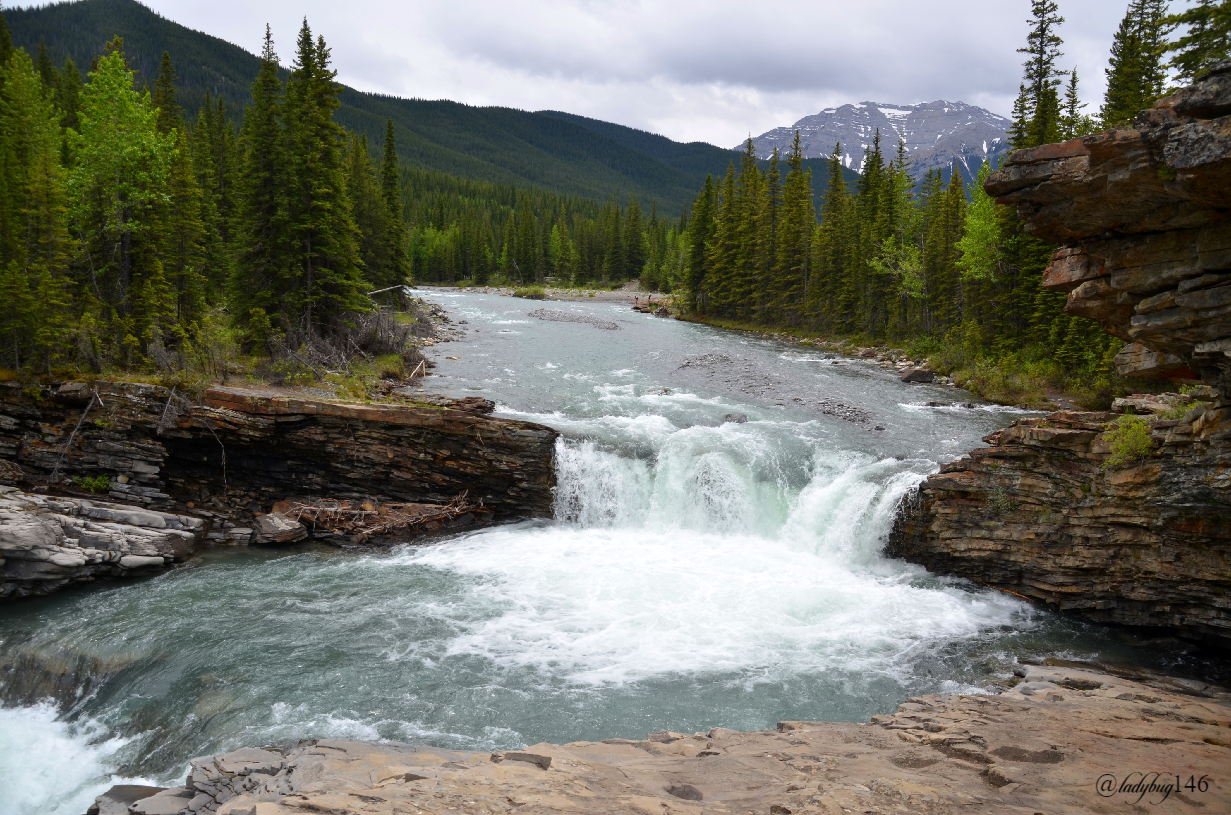 Shot 1/250 sec. f/8 18 mm, ISO 100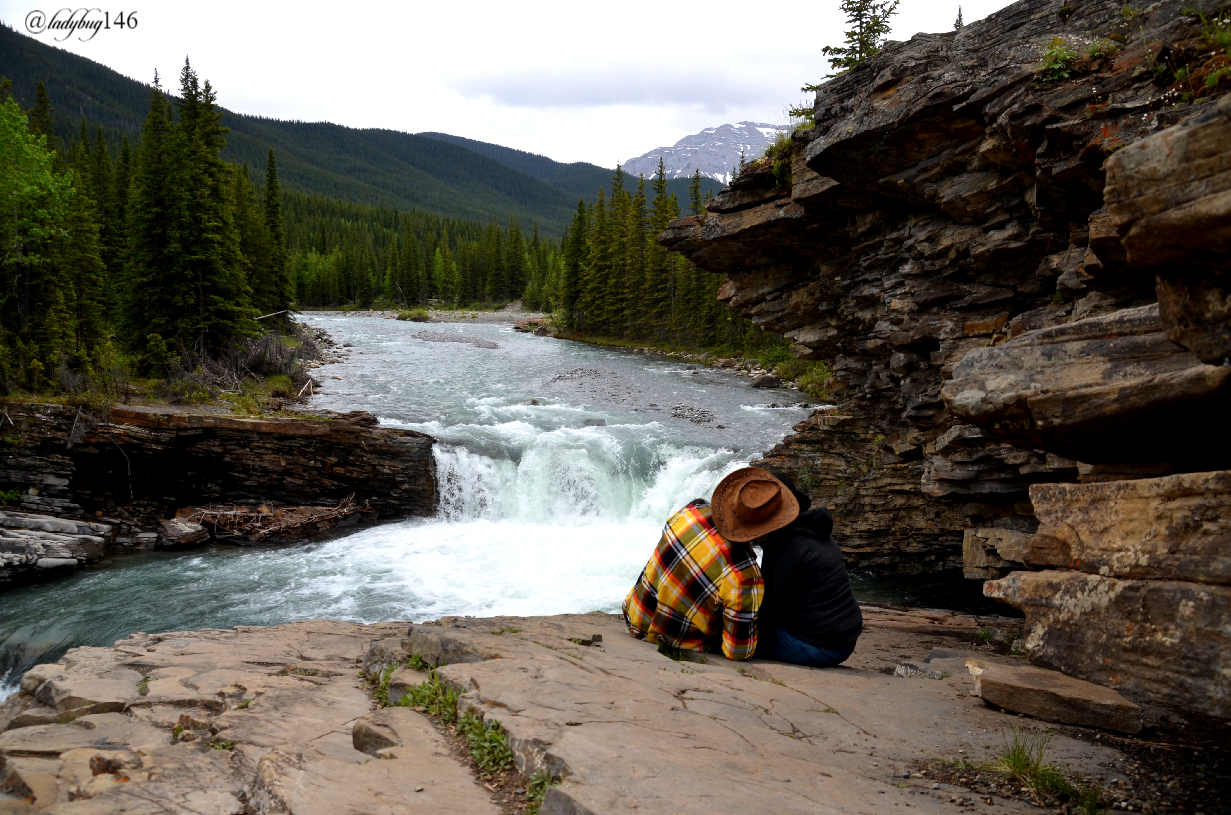 The Sheep River is protected under provincial law being an important part of the local watershed derived from the Bow river and Mount Rae (Rae Glacier) supplying the near-by towns of Turner Valley, Black Diamond and Okotoks with a fresh drinking water supply. The area was first established for access to a failed coal mine that was trying to take root after a large deposit was found in the early 1900's near Mount Burns. Named after Mr. Pat Burns a known politician and rancher at the turn of the century also one of the men responsible for establishing the first Calgary Stampede, a popular cowboy summer festival in Alberta. They were expecting a railway to be built but never came making it too costly and time consuming to carry the coal extracted to consumers and with already well established mines in the Canmore, Drumheller , East Coulee and other parts of southern Alberta. The project was abandoned in the early 1920's as they were unable to compete with cheaper prices of the above mentioned along with the decline in the resource's demand and popularity. Here is some information on the area and Mr.Burns and a link to my previously posted hike to Rae Glacier from a few years back.
https://hive.blog/travel/@ladybug146/canadian-rockies-kananaskis-elbow-pass-lake-and-glacier-day-4
https://albertashistoricplaces.com/2012/07/17/the-big-four-part-3-of-3/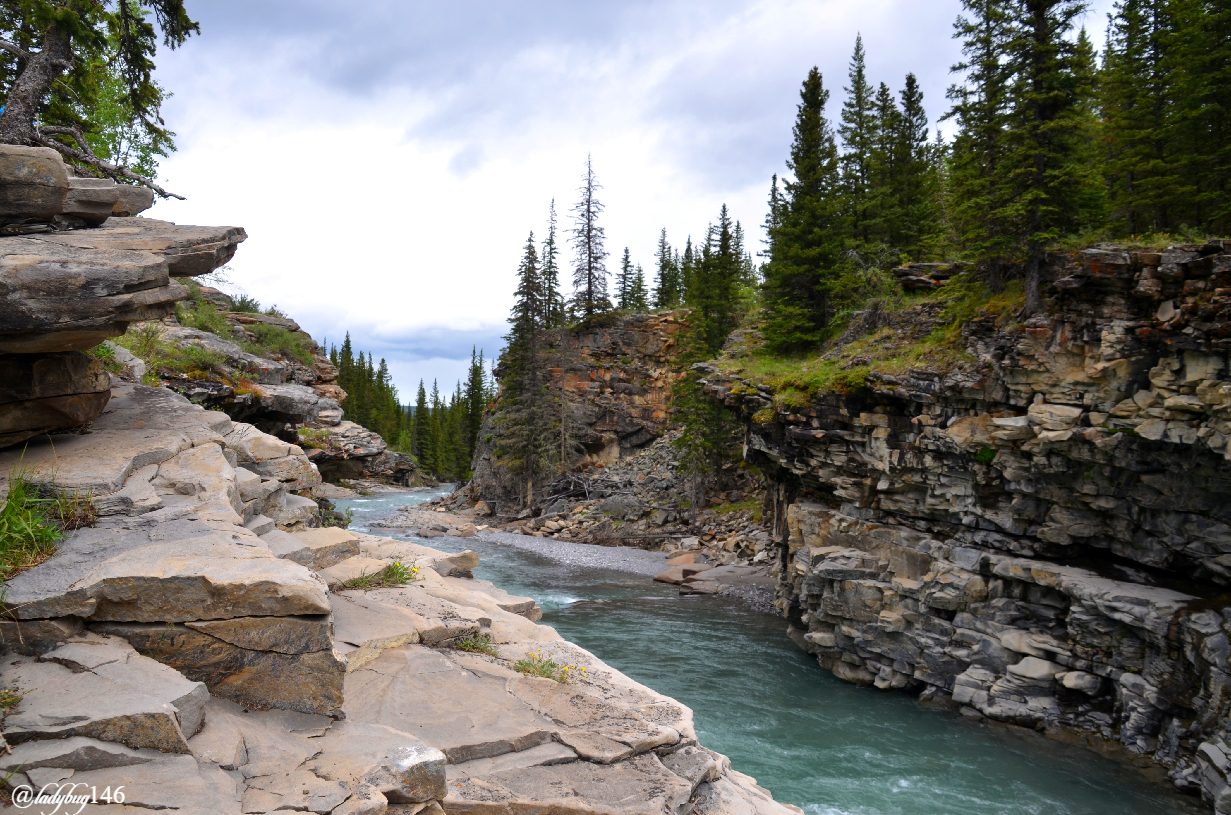 Shot 1/250 sec. f/8 18 mm, ISO 125
The trail we took known as the Sheep River Trail is part of the road to the ghost mine therefore it was pretty wide and somewhat manicured, no bush-wacking required. The first part is on a bit of an incline but not too bad and the rest was mostly flat with a few small hills, moderate level of fitness should be able to make it on this trail as we walked the ridge following the river. To make it to the mine is quite a walk so if your intention is to visit the old mine, be prepared for a long day hike of approximately 10 km each way. Due to past floods, the bridges were washed out and only one has been rebuilt as they are rebuilding the more popular trails first, the rest requires crossing the river at 2 other locations. Most of the trail is part of the park but closer to Mount Burns and the abandoned mining town, it becomes private property owned by the Burns family, the owners of the failed mine and well established business owners to Burnco concrete making companies and other enterprises. For years there was many disputes over access to the property why some of the bridges haven't been rebuilt but time proved it to be a loosing battle and they abandoned trying to control access to the old mine.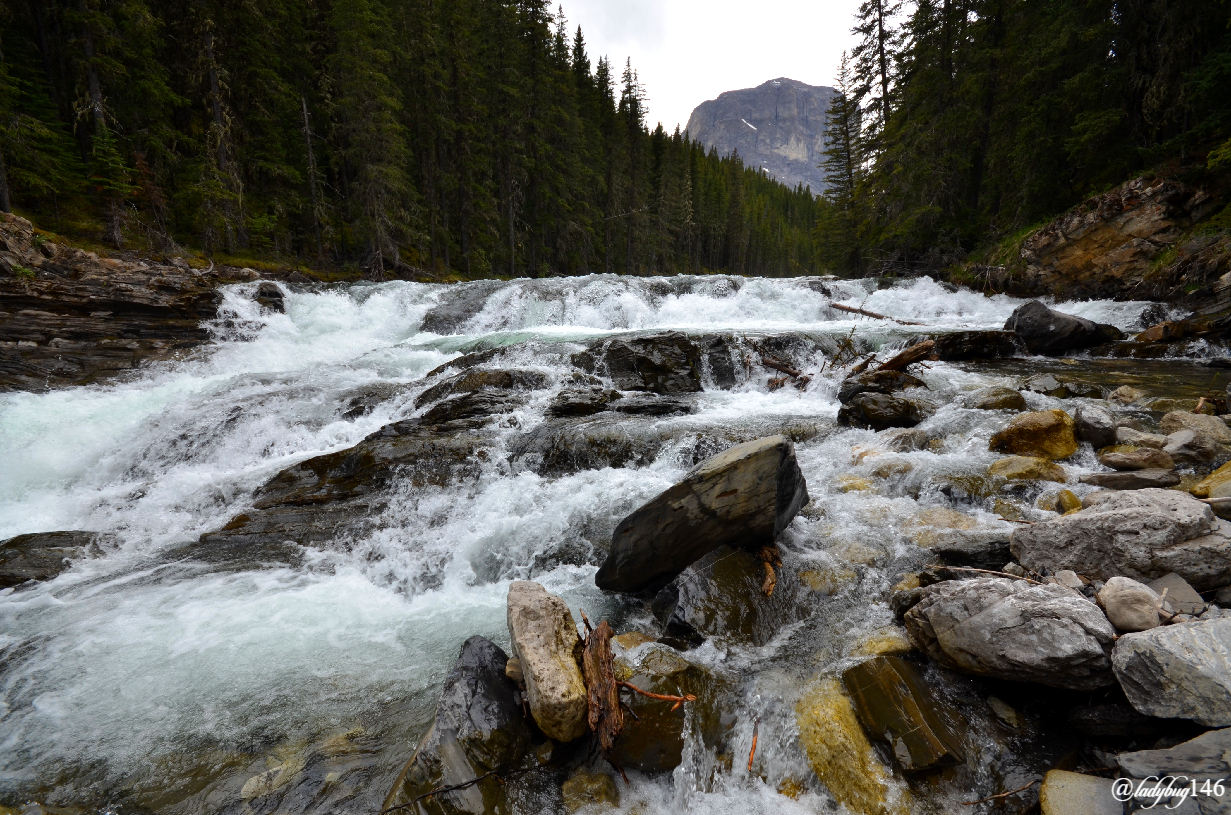 Shot 1/250 sec. f/8 10 mm, ISO 180
The property is shrouded in mystery with local tales of UFO sightings, mysterious hiker disappearances after venturing onto the property to never be seen again along with other strange myths, sounds and screams coming from the property surrounding the Burns family. Finding information online on these local claims seems impossible at this time but near-by residents have plenty of odd stories to tell surrounding this property especially around frequent UFO sightings, it was mentioned by several without even bringing up any word of the rumors or claims. Are they fact or fiction? Part of an over active imagination? Who knows...to be fair there is a UFO landing pad somewhere in Alberta, maybe there is a reason behind the oddity. Perhaps I can continue investigating at a later time.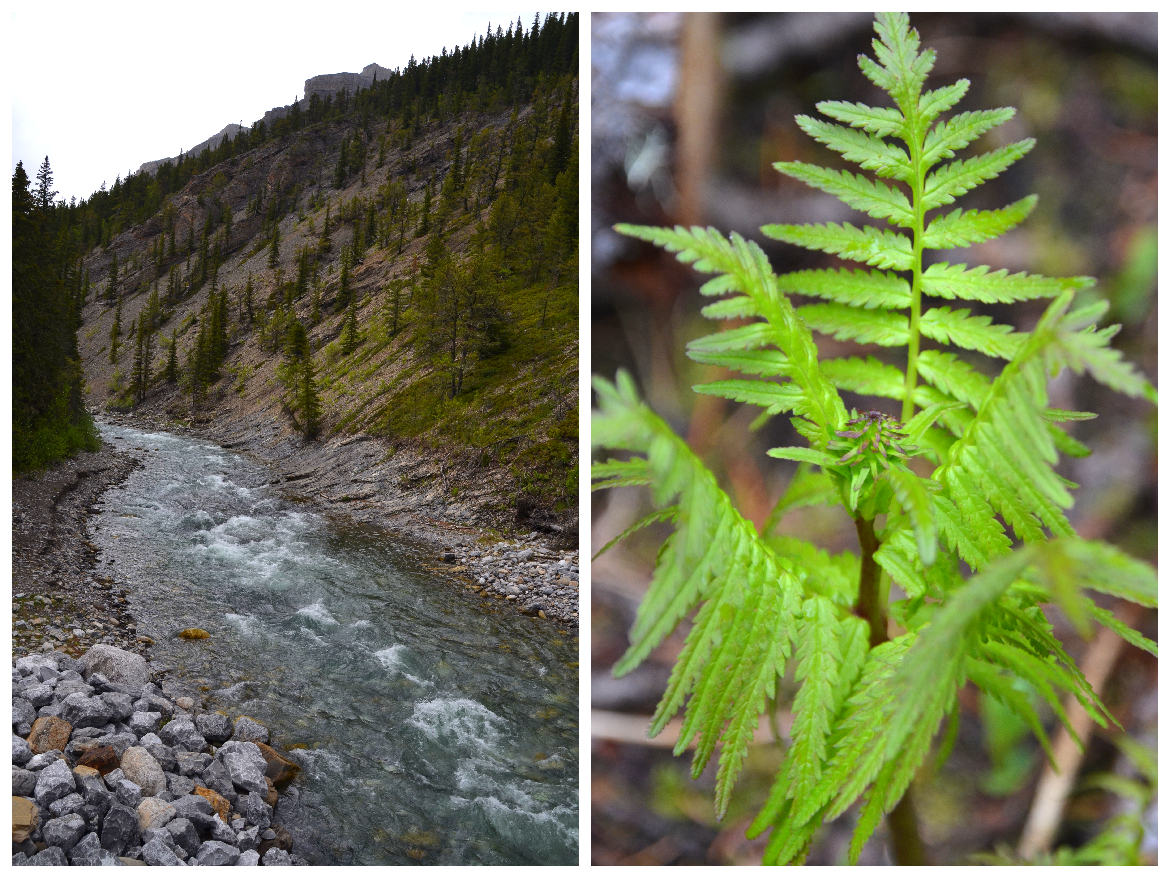 Unfortunately, we couldn't make it all the way to the ghost town due to higher than normal river flow, many of the trails and access are washed out until water levels come down later this summer, maybe I can have a second attempt to get to the mine then since I love exploring old mines and mining towns. The first un-bridged section we were able to cross no problem with a little bit of up and down the riverbank and some rock-hopping across but during our journey, we met with two other hikers that tried to access the mine and informed us that the river was too high to cross on foot. Given it was pouring rain on my camera gear at this time and we had a 7 km hike back to the vehicle, we decided that perhaps it's for another time and best to turn around before we get caught up in a tennis ball sized hail storm that have plagued the Calgary area a few times within the past week that we somehow managed to dodge, not once but twice! Seriously, seems like the last 5 years, Albertan's just can't catch a break between bad politics, oil crash and natural disasters. Good thing we are a resilient community...Welcome to THE WILD WILD WEST! YEEHAA! Our necks might be a little red but our big hearts makes up for it. 💓
https://www.cbc.ca/news/canada/calgary/northeast-calgary-hailstorm-1.5622720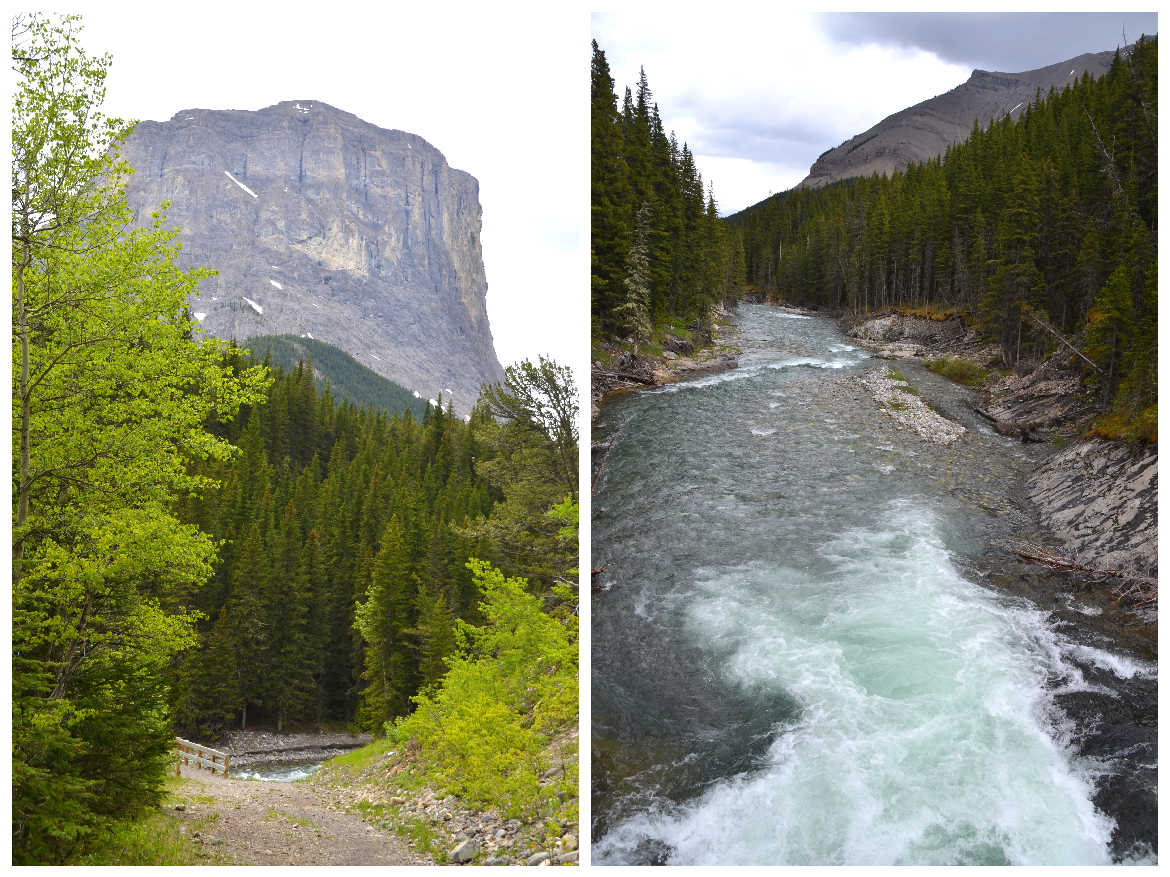 The closer we got to the mine, we started to find old equipment left to rust in the bushes, we never really determined what they were but the ruins looked like mid-century scraps left behind, perhaps an old windmill or something. I didn't take any pictures of the metal ruins because it wasn't that interesting and I didn't want to take out my camera in pouring rain. In total, we walked over 15.5 km on the day. When I told my friends, lets go on a hike, I'm not sure that's quite what they were expecting (bahaha, poor souls...they will recover I'm sure😆😂 😝 ). Strangely enough, even at my age I'm able to go from full covid couch potato to hiking 20km a day in a snap...@silvergingerman's health tracking app must be awfully confused right about now!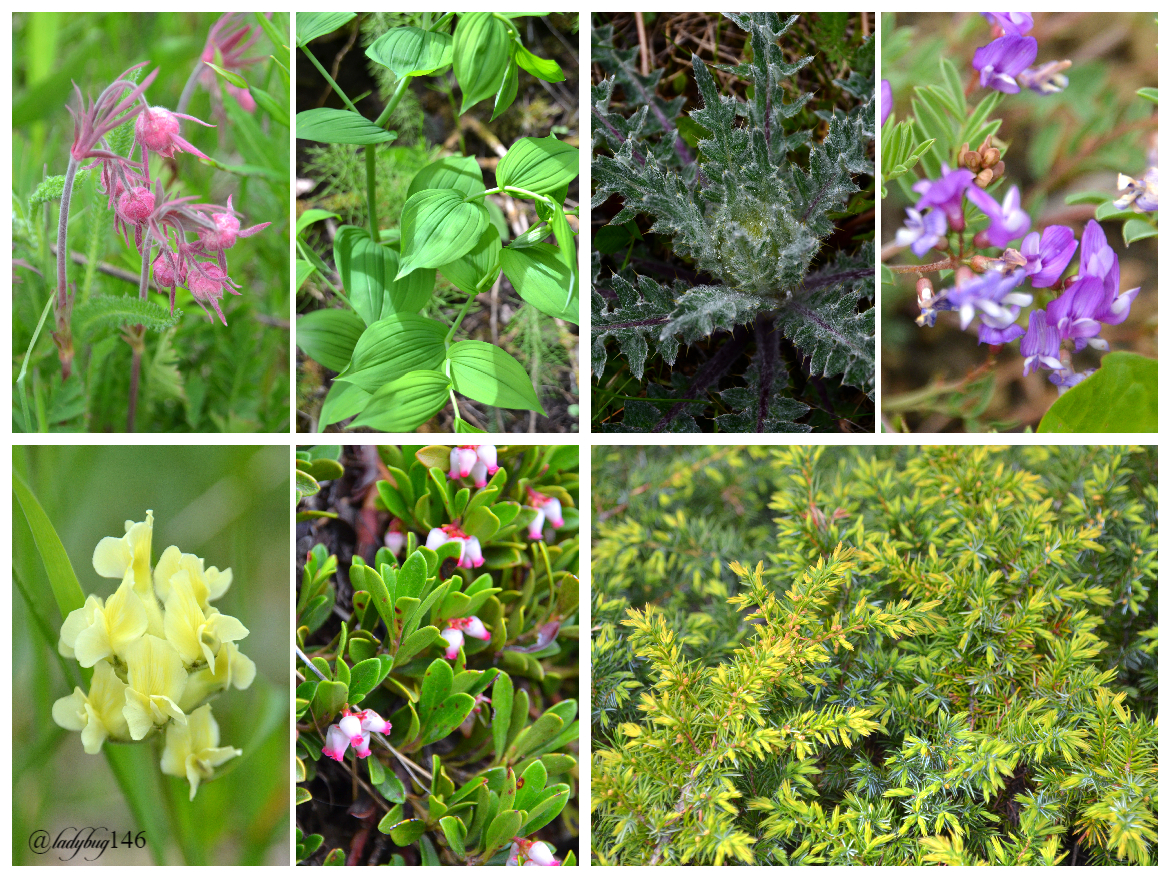 Given the late winter, many of the wildflowers that lined the trail weren't in bloom yet but we noticed rare species at the very least one the decline in Alberta like wild ladyslipper and other common or invasive flower species alike lining the trail along with buffalo berry bushes (grizzly's favorite meal), mountain strawberries in bloom, raspberry bushes and an abundance of common juniper berries and bushes. It also appeared to have many different types of mushrooms but it's very early in the season to tell what species and if edible or not. It is illegal to harvest anything for sale in a provincial park but immediate consumption and a little stash for later personal consumption is allowed. Be respectful when harvesting anything not to damage the plant or it's ability to propagate along with knowing your species in order to not destroy rare specimens, in other words no picking random things to discard down the trail just cause it's there. Canada is host to over 200 plant species at risk for extinction and a large variety is found within Alberta's park boundaries. Other wildlife that can be found is plenty of deer, grizzly roam them hills, coyotes and smaller wildlife like squirrels. It is wise to bring bear spray just in case of an encounter and a bear bell is a deterrent, wanting to avoid human interactions, they often pick a different route knowing of human presence but it is currently cub season where they can be more aggressive, be cautious.
https://www.cbc.ca/news/technology/endemic-species-1.5597186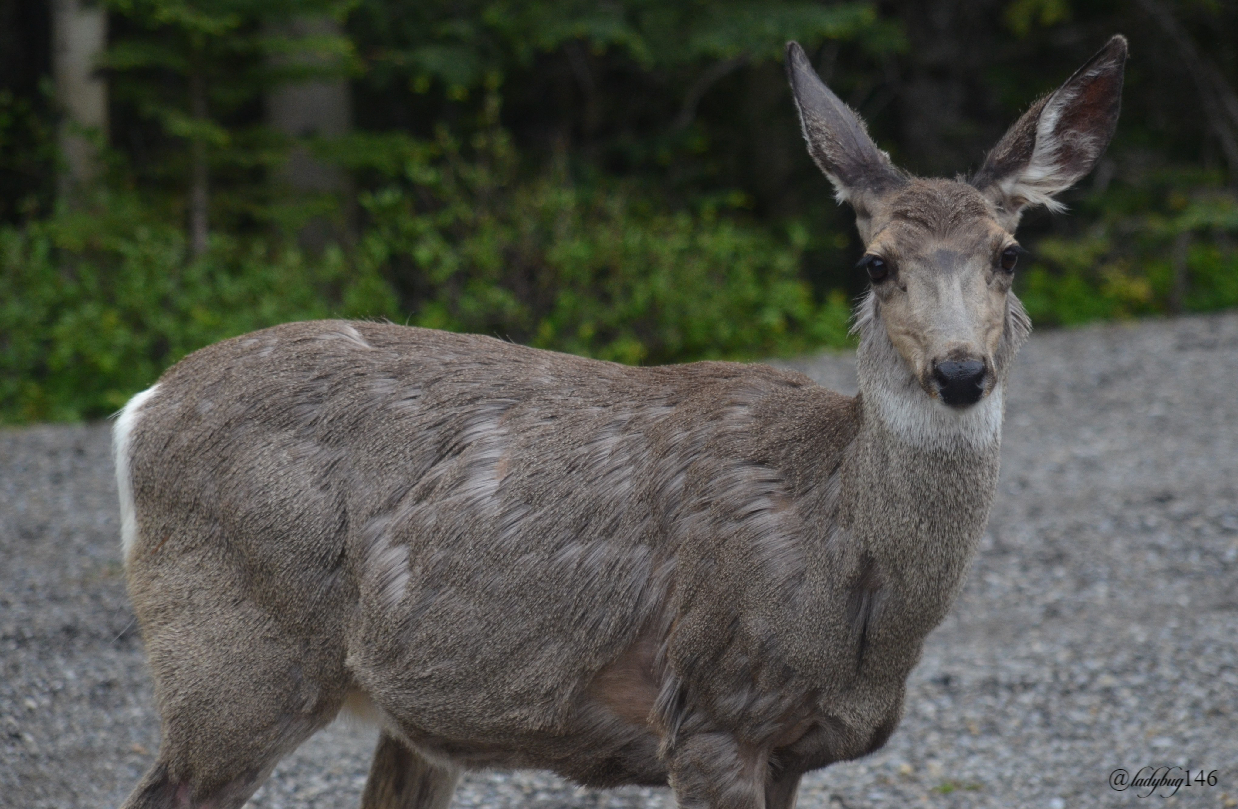 Shot 1/800 sec. f/6.3 200 mm, ISO 800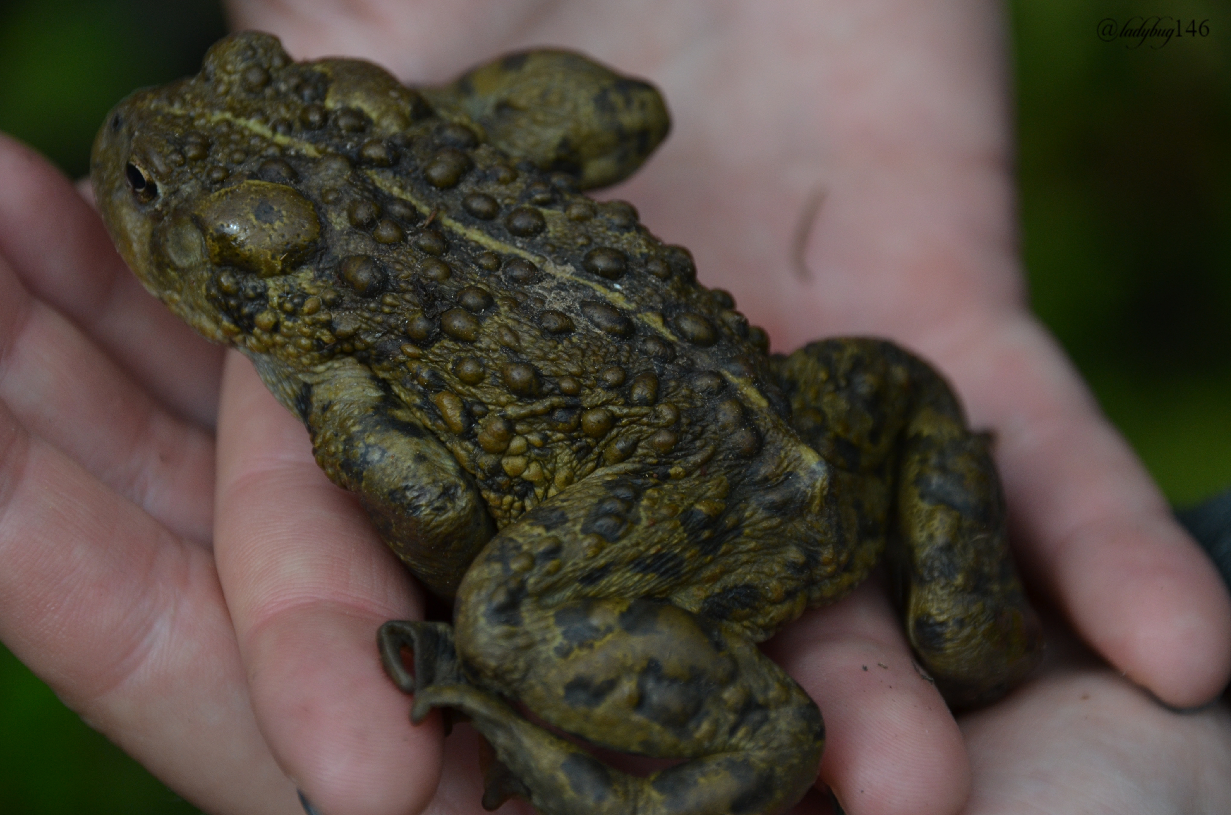 Shot 1/1000 sec. f/6.3 200 mm, ISO 560
If you pay close attention, large toads can be spotted in the bushes. With our last few summers being dry and on the verge of wildfire crisis, the toad population was on the decline for a few years but last year and this spring, being blessed with abundant rain, the numbers should start to rise again, hopefully it will be a continuing trend. These dry summers combined with intense lightning storms are scary and once wildfires start with their speed and intensity, they are nearly impossible to extinguish until winter comes due to our hot and dry summers and hard to access locations and can result in devastating loss both human and eco-system within our vast dry forested regions. We are known for our eternal blue skies and long summer days (about 20 hours of sunlight on the longest days) but it comes at a cost. No matter what, we love our land and always recover from these tragedies in time. One of the reasons I'm into photography now, somethings will never be experienced the same in our lifetime and we never know where and when these fires will alter the landscape clearing the path for a new eco-system to form, nonetheless it's always unfortunate when these transformation initially take place. Here are a few example below the photo from recent years: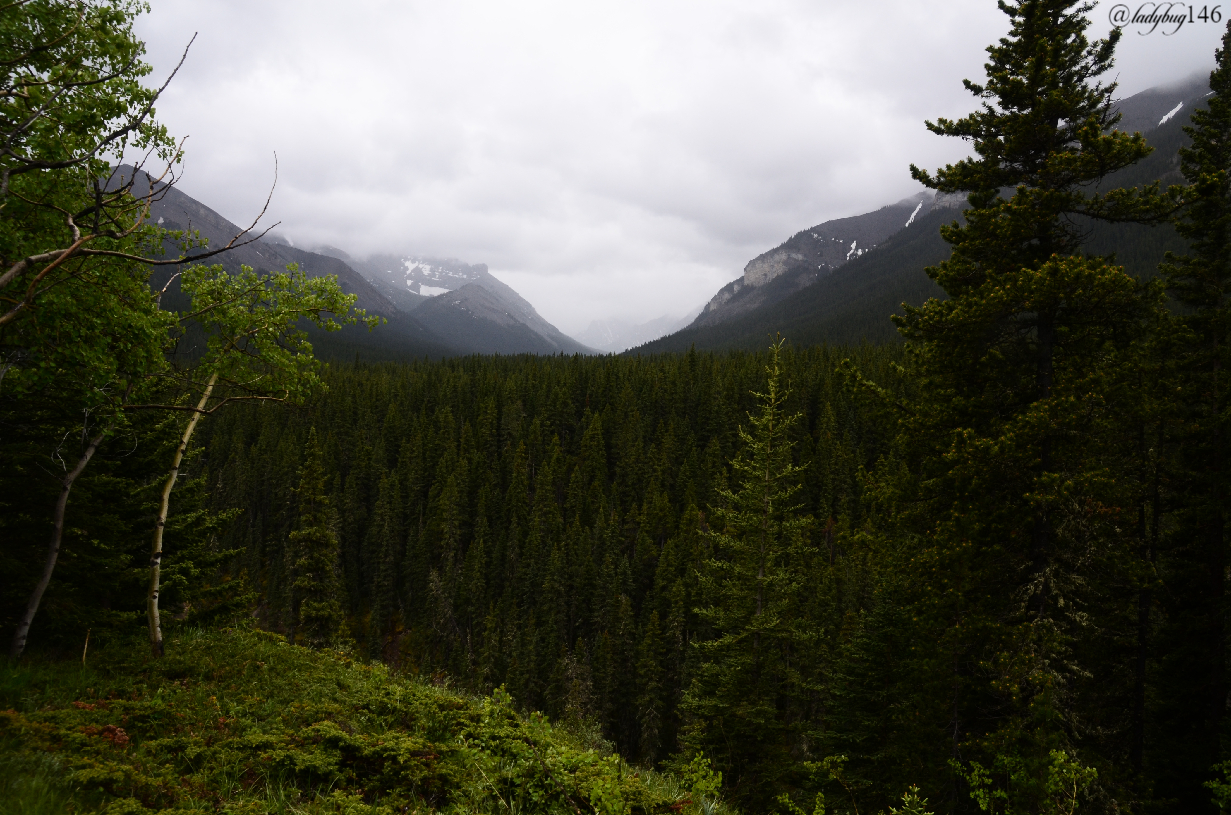 Shot 1/160 sec. f/10 18 mm, ISO 400
https://www.cbc.ca/news/canada/edmonton/wildfire-world-on-fire-waterton-park-alberta-1.5578357
https://en.wikipedia.org/wiki/2016_Fort_McMurray_wildfire#:~:text=On%20May%201%2C%202016%2C%20a,Fort%20McMurray%2C%20Alberta%2C%20Canada.&text=With%20an%20estimated%20damage%20cost,control%20on%20July%205%2C%202016.
That's all for now Ladies and Gents, until next time...Cheers! X🐞X
All images taken with Nikon D7000 with a mix of 18-200 Sigma (landscapes & bigger wildlife) and 40mm Nikkor micro (close-ups and flowers)