This is my entry for the Secrets of Organ Playing Contest, Week 74. I play an adaptation for organ of the first movement of Hassler's motet "Vater unser im Himmelreich".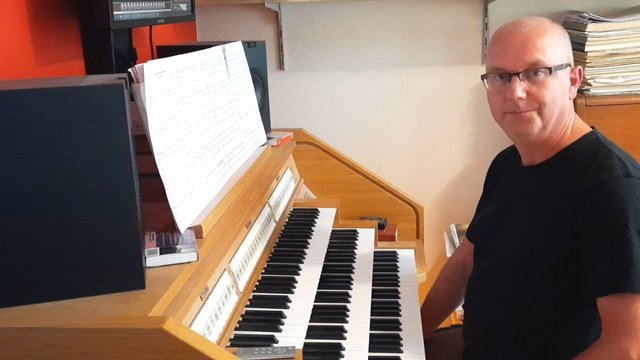 Three days ago @laputis posted a performace by her and @organduo of Hans Leo Hasslers' Laudate Dominum, in an adaptation for organ four handed. That performance reminded me of an adaptation for organ I made myself of one of Hassler's choral works. So I thought it a nice idea to take that score again at hand, practise it and perform it as my entry for this week's contest.
Hans Leo Hassler (1564 – 1612) was a German composer and organist of the late Renaissance and early Baroque eras. He was the son of organist Isaak Hassler and brother of composer Jakob Hassler. Having studied with Andrea Gabriele in Venice, Hassler's style is a fusion of German counterpoint and Italian form. He was a prolific composer and created works of exceptional quality.
In 1608 Hassler published his "Psalmen und christliche Gesänge". This work is a bundle of "choral motets", comprising 52 four-part settings of Lutheran tunes in imitative style. They have each phrase of the chorale melody successively developed in free imitation in each of the four parts.
Though written and intended to be sung, I wondered if these pieces would work when played on the organ. I transcribed the first of these chorale motets, based on the melody of "Vater unser im Himmelreich" for organ. The only adaption I did was to smooth out voice crossings: if the alto voice goes below the tenor voice I let them both switch staff. This way it's more easily to play. For the rest this transcription follows note perfected the original. Each phrase of the chorale melody appears (often several times) in each of the four voices. At the same time Hassler pays close attention to the sound and its development the music creates as a whole. The result is a beautiful flowing piece, in which the sound evolves in slow moving arcs.
The recording was done with the Hauptwerk software and the sampleset, made by Sonus Paradisi, of the Schittger organ in the St. Martini-kerk, Groningen (http://www.sonusparadisi.cz/en/organs/netherlands/groningen-st-martini.html). Playing this music on an organ in a large acoustics, I can almost here the choir singing. Only a few stop are needed for this music. I've played it before on only a Principal 8'. This time I choose to add the Vox Humana 8' to the Principal (both are stop from the Bovenwerk). After all, the original is meant to be sung, so what better stop than a human voice? To add a little silkiness to the sound I also use the Salicet 8' of the Hoofdwerk.
I always find it fascinating that this music is more than 400 years old. Hassler shows his mastery of counterpoint in weaving together and overlapping the fragments of the choral melody in continuously different combinations. And this is only yhe first movement. There follow 11 more with the same choral melody as basis. Hassler was not only a master of counterpoint, he was a master of invention and inginuity as well. Too bad he did not write 'real organ music (as far as I know).
As it is already one and a half year ago I transcribed this first part, I should take on one of the other parts shortly. The music is too good not to use.
Score available on my site: http://partitura.org/index.php/hans-leo-hassler-vater-unser-im-himmelreich-der-erste-theil/