My wife and I have time off together while @smallsteps is at daycare, a rare event. While much of it is running around looking for a suitable bathroom mirror that doesn't cost us an arm and a leg (they are incredibly expensive for what they are), we will also do a bit of a tourist thing, a roof walk over the city. I don't really know what to expect as the rooves aren't high, but I am not a fan of heights at the lower levels.
The picture is one of two taps that arrived in the mail for our bathroom, with the other for the toilet that will be some months before it is ready to install. One of them was unfortunately scratched so has to be returned, but this one is all good and will hopefully get put into the bathroom next week.
It is hard to make out in the picture, but there are three hoses coming out of the tap, not the usual two for hot and cold water. The third is for a handheld bidet, a very common feature in Finland and I think one that should be all over the world, as it is probably a suitable "stop gap" measure in case the world runs out of toilet paper. When I first arrived in Finland it seemed very weird, now it is normal.
Despite how common it is (pretty much every toilet including public have a bidet), the range is incredibly restricted and while there are basic taps that most people use, anything even slightly more stylish runs very expensive. We have matte black details in the new bathroom so this should fit nicely and we found it online at the last moment, as it was a new addition to the range of one site, thankfully. The other option was silver, not great and 100€ more expensive.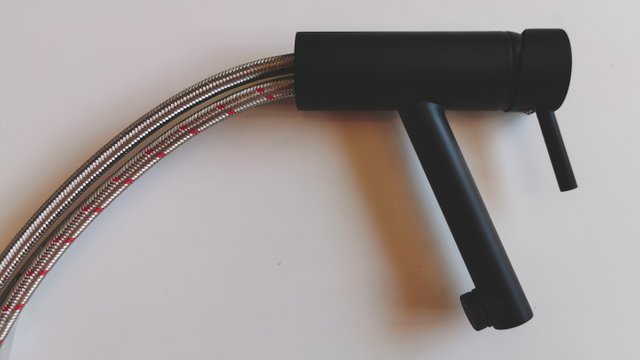 These things don't actually matter that much in the grand scheme of life, but at the same time, it is important to us that what we are creating feels like ours. While many compromises due to budget constraints have been made, the hope is that it will pull together to be a space that we are happy with and not one that is a constant reminder of the cuts made. Part of the creative process is being able to work with the resources one has and I have seen decisions made on a shoestring budget that have developed a better result than poor decisions with plenty.
Small things matter in regard to investments and we consider our home and therefore, all parts connected to it an investment. The decisions we make now are not only going to affect the look, feel and practical usage of the home, it is also going to affect the lifetime of the components and the longevity of the design. We have hopefully made decisions in areas that will serve us well into the future and can be updated without having to do a full renovation again. This also helps if we ever have to sell as we could refurbish with detail changes, like swapping over cupboard doors and a tap or two - in this regard, details matter.
The lifespan of this renovation will be heading into the years and this sets its own challenges, with one of them being continuity of design as style preferences might change over time and another is having the energy and commitment to keep going, not get lazy and make bad decisions.
For us, the style issue is a little less of an issue as it is an old house and there is some expectation of an eclectic mix of design elements over time. With the house being almost 60 years old and changing purpose a couple times, this is already the case to some degree and we will continue the tradition.
The commitment process is another matter though and it is affected by factors like time, will and money also, where there is definitely an investment into the change process. It is costly in many ways, but I think that it is this investment into the project that adds value. I was reading a post by @kristyglas on why artists should work on projects and I feel that while not an artist per se, this house project does require the dedication and research that generates a lot of learning and skill development. It is a *"study in" creating for a living and one part of the project affects those to follow.
At this point in life, we as a couple are hoping that this might be our last real home and something we can pass down to our daughter one day, but of course, life is full of uncertainties. However, the design of the home has to be practical for us and if we plan well, even if we do have to sell, other people should be able to come in and feel at home too.
I try to accomplish this by creating an intuitive home, something that without thought, just works and I check this when friends and family come and visit. An easy place to observe if something works is having unfamiliar people cook in the kitchen with me and see how many wrong cupboards and draws they have to open. Kitchens all generally have the same kinds of equipment and when someone thinks "where would this be?" and opens a cupboard, it should probably be there. Our current kitchen in this home which will eventually be renovated, is far from intuitive and even after 3 months of living here, doesn't work. Poor design - very poor UX.
Speaking of UX just to finish up, I relatively often get comments that are written in another language, which is fine. However, for ease of communication, if commenting on for example, an English language post in Spanish, add a translation below, rather than expecting the poster to do the translation. I normally do the translation myself of course, but it is far easier from a desktop than a phone. Reducing the barriers to engagement is a far better approach than increasing them and if you want to be heard, "speak the language" of the audience - this is communication 101. While the translation services like Google Translate are not perfect, I personally appreciate the effort as it saves me time and effort that I can use to better engage myself.
A better User Experience is what we are all looking for in life, right? We should design for it ourselves as well.
Taraz
[ Gen1: Hive ]