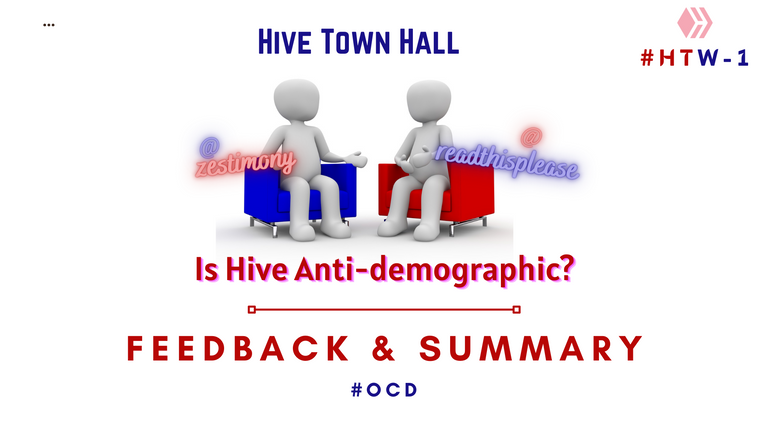 Did you miss the first edition of the Hive Town Hall - #HTW where we discussed the Hive Blockchain demographic interest?
@Readthisplease featured in this edition and his response was timely. Here is a quick summary of the reason why the Hive blockchain has less interest in your demographic data than other social media platforms:
The ability to remain anonymous is one of the key benefits of the blockchain and cryptocurrency. Decentralization and blockchain are unconcerned about your age, gender, skin color, or any other characteristic.
Because the account is easily transferable and individuals can inherit it and carry on the legacy where the prodigy left off, it makes no sense to be linked to a specific demographic.
You don't have to limit yourself to anything; because of decentralization, you may be whatever you want.
Other users were kind enough to bring in their inputs. Here are some:
Hive is a valuable resource. Imagine going through all of that trouble only to gain access to a woman's account. I believe the decentralized platform is obliterating needless requirements on purpose. It doesn't matter who you are or where you came from; all that matters is how well you handle what you have. That's something we'll leave to Facebook.
In reality, no demographic data is required. It is not a centralized platform that requires your personal data. I believe the main goal of it being set up this way is to allow anyone from any background to come on to Hive and be able to interact with others. Hive does not require that background data, unlike other centralized systems that capture our data and exploit it for potentially harmful purposes. Also, because this account is an asset that can be inherited, why is it necessary to assign a gender to it? By the way, you don't have to have a specific gender to own an asset, as far as I'm aware.
In my opinion, this information isn't necessary for Hive to acquire, in my opinion. Other platforms ask for your age, sex, ethnicity, and other details in order to sell your information to advertisers for a fee. The entire business model of Facebook and others is based on collecting demographic data and selling it. Hive does not sell or share your information with anyone, so it is useless to us. Your demographic information has no bearing on your interactions with the blockchain. It does not prevent such information from being shared. If you choose, you can include it in your profile, and many people do. I can't say for sure what the platform's creators were (or are) thinking while they built it, but privacy and de-commercialization are undoubtedly among their concerns.
---
---
Thanks to others such as @ganjafarmer | @jaydee10 | @nathen007 | & @hopestylist for their feedback as well, I really appreciate your presence.
I hope to see you in future sessions!
---
Issues Raised!
However, @ganjafarmer raised a very important issue with respect to how the Town Hall is being run, specifically, about tagging users. He made a valid point that unnecessary tagging of users, especially, veterans, could lead to untold penalties, and I should refrain from unwarranted tagging.
I honestly, and clearly understand your point. But, I want to clearly state this:
All users being tagged have been recommended by those featured in a specific edition of the Town Hall, and this has been done based on their personal relationship with these users. If it is not conspicuous enough, I will try my best to indicate this fact more obviously along with the tags in future series.
---
---
The Outlook
This week, we will be visiting Ladies of Hive in collaboration with @Deraaa. It's almost a segue to the first section, but this time, we are exploring how Hive has treated the ladies. Join us there if you may!
Thanks for being part of this! Your kind feedback and suggestions are all welcome, and I will be sure to improve every step of the way!
---
---
Will you like to be featured? Do you have an interesting issue that you would like to be discussed? Feel free to comment below!