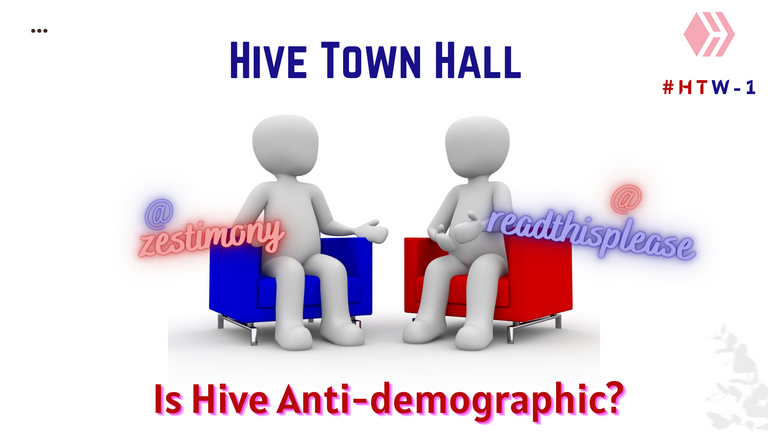 If you've spent enough time on the Hive Blockchain, like me, you've probably noticed something. Demographic data is not favoured on the Hive Blockchain. You are not asked your age, sex, specifics about where you are from, or any of the other information that is commonly required by internet forms, as we all know and have experienced in this digital age.
So, what's the background behind this design? I'm curious. Hive is a blockchain-based social media network. As a social media platform, it allows for social interaction. When dealing with people socially, you must be able to address them properly, and demographic information plays a crucial role in this regard. Most people's usernames and profile photographs do not reflect their gender, and reading their bio may not reveal much about them.
Hive, on the other hand, chose to bypass this, thus here are my theories as to why:
Is it possible that it's a result of using the Steemit template word for word?
Is it possible that it's due to Hive's decentralised nature?
Is it possible that this is a purposeful endeavour to combat racism and prejudice?
Is it possible that there was a design flaw? It's as if it slipped the devs' minds? There is a lot to speculate about.
How big of a deal is this?
It is not a major problem for most people on the Blockchain, and it is minor for me, but it is a recurring one.
So, I wondered, why does the blockchain value demographic data less? Is this a problem that has to be dealt with?
To assist me resolve this, I contacted a veteran, @Readthisplease, to hear his perspective.
Here's what he had to say:
@Readthisplease' thoughts on Hive and Demographic Information
So Hive is a decentralized platform on the blockchain, in as much as it's a social media platform, it's also a Decentralized exchange platform. One of the main features of the blockchain and cryptocurrency is to make users anonymous. Decentralization and blockchain don't really care about your age, gender, colour or any feature. This is why, when you try to open a DEX wallet this information is worthless, all they want you to do is save your keys.
Having those details on your account can restrict the account to that user. But do you know that a Hive account is an asset that can be passed or inherited? Imagine Hive in the next 50 years, people can inherit the account and continue the legacy from where the prodigy stopped. Imagine an account with a female gender being used by a male after inheriting the keys.
Decentralization gives you the opportunity to be what you want to be, you don't have to limit yourself to everything. So I will say that it's possible that it's due to Hive's decentralized nature.
---
---
The featured author @readthisplease has done a very good job highlighting the fact that Hive is a decentralized and even transferrable social media platform. User privacy and anonymity remain on top of its priorities as well.
Thanks, @readthisplease for contributing to this edition of the Hive Town Hall (#HTH). Also, the author has invited the following users to join the conversation, your contributions will be appreciated:
---
---
If you are reading this, feel free to join the conversation and invite your friends to join in.
You are also free to suggest future topics for the Hive Town Hall project.
---
---
---
PREVIOUS & RELATED CONTENT