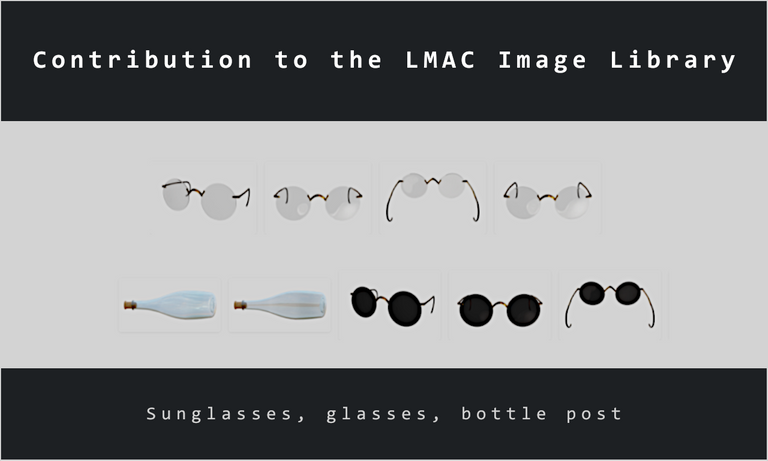 What I like to contribute
The images below are 3D renderings that I modeled myself in Blender 2.92. The textures used were procedurally generated.

I would be very happy if one or the other image is used in artworks of the LMAC community and beyond. Therefore, I hereby make them available as public domain for free.

Was ich gerne beitragen möchte
Die Bilder da unten sind 3D-Renderings die ich selbst in Blender 2.92 modelliert habe. Die verwendeten Texturen wurden prozedural generiert.

Ich würde mich riesig freuen, wenn das eine oder andere Bild einmal in Kunstwerken der LMAC-Community und auch gerne darüber hinaus Verwendung findet. Deshalb stelle ich sie hiermit als Public Domain zur freien Verfügung.
---

What is LIL?
LIL is the abbreviation for "LMAC (Let's make a collage) Image Library". It is an initiative of the LMAC (Let's make a collage) community to build a library of images that can be used as a material source especially for artworks but also for anything else.
You can search the LIL online now: lmac.gallery
What is LMAC?
LMAC is a great art community in the Hive, dedicated to the realm of creating collages and everything that follows the principle of a collage. So creating images, by using parts from other images and based on your own modifications.
We have a weekly collage making contest there where you can win prizes.
Just take a look in our fantastic community. Even if you think you're not an artist, give it a try. You might prove yourself wrong. The weekly challenges are a great way to awaken and train your inner artist.

Was ist LIL?
LIL ist die Abkürzung für "LMAC (Let's make a collage) Image Library". Es eine Initiative der LMAC (Let's make a collage)-Community, um eine Bilder-Bibliothek aufzubauen, die als Material-Quelle speziell für die Erstellung von Kunstwerken, aber auch sonstiges genutzt werden kann.
Du kannst die LIL nun auch online durchsuchen: lmac.gallery
Was ist LMAC?
LMAC ist eine großartige Kunst-Community im Hive, die sich speziell mit dem Bereich der Collagen beschäftigt und allem was dem Prinzip einer Collage folgt. Also dem Erstellen von Bildern, mit Teilen aus anderen Bildern und auf Basis eigener Modifikationen.
Wir haben dort einen wöchentlichen Collagen-Wettbewerb, bei dem man leckere Preise gewinnen kann.
Schau doch mal bei uns in der Community rein. Selbst wenn du denken solltest, du seist kein Künstler, probiers einfach mal aus. Möglicherweise wirst du dir selbst das Gegenteil beweisen. Die wöchentlichen Herausforderungen helfen prima, deinen inneren Künstler zu wecken und in Übung zu bringen.
---
| | | |
| --- | --- | --- |
| Bottle post #1 | bottle, glass, transparent, transparency, cutout, cork | |
| Bottle post #2 | bottle, glass, transparent, transparency, cutout, cork | |
| Sunglasses 19th century #1 | glasses, sunglasses, fashion, optical, transparent, transparency, cutout | |
| Sunglasses 19th century #2 | glasses, sunglasses, fashion, optical, transparent, transparency, cutout | |
| Sunglasses 19th century #3 | glasses, sunglasses, fashion, optical, transparent, transparency, cutout | |
| Glasses 19th century #1 | glasses, fashion, optical, transparent, transparency, cutout | |
| Glasses 19th century #2 | glasses, fashion, optical, transparent, transparency, cutout | |
| Glasses 19th century #3 | glasses, fashion, optical, transparent, transparency, cutout | |
| Glasses 19th century #4 | glasses, fashion, optical, transparent, transparency, cutout | |
Best regards
QuantumG

╭━━⋞ ☙ My NFT artworks ≻≺ ♖ My dCity ⋟━━╮
╰━━━━⋞ ♫ My Rising Star(s) ⋟━━━━╯