Source
At the beginning of the last century, while developing the general theory of relativity, Albert Einstein realized that his equations led to the conclusion that the universe was not static as was believed at the time but was expanding so that, to achieve this static universe, he had to add his famous cosmological constant.
A principios del siglo pasado mientras desarrollaba la teoría general de la relatividad Albert Einstein se dio cuenta de que de sus ecuaciones se desprendía la conclusión de que el universo no era estático como se creía por entonces sino que se estaba expandiendo por lo que, para conseguir este universo estático, tuvo que añadir su famosa constante cosmológica.
Years later Edwin Hubble, who as you know, was a gentleman before being a telescope, discovered that the universe was actually expanding, observing the red shift of light from distant galaxies and Einstein removed that cosmological constant from his formula. which led him to declare that this had been "the biggest mistake of his career".
Años mas tarde Edwin Hubble que como sabéis, antes de ser un telescopio era un señor, descubrió que realmente el universo se estaba expandiendo, observando el corrimiento hacia el rojo de la luz de las galaxias lejanas y Einstein retiró de su fórmula esa constante cosmológica lo que le llevó a declarar que esta había sido "el mayor error de su carrera".
But the good thing about science is that it is continually questioning itself and subsequent observations made discovered in 1998 that the universe was not only expanding but that the expansion was accelerating, the logical thing would have been that the expansion, after the big bang, it was decelerating so the cosmological constant comes back on stage.
Pero lo bueno que tiene la ciencia es que continuamente se está cuestionando a si misma y posteriores observaciones realizadas descubrieron en 1998 que el universo no solo se expandía sino que la expansión se aceleraba, lo lógico hubiese sido que la expansión, tras el big bang, se fuese decelerando por lo que vuelve a salir al escenario la constante cosmológica.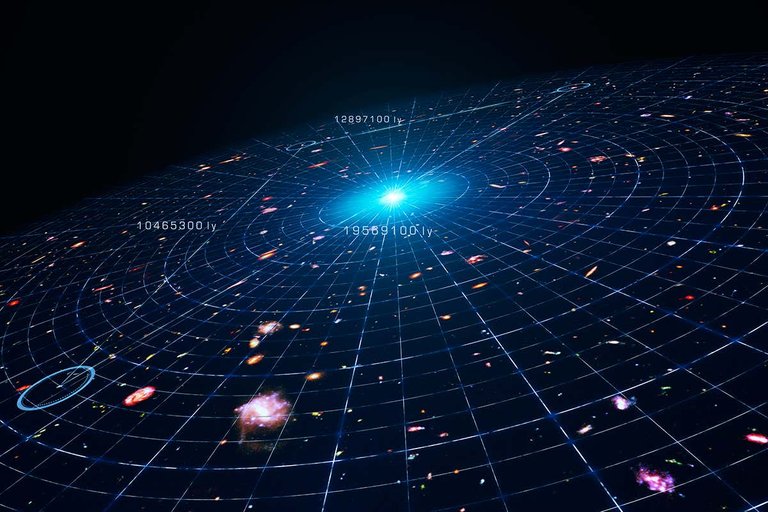 Source
This new constant is now called dark energy and it is a kind of repulsive gravity that permeates everything and that, according to the calculations of scientists, constitutes 70% of our universe, 21% being dark matter and only 4% of the universe It is made up of matter and energy that we all know and handle.
Esta nueva constante ahora se le llama energía oscura y es una especie de gravedad repulsiva que lo permea todo y que, según los cálculos de los científicos constituye el 70 % de nuestro universo siendo el 21 % materia oscura y tan solo un 4 % del universo está formado por la materia y energía que todos conocemos y manejamos.
But dark energy is not something that can be measured directly but comes out of complex formulas, so not all scientists agree on the conclusions obtained, but so far none of them have proposed any more successful alternative than said dark energy.
Pero la energía oscura no es algo que se pueda medir directamente sino que sale de complejas fórmulas, por lo que no todos los científicos están de acuerdo en las conclusiones obtenidas, pero hasta el momento ninguno de ellos ha propuesto ninguna alternativa más acertada que dicha energía oscura.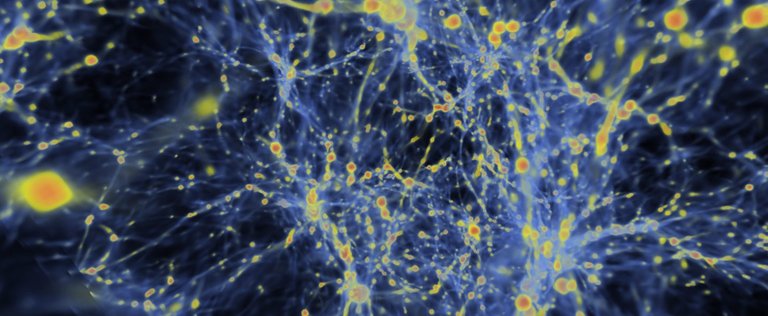 Source
Now in a recent study by the University of Copenhagen a group of scientists propose that the effects attributed to dark energy could be caused by dark matter, if we assume that this dark matter can generate some kind of magnetic field and calculate the effect this would have on the universe, it would be unnecessary dark energy.
Ahora en un estudio reciente de la Universidad de Copenhague un grupo de científicos propone que los efectos que se atribuyen a la energía oscura podrían ser provocados por la materia oscura, si asumimos que esta materia oscura puede generar alguna especie de campo magnético y se calcula el efecto que esto tendría en el universo, la energía oscura sería innecesaria.
The bad thing is that this reason to explain the expansion of the universe is as complex and unhinged as that of dark energy, so it will surely be necessary to go much deeper into these studies and find a way to make some observations that confirm or discard these theories.
Lo malo es que esta razón para explicar la expansión del universo es tan compleja y desquiciada como la de la energía oscura por lo que seguramente habrá que profundizar mucho más en estos estudios y encontrar la manera de realizar algunas observaciones que confirmen o descarten estas teorías.
Mora information/Más información
https://scitechdaily.com/new-model-raises-doubt-about-the-composition-of-70-of-our-universe-dark-energy-may-simply-not-exist/