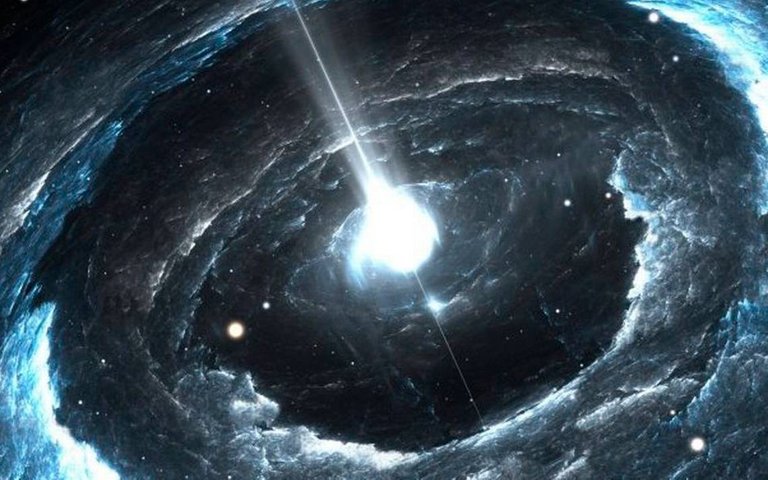 Source
We have already commented on this blog more than once how stars, when they run out of fuel, go off more or less scandalously from the discrete white dwarf of small stars like the Sun to the black holes that create the largest stars after becoming into red giants and explode.
Ya comentamos en este blog más de una vez como las estrellas, cuando acaban su combustible, se apagan más o menos escandalosamente desde la discreta enana blanca de las estrellas pequeñas como el Sol hasta los agujeros negros que crean las estrellas mas grandes.después de convertirse en gigantes rojas y explotar.
When a star of approximately 2 times the mass of the sun runs out of fuel, the energy it gives off is unable to overcome the force of gravity and the star explodes, throwing its outermost layers into space and causing the core to collapse, decreasing its size to about 12 or 15 km radius but with the same mass as the original star.
Cuando una estrella de aproximadamente 2 veces la masa del sol acaba su combustible la energía que desprende es incapaz de superar a la fuerza de gravedad y la estrella explota lanzando sus capas más externas al espacio y haciendo que el núcleo se colapse disminuyendo su tamaño hasta unos 12 o 15 km de radio pero con la misma masa de la estrella original.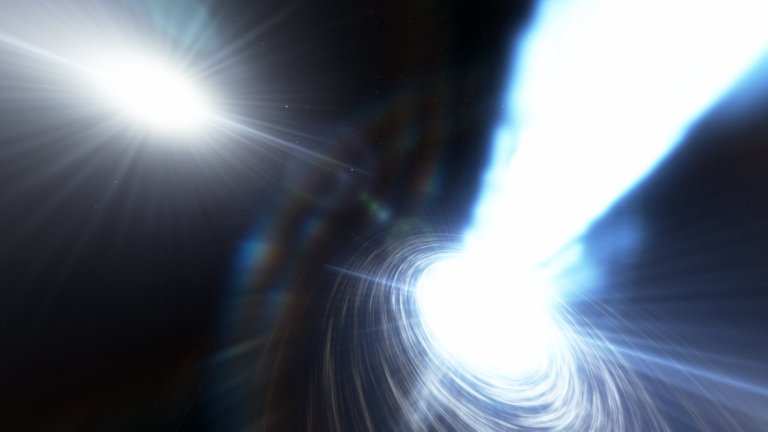 Source
This is achieved because the star is basically made up of neutrons that, as you know, have no charge so they can be "squeezed" a lot. Although it may not seem like it, everything in the universe including us is made of atoms and atoms are practically made up of empty space if we take into account the distance from the nucleus to the nearest electron.
Esto se consigue porque la estrella está formada básicamente por neutrones que, como sabéis, no tienen carga por lo que pueden "apretarse" mucho. Aunque no lo parezca, todas las cosas del universo incluidos nosotros están hechas de átomos y los átomos están formados prácticamente por espacio vacío si tenemos en cuenta la distancia que hay desde el núcleo hasta el electrón más cercano.
If we had to represent a proton and its electron on a real scale it would be like putting a soccer ball in the center of a bullring and a pea circling the outermost part of the bullring, the rest is empty space, they say the experts that if we could eliminate that empty space, all of humanity would fit in a sugar cube.
Si tuviéramos que representar un protón y su electrón a escala real sería como poner un balón de futbol en el centro de una plaza de toros y un guisante dando vueltas por la parte más exterior de la plaza, el resto es espacio vacío es más, dicen los expertos que si pudiéramos eliminar ese espacio vacío toda la humanidad cabría en un terrón de azúcar.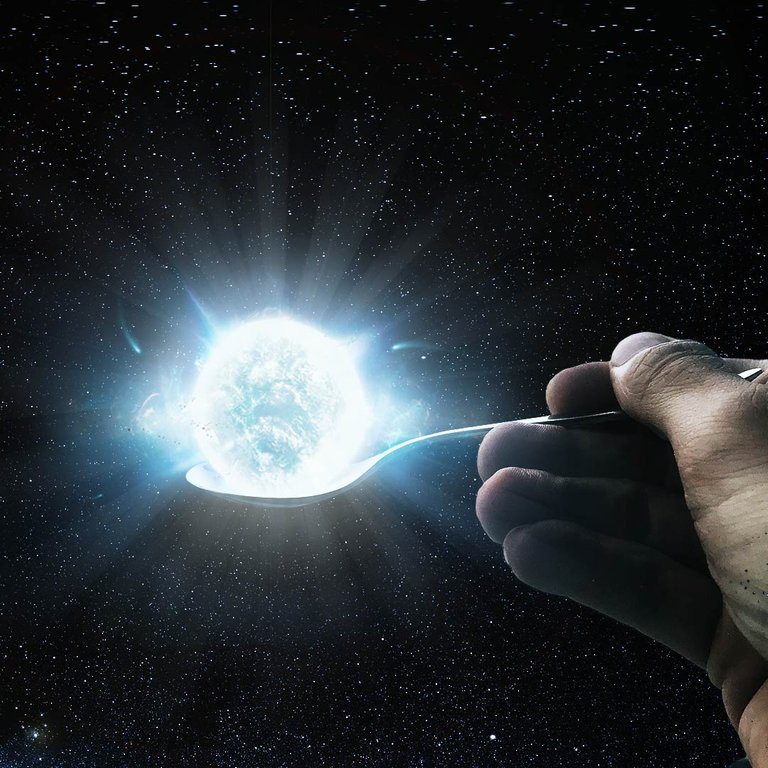 Source
In short, it would be like compressing the Sun to the size of a small city, so if we take into account that this star still has the mass of the Sun but with 12 or 15 km in diameter, a tablespoon of this star would weigh the same as Mount Everest.
En resumen, sería como comprimir el Sol hasta dejarlo del tamaño de una pequeña ciudad, por eso si tenemos en cuenta que esta estrella sigue teniendo la masa del Sol pero con 12 o 15 km de diámetro, una cucharada de esta estrella pesaría lo mismo que el monte Everest.
Although, according to scientists, the average size of neutron stars is about 12 or 15 km, it seems that they have now calculated the size of the star J0740 located 3,600 light years from Earth and is 25 km in size, which is which makes it the largest known neutron star in the entire universe.
Si bien, según los científicos, el tamaño medio de las estrellas de neutrones es de unos 12 o 15 km parece que ahora han calculado el tamaño de la estrella J0740 situada a 3.600 años luz de la Tierra y tiene un tamaño de 25 km, lo que la convierte en la estrella de neutrones más grande conocida en todo el universo.
More information/Más información
https://www.paudal.com/2021/05/02/they-calculate-the-size-of-the-heaviest-known-neutron-star/#:~:text=For%20the%20first%20time%2C%20the,3%2C600%20light%20years%20from%20Earth.
https://es.euronews.com/2021/05/02/calculan-el-tamano-de-la-estrella-de-neutrones-mas-pesada-conocida