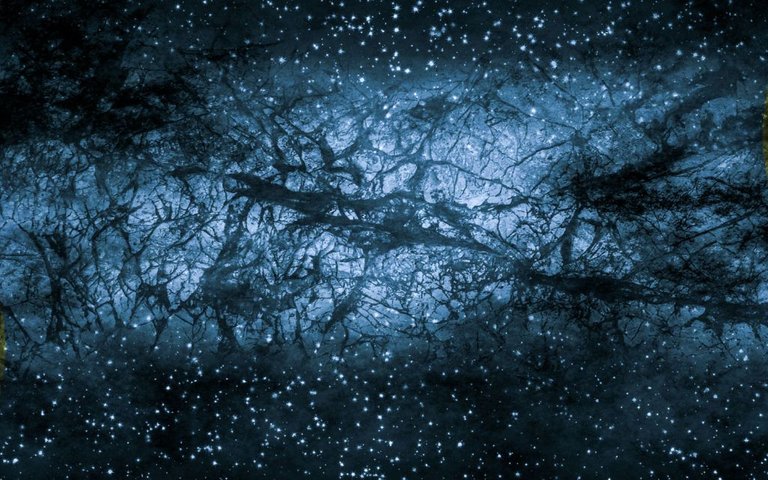 Source
According to experts, it turns out that all the matter and energy that make up the visible universe that we know is only 5% of the entire universe, the rest belongs to what scientists call "Dark matter" and "Dark energy".
Según los expertos resulta que toda la materia y energía que conforman el universo visible que conocemos es apenas el 5% de todo el universo, el resto pertenece a lo que los científicos llaman "Materia oscura" y "Energía oscura".
Of that 95% remaining, 72% would be made up of dark energy of which already we talked in another post a few weeks ago and the remaining 23% would be the so-called dark matter that is not made up of any of the known subatomic particles.
De ese 95% restante el 72% estaría formado por energía oscura de la que ya hemos hablado en otro post hace unas semanas y el 23% restante sería la denominada materia oscura que no está formada por ninguna de las partículas subatómicas conocidas.
It is called dark matter because it is not seen with any electromagnetic wave that we normally use to scrutinize the universe, that is, it does not reflect light, X-rays, microwaves or any other wave of the electromagnetic spectrum.
Se denomina materia oscura por que no se ve con ninguna onda electromagnética de las que usamos normalmente para escrutar el universo, es decir, no refleja la luz, ni los rayos X, ni microondas ni ninguna otra onda del espectro electromagnético.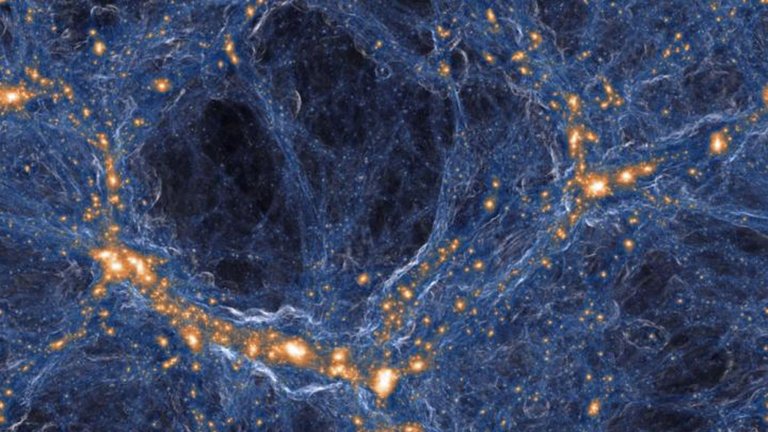 Source
And you, who are very sagacious, will ask yourselves, if they can't see it how do they know it is there? Well, although you cannot see it you can feel its gravitational effects on stars and galaxies and in the
background cosmic microwave
, which we have also talked about.
Y vosotros, que sois muy sagaces, os preguntaréis, ¿y si no se ve como saben que está ahí?, pues porque aunque no se pueda ver si se pueden sentir su efectos gravitatorios sobre estrellas y galaxias y en el fondo cósmico de microondas, del que también hemos hablado.
While studying the behavior of galaxies and galaxy clusters, astronomers realized that for galaxies to move and behave as they did, much more mass was needed than could be observed.
Mientras estudiaban el comportamiento de galaxias y cúmulos de galaxias los astrónomos se percataron de que, para que las galaxias se moviesen y se comportasen como lo hacían, se necesitaba mucha más masa de la que se podía observar.
For this reason, in 1933, faced with the evidence of a mass invisible to electromagnetic radiation that modified the behavior of galaxies, the Swiss astronomer of Bulgarian origin Fritz Zwicky proposed the existence of this dark matter.
Por ello en 1933, ante la evidencia de una masa invisible a la radiación electromagnética que modificaba el comportamiento de las galaxias, el astrónomo suizo de origen búlgaro Fritz Zwicky propuso la existencia de esta materia oscura.

Source
And not only does no one know what dark matter is, but they do not even know what it is composed of since, as we mentioned in the previous paragraph, it is not composed of any of the known particles.
Y no solo nadie sabe lo que es la materia oscura sino que ni siquiera saben de qué está compuesta ya que, como comentábamos en el párrafo anterior, no está compuesta por ninguna de las partículas conocidas.
The most popular particles that are postulated are the so-called axions, subatomic particles proposed in 1977 but not yet discovered and the WIMP (Weak Interacting Massive Particles).
Las partículas más populares de las que se postulan son los llamados axiones, partículas subatómicas propuestas en 1977 pero que todavía no han descubierto y los WIMP(Weak Interacting Massive Particles).