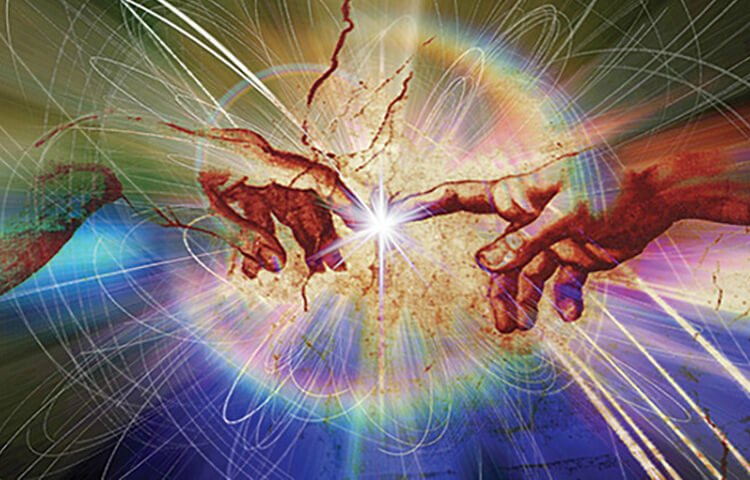 Source
I suppose you will all remember when, in July 2012, CERN announced the discovery of the long-haunted Higgs boson and how the media, displaying their functional illiteracy and chronic shamelessness, christened the "God Particle".
Supongo que todos recordaréis cuando, en Julio de 2012 el CERN anunció el descubrimiento del largamente perseguido bosón de Higgs y como los medios de comunicación, haciendo gala de su analfabetismo funcional y de su desvergüenza crónica, bautizaron como "Partícula de Dios".
To begin with, we will say that its name is due to Peter Higgs, one of the scientists who predicted its existence almost 60 years ago to try to explain where the particles will obtain their mass.
Para empezar diremos que su nombre se debe a Peter Higgs, uno de los científicos que vaticinaron su existencia hace casi 60 años para intentar explicar de dónde obtienen las partículas su masa.
Normally, theoretical scientists make their elucubrations based on mathematics and make predictions about physical phenomena that later have to be verified experimentally in laboratories.
Normalmente los científicos teóricos hacen sus elucubraciones a base de matemáticas y lanzan predicciones sobre fenómenos físicos que luego han de ser verificados experimentalmente en los laboratorios.


Source
Physicists basically did not understand why, if both the W and Z particles and the photon are bosons without their own mass, the W and Z show a huge mass while the photons have no mass and to try to explain this they predicted the existence of this new particle.
Básicamente los físicos no entendían porqué si tanto las partículas W y Z como el fotón son bosones sin masa propia, los W yZ muestran una enorme masa mientras que los fotones no tienen masa alguna y para intentar explicar esto predijeron la existencia de esta nueva partícula.
According to this theory there would be a "Higgs field" that permeates everything, made up of these bosons; Depending on their characteristics, some particles interact more with this field than others, which gives them a greater mass.
Según esta teoría existiría un "campo de Higgs" que lo permea todo, compuesto por estos bosones; dependiendo de sus características unas partículas interaccionan mas con este campo que otras lo que les da una mayor masa.
As this is very difficult to understand, we are going to make an analogy, let's imagine an Olympic swimming pool in which we throw a dolphin and a sumo wrestler; the dolphin with its streamlined design appears to fly instead of swimming while the sumo wrestler strokes and kicks without moving forward.
Como esto es muy arduo de entender vamos a hacer una analogía, imaginemos una piscina olímpica en la que tiramos un delfín y un luchador de sumo; el delfín con su diseño aerodinámico parece que vuela en lugar de nadar mientras que el luchador de sumo bracea y patea sin avanzar.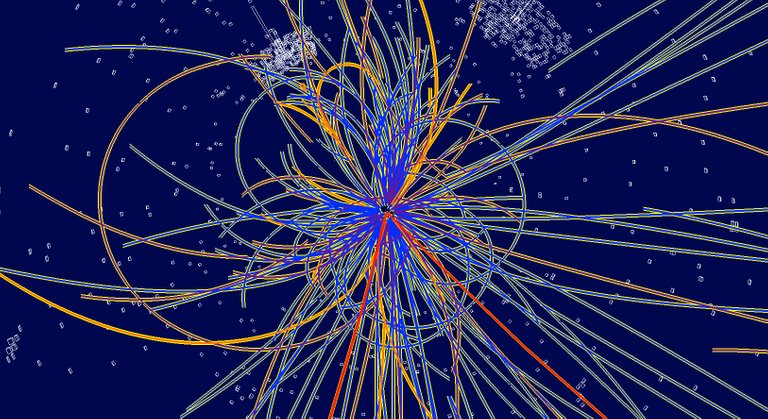 Source
Now lets change the olympic pool for the space and water for the Higgs field, photons, due to their characteristics, just as dolphins do not interact with the Higgs field and have no mass, the X and Z bosons would be like the sumo wrestler that interact more with the environment which makes them more massive.
Ahora cambiamos la piscina olímpica por el espacio y el agua por el campo de Higgs, los fotones por sus características no interactúan con el campo de Higgs y no tienen masa, los bosones X y Z serían como los luchadores de sumo que interactúan más con el medio lo que les hace más masivos.
With all the theory in place, the CERN scientists were colliding protons at very high energies for years until they could find the elusive boson which, in addition to being small, has a half-life of zeptoseconds (10E-21 seconds).
Con toda la teoría ya montada los científicos del CERN estuvieron durante años colisionando protones a muy altas energías hasta poder dar con el esquivo bosón que, además de pequeño, tiene una vida media de zeptosegundos (10E-21 segundos).
To be honest I have no idea what the hell this is for but, as Michael Faraday said, we are sure to be taxed one day for it.
Para ser honesto no tengo ni idea de para qué coño sirve esto pero, como dijo Michael Faraday, seguro que algún día nos cobrarán un impuesto por ello.