Source
Nikolai Semenovich Kardashev was a Russian astrophysicist who died last year who created the scale that bears his name to classify civilizations according to the degree of technological evolution, based on the amount of energy they take from their environment; This scale includes 3 types of Civilization: I, II and III.
Nikolai Semenovich Kardashev fue un astrofísico ruso fallecido el año pasado que creó la escala que lleva su nombre para clasificar a las civilizaciones según el grado de evolución tecnológica, basándose en la cantidad de energía que aprovecha de su entorno; esta escala contempla 3 tipos de Civilización; I, II y III
Type I civilizations
They are those civilizations capable of harnessing all the energy that comes from their closest star, storing it and distributing it to satisfy the needs of their population, according to the calculations of experts this would be 10E16 watts.
Civilizaciones de tipo I
Son aquellas civilizaciones capaces de aprovechar toda la energía que proviene de su estrella más cercana, almacenarla y distribuirla para satisfacer las necesidades de su población, según los cálculos de los expertos esto serían 10E16 vatios.
Type II civilizations
This type of civilization would be able to take advantage of all the energy produced by its star, that is, not only that which comes from the star but also control and use all the energy production of said star, this would be equivalent to 10E26 watts.
Civilizaciones de tipo II
Este tipo de civilización sería capaz de aprovechar toda la energía producida por su estrella es decir, no solo la que proviene de la estrella sino controlar y utilizar toda la producción energía de dicha estrella, esto sería equivalente a 10E26 vatios.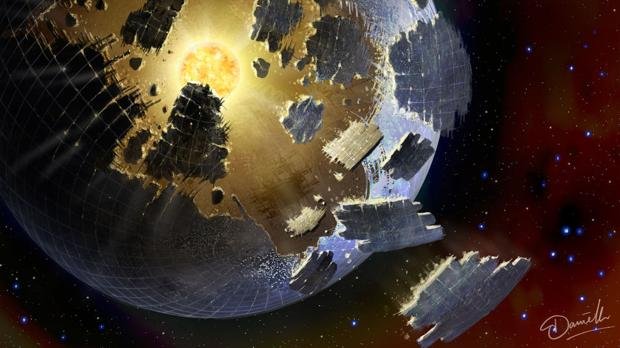 Source
On this, a project called "Dyson Sphere" has already been developed in honor of the scientist Freeman Dyson, which consists of surrounding a star with a kind of mega-structure of panels capable of collecting and storing all the energy produced by said star
Sobre esto ya se ha desarrollado un proyecto llamado "Esfera de Dyson" en honor al científico Freeman Dyson, que consiste en rodear una estrella con una especie de mega estructura de paneles capaces de recoger y almacenar toda la energía producida por dicha estrella
Type III civilizations
Finally, type III civilizations would be those capable of harnessing the energy produced by all the stars in the galaxy in which it is located, in this case we would be talking about 10E36 watts of power.
Civilizaciones de tipo III
Por último las civilizaciones de tipo III sería aquellas capaces de aprovechar la energía producida por todas las estrellas de la galaxia en la que se ubica, en este caso estaríamos hablando de 10E36 vatios de potencia.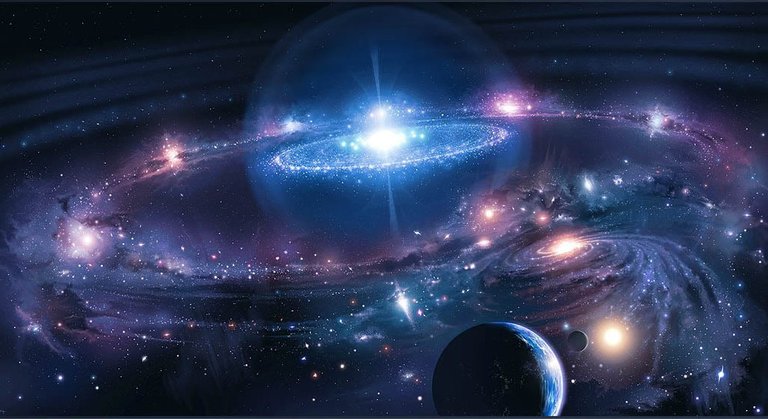 Source
Some modern authors speak of a
Type IV Civilization
that would be able to harness all the energy of the visible universe and the
Type V Civilization
capable of harnessing the energy of the entire multiverse if such a thing exists.
Algunos autores modernos hablan de una Civilización tipo IV que sería capaz de aprovechar toda la energía del universo visible y la Civilización tipo V capaz de aprovechar la energía del multiverso al completo en caso de que tal cosa exista.
By now I'm sure all of you are wondering where on the Kardashev scale our civilization is, we still are in phase 0 and we would need to produce thousands of times more energy than we do today.
And meanwhile our civilization continues to depend on the fuel generated by plants and animals that died millions of years ago. Painful.
A estas alturas seguro que ya todos os estáis preguntando en que parte de la escala de Kardashev se encuentra nuestra civilización, pues estamos en la fase 0 y necesitaríamos producir miles de veces mas energía de la que producimos en la actualidad.
Y mientras tanto nuestra civilización sigue dependiendo del combustible generado por plantas y animales muertos hace millones de años. Penoso.