There has been an utmost interesting discussion between some witnesses and Justin.
As the conversation has been taped you can listen into it by yourself and make your own view of what has happened.
https://steemit.com/steem/@ura-soul/justin-sun-conversation-with-witnesses-is-online-ned-sold-out-the-community-failed-to-disclose
For me the key points are as follows:
1.) Justin is in for the quick buck, he wants to transfer steeminc's steem stake as soon as possible to exchanges to get his investment back
2.) Justin wants a fork asap so that powerdown for the exchange stakes can be set to "instantly" in stead of 13 weeks
3.) Justin claims that NED did not mention at all, that steeminc's stake is in any way restricted in regards to voting or selling or use of the proceeds
4.) NED gives shit about us
And here is my opinion to all of this:
Justin claims that his intention was to invest for the long run but as since hostile actions have been taken by the community/witnesses (freezing of the steem stake) he now only wants to get his money back as soon as possible.
When I first heard about the freeze I was not supportive of it at all and feared that we slap the guy in the face that wants to bring money to the steem blockchain helping us to lift steem to another level.
Having him heard speaking on the call I have to say I am not so sure about this any longer.
First of all he insists he bought free transferable steem tokens and those being his sole property he can do whatever he wants with it. And this is dead wrong! I do not know what exactly steeminc promised the community to do or not do with the stake, but one thing is clear: Him being a business man he of course knows that he bought a company with all assets and liabilities... one of the liabilities possibly being restrictions on the main asset.
He insisted in the call on several occasions that this is not the case and he just bought some tokens but this is 100% wrong and if he does not accept this I do not see any way how this could play out well.
And one could also speculate why NED sold to Justin and not to some "credit-shark" helping to liquidate the position if NED's only intention was to cash in. Before there is no clear hint/proof from NED that he "screwed" Justin by not telling him about restrictions to the stake I am skeptical that Justin had really no knowledge at all about this.
And in regards to the duration of his investment:
I do not buy it that he only wants to sell it now asap, because the freeze happened.
I believe NED sold him steeminc for less than the tokens value of steeminc's stake and Justin's plan was to get back his investment pretty quick, knowing that the steem price would excel after the news about his involvement is out.
If he were in for the long run he would have looked much deeper into what he bought - I mean even if there was no time for a proper due diligence you should know what you buy into and he and his team really seem not understand what they just bought.
If they were - what would have changed after the freeze? If they knew what they bought into they knew that such a freeze was possible and now even after their very very questionable coup the witnesses and community are talking to them. So if you are in for the long run you would negotiate a common strategy with the other stake- and shareholders to create a prosperous venture --> there was no hint at all that something like this is seeked for or in the making.
So if I had to judge atm.. I tend to believe that the witnesses' "preemptiv strike" was necessary.
As he mentioned several times that he wants to solve the issue of the staked exchanges' customers' tokens I definitely believe that he gets heat from the exchanges and that we could be in for a great short squeeze if all customers withdrew their steem from the exchanges.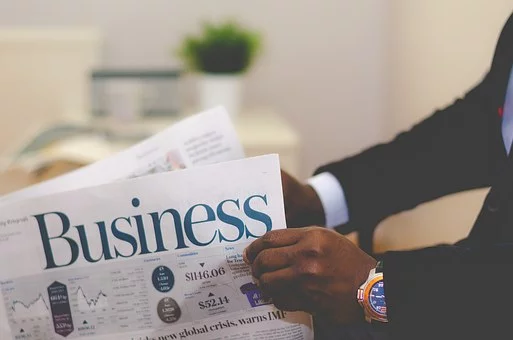 What is not really clear to me is about what sizes we are talking in terms of steempower backing the different parties.
One hour ago 10 witnesses of the old witnesses have been in the top 20...
now 60 Minutes later the picture has totally changed again: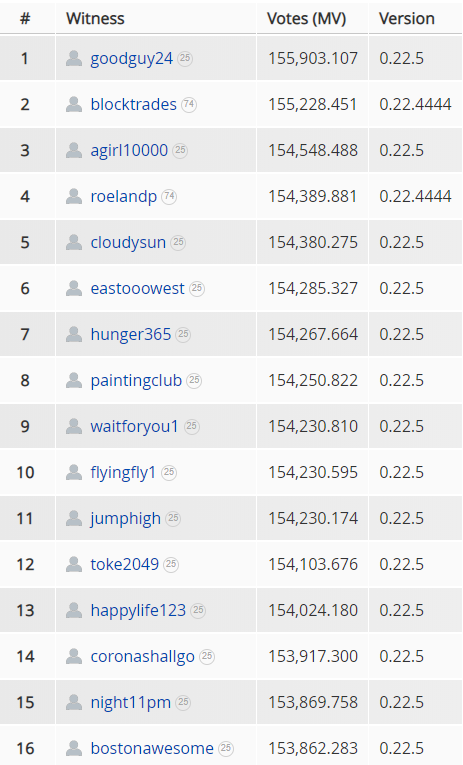 I would love to understand what's the steem power behind those vests..
If I got it right atm 1 steem power is equivalent to around 1,960 vests...
so goodguy24 with 155,903 Million vests is currently voted for by 79,54 Mio. SP.
Could someone verify my calculation?
If I look at the steeminc main accounts they hold around 60 Mio. SP
misterdelegation 19.371
steem 11.669
steemit 29.219
in total 60,259 Mio. SP
So where the heck do they get the other 20 Mio. SP from? Still from the exchanges?
I thought 2 of the 3 retreated?
Can someone give some hints about what is going on atm?
Yours solarwarrior