INTRODUCTION
Team work is very essential if a company /business/organisation must perform at it's maximum productivity. Motivation is an essential part of any business, if your team will give in their best to meet target goals. So you have to strive to keep your team inspired and motivated.
Meanwhile, motivation is a way of keeping your employees and team inspired to put in their maximum effort to work.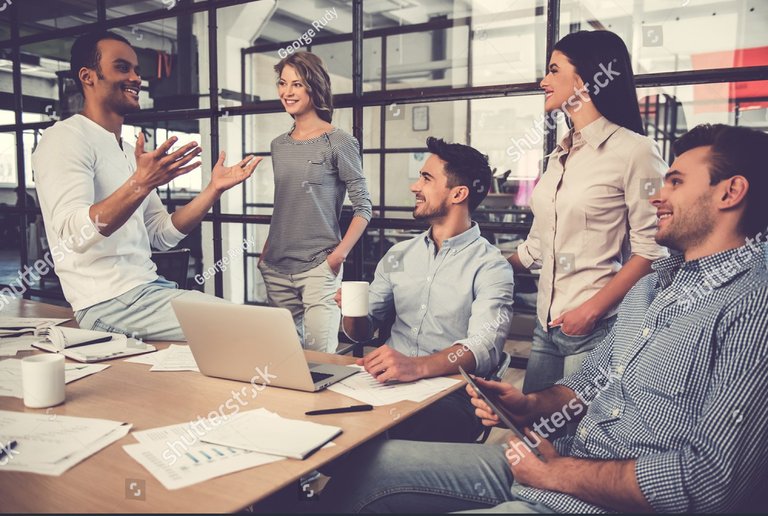 Source
HOW TO KEEP YOUR TEAM MOTIVATED
RENUMERATION:
Renumeration includes salary, incentives, gift rewards etc. Make sure you pay your team in line with what other companies in your industry pays theirs. It is said that 20% of every engaged employee is ready to leave their current job for just 5% increase in salary from another job offer.
Also be careful to recognise and applaud team members' achievements, it has a way of inspiring and motivating the employee to do more. Reward your team for hard work, either in monetary reward, gifts etc.
PROVIDE AN OPPORTUNITY FOR TEAM SKILL DEVELOPMENT:
Give your team a platform to improve on their skills. They will be more valuable to the organization and to themselves, when they have an opportunity to learn new skills. Provide your team with the opportunity to grow and develop in their sphere of influence, it has a way of keeping them motivated and making them feel valuable.
CREATE A CONDUCIVE WORK ENVIRONMENT:
Create an enjoyable work environment. Environments has a very significant impact on the employees'/team productivity and creativity. Promote a healthy and conducive work environment, by doing this, you help your team maintain their energy level and reduce stress.
COMMUNICATE YOUR VISION WITH YOUR TEAM:
Effective communication with your team is very vital. Make sure there is constant flow of communication between you and your team. So one of the ways to motivate and inspire your team is by communicating the vision of the organization with them. Let them see themselves inside what is happening in the company. Give them a room to own the vision and then run with it. This way they are not just updated with what needs to be done in the company, you also listen to their ideas, opinions and feedbacks.
SET CLEAR AND REALISTIC GOALS:
This will encourage the team to work together in achieving a definite goal. Set clear and realistic goals that are framed by your vision as a company, so as to track progress and see success in a tangible way.
DON'T BE A BOSS BE A LEADER:
Most importantly, don't be a boss rather be a leader. Don't just supervise and impose things on your team members, rather be a part of the team. Don't just tell them what to do, do it with them and let them follow you. Be their personal source of inspiration and motivation.
These and more are some of the ways to keep your team motivated for a maximum and effective work performance
CONCLUSION
When running a business, your team is your most important asset, without them your business might not function at it's maximum expected frequency. So it is essential your team are motivated and inspired to put in their maximum effort in achieving organizational goals.
Thanks for visiting my piece, nice having you around.
Best regards