Oh, what a beautiful morning... until you open your portfolio application only to discover that the value has decreased by somewhere between 10%-30% since you went to bed last night (or something like that). And that might be a shock that will get you out of bed quickly. If you are new to crypto, this might feel extremely scary and ruin your mood, but if you have been around for some months and years, you probably feel like Mr. Bean on a rollercoaster. If you don't get what I mean, check the 1-minute clip above. Not only is it fantastic, but it also describes the feelings of an experienced cryptocurrency trader right now.
What a clip... totally love it. If you had a bad mood until reading this, I hope the clip above will cheer you up. While everyone else might be screaming, you just sit around and enjoy the ride. Maybe you even feel a bit annoyed by everyone else screaming around you?! :)
Time to panic-sell or to buy-back?
Now is the time when you have to think. Is this the time to panic-sell whatever you have left of crypto, or is this the time to start using funds you have sold earlier to buy-back and get even more? Or is this the time to just be quiet, relax, and see what will happen? After all, there are a couple of scenarios possible at this moment.
Prices may quickly return to the previous level, meaning they will increase.
We might spend some time at this new level, before eventually going up/down.
It might fall further.
Not much wisdom here, right? Some people say that this is because of Joe Biden's announcement related to tax issues in the USA. Who knows?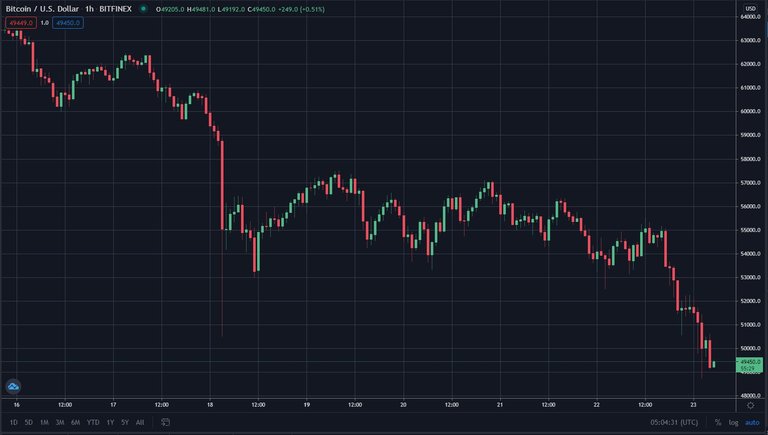 I just saw a Cointelegraph article in which the topic said that people rush to buy altcoins as Bitcoin dips towards 50k. Well, Bitcoin is currently trading at $49,350... who knows?
Once again, there isn't much wisdom in this, but panic-selling isn't normally a smart thing to do. And even if the prices should fall further down, it will normally happen in curves, meaning that I expect some sort of jump-back now, and then... who knows?
Keep calm, watch Mr. Bean, and have a blessed day everyone!


This is an original article written by me for Project Hope!