Haha, I have just got to laugh thinking about it. It was during the summer of 2020, and I had a tiny portion of BTC dust. I had stored it since 2017 and I was really sure that I was going to sell it whenever 1 BTC was getting around 10,000 Euro! Once again, we are not speaking of 1 BTC (I wish I had one, but I don't). But, I had a sell order that was to go through when BTC reached 10,400 Euro. And I remember that morning, during my summer holiday, that Bitcoin reached that level, and I bragged a bit to my family about me selling!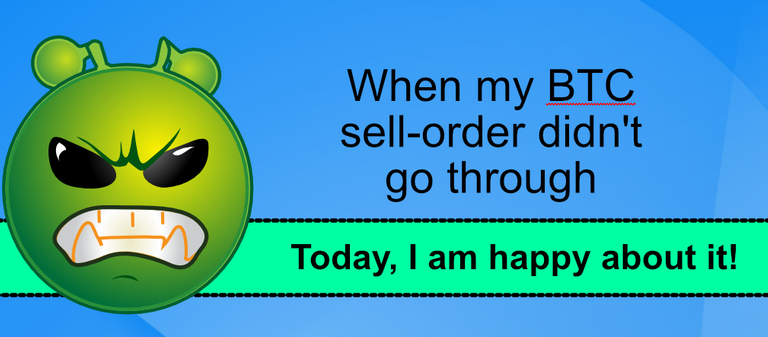 But, then later - as Bitcoin dropped again, I went to the exchange to actually see if my trade went through. That is when I noticed that I had set the sell order at 10,800 Euro and not 10,400. My sell order didn't go through. I felt quite stupid, and somehow, because of this... I totally deleted my sell order!
Guess who is happy about that today?
There is no lesson to be learnt from this. It might be a lesson that sometimes good things might come out of unfortunate events, but I guess I have had some occasions on which my sell order didn't go through, and after that - everything dumped. As a result, this was just pure luck this time (or God's blessing), and I hope I will be lucky in the same way in the future as well.
But, I have got to admit that it is very hard to know exactly when to sell and buy, so I guess that is why we all need to stick to our plans as much as possible.
So, what is the plan? I guess it is to become rich. How is that done? I'd say hard work and sticking to your principles. Richness might not come in a night, nor in a year, but if you work hard and stick to your principles and your plan, I believe you have a great chance!
My personal way of dealing with cryptos
I have already discussed this a bit, that in Europe, most people do crypto for fun and as a hobby, while many of our friends here in Project Hope constantly convert crypto to FIAT, because it is needed for their daily living. That is a different situation, and in a way, they probably do it wiser than us here in Europe.
But for me, I try to treat crypto as a hobby. As a result, I have to work super hard to earn as much as I need in other ways and that is my main source of income and in which I trust. But, if my crypto portfolio should boom, then I sell and it comes as a nice plus. But, it isn't something I trust to bring food to the table and so on! :)


This is an original article written by me for Project Hope!