Hey This is an invitation to all rising star content creators to share their posts in our MusicForLife community.
Still don't know what MusicForLife is? I will leave you this link here for more information but basically it is a project that very happily has a fraternal alliance with Rising Star in which our objective is to give a space to music lovers (not only musicians) to share their passion in community. and can be rewarded.
The project is currently divided into 2 phases. The pre-tribe phase in which we are going to test the product with a community in Hive and then we will launch a tribe (post-tribe phase) with its own token and a very healthy economy that will predispose it to increase its value throughout of the years.
So why should you share your Rising Star posts on MusicForLife?
You will continue to be rewarded as usual for the rising star trail (with the difference that you will be supporting the project)
You will be part of the initial distribution of the token based on your activity within the community
. You will receive random Starbits aidrops from the MusicForLife team in ypur posts
To post in the community CLICK HERE and write your post. Remember to continue using "risingstar" as the tag and also the new community tag "musicforlife"
But if that were not enough! I am going to give away a Legendary card in exactly 10 days (December 15th) that will be randomly raffled among those who post their rising star content within the MusicForLife community :)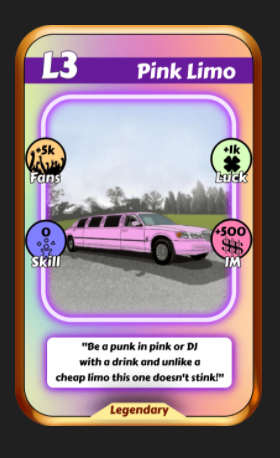 ---
Hey! esta es una invitación a todos los creadores de contentido de rising star a que compartan sus posts en nuestra comunidad de MusicForLife.
Aún no sabes qué es MusicForLife? te dejaré este link aquí para mas información pero básicamente es un proyecto que muy felizmene tiene una alianza fraterna con Rising Star en el cual nuestro objetivo es darle un espacio a los amantes de la música (no solo músicos) a que compartan en comunidad la pasión y puedan ser recompensados.
El proyecto actualmente está divido en 2 fases. La fase pre-tribe en la que vamos a probar el producto con una comunidad en Hive y luego lanzaremos una tribe (fase post tribe) con su propio token y una economía muy sana que dará predisposición a que esta misma aumente su valor a lo largo de los años.
Entonces por qué deberías compartir tus posts de Rising Star en MusicForLife?
Seguirás siendo recompensando como de costumbre por el trail de rising star (con la diferencia de que estarás apoyando al proyecyo)
Serás parte de la distribución inicial del token en base a tu actividad dentro de la comunidad
. Recibirás aidrops random de Starbits por parte del equipo de MusicForLife en tus posts
Pero si eso fuera poco! Voy a regalar una carta Legendaria dentro de exactamente 10 días (día 15 de diciembre) que se sorteará aleatoriamente entro los que posteen sus contenidos de rising star dentro de la comunidad de MusicForLife :