This is my first post for the Music for life community, here I bring you a recommendation of three songs from Bring Me The Horizon.
I hope you like it.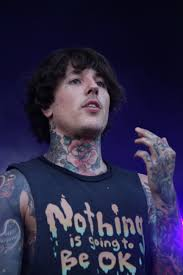 Source
Bring me The Horizon is one of the best Metal bands of these times although with ups and downs due to events that have happened with the band is without a doubt and by far has the best metal rhythms and its derivatives.
Bring me The Horizon is a band that is not suitable for sensitive musical tastes, as the vocalist Oliver Sikes, has one of the best guttural screams in the metal world, Well without further ado here is my recommendation of three good songs from BMTH.
Diamonds aren't forever
We start off this musical recommendation pretty heavy with what is one of my favorite songs of the band. **Diamonds aren't forever is a true musical gem of the genre. This song really blew me away the first time I heard it.
From the beginning Oliver's screams start and as the song progresses the screams become more and more guttural, no doubt this song is not suitable for Tik Tok poser girls, who use the "softer" songs of Bring me The Horizon.
Shadow Moses
Shadow Moses is another true gem from BMTH, it is perhaps my favorite song from the band, BMTH's interpretation of this song played live is a true musical poem.
Oliver is aided by a chorus that makes the song truly legendary, as Barney Stinson would say.
The lyrics of the song are very good accompanied by rhythms and sounds that go along with the speed of the song makes that we have a real gem for those who love metal.
True Friends
To finish with this is not a top but three songs that I recommend of one of the best band in my opinion, True Friends beyond the musical style, this song is undoubtedly a criticism to many people who are not good friends.
A song about true friends, about true friendship.
Maybe we have all known someone who has approached us who seemed to be our friend and in truth was not.
True friends stab you in the face".
Undoubtedly a phrase that makes us stop and think about what kind of friends surround us and what kind of friends we are with whom we surround ourselves and if we talk things through and not betray from behind.

Well this has been my musical recommendation of the week, I hope you liked it and I hope to be reading more often.
Versión española
Esta es mi primera publicación para la comunidad de Music for life, acá les traigo una recomendación de tres canción de Bring Me The Horizon.
Espero les guste.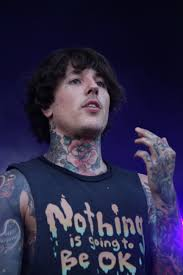 Source
Bring me The Horizon es una de las mejores bandas de Metal de estos tiempos aunque con altas y bajas debido a sucesos que han ocurrido con la banda es sin duda y de lejos tiene los mejores ritmos de metal y sus derivados.
Bring me The Horizon es una banda que no es apta para gustos musicales sensibles, pues el vocalista Oliver Sikes, posee uno de los mejores gritos guturales del mundo del metal, Bueno sin más preámbulos acá mi recomendación de tres buenas canciones de BMTH.
Diamonds aren't forever
Empezamos bastante pesados esta recomendación musical con lo que es una canción que es una de mis favoritas de la banda. Diamonds aren't forever es una verdadera joya musical del género. Esta canción la verdad es que me impresionó mucho la primera vez que la escuché.
Desde el comienzo empiezan los gritos de Oliver y a medida que avanza la canción los gritos se van volviendo cada vez más guturales, sin dudas esta canción no es apta para chicas poser de Tik Tok, quienes usan las canciones más "suaves" de Bring me The Horizon.
Shadow Moses
Shadow Moses es otra verdadera joya de BMTH, es quizás mi canción favorita de la banda, la interpretación de BMTH de esta canción tocada en vivo es un auténtico poema musical.
Oliver se auxilia en un coro que hace que la canción sea verdaderamente legendaria, a como diría Barney Stinson.
La letra de la canción es muy buena acompañada de ritmos y sonidos que van a corde con la velocidad de la canción hace que tengamos una auténtica joya para los que amamos el metal.
True Friends
Pará finalizar con esto que no es un top sino tres canciones que recomiendo de una de las mejores banda a mi parecer, True Friends más allá del estilo musical, está canción es sin duda una crítica a muchas personas que no son buenos amigos.
Una canción acerca de los verdaderos amigos, acerca de la verdadera amistad.
Quizás todos hemos conocido a alguien que se nos a acercado quien parecía nuestro amigo y en verdad no lo era.
"Los verdaderos amigos te apuñalan de frente"
Sin duda una frase que hace que nos detengamos a pensar que tipo de amigos nos rodea y que tipo de amigos somos con quien nos rodeamos y si hablamos las cosas de frente y no de traicionamos por la espalda.

Buena esta ha sido mi recomendación musical de la semana, espero que haya sido de su agrado y espero estarnos leyendo más seguido.