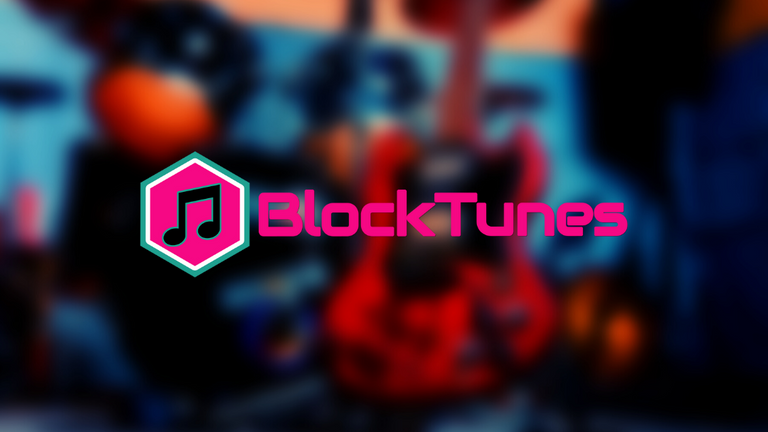 Hello everyone! Hope you all had an awesome holiday!
We are inching closer and closer to the the grand opening for artist/musician sign up starting on Jan 1, 2022!
We are excited to have @groove-logic's store all set up and ready as our test subject! We are going to be offering free artist sign up and then will be charging per submission to the store just like any other service would do. This though has some different features than a normal music store... Let's take a look!
Artist Store
When an artist registers with BlockTunes.net, they will get their own shop that they can manage if they want to go at it on their own. There is a store manager that will allow them to be able to edit their store profile, products, customer coupons, etc.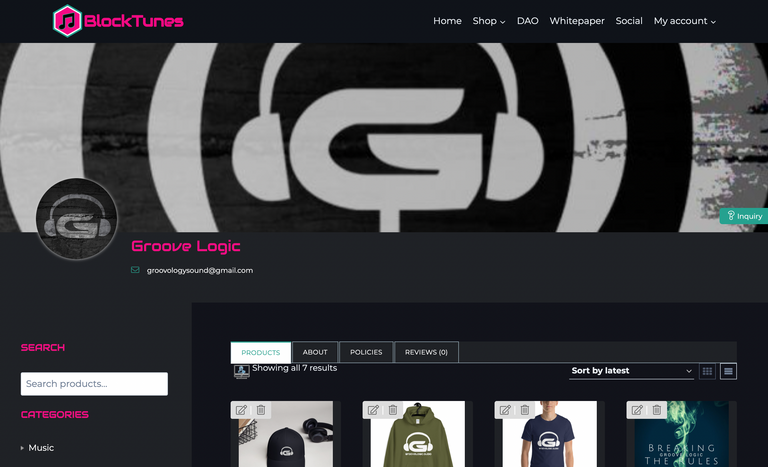 We offer a print on demand service for artists and split 50% of the profit from each sale with the artist. We will have a 'POD Submission Form' for each artist to upload their designs and our partners handle everything else! We automatically set each product up in the store for you.
Here is an idea of what your store will look like: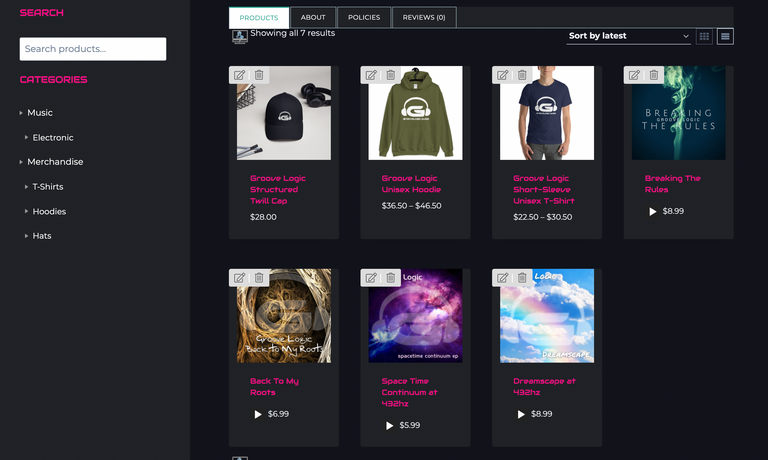 Single, EP, or Full Album Release Submission Service
We will also be offering release submission services. We will have 3 different options for submissions:
Singles: 1 song release
EP: 2-6 song release
Full Album: Up to 12 song release
For each release package we will set up your songs for sale and download, add any additional links to your songs on other platforms for cross platform promotion, as well as any links for NFTs you may already have out on the markets.
We will also mint 10 Royalty Free License NFTs that will be linked to the product and sold as a bundle if that option is chosen. These will be sold as separate items from the main release product as they are handled a bit differently on the back end. Artists will have a choice to have their Royalty Free license items minted on Binance Smart Chain or the Hivelist NFT Marketplace on https://hivelist.org/nfts. Items on Hivelist NFTs will have to be sent manually where we can set up the BSC NFTs to be sold directly through the site.
Each artist will also have the option to protect their files and only allow users to listen to a portion of the song, or to allow the song to be streamed fully.
Users will be able to purchase and download the music as they would on a site like iTunes or Bandcamp.
Here is what your release will look like: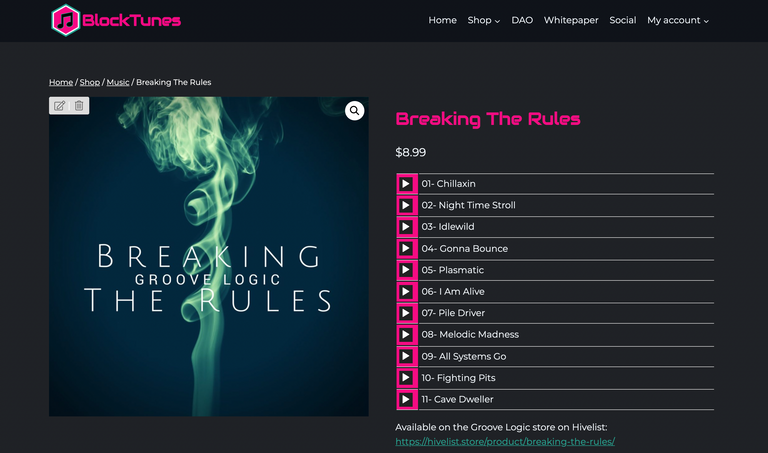 This info will show under the music players. This is where we can add any external links to your releases on other sites.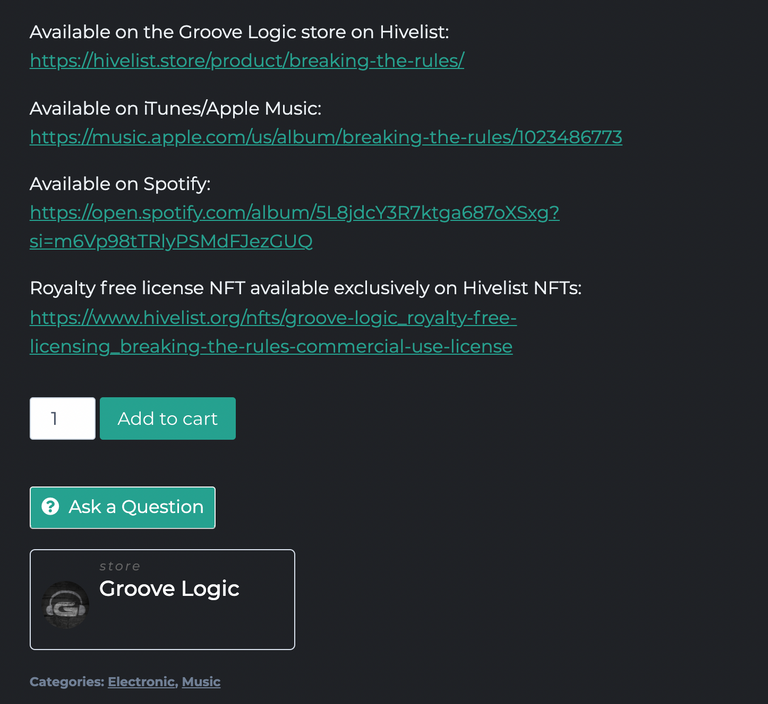 The tipping section I am quite proud of. Working with the @hivepay-io plugin we are offering both a one time tip that can be set up in any HIVE or HIVE ENGINE token that the artist chooses. There is also a recurring payment option currently setup for only Hive or HBD that is by default set for 6 months. These tipping options are setup by us to go directly to the artist, with @blocktunes getting a 10% commission automatically. This all happens through the Hivepay payment portal!
We will also create and add a QR code and your address for Binance Smart Chain BSC and Polygon, as the same address usually works for both.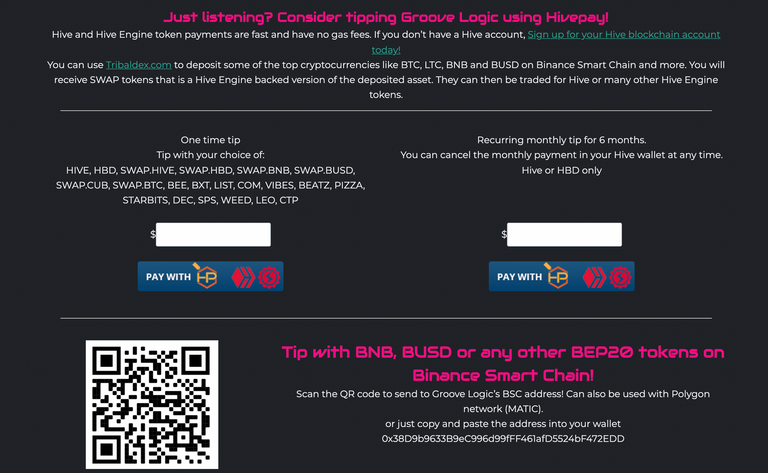 In Conclusion
We are really excited to get this platform off the ground and hopefully we can get going strong with a good artist base! We are doing this to help musicians gain more independence with their music and get tipped and paid the main majority of the money instead of the labels and other middlemen taking their cut. The only ones getting paid are the artist and the BlockTunes platform! We only take a 10% commission on all sales on the store with an exception of the Print on Demand products.
Artists will have control over their stores, but it is easier to let us post the main stuff because we know how it's all set up and running. Artists can then change any details like the product descriptions and such or will have the opportunity to post your own products. If you want the tipping section for your product, you will have to use our submission service.
We plan to keep the momentum going even after launch by getting our Polygon NFT collections ready to go and to get our streaming service launched!
Also don't forget about the opportunity to invest in the DEFI backed BlockTunes DAO! We have had our first 2 governance packages sold, one Headliner and one Opening Act, so the DAO is up and running with just about $1200 in funds working in both https://cubdefi.com and https://venus.io! If you don't want to be a voting member, you can purchase individual tokens from the store using a variety of payment options including fiat, or purchase them directly from the DAO for the price of 10 BUSD! If tokens are purchased from the DAO, we will burn the equivalent number of tokens out of the original 20k bTUNES tokens minted until the assets under management in the DAO reaches $200k in value.
You can check out the BlockTunes DAO on BSC dashboard on XDAO here:
https://www.xdao.app/56/dao/0x6758359582Ec5C602f5121095807B062a15A9d5d
or check it out on DeBank:
https://debank.com/profile/0x6758359582ec5c602f5121095807b062a15a9d5d?chain=bsc
Be Cool, Be Real, and always Abide!
If you like what I am doing, please consider voting for my Hive Engine witness with your staked WORKERBEE!
https://he-voter.vercel.app/thelogicaldude
Or at
https://tribaldex.com/witnesses
https://thelogicaldude.com
https://hivelist.io
https://HiveHustlers.com
https://coin-logic.com
https://blocktunes.net
https://groovelogic.audio
https://weedcash.org
View my channel on 3speak.tv! Video platfrom for a free speech society!
https://3speak.tv/user/thelogicaldude
But if you must... here is the YouTube channel link:
https://www.youtube.com/channel/UCtGApfTp4ZzLHksDdImJ9JA
Pure Logic Podcast can be found on 3speak.tv and YouTube as well as the following podcasting platforms:
Spotify
Anchor.fm
RadioPublic
Breaker
Google Podcasts
Join Hive by going to:
https://hiveonboard.com?ref=thelogicaldude