I just finished a 22.814km running that lasted about 1hh:39mm:39ss !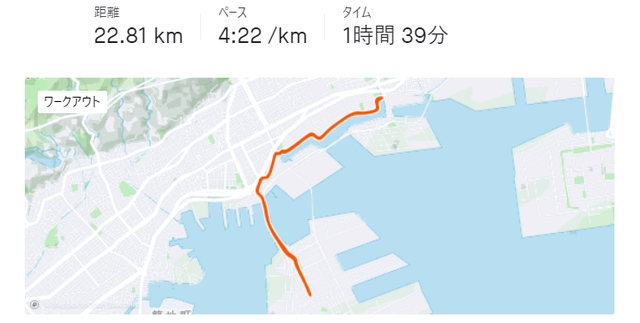 Today was rainy since morning. As it stopped raining in the late afternoon, I went out for running.
今日は朝から雨でした。午後遅くなって雨が止んだので、ランニングをしました。
But it started raining again in the beginning of the workout. And the wind had been very strong during the workout. So I was not able to run 30 km, the distance for usual weekend long running. I ran only 22 km to finish today's workout. My mask was soaking wet.
ところが、序盤から雨がまた降り始め、さらにワークアウトの間ずっと強風が吹いていました。そのため、いつもの週末ロング走の距離30kmを走ることができず、22kmだけでワークアウトを終了しました。マスクはびしょ濡れでした。
The weather was terrible, and the pace was also terrible. Although I ran only 22 km at such a terrible pace, my legs got so sluggish that I was not able to spurt at the final phase of the workout.
天気もひどいし、ペースもひどい。22kmをこんなひどいペースで走っただけなのに、足が非常にだるくなり、終盤にスパートすることもできませんでした。
Recently my workout is often unsatisfactory.
最近は満足のいかないワークアウトが多いです。
Today's running profile is as follows. ( recorded by EPSON Wristable GPS J-300 )
今日のランニングの記録は以下のとおりです。
Distance(距離) : 22.7 km
Time(タイム) : 1:39'40"
Average Pace(平均ペース) : 4'23" /km
Average Pitch(平均ピッチ): 181 spm
Average Stride (平均ストライド): 125 cm
Calories-out(消費カロリー) : 777 kcal
Steps(歩数) : 18,113
Average Heart Rate(平均心拍数): 158 bpm (Max : 199 bpm)
Estimated VO2max(推定最大酸素摂取量) : 64.6 mL/kg/min
Shoes(シューズ) : WAVE DUEL (total distance : 404.4km)
Temperature(気温): 17.6~17.9℃
Wind Speed(風速): 6.0~8.1 m/s
Humidity(湿度): 92~93%
Lap time(ラップタイム) :
1km 4'13" /km
2km 4'19" /km
3km 4'14" /km
4km 4'15" /km
5km 4'25" /km
6km 4'26" /km
7km 4'24" /km
8km 4'23" /km
9km 4'25" /km
10km 4'24" /km
11km 4'24" /km
12km 4'26" /km
13km 4'20" /km
14km 4'22" /km
15km 4'24" /km
16km 4'27" /km
17km 4'27" /km
18km 4'22" /km
19km 4'23" /km
20km 4'24" /km
21km 4'31" /km
22km 4'25" /km
---
MY PERSONAL RECORDS
Full Marathon : 2:58'09" ( The 28th Ako-Gishi Marathon, 1st December 2019 )
Half Marathon : 1:18'40" ( 2020 UNICEF CUP KOBE VALENTINE LOVE RUN, 9th February 2020 )
---
Please Also Check 汎兮堂HOME
---
Check out some detailed info at my EXHAUST page
Join me in testing out EXHAUST!