Whatever you do, if that works to save your life, that's all that matters. When you face any situation where the attacker has already pulled his weapon, you have to be very careful.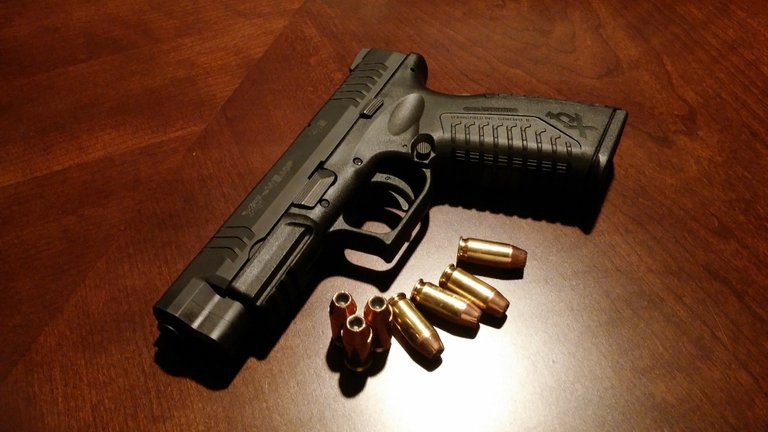 If you see the attacker is going to draw his weapon, you can make your move and stop him right, but if you cannot do that for some reason, listen to the attacker. Otherwise, if he pulls the trigger, what would happen, you do not expect that.
So how can you defend yourself against a firearm?
Welcome back to Self Defense Situation # 101. Yes, we are back. Every situation is different, so what works in one situation, that might not work in another situation. In this series of posts, we usually talk about different situations and what you can do to defend yourself and get back home safe.
In this situation, the attacker puts his gun on your back, and you cannot see him completely. If the attacker lets you go after giving what he wants, that's cool. If not, you have no options, except make your move. Let's watch this video. This is not my video and all video credit goes to BuzzFeed Multiplayer.
Source and Video Credit
From 1:31 to 2:35 Minutes
Is that a banana? Anyway, for this demonstration, let's assume that's a gun. If you decide that you have to attack him in order to defend yourself, you can take a look at which hand the attacker uses to hold the gun. Then you can turn and grab his arm, strike him, take his gun away and control the situation.
When you deal with a situation like this, it is dangerous. You do the technique right but if you do not understand the psychological aspect and you are not fast enough, it will not work. The distance between you and the attacker is so important that if you do not consider that, you cannot make this move.
If the attacker stays away from you, you cannot do this to defend yourself. When you make your move, try to distract the attacker, and use that time effectively. Timing and speed can change the whole thing.
So what would you do in this situation? Please feel free to leave your comment below. Thank you so much for taking the time to read this.
Stay safe. Always be happy!
Posted via neoxian.city | The City of Neoxian