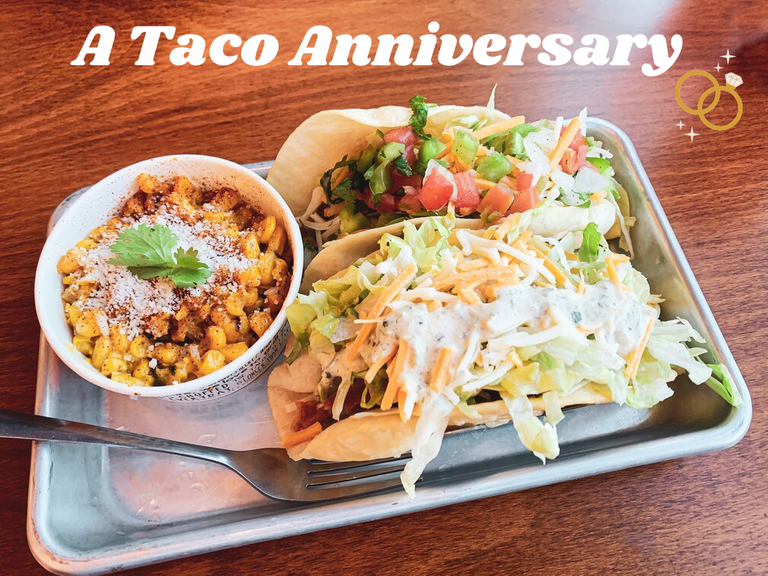 Hey there! Y'all know every year I have to give a shoutout to Us. My husband and I have been holding it down for 16 long years and we have no regrets.
It's not always blissful with painted hearts and shooting stars but our marriage is a blessing and it's worth nourishing and fighting for.
For a long time I used to get frustrated when we couldn't plan events or outings to celebrate every year. I felt like this was an occasion that deserves special attention and fancy reservations.
It does deserve attention but it doesn't have to always be extravagant or deluxe.
As a couple in their forties we have grown to realize just waking up another day being able to see one another and call each other husband and wife is a celebration in itself. Just acknowledging the blessing of being together for so long is enough for me.
So what did we do?
We sent the kids to my sister's house and went to grab our favorite tacos! 😆😋
You'd think we were going to a five star restaurant with how excited and anticipated we were lol.
We just had a Tacos 4 Life open in our area and I'm telling you, these are the best tacos we have ever tasted hands down.
They use these puffy taco shells that are not too hard, not too soft but just right with a gentle crisp. They don't use store bought packaged stuff but make their own food using their own ingredients which gives it that fresh home cooked taste.
The great thing about eating here is that for every meal we purchase a hungry child is also given a meal. Their goal is to end world hunger and it's amazing being able to help with that by enjoying their delicious food. You can also give donations to help further the cause.
We both ordered the two taco meal and chose the paradise punch drink…it's so refreshing with the pineapple juice added in there. I had a classic beef taco along with a chicken bacon ranch taco. I love the classic beef because it tastes like a chalupa. The chicken bacon ranch taco has so much flavor with an extra crunch.
We both had a side of Mexican creamed corn. I don't want corn any other way now. 😄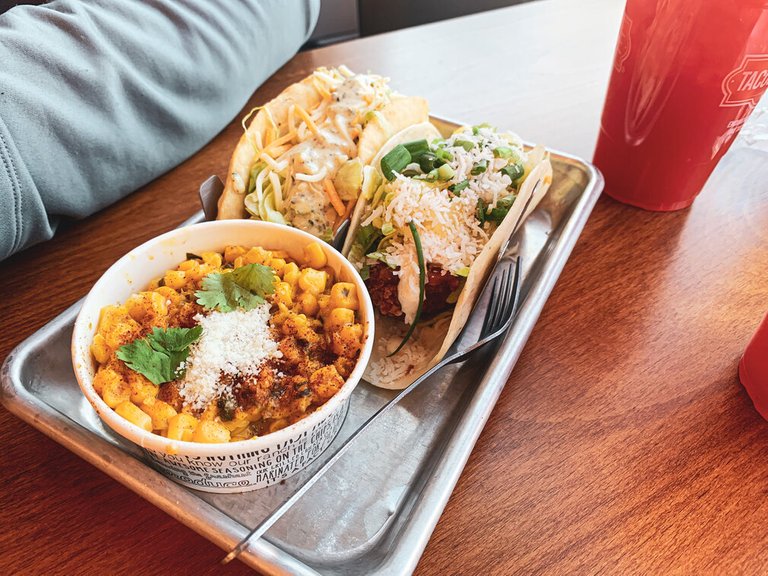 My husband also had a bacon chicken ranch taco as well as a fried shrimp one. 😲👀
Y'all, I seriously thought about grabbing one of his shrimps when he wasn't looking. I kid you not it looked sooo good! He knows I'm a food thief so he keeps a close watch on me when he knows I think his food looks good. 😝
It's been like this for years. He'll tell me what he's ordering and I'm like
Yea but this sounds better.
Then when his food comes out I'm drooling over it. Of course he's like
Nope, you should have listened.
😳😑😠😂


Eventually he breaks and lets me tastes some. 🤪
He said the shrimp taco is now his fav!!
Before going to eat we binged watched one of our favorite shows right now…Leverage: Redemption.
This is Us, it's what we do and we enjoy it.
Oh and after we picked the kids up we went to the grocery store to pick up some ice cream, cones and toppings. We think it's a good thing to involve our kids in the celebration in some way. It's a good example to them to how a marriage and family unit should run and we hope it encourages them to also nourish and celebrate their marriages as well.
I do still desire to have a huge celebration on our 20th or 25th. I know ideally people wait for the 25th but I'm like every year is special and we don't know how long we have here. So…why not do it sooner?!


Alright I'm gonna head on off to fix a big breakfast for my family now. 😊


Thank you Lord for 16 years of living life with my best friend ~
Thanks for Tuning in! 💓