Desde que empecé a mostrar rincones de Caracas, he querido hacerles homenaje a muchas de sus obras arquitectónicas, ya que he tenido la oportunidad de apreciar la belleza de estructuras y edificios que fueron construidos en el país en diferentes épocas.
Since I started showing corners of Caracas, I have wanted to pay tribute to many of its architectural works, since I have had the opportunity to appreciate the beauty of structures and buildings that were built in the country at different times.
---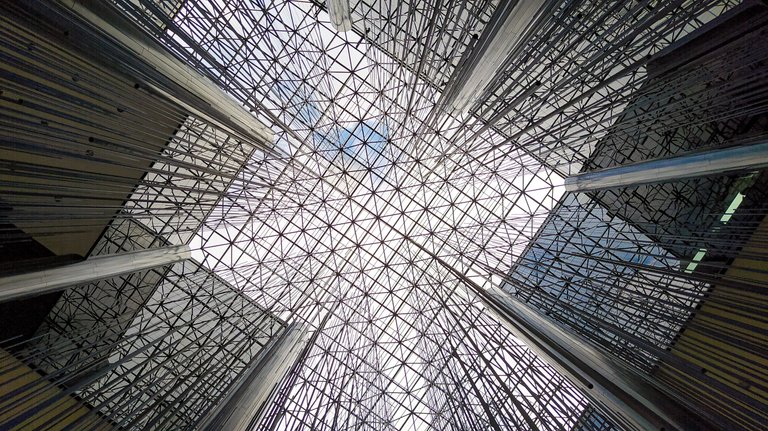 View of the roof of the Black Cube and artwork "Rain" / Vista del techo de Cubo Negro y obra de arte "Lluvia"
La primera edificación que mostrare es sin duda alguna una obra arquitectónica y de arte en todos los sentidos, fue construida desde el año 1976 y su culminación fue en 1978 por el Arquitecto Philip Johnson, esta estructura es conocida como "Cubo Negro", pero su verdadero nombre es Centro Banaven, cuanta con 13 niveles y esta pavimentado con mármol blanco.
The first building that I will show is undoubtedly a work of architecture and art in every sense, was built in 1976 and its completion was in 1978 by the architect Philip Johnson, this structure is known as "Black Cube", but its real name is "Banaven Center", has 13 levels and is paved with white marble.
---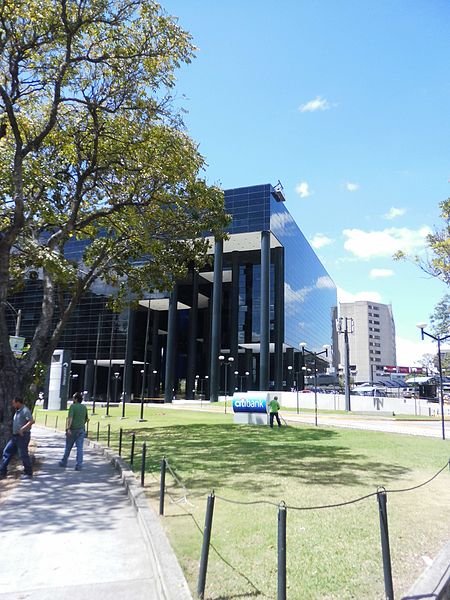 Banaven Center building / Edificio Centro Banaven Source of Veronidae
Está ubicado en Chuao, Caracas, Venezuela, este es usado principalmente como lugar corporativo para oficinas de diferentes empresas y en la parte inferior tiene restaurantes, posee características particulares como una cubierta de cristales negros en toda su fachada, también un muro cortina de bases negras que hacen que el edificio tenga partes zigzagueantes.
It is located in Chuao, Caracas, Venezuela, this is mainly used as a corporate place for offices of different companies and in the lower part it has restaurants, it has particular characteristics such as a black glass cover in all its facade, also a curtain wall of black bases that make the building has zigzagging parts.
---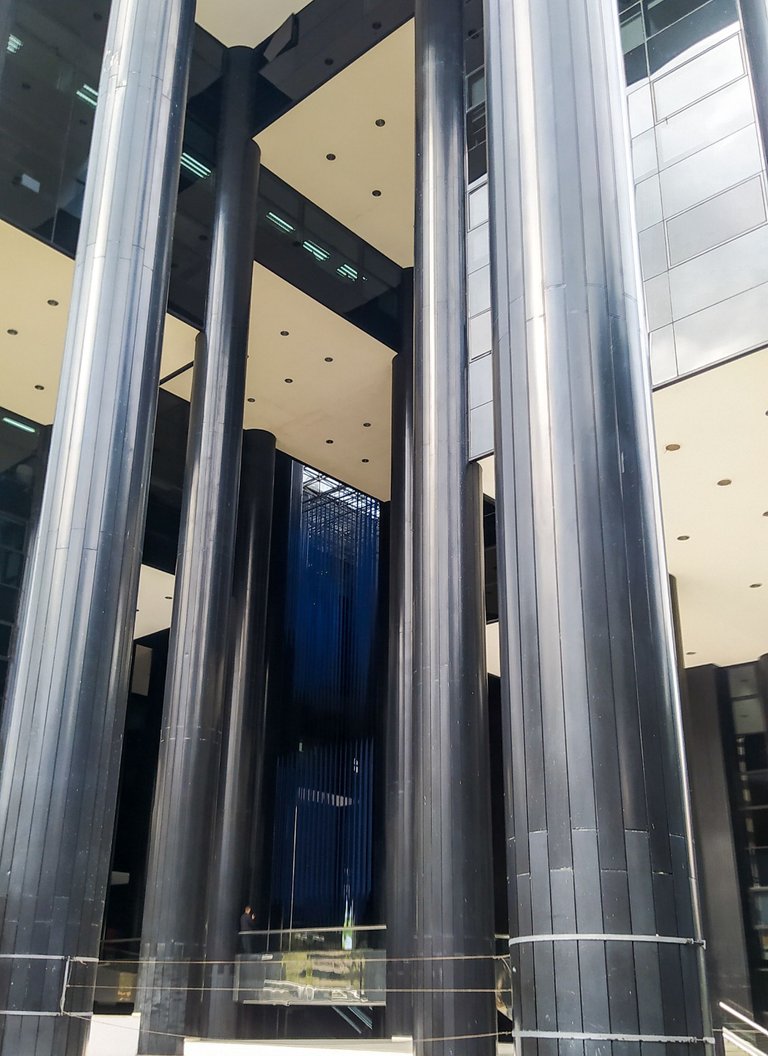 ---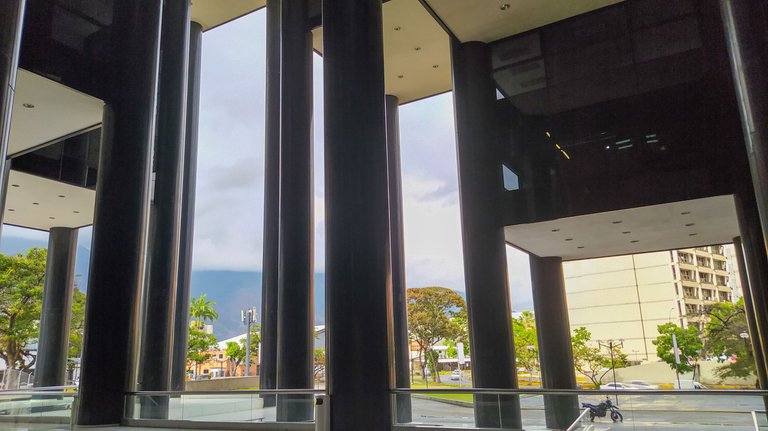 Black column curtain wall / Muro cortina de columnas negras
El cubo negro es un referente arquitectónico de Caracas, debido a sus peculiares características, entre ellas tenemos que posee un vacío diagonal que permite el paso de un extremo a otro, también se puede observar el techo, el cual es traslucido y permite la entrada de luz natural, como también una vista hacia el cielo.
The black cube is an architectural reference of Caracas, due to its peculiar characteristics, among them, we have that it has a diagonal void that allows the passage from one end to another, you can also see the roof, which is translucent and allows the entry of natural light, as well as a view to the sky.
---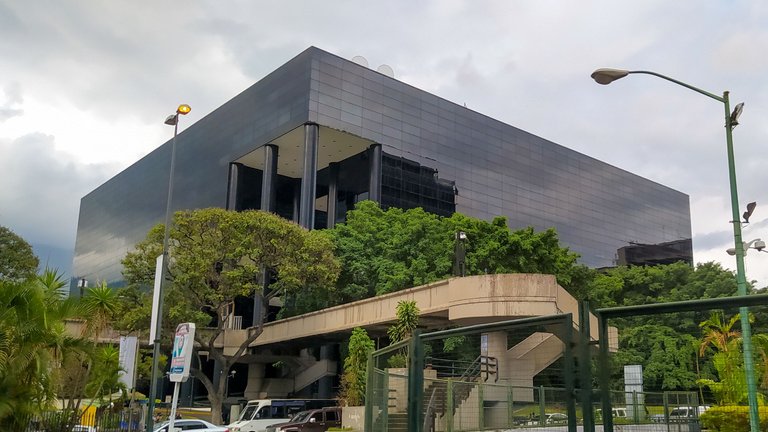 External structure of Black Cube / Estructura externa de Cubo Negro
---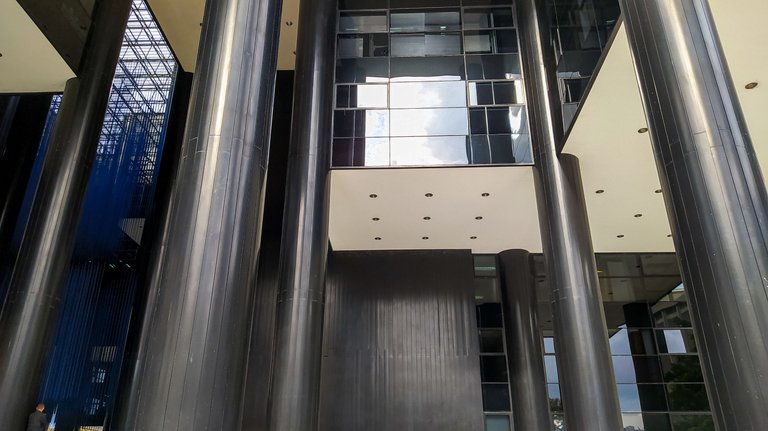 Internal structure of the Black Cube / Estructura interna de Cubo Negro
Para finalizar este pequeño recorrido por esta increíble obra arquitectónica, agregaré que en su interior posee una obra de arte del artista Jesús Soto la cual es un volumen virtual suspendido conocido como "Lluvia", está compuesta por 2.480 tubos de aluminio de 30 metros pintados en color azul cobalto colgando desde el techo, esta expresión artística se le llama arte cinético.
To finish this little tour of this incredible architectural work, I will add that inside it has a work of art by the artist Jesús Soto which is a suspended virtual volume known as "Rain", is composed of 2,480 aluminum tubes of 30 meters painted in cobalt blue color hanging from the ceiling, this artistic expression is called kinetic art.
---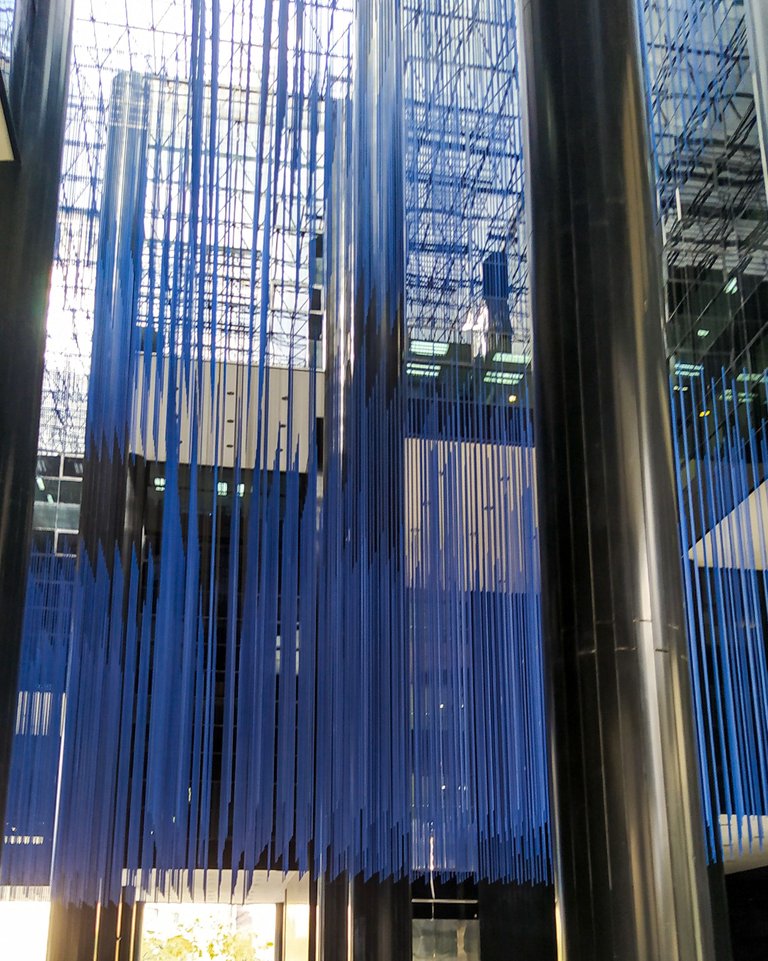 ---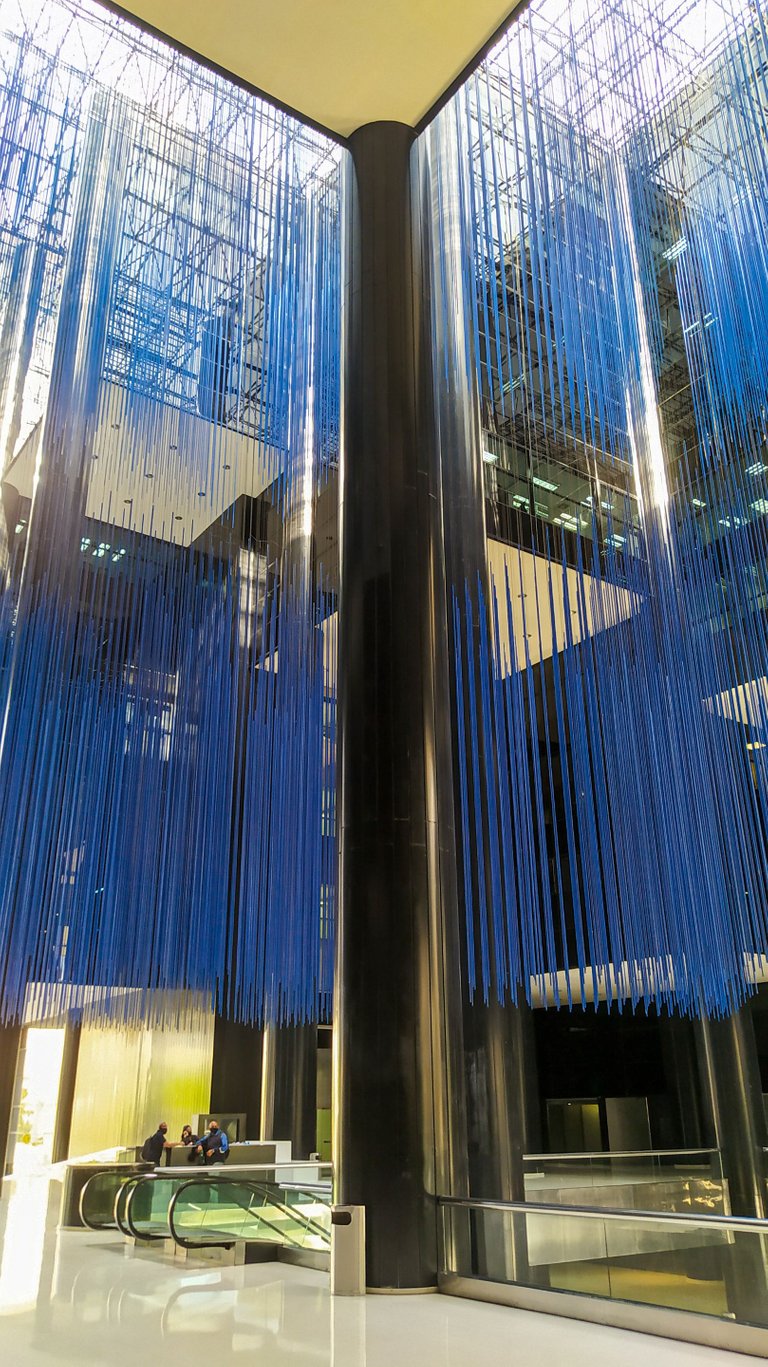 Kinetic artwork "Rain" by Jesús Soto / Obra de arte cinético "Lluvia" de Jesús Soto
Aunque gran parte de la investigación plasmada es conseguida a través del método de observación e indagación cuando visite el edificio, también use como fuente CCScity450.
Although much of the research captured is achieved through the method of observation and inquiry when visiting the building, also use as a source CCScity450.
---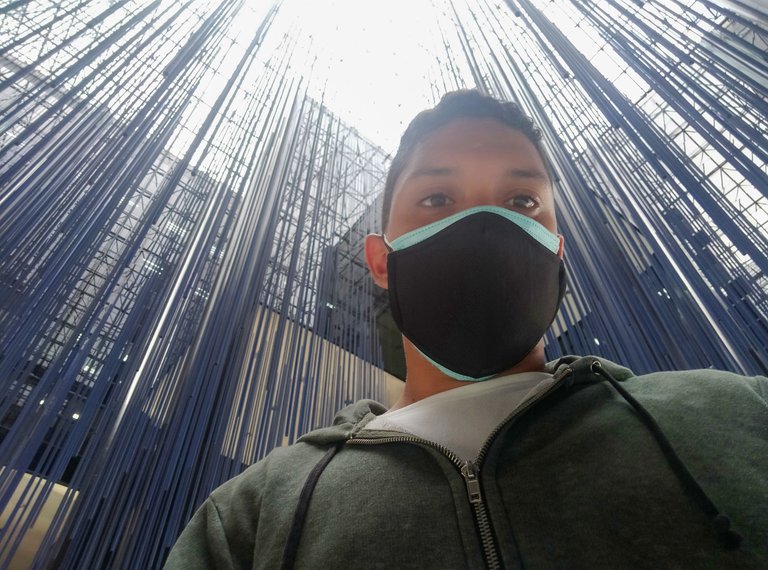 Your guide and blogger @RafaelGreen / Su guía y bloguero @RafaelGreen
---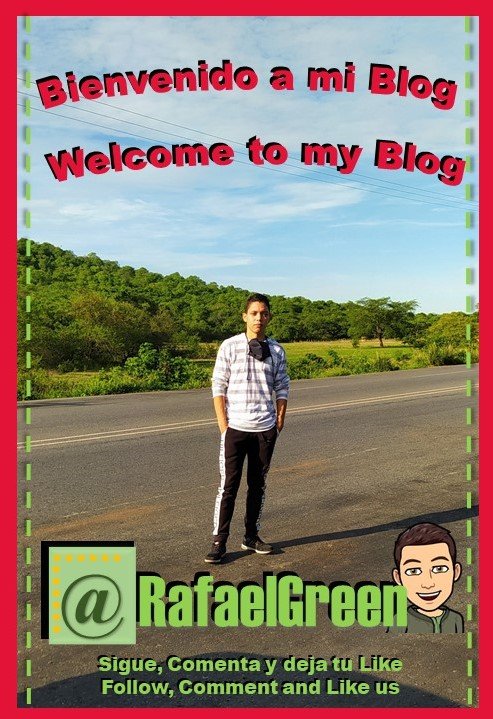 [ESP]Bienvenido a un pedazo de mi mente, un espacio de @RafaelGreen, Militar de profesión, Licenciado y Bloguero. Aventurero, narrador de aventuras y experiencias, camino a ser creador de historias. Conociendo lugares nuevos, ecologista por pasión, buscando la mejor forma de emprender y lograr mis metas. Llevándote a conocer lugares de Venezuela, contando una historia, una aventura y algo más. Si te gusta mi contenido, no olvides dejar un comentario, tu like o tu opinión, y muchas gracias por el apoyo.
[ENG] Welcome to a piece of my mind, a space of @RafaelGreen, Military by profession, Graduate and Blogger. Adventurer, narrator of adventures and experiences, on my way to being a storyteller. Knowing new places, an ecologist by passion, looking for the best way to undertake and achieve my goals. Taking you to know places in Venezuela, telling a story, an adventure and something more. If you like my content, don't forget to leave a comment, your like, or your opinion, and thank you very much for your support.
---
Mi idioma nativo es el español por lo que uso Deepl para mis traducciones.
Las fotografías son de mi propiedad, usé la cámara del Redmi Note 8 para las fotografías y retoque con lightroom.
"Somos una partícula en el universo con el poder de cambiar el mundo"
Si te gusto el escrito deja tu opinión y si tienes alguna observación constructiva no dudes en hacerla.
---
My native language is Spanish so I use Deepl for my translations.
The pictures are my own, I used the camera of the Redmi Note 8 for the pictures and retouched with lightroom.
"We are a particle in the universe with the power to change the world"
If you liked the writing leave your opinion and if you have any constructive observation do not hesitate to do it.

Banner designed by myself in PowerPoint / Banner diseñado por mi persona en PowerPoint.