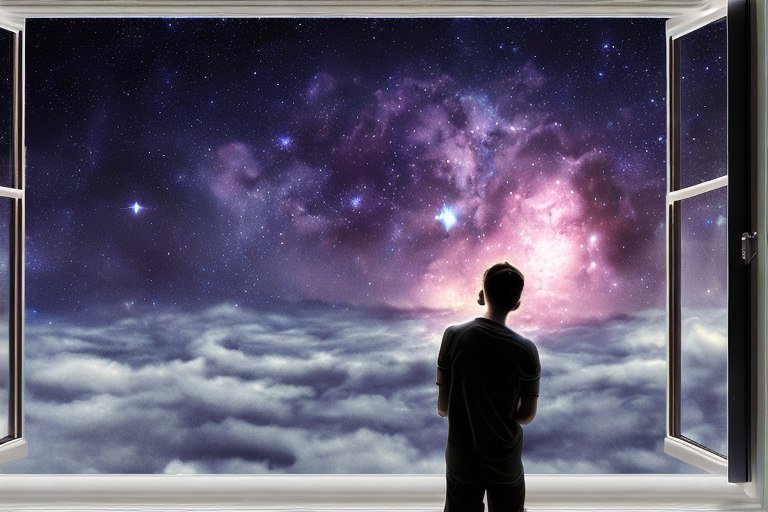 A ella quisiera hablarle de la luna, del universo, de esas cosas que pasan inadvertidas para la gente común o simplemente ignoran para no complicarse la existencia. Cuesta tanto pensar en lo inmaterial, en lo eterno. No obstante, sospecho que ella entenderá mis palabras.
Es curioso, ni siquiera le he dirigido la palabra, no la conozco, pero tan solo de leer uno de sus textos me inspira a escribir. Y yo, el abandonado predilecto de las musas, héme aquí tecleando frente a esta pantalla lo que no pensaría publicar jamás, como aquellas confesiones que solo se hacen al papel o la almohada y después se tiran a la basura o se olvidan al despertar.
Me pregunto si a los demás le sucede lo que a mí ahora, no es un flechazo de Cupido ni nada por el estilo, es simplemente una energía que me inunda por un instante y me llena de ganas de crear, de crecer, de compartir... Los artistas seguro le llaman "aliento" divino, una serendipia extraordinaria, una saudade, unas ganas tremendas de vivir.
Un científico gritaría Euréka ante esa descarga repentina que es la inspiración. Y sin dudas obviaría como el resto de los animales que es un esclavo de la serotonina, oxitocina y demás componentes químicos que conforman el proceso de enamoramiento o excitación para gritar su descubrimiento a los cuatro vientos.
¿Debería publicar esto? ¿Tiene algún sentido? Esa duda me asalta ahora que pienso que quizás a nadie le importen mis sentimientos, que no quieren leerlos, que hay cosas más importantes que andar de poeta romántico en pleno siglo XXI, que es muy probable que ella no me lea, que la vida está allá afuera, que debería salir e intentar hablarle, que quizás...
«¡Basta!», me digo. Mañana lo intentaré, pero a esto le doy hoy:
➡️ PUBLICAR 🚀
---
¡Gracias por leer 🙌! Este es mi primer post en la comunidad Literatos, así que apreciaría mucho sus comentarios. Soy miembro de la comunidad #HiveCuba, así que me pueden encontrar mayormente por allá. Un abrazo y nos seguimos leyendo.
Traducción al inglés por deepl.com. Imagen de portada generada por la IA Midjourney con el prompt:
a young man looking at the universe through a room window, dark sky, night, stars, lo-fi style
---
✨(DIS)COVERINGS OF THE SOUL[ENG/ESP]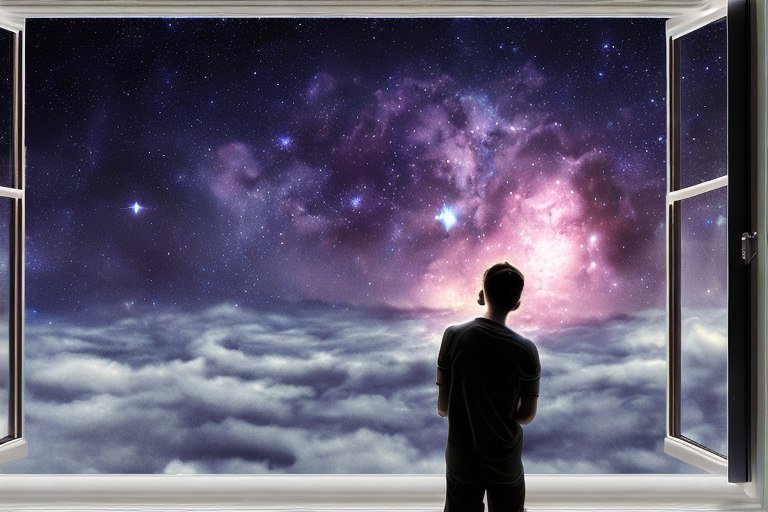 I would like to talk to her about the moon, about the universe, about those things that go unnoticed by ordinary people or that they simply ignore so as not to complicate their existence. It is so hard to think of the immaterial, of the eternal. Nevertheless, I suspect that she will understand my words.
It's funny, I haven't even spoken to her, I don't know her, but just reading one of her texts inspires me to write. And I, the abandoned darling of the muses, here I am typing in front of this screen what I would never think of publishing, like those confessions that are only made on paper or the pillow and then thrown in the trash or forgotten when I wake up.
I wonder if it happens to others what happens to me now, it's not a Cupid's crush or anything like that, it's just an energy that floods me for a moment and fills me with the desire to create, to grow, to share... Artists surely call it divine "breath", an extraordinary serendipity, a saudade, a tremendous desire to live.
A scientist would shout Euréka before that sudden discharge that is inspiration. And he would undoubtedly ignore, like the rest of the animals, that he is a slave of serotonin, oxytocin and other chemical components that make up the process of falling in love or excitement in order to shout his discovery to the four winds.
Should I publish this, and does it make any sense? That doubt assails me now that I think that maybe nobody cares about my feelings, that they do not want to read them, that there are more important things than being a romantic poet in the XXI century, that it is very likely that she does not read me, that life is out there, that I should go out and try to talk to her, that perhaps....
«Enough!», I say to myself. Tomorrow I'll try, but this is what I'm giving today:
➡️ PUBLISH 🚀
Thanks for reading 🙌! This is my first post in the Literatos community, so I'd really appreciate your comments. I'm a member of the #HiveCuba community, so you can find me mostly over there. A hug and we'll keep reading each other.
English translation by deepl.com. Cover image generated by Midjourney AI with the prompt:
young man looking at the universe through a bedroom window, dark sky, night, stars, lo-fi style.