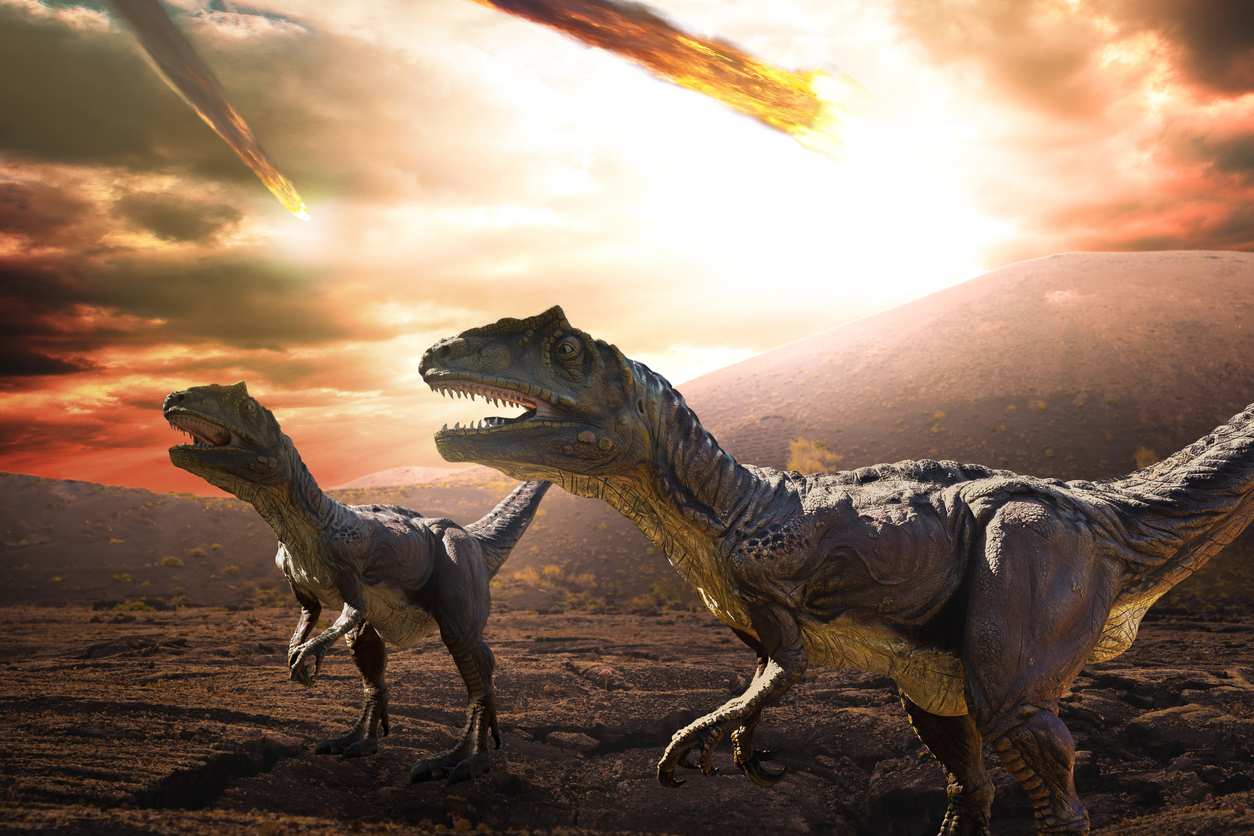 Imagen cortesía de Revolución Tres Punto Cero
-Buenos días Jeff, ¿para dónde vas?
-Buen día Karl, voy a la explanada, debo ir por comida ya que tengo la cueva infectada de mamíferos que se comen todo lo que tengo en la alacena.
-¡Baf, mamíferos, qué asco!, esas pequeñas sabandijas todo se lo comen, te entiendo amigo, me tuve que mudar de mi residencia por culpa de esa plaga peluda.
-¿La caverna de soltero con vista a la playa?, wao amigo que mal. Oye, acompáñame a cazar algunos Velociraptores, ¿qué dices?
-Sí te acompaño, pero Velociraptores no, sabes que no me gustan los dinosaurios que se creen más inteligentes que yo, además tanto divismo me producen dolores de barriga.
-Bueno otro dino, ¿que tal unos Pterodáctilos?, la otra noche observé varios nidos cerca del volcán.
-Buena idea, se me antoja comer pollo para el almuerzo.
-Muy bien, yo invito, esto es lo bueno de ser Tiranosaurio, siempre tenemos comida, en realidad todos son comida ja,ja,ja; hasta los asquerosos mamíferos pero hay que estar muy loco para perder el tiempo con esas pequeñas porquerías peludas.
-Así es, oye Jeff, te haces más tirano cuando tienes hambre.
-Por supuesto, somos los más fuertes, podemos hacer lo que queramos para siempre. Nada entre el cielo y la tierra nos puede detener.
-Oye, puede que en la tierra nadie, pero mira arriba, ¿desde cuándo hay dos soles en el cielo?
-¿Cómo que dos soles, volviste a comer esas hierbas raras de los Diplodocus?; ¿cuántas veces hay que decirte que no andes con esos drogos?
-Mira, no miento, ¿qué es eso que brilla allá arriba, a la izquierda del sol?
-Karl, ¿no me digas que le temes a los meteoritos?, ni que fuera el primero que ves en la vida, hace poco cayeron dos y míranos, aquí estamos dominando el mundo.
-Sí pero esos no eran tan grandes como ese, ni tampoco oscurecieron el cielo.
-Bah, da igual, ¿qué puede pasar? Seguramente caerá y hará otro agujero más grande....es más, sería bueno un buen temblor en la tierra que extermine a la plaga de mamíferos.
-¿Pero no crees Jeff que los efectos de ese meteorito nos afectará a nosotros?
-¡Qué va compadre!, nosotros los más grandes y fuertes estamos aptos para soportar eso y más, los dinosaurios estamos destinados a dominar este planeta para siempre. Oye, vamos rápido a donde los Pterodáctilos, tengo habre y se me antojan unas alitas de pollo.
-Vamos amigo, mañana será otro día normal como siempre.
English version
-Good morning Jeff, where are you going?
-Good morning Karl, I'm going to the esplanade, I have to get some food because my cave is infested with mammals that eat everything I have in the cupboard.
-Baf, mammals, how disgusting, those little vermin eat everything, I understand you my friend, I had to move out of my residence because of that hairy pest.
-The bachelor pad with a view of the beach, wow, man, that sucks. Hey, come with me to hunt some Velociraptors, what do you say?
-Yes, I'll go with you, but not Velociraptors, you know I don't like dinosaurs that think they're smarter than me, besides, so much divism gives me a tummy ache.
-Well, another dino, how about some Pterodactyls, the other night I observed several nests near the volcano.
-Good idea, I'm craving chicken for lunch.
-All right, my treat, that's the good thing about being Tyrannosaurus, we always have food, actually everyone is food ha,ha,ha; even the nasty mammals but you have to be pretty crazy to waste your time with those little furry things.
-That's right, hey Jeff, you get more tyrannical when you're hungry.
-Of course, we're the strongest, we can do whatever we want forever. Nothing between heaven and earth can stop us.
-Hey, maybe on earth no one, but look up, since when are there two suns in the sky?
-What do you mean two suns, did you go back to eating those weird Diplodocus herbs; how many times do you have to be told not to hang out with those drugs?
-Look, I'm not lying, what's that shining up there, to the left of the sun?
-Karl, don't tell me you're afraid of meteors, it's not like it's the first one you've seen in your life, two fell recently and look at us, here we are dominating the world.
-Yes, but those were not as big as that one, nor did they darken the sky.
-Bah, never mind, what can happen? Surely it will fall and make another hole bigger....es more, it would be nice a good earth tremor to exterminate the mammal plague.
-But don't you think Jeff that the effects of that meteorite will affect us?
-No way dude, we the biggest and strongest are able to withstand that and more, we dinosaurs are destined to dominate this planet forever. Hey, let's go quickly to the Pterodactyls, I'm hungry and I'm craving for some chicken wings.
-Come on buddy, tomorrow will be another normal day as usual.