Hi Community!!!
In this, my first post for the Hive Book Club I want to share with you my opinion about The Evening and the Morning by Ken Follett.
Just a few weeks ago I finished reading this impressive historical fiction novel, which is also the prequel to The Pillars of the Earth saga.
---
The saga is made up of 4 books:
The Pillars of the Earth
World Without End
A Column of Fire
The Evening and the Morning
---
In this case I have chosen the last one, which was published on September 15, 2020, and not only because it is the one I read most recently, but also because being the prequel, it is the first of the four books that make up this wonderful saga by chronological order.
And in next post I will talk about the rest of them.
---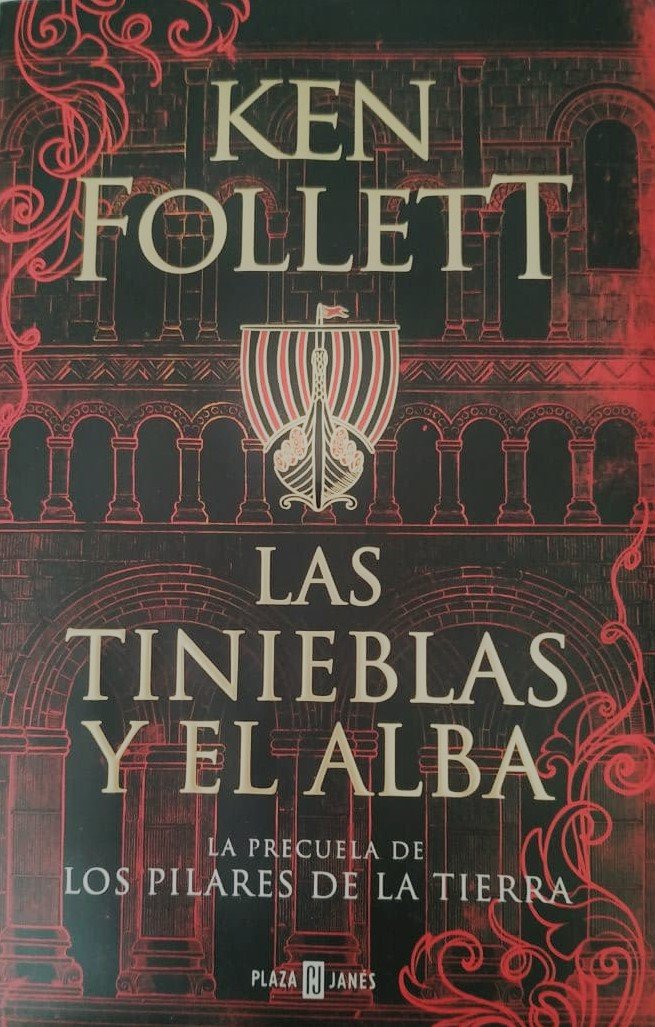 ---
The Evening and the Morning places us in England, at the end of the Dark Years, in the Middle Ages, specifically in 997 and presents us with three main characters whose lives intertwine as the story progresses:
We will first meet the youngest son of a boat builder named Edgar, who plans to flee from the place where he lives with the woman he loves.
Then we are introduced to Ragna, the daughter of a Norman nobleman to whom her decisions will lead her to England to change her life and customs.
And finally we will meet Aldred, a humble monk but with a lot of enthusiasm to improve the abbey in which he resides.
Three lives that evolve and cross over and over again, between power and hierarchies, facing their experiences and the stones along the way, fighting against evil in that raw and violent time among people, while England is being attacked by the Vikings and the Welsh.
I would like to extend much more talking about the content of this book, but I consider everything that I say more than a spoiler, since from the first pages there are unexpected events that it is better to reveal while reading.
---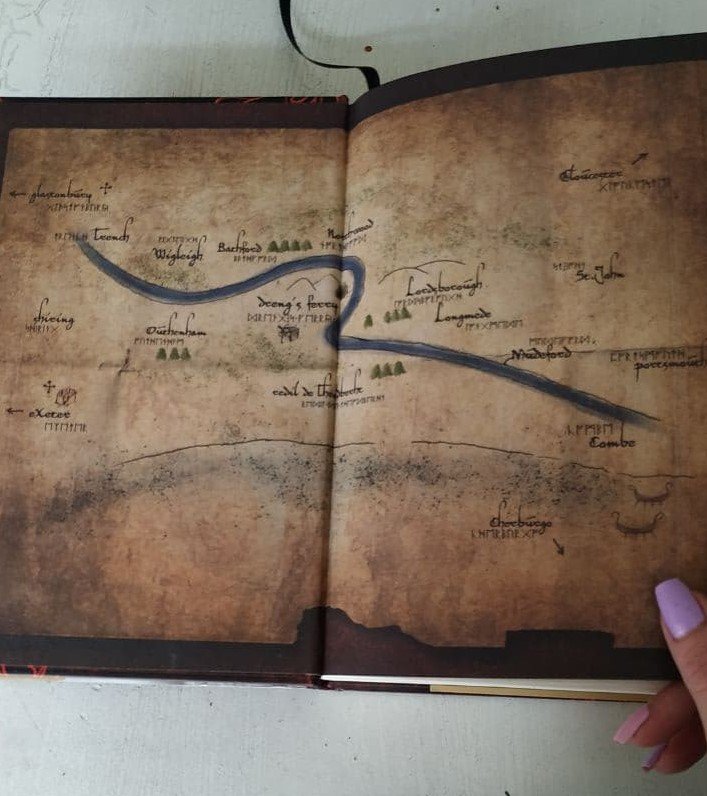 When we open the book we find this way of orienting ourselves, which at the beginning of the novel is very useful and is a great detail.
---
This novel follows the pattern of the previous three, by themselves they are incredible novels and any of them can be read independently, but as you read each of the books, you connect with the places and the evolution in England of the age media and its surroundings.
---
For me, The Evening and the Morning is another among the artworks by Ken Follett, without a doubt my favorite writer; and which I will continue to talk about in the next post.
Its narrative is impressive and shocking, it captures you with its very real way of expressing and describing any event and not only because it is capable of transporting you to that place and at that moment with great detail, but also because of how it recounts each event, from each point of view of each character, including sensations and feelings, that manages to make you go deeply into that world as it was then and that you empathize with its characters.
---
And yes, it is possible that the thousand pages that this work has are a bit scary, but I assure you that they read as if they were half, even at the end it is sad that it does not last a little longer, or that is or my feeling.
In short, it is a highly recommended historical fiction novel, with which you can enjoy a spectacular narrative about times in history that deserve to be reviewed.
For those who have never read anything by Ken Follett it is a great way to start, and for those who have read any of his books or even the rest of the saga, this prequel will fill you with nostalgia and make you travel a little further back in time. beginning, to the origin of The Pillars of the Earth.
---
I hope this post has helped you and encourages you to start with The Evening and The Morning :)
Greetings and...
KeepReading
KeepLearning
---
---
---
Hola Comunidad!!!
En este, mi primer post para el Hive Book Club quiero compartir con vosotros mi opinión sobre Las Tinieblas y El Alba de Ken Follett.
Hace solo unas semanas terminé de leer esta impresionante novela de ficción histórica, que además es la precuela de la saga Los Pilares de la Tierra.
---
La saga se compone de 4 libros:
Los Pilares de la Tierra
Un Mundo sin Fin
Una Columna de Fuego
Las Tinieblas y el Alba
---
En este caso he elegido el último, que fue publicado el 15 de Septiembre de 2020, y no solo porque es el que leí más recientemente, sino también porque al ser la precuela, es el primero de los cuatro libros que componen esta maravillosa saga por orden cronológico.
Y en próximos post os iré hablando sobre el resto de ellos.
---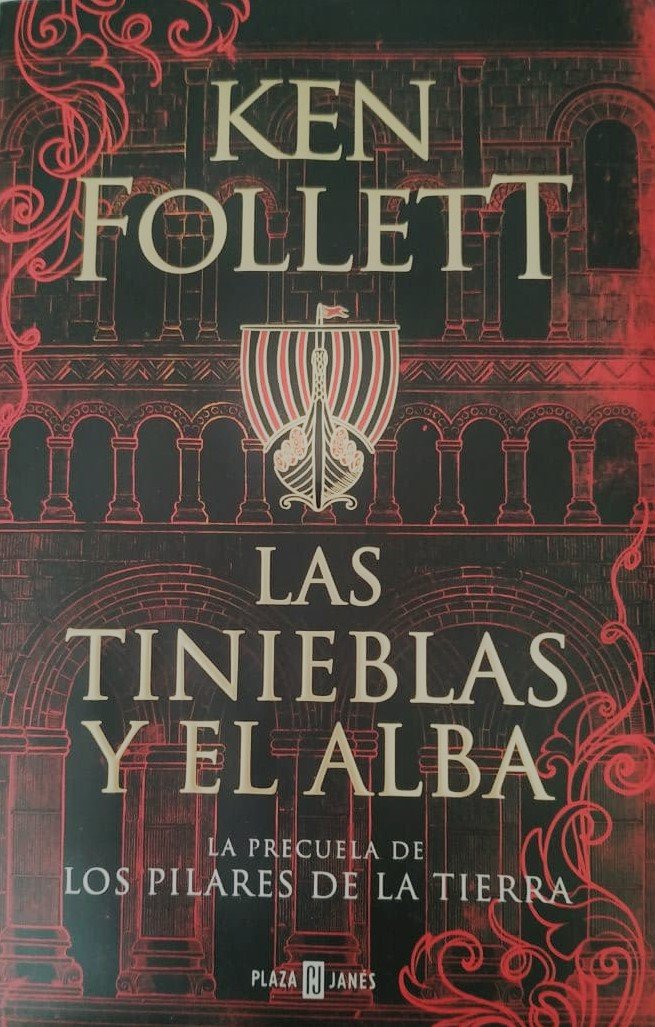 ---
La Tinieblas y el Alba nos sitúa en Inglaterra, al final de los Años Oscuros, en la Edad Media, concretamente en el 997 y nos presenta a tres personajes principales cuyas vidas se van entrelazando a medida que avanza la historia:
Primero conoceremos al hijo menor de un constructor de barcos llamado Edgar, que planea huir del lugar en el que vive con la mujer que ama.
Después se nos presenta a Ragna, la hija de un noble normando a la que sus decisiones la llevarán a Inglaterra a cambiar de vida y de costumbres.
Y por último conoceremos a Aldred, un monje humilde pero con mucho entusiasmo de mejorar la abadía en la que reside.
Tres vidas que evolucionan y se cruzan una y otra vez, entre poder y jerarquías, afrontando sus vivencias y las piedras en el camino, luchando contra las adversidades en esa época cruda y violenta entre las personas, mientras Inglaterra está siendo atacada por los vikingos y los galeses.
Me gustaría extenderme mucho más hablando del contenido de este libro, pero todo lo que diga de más lo considero spoiler, ya que desde las primeras páginas hay sucesos inesperados que es mejor desvelar durante la lectura.
---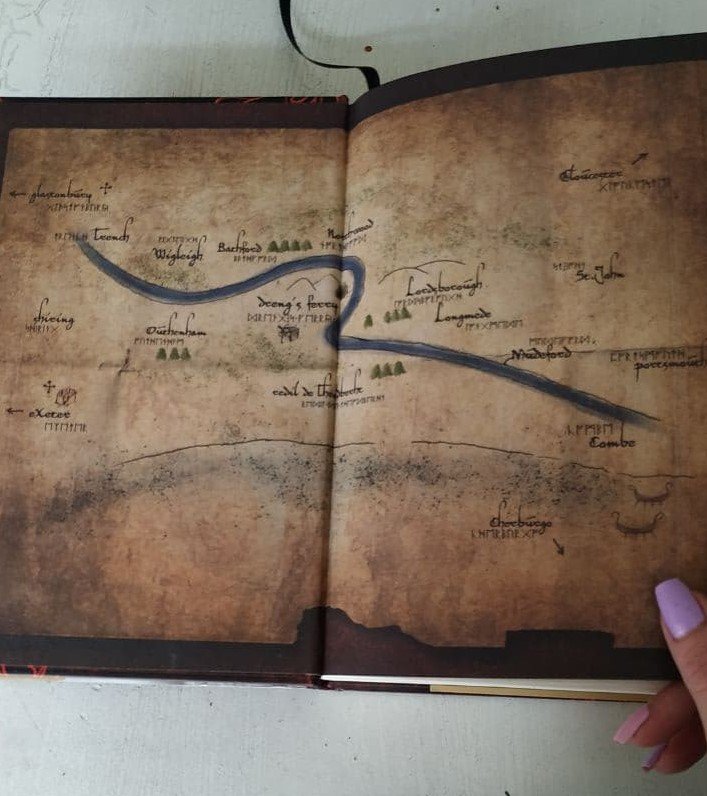 Al abrir el libro nos encontramos con esta forma de orientarnos, que al principio de la novela resulta muy útil y es un estupendo detalle.
---
Esta novela sigue el patrón de las tres anteriores, por sí solas son unas novelas increíbles y cualquiera de ellas se puede leer independientemente, pero al ir leyendo cada uno de los libros, vas conectando con los lugares y la evolución en la Inglaterra de la edad media y en sus alrededores.
---
Para mí Las Tinieblas y el Alba es otra más entre las obras de arte de Ken Follett, sin duda mi escritor favorito; y del que os seguiré hablando en próximos post.
Su narrativa es impresionante e impactante, te atrapa con su forma tan real de expresar y describir cualquier suceso y no solo porque es capaz de transportarte a aquel lugar y en aquel momento con todo lujo de detalles, sino por como relata cada acontecimiento, desde cada punto de vista de cada personaje, incluyendo sensaciones y sentimientos, que consigue hacer que te adentres profundamente en ese mundo tal y como era entonces y que empatices con sus personajes.
---
Y sí, es posible que las mil páginas que tiene esta obra asusten un poco, pero os aseguro que se leen como si fueran la mitad, incluso al llegar al desenlace da pena que no se prolongue un poco más, o esa es o mi sensación.
Resumiendo, es una novela de ficción histórica muy recomendable, con la que podéis disfrutar de una narración espectacular sobre épocas de la historia que merecen ser revisadas.
Para los que jamás han leído nada de Ken Follett es una gran manera de empezar, y para los que hayan leído alguno de sus libros o incluso el resto de la saga, ésta precuela os llenará de nostalgia y os hará viajar un poco más atrás del principio, al origen de Los Pilares de la Tierra.
---
Espero que este post os haya servido de ayuda y os anime a empezar con Las Tinieblas y el Alba :)
Saludos y...
KeepReading
KeepLearning