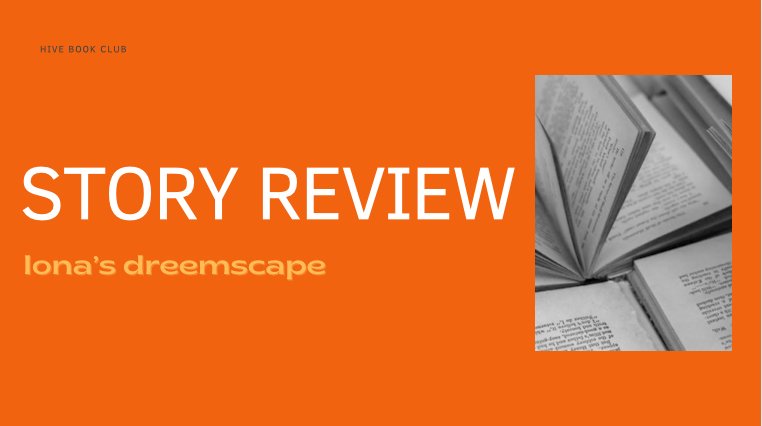 Designed by me using canva.
---
As someone who frequently reviews books for the hive book club community, I have never actually thought about reviewing a story or article written on hive, well, that is until now, and the reason this is happening is due to the NaNoWriMo Hive Book Club x Scholar Scribe Review Contest, now, if you want more information about this contest, you can check here, but without further ado, let's get into the reviewing.
As part of the requirements for this contest, we have to go through #hivenano2022 and find a story to review and I chose a story titled "Iona's Dreemscape" by an author called Grindan.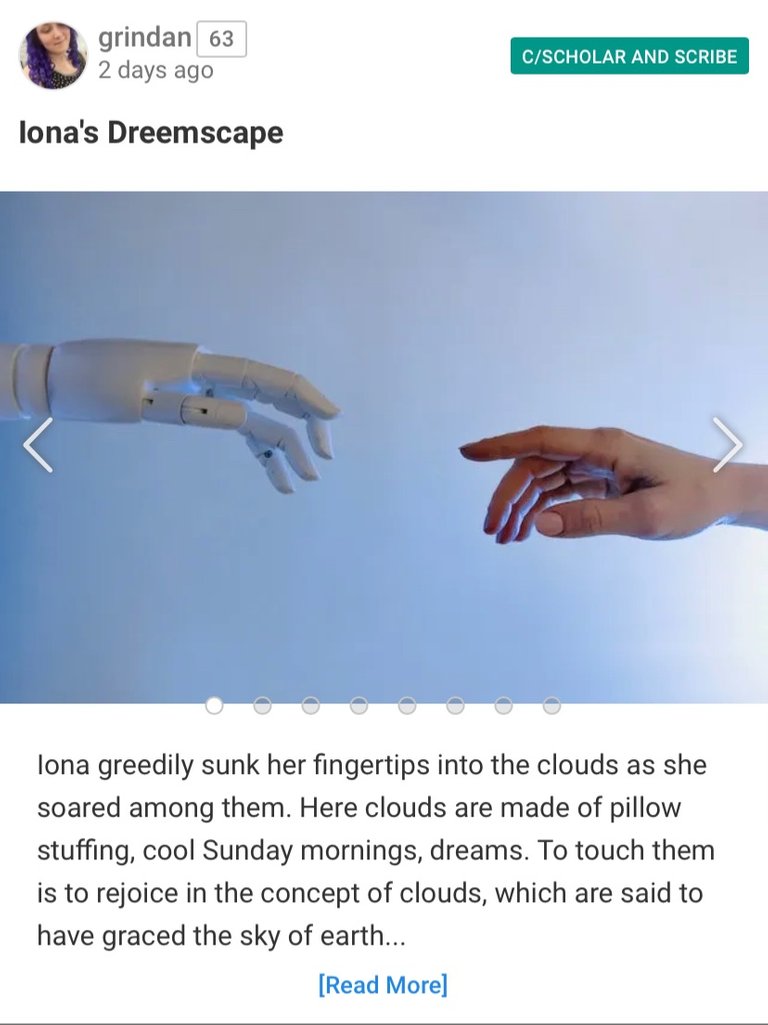 Screenshotted from peakd.
---
The reason I chose this story was because of the title and the cover, if you read my book reviews, you would know that I have a certain section where I do a "first look" at a book, and to me, a first look is very important because it draws a reader's attention to either read a book or skip it.
So, based on the first look, I can say the title sparked my curiosity, I have never heard a name like Iona before and I even had to google it; it means dove, also the cover chosen felt befitting since we were talking about someone's dreemscape, it made me feel like she might be dreaming about robots or something.
Moving on to the story, when I started reading it, I felt like it was a story about someone dreaming, even the title made me feel like that but, I quickly realized that I was wrong and that it was about some technology created to make people feel like they were dreaming or imagining.
To be honest, I had to read this story over and over to even understand anything that was happening because it was a bit confusing to me; I was still confused in the end.
I don't know if it was the story itself or the grammar, but something wasn't clicking and I couldn't put my finger around it.
She found a thrill in a swim, the luxury of submerging her entire body in water made her feel elated. So, this is what humans used to do on a 'summer' day she mused, thinking of the objects people once called 'swimsuits'. She prefered to go naked, now this was cool!
Also, there's this paragraph where before it the author was talking about Iona's experience in the "NaturTec" which I assume is the machine but, then after the paragraph, we see 10 years later without an explanation of what is happening or how we got here.
This pattern continues throughout the story and I felt like there was no synergy in certain aspects, especially between paragraphs.
One thing I will say is that the author is very creative, this story is out of the ordinary and incredibly different, and I have never read anything like it, so I will give her a kudos for that.
Maybe, my issue with this story is that I didn't understand it because I wasn't used to it or maybe I should read it another couple of times but, if you want to read it, check here.
---
---
•SPANISH•
---
Como alguien que frecuentemente reseña libros para la comunidad del club de libros de la colmena, nunca había pensado en reseñar una historia o un artículo escrito en la colmena, bueno, eso es hasta ahora, y la razón por la que esto está sucediendo es debido al Concurso de Reseñas del Club de Libros de la Colmena de NaNoWriMo x Scholar Scribe, ahora, si quieres más información sobre este concurso, puedes revisar aquí, pero sin más preámbulos, entremos en la revisión.
Como parte de los requisitos de este concurso, tenemos que pasar por #hivenano2022 y encontrar una historia para reseñar y yo elegí una historia titulada "Iona's Dreemscape" de un autor llamado Grindan.
La razón por la que elegí esta historia fue por el título y la portada, si lees mis reseñas de libros, sabrás que tengo una sección determinada en la que hago un "primer vistazo" a un libro, y para mí, un primer vistazo es muy importante porque llama la atención de un lector para que lea un libro o se lo salte.
Así que, basándome en el primer vistazo, puedo decir que el título despertó mi curiosidad, nunca antes había escuchado un nombre como Iona e incluso tuve que buscarlo en Google; significa paloma, también la portada elegida me pareció adecuada ya que estábamos hablando del paisaje de ensueño de alguien, me hizo sentir que podría estar soñando con robots o algo así.
Pasando a la historia, cuando empecé a leerla, sentí que era una historia sobre alguien soñando, incluso el título me hizo sentir eso pero, rápidamente me di cuenta de que estaba equivocada y que se trataba de alguna tecnología creada para hacer sentir a la gente que estaba soñando o imaginando.
Para ser honesto, tuve que leer esta historia una y otra vez para entender algo de lo que estaba pasando porque era un poco confuso para mí; todavía estaba confundido al final.
No sé si era la historia en sí o la gramática, pero algo no encajaba y no podía poner el dedo en la llaga.
El lujo de sumergir todo su cuerpo en el agua la hacía sentir eufórica. So, this is what humans used to do on a 'summer' day she mused, thinking of the objects people once called 'swimsuits'. Ella prefería ir desnuda, ¡ahora esto era genial!
Además, hay un párrafo en el que antes el autor hablaba de la experiencia de Iona en la "NaturTec", que supongo que es la máquina, pero, después del párrafo, vemos 10 años más tarde sin una explicación de lo que está sucediendo o cómo hemos llegado hasta aquí.
Este patrón continúa durante toda la historia y sentí que no había sinergia en ciertos aspectos, especialmente entre párrafos.
Una cosa que voy a decir es que la autora es muy creativa, esta historia es fuera de lo común e increíblemente diferente, y nunca he leído nada parecido, así que le daré un reconocimiento por eso.
Tal vez, mi problema con esta historia es que no la entendí porque no estaba acostumbrado o tal vez debería leerla otro par de veces pero, si quieres leerla, mira aquí.
---


Feel free to join the hive book club community.
---
---