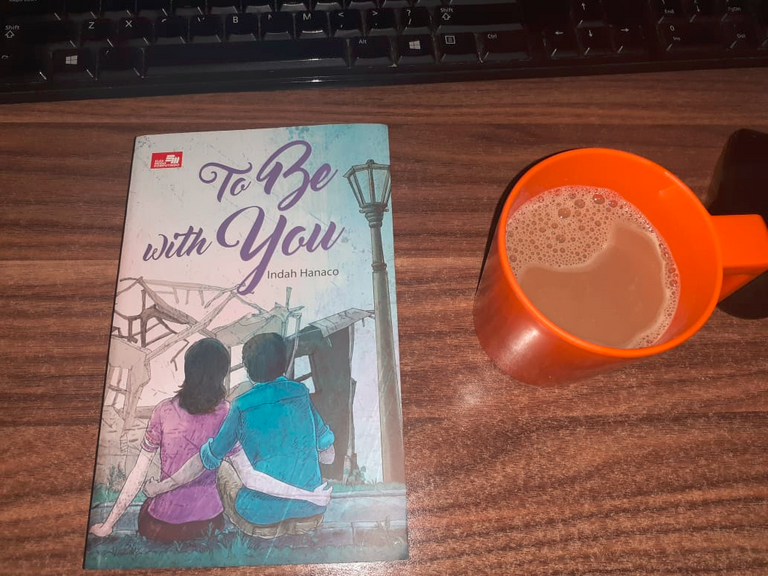 Do you believe that love growing by the times?
Apakah kamu percaya pada cinta yang bertumbuh dengan seiring berjalannya waktu?
Love is not a thing that can be ordered when they should come. So that when someone fall in love, sometimes they don't realiced it. In fact, love is a thing that given a comfort, so unrarely its comes by togetherness.
Cinta bukanlah satu hal yang dapat diperintah kapan datangnya. Sehingga ketika seseorang jatuh cinta bukan tidak mungkin Ia tak menyadarinya. Sejatinya, Cinta adalah sesuatu yang mampu memberi kenyamanan, sehingga tak jarang Ia bertumbuh dari kebiasaan bersama.
I am a person who believe that love will comes and grows by the time.
Ya, aku percaya bahwa cinta dapat bertumbuh dengan seiring berjalannya waktu.
This is the theme raised by author romance novel To Be With You, Indah Hanaco.
Inilah tema yang diangkat dari novel To Be With You karya Indah Hanaco.
I am a die-hard fan of romance novels by Indah Hanaco. Indah was very detail about her characters. Her language style was comforted to be read and had many words that make me felt I just know that. She was really productive and I envy about that!
Saya adalah penggemar berat novel romence karangan Indah Hanaco. Indah sangat detail menuliskan setiap karakternya. Gaya bahasanya sangat mengalir dan memiliki kata-kata yang kadang membuatku merasa aku baru mengetahuinya. Terkadang, aku iri dengan produktifitasnya dalam menulis.
After a few moments hiatus for reading romance novel, now I'm sink back into my reading. For me, read a novel can raise my passion of writing. And it was succed enough. I read this novel when I want to provoking my sense of literature, so I can finish my short story project.
Setelah hiatus beberapa lama untuk membaca novel romance, kini aku kembali tenggelam dalam bacaanku. Bagiku membaca novel seperti membangkitkan kembali gairah menulis. Dan ini cukup berhasil. Aku membaca novel ini ketika aku ingin memancing sense of literature-ku, agar dapat menyelesaikan proyek kumpulan cerpen.
I read it during my busy work.
Aku membacanya disela-sela kesibukanku bekerja.
---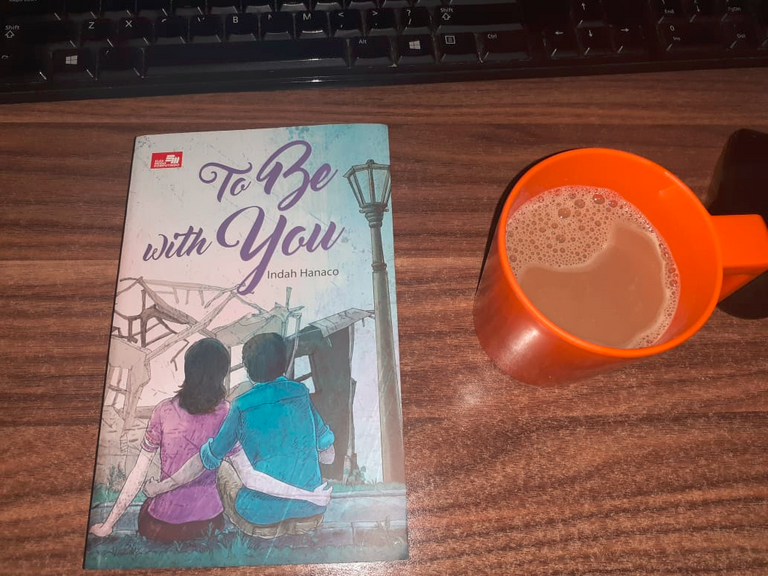 ---
Judul : To Be With You
Penulis : Indah Hanaco
Penerbit : Elex Media
Genre : Fiksi ㅡ Roman
---
Blurb:
---
Ludimilla Farani, was forgot about her love for stilettos because she has a boyfriend who loses high.
Ludmilla Farani, pernah melupakan kesukaannya pada stiletto karena memiliki kekasih yang kalah tinggi.
Declan Eugene Arsjad, left his campaign as an activist to get his old love that has not been forgotten.
Declan Eugene Arsjad, meninggalkan kampanyenya sebagai aktivis demi mendapatkan cinta lama yang ternyata belum terlupakan.
A special project then make themm close each other. Until Milla and Declan become more comfortable in their friendshop zone. But when the feeling gets to hard to control, they realize that they are too far away fascinated.
Sebuah proyek khusus membuat mereka berdekatan dalam banyak kesempatan. Hingga Milla dan Declan kian nyaman dalam jalinan pertemanan. Namun ketika perasaan yang sudah terlalu sulit untuk dikendalikan, mereka menyadari kalau sudah terlalu jauh terpesona.
Diamond earrings and a sudden proposal on a sidewalk, has changed everything. But they had not the chance to pledge allegiance to God when Declan became a kidnap victim in Pantai Gading. Declan was deprived of excitement and was suffering from prolonged trauma.
Anting berlian dan lamaran mendadak di sebuah trotoar, mengubah segalanya. Tapi mereka belum sempat bersumpah setia di depan Tuhan saat Declan menjadi korban penculikan di Pantai Gading. Lelaki itu kehilangan kegembiraan dan didera trauma berkepanjangan.
Their happiness is almost lost when Declan chooses to separate. Declan choose the sip the pain alone. Milla is hurt and vows to hate Declan forever. But when that man asked for second chance, did his heart have the determination to keep on refusing?
Kebahagiaan rasanya nyaris musnah saat Declan memilih berpisah. Memilih menyesap rasa sakitnya sendirian. Mila terluka dan bersumpah akan membenci Declan selamanya. Tapi saat lelaki itu meminta kesempatan kedua, apakah hatinya punya keteguhan untuk tetap menolak?
---
ACCIDENTAL MEETING, WHICH FINALLY MAKES BOTH OF THEM FELT OPIUM
Dipertemukan Dalam Ketidaksengajaan, yang Akhirnya Membuat Keduanya Candu
---
It's story about Milla and Declan, owner of cake shop and an environment's activist. They were thought was found a love. When they were almost lost, Milla and declan fought for winning their beloved persons.
Ini cerita tentang Milla dan Declan, si pemilik toko kue dan aktivis lingkungan hidup. Mereka mengira sudah menemukan cinta. Saat nyaris kehilangan, Milla dan Declan berjuang memenangkan hati orang-orang terkasih.
But, both of them at last standing together. Milla and Declan was realized that they were aspire each other. They were so amazed, can't look away.
Tapi, mereka berdua akhirnya berdiri berhadapan. Milla dan Declan menyadari, mereka saling menginginkan. Entah sejak kapan, cinta lama tak lagi punya arti. Keduanya terpukau begitu rupa, tidak mampu mengalihkan tatapan.
Their love is quite simple. Those who suddenly meet and end up to helping each other with their missions. They were felt comfortable and build a friendship. Until that comfort finally breaks into the depths of their hearts.
Cinta mereka cukup sederhana. Mereka yang tiba-tiba dipertemukan akhirnya saling membantu misi masing-masing. Keduanya akhirnya merasa nyaman satu sama lain dan berteman baik. Sampai kenyamanan itu akhirnya menerobos masuk hingga ke relung hati mereka.
Actually, this is a cliche story of two peoples who end up being friendzone. But, the author unravels it and makes this story more interesting by her language style. I necer knew that an activist did traveled around the world to campaign. What I know is that every activist carries out a campaign just in their respective country.
Ini sebenarnya kisah klise dari dua orang yang akhirnya terkena friendzone. Akan tetapi penulis mengurainya dan membuat kisah ini menjadi sangat menarik. Aku tidak pernah tahu bahwa seorang aktivis berpergian keliling dunia untuk melakukan kampanye. Yang kutahu, setiap activist melakukan kampanye di negara masing-masing.
Although I can guess the ending of this story, I never miss a page because the author make it's so interesting.
Meski ending dari cerita ini dapat kutebak, tetapi aku tak pernah melewatkan setiap halamannya karena penulisan Indah sungguh sangat menarik.
I gave 4.5 from 5 stars
Quotes
---
...love shouldn't demand a selection. Love is liberating. ㅡ p. 9
…cinta semestinya tidak menuntut untuk melakukan seleksi. Cinta itu membebaskan. ㅡ hal. 9
Heartbreak didn't hurt. Much worse than that, actually. Like a venomous animal whose stings poison someone's life who knows how long. ㅡ hal. 55
Patah hati itu ternyata tidak menyakitkan. Jauh lebih parah dibanding itu, sebenarnya. Mirip hewan berbisa yang sengatannya meracuni hidup seseorang entah sampai kapan. ㅡ hal. 55
Usually, ex-lovers are just those who leave behind memories. Whether sweet or bitter. ㅡ hal. 77
Biasanya, mantan kekasih adalah sebatas orang yang meninggalkan kenangan. Entah manis atau pahit. ㅡ hal. 77
Loving someone means accepting the strengts and weaknesses in one complete package. ㅡ hal. 152
Mencintai seseorang itu berarti menerima kelebihan dan kekurangannya dalam satu paket utuh. ㅡ hal. 152
Memories don't always have to be in the form of monuments, buildings, or other physical things. Memories are in the heart. In your memories. And there is no way anyone will be able to take it all away. ㅡ hal. 227
"Kenangan itu tidak selalu harus diwujudkan dalam bentuk monumen, bangunan, atau hal-hal fisik lainnya. Kenangan itu adanya di hati… Di dalam memorimu. Dan mustahil ada yang mampu merenggut itu semua." ㅡ hal. 227
Love is like a multi-eyed knife. Finding happiness is only one side of it. Apart from that, there are many other excesses that can produse a variety of feelings. ㅡ hal. 306
Cinta memang seperti pisau banyak mata. menemukan kebahagiaan itu cuma salah satu sisi saja. Di luar itu banyak ekses lain yang bisa menghasilkan beragam perasaan. ㅡ hal. 306
About the Author: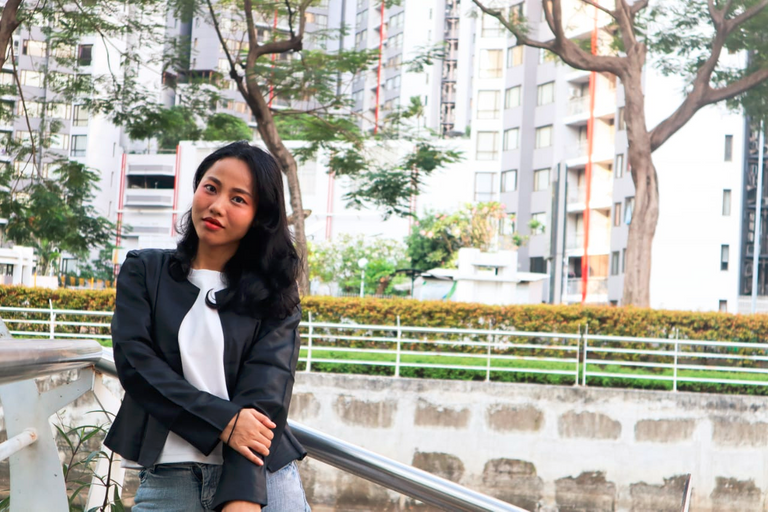 Vivie Hardika
I have so many imagination in my head. Something that I can't achieve as human and as a girl. So writing very challenging. Since in Junior High School, I written whatever I want to write. Without skill, I just write what I want to read. Now I have 10th published novels and all of that are romance.
Yeah, I proudly say that I am an mulititalent author!