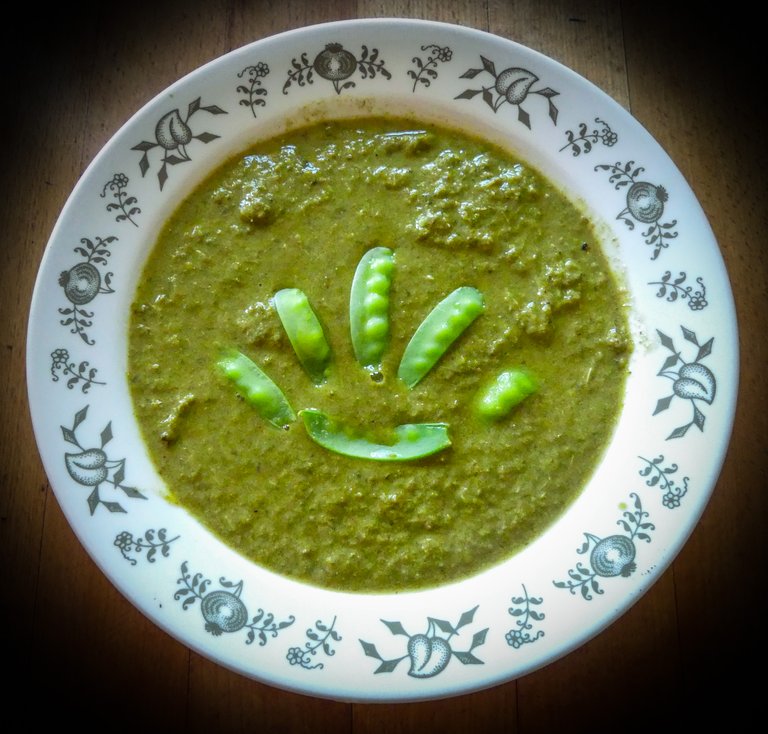 you don't have to be a genius to make
this is not rocket science soup
but you do need rocket and you have to to be able to wing it, and make up the recipe as you go along. so i had a general idea of how to make a really green soup using freshly picked veggies from our garden!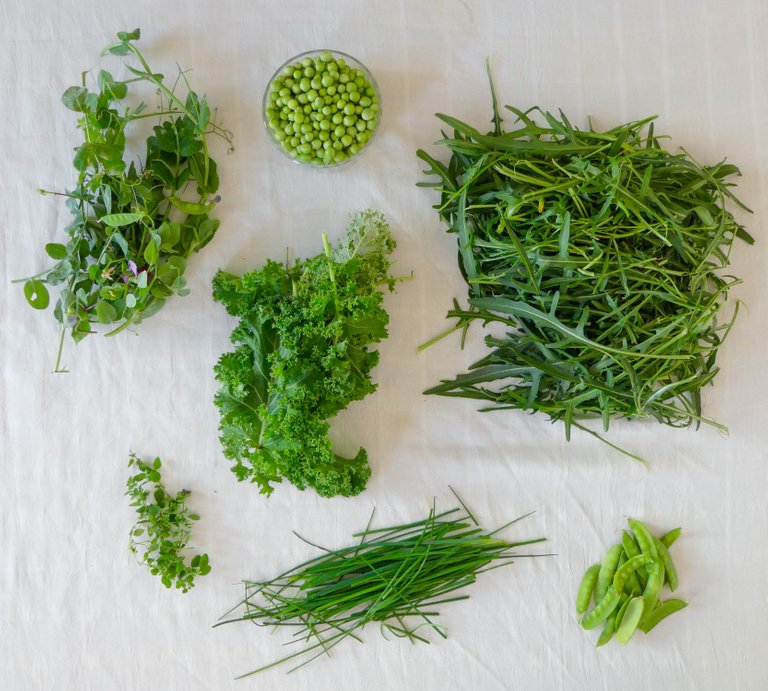 in the garden we have more rocket than we can eat so we are always looking for ways to use it. this year we also have an overabundance of sugar peas (snow peas) and while we eat lots of them and share with friends and neighbors, they ripen so fast that we can't keep up. so in today's soup i am using fully ripe peas without the pods. (to a lesser degree i am including some whole snow peas). you may have had rocket (arugula) soup with potato but our potatoes aren't ready yet so i am counting on the ripe green peas instead
not only do the peas ripen fast but the plants grow very quickly and were crowding out some of the other plants in our tiny garden so we cut them back. i had heard the leaves were edible but never tasted them so instead of composting all of them, some are going in the soup.
we also grow kale, and plenty of chives and thyme so they are also included in today's novel recipe.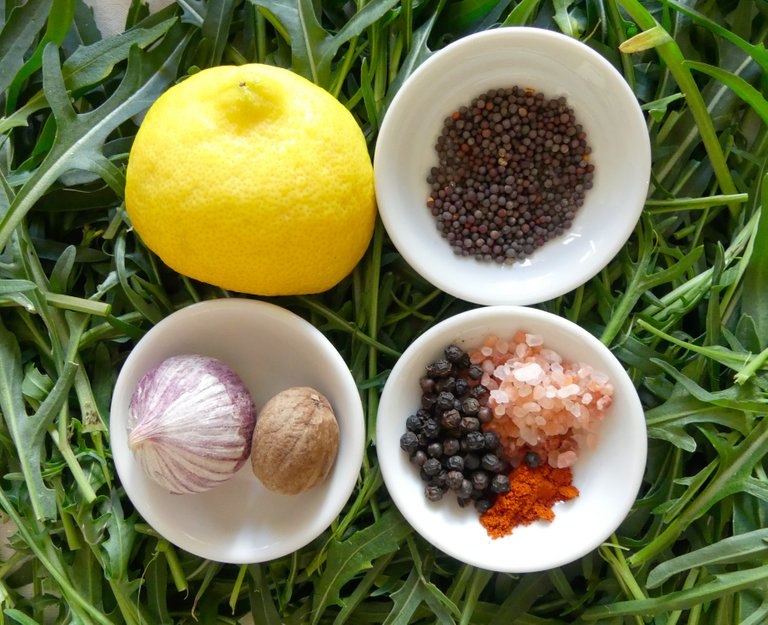 typically i would use the above seasonings in a vegetable soup like this. rock salt, freshly ground black pepper, a little kashmiri chili powder, garlic, freshly ground nutmeg and mustard seeds, lemon zest and maybe lemon juice or maybe not. however i am not sure how peppery and mustardy the soup will be because i am including a lot of quite mature rocket leaves. so i will hold the mustard and pepper until toward the end.
so i start off in a typical manner. warm a little oil in a saucepan then add the chili powder then the chopped peeled garlic. the peas are not tender so i throw them in after a minute along with some chopped chives.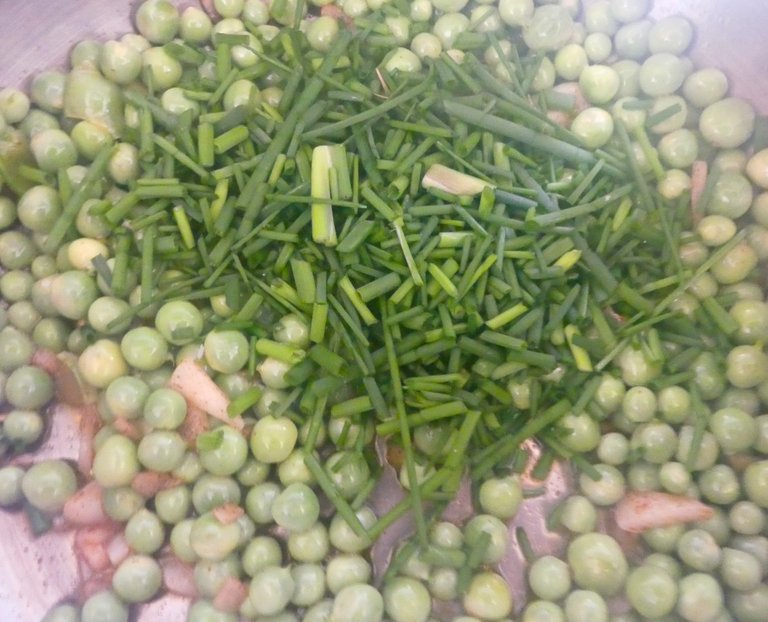 i added just a little water to make some steam. i want to cook the peas well enough before proceeding.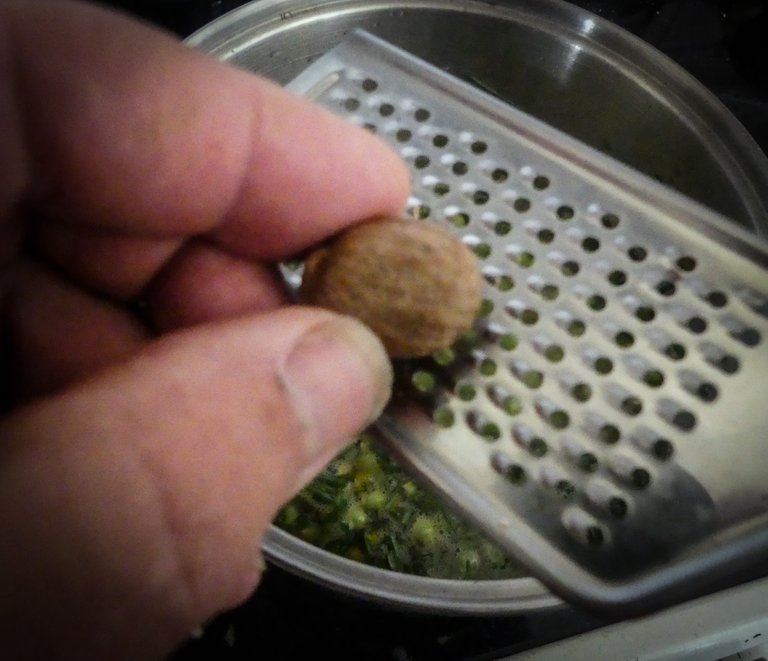 then i grate some lemon zest and nutmeg so fast that it blurs the photo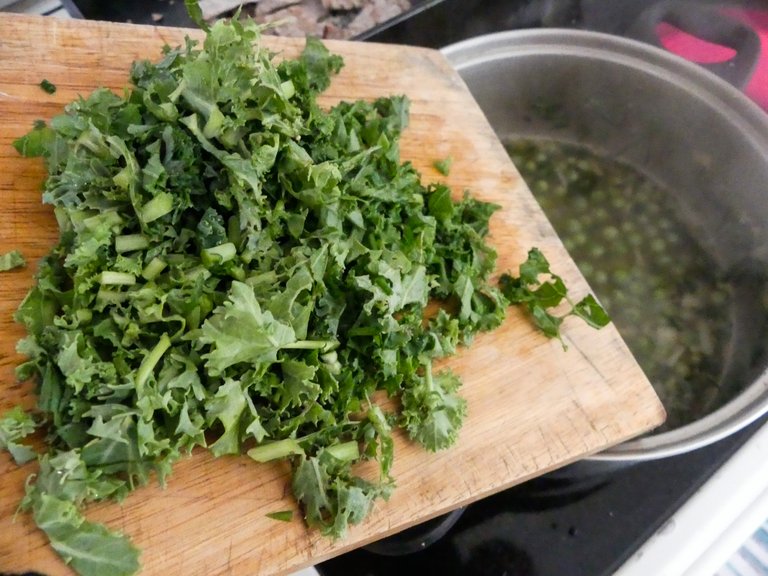 and add the chopped kale along with some more water.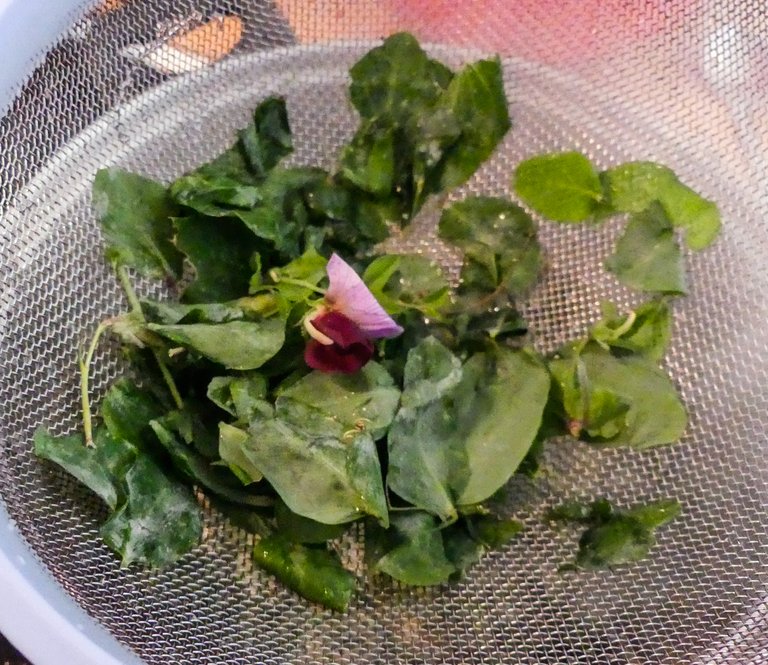 now for the pea leaves. i removed all the tendrils of course but there was a flower on the branch. it's not my style to arrange nice flowery photos when i make food but this one is going in the soup. ok, let all that cook for a bit.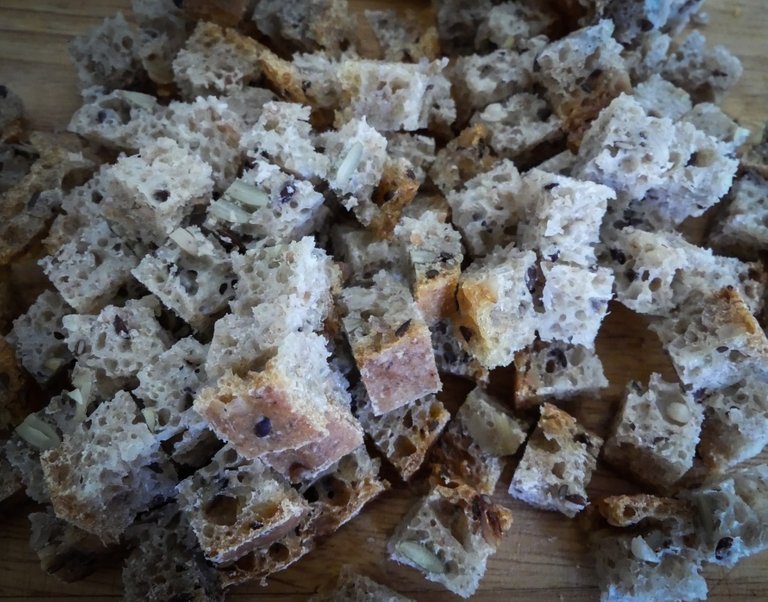 i realize i am going to need something more substantial to make this a meal so i decide to make some croutons with some whole grain bread that has become an extra day old.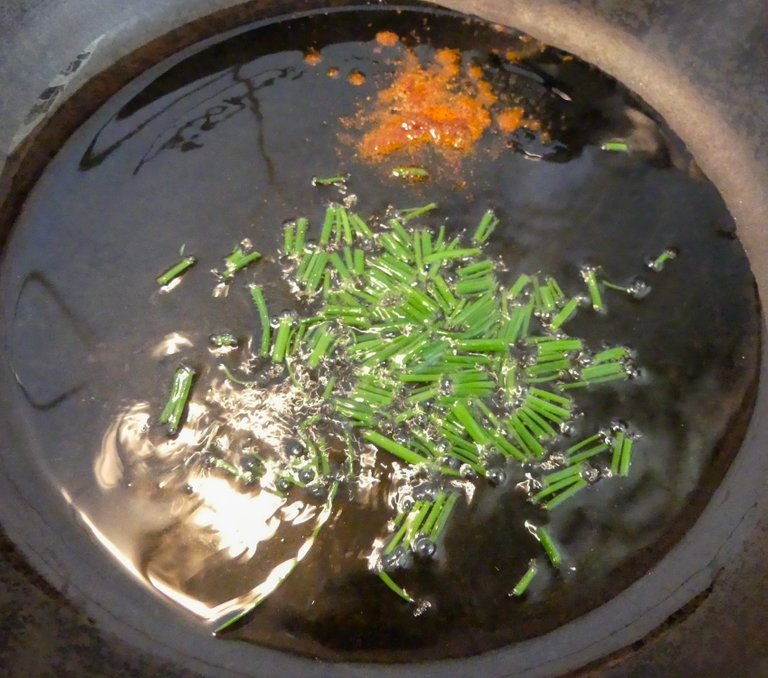 a little oil on a skillet, my go to kashmiri chili powder, some more chopped chives, a sprinkle of salt and in a few minutes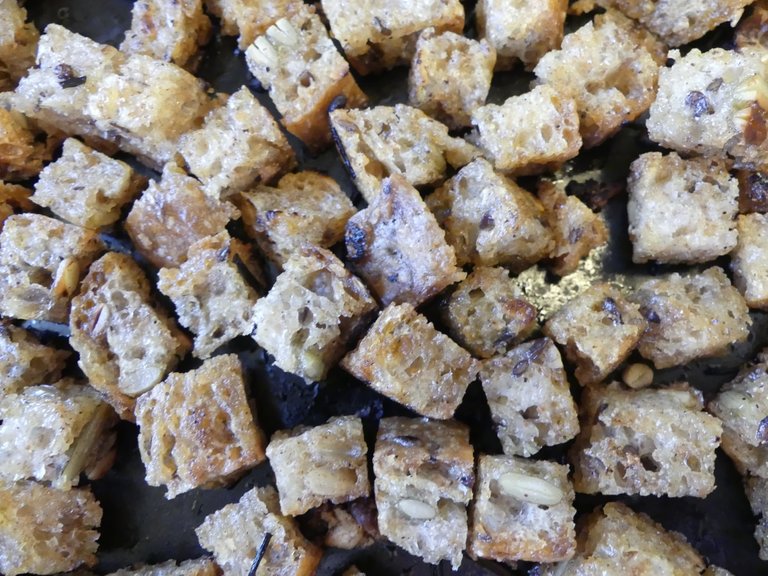 the croutons are done.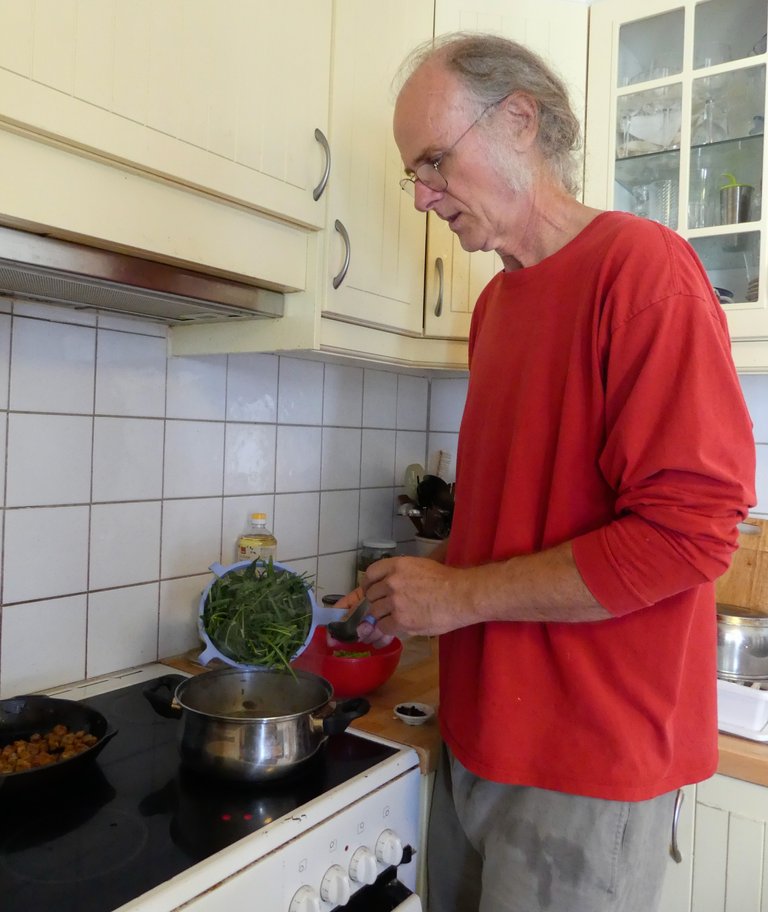 when i add the rocket, this soup should begin to take off.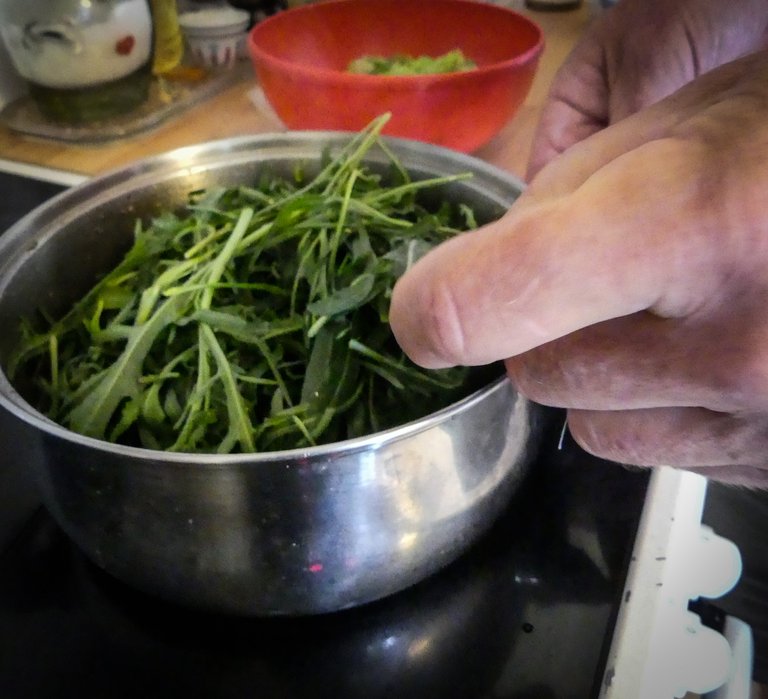 i don't want a premature launch, i mean lunch so i hold it down just a little longer.
after a few minutes i get out my handy immersible blender and give it a whirl and the soup is looking nice and green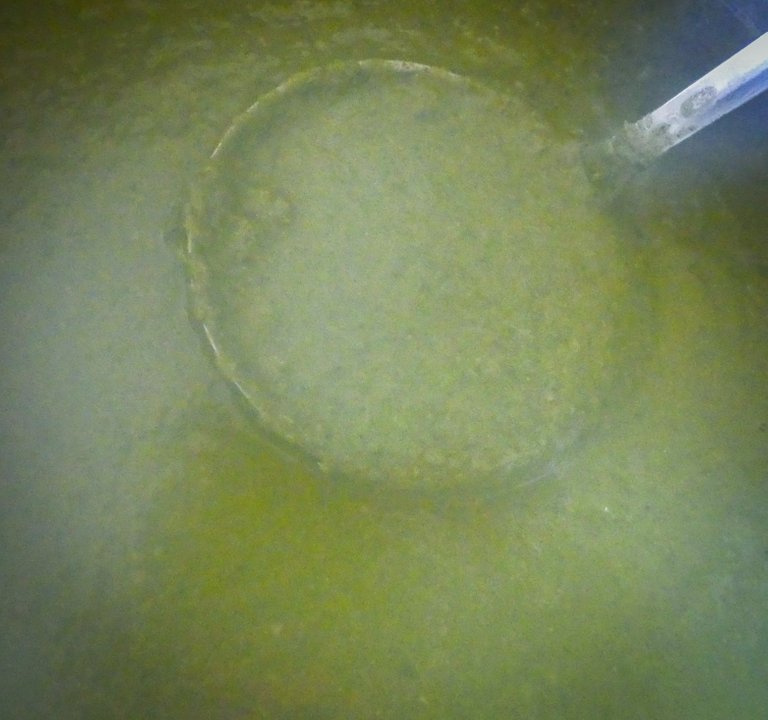 curious to taste it. it needs some lemon juice and more salt. it is not at all peppery or mustardy so i grind the black pepper and stir it in. as for the mustard i dry roast it until it starts to pop and then grind it with a mortar and pestle.
still it needs a little something. something creamy and filling. hmmm...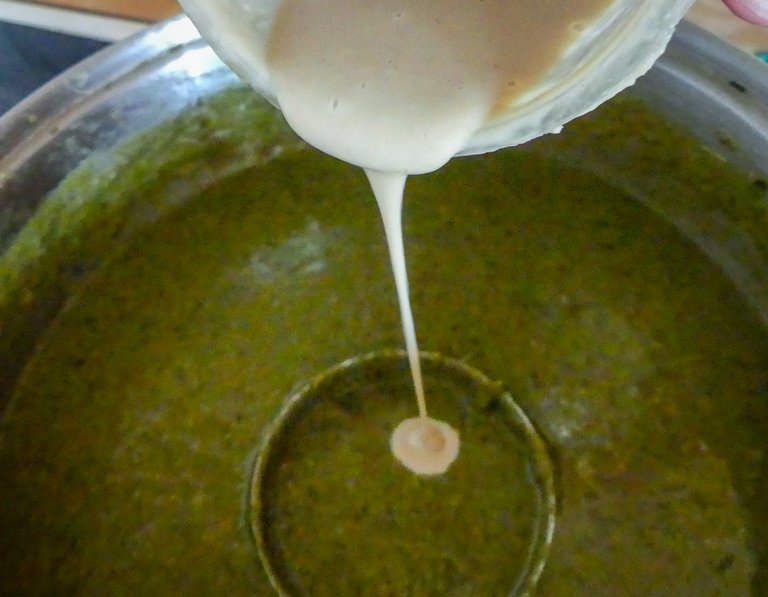 luckily i have just the the thing- tahini. the tahini i have is quite liquid. it doesn't take much. just a little more lemon juice and salt and it's done!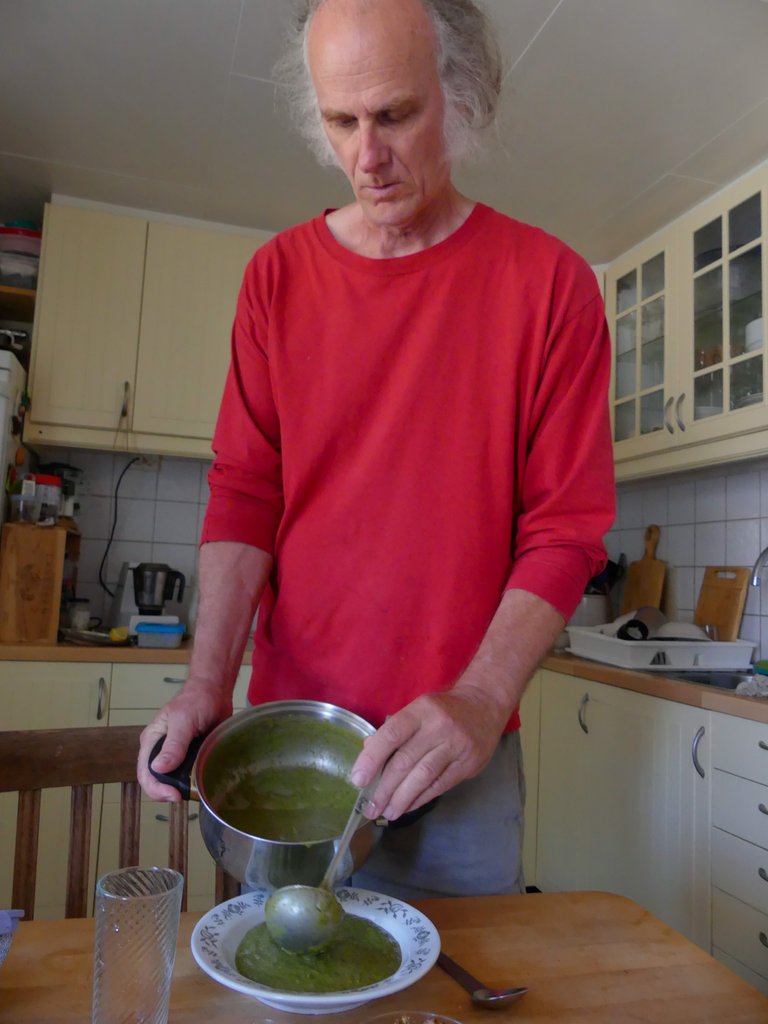 now over in a bowl for serving.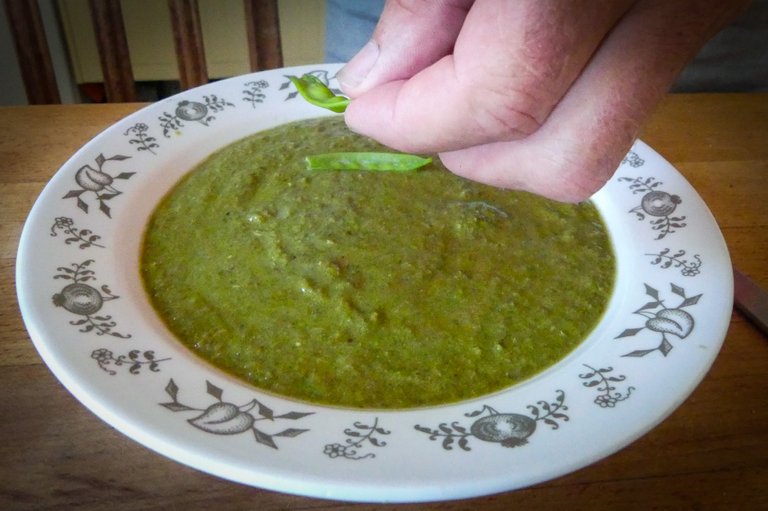 but first i add the snow peas. i wondered if i should steam them a little first but i landed on raw to give a little more crunch.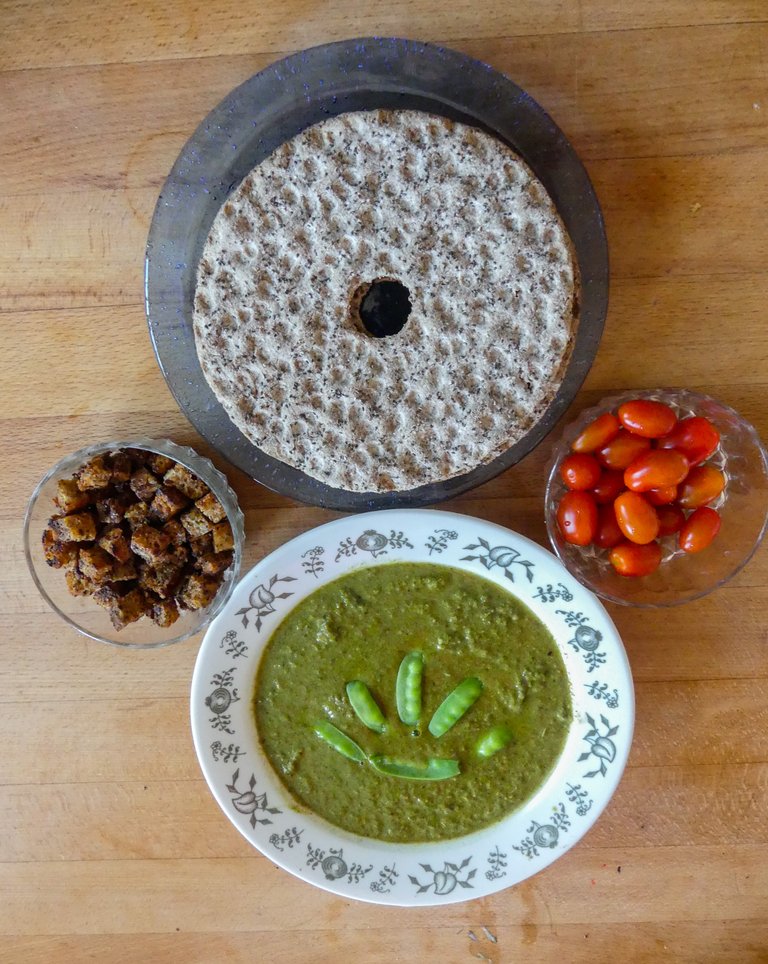 some nice chia seed crispbread, cherry tomatoes from the garden, the croutons and launch is ready!
here you have it, folks:
this is not rocket science soup!