Valentine's day is almost here and whether you celebrate it or not, it can be a great day for treating yourself with some love or spending some quality time with your partner, friends or family. You can think of many ways to treat yourself and one popular way is to treat yourself with special food that you love or some new recipes that you don't eat casually. Here comes the beautiful mini cheesecakes cupcakes with raspberries!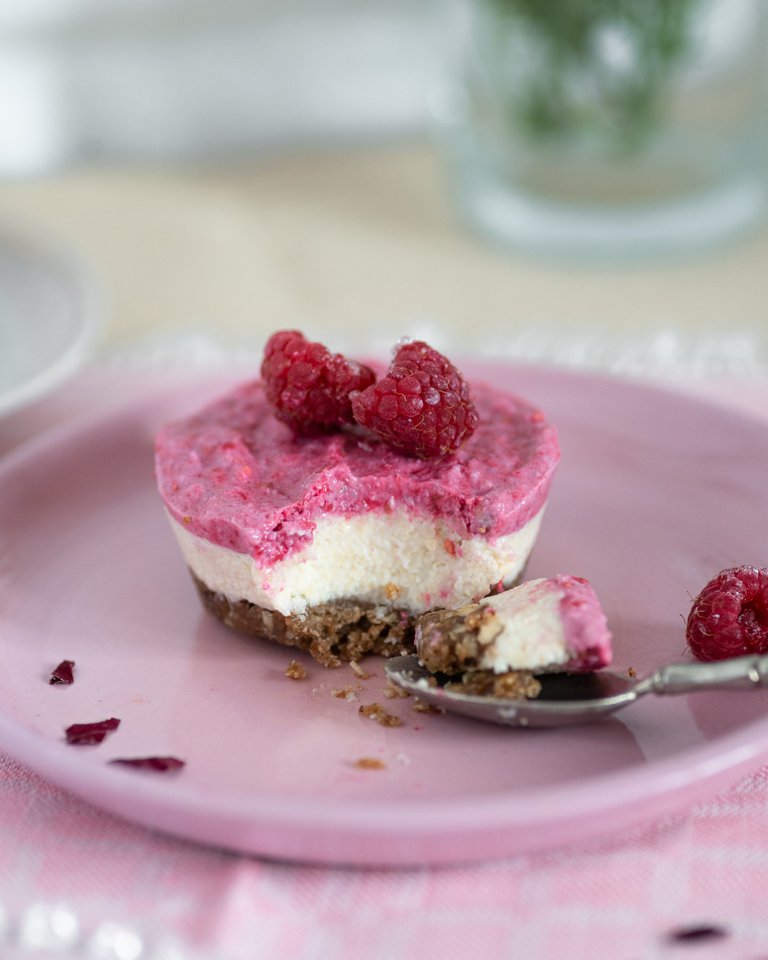 Valentine's Day is a perfect occasion to indulge in sweet treats with your loved one (or by yourself!). However, if you or your partner follow a vegan lifestyle, it can be challenging to find desserts that meet your dietary needs. Fortunately, these vegan raspberry mini cheesecakes are a perfect solution to your Valentine's Day dessert dilemma.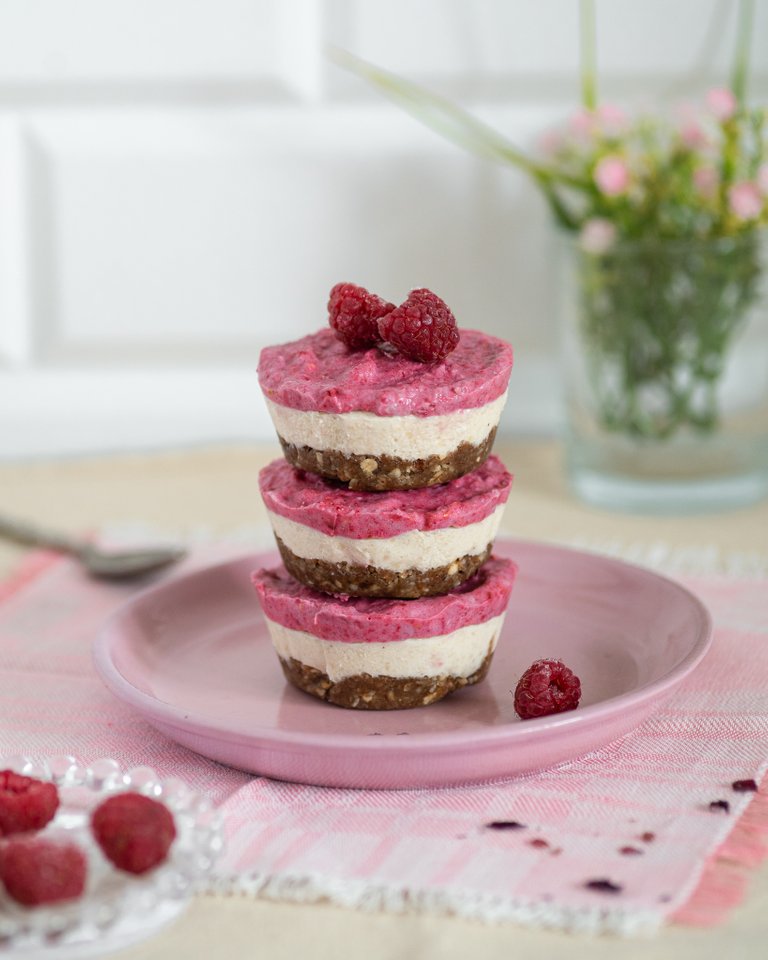 These mini cheesecakes are a delightful combination of creamy and sweet, with a burst of raspberry flavor in every bite. They are made with a cashew-based filling, which provides a smooth and rich texture without the use of dairy. The crust is made with simple ingredients like dates and nuts, which give a crunchy texture and complement the creamy filling perfectly.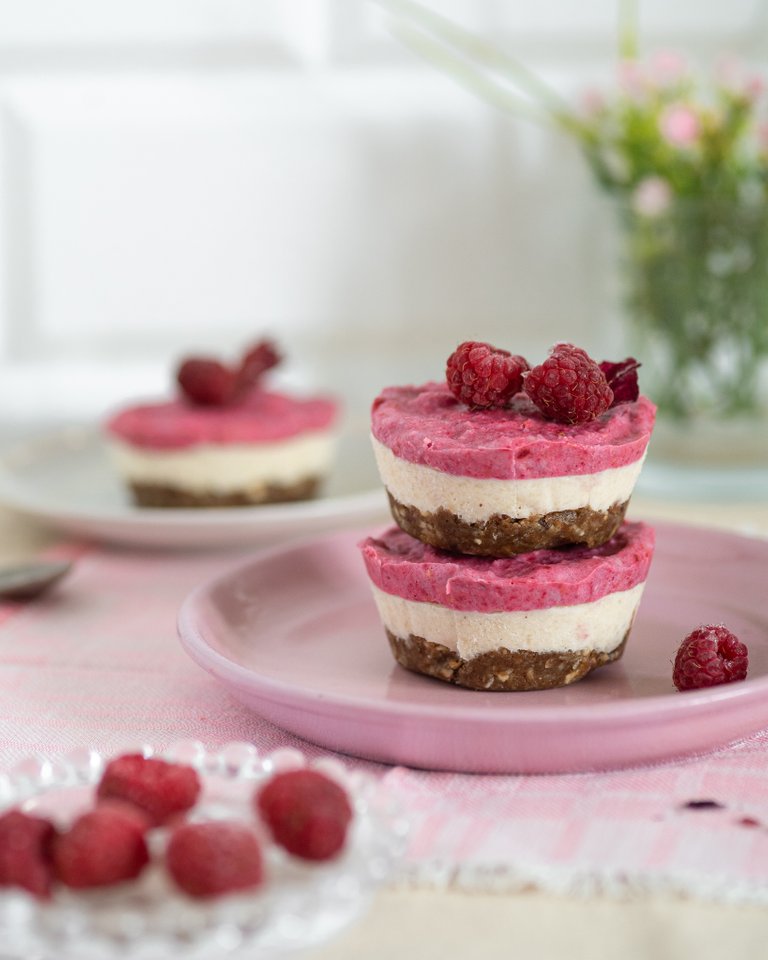 These vegan mini cheesecakes are not only a delicious dessert, but they are also a healthier option compared to traditional cheesecakes. They are packed with nutrients and healthy fats from the cashews, making them a guilt-free indulgence. The vibrant pink color of the raspberry topping makes them a beautiful and romantic treat, perfect for Valentine's Day.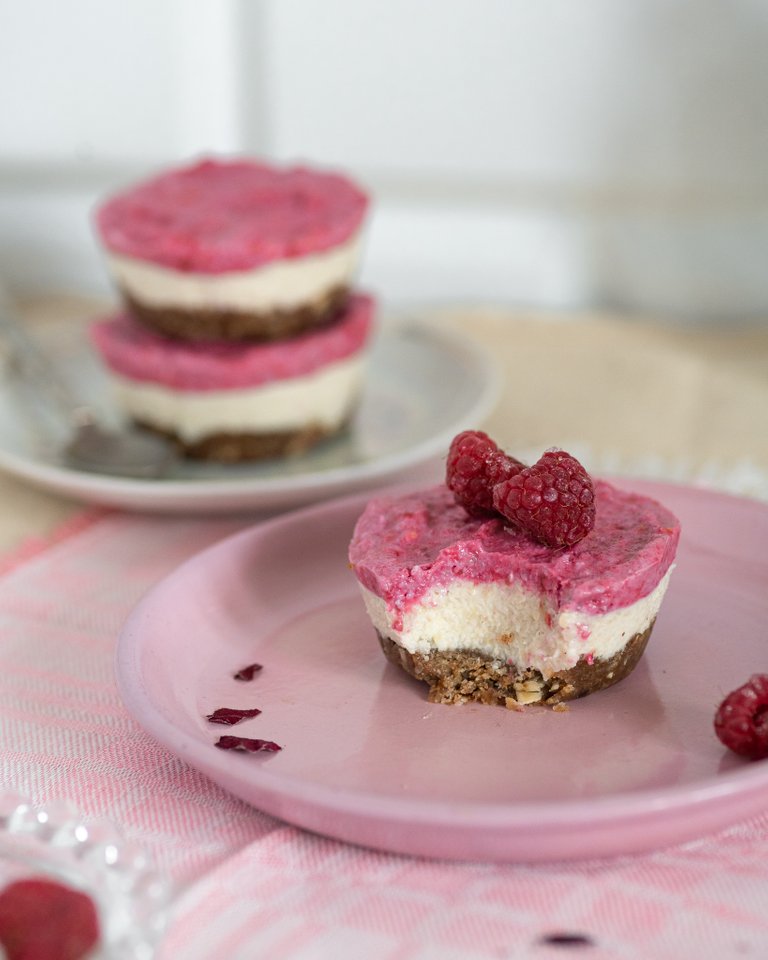 These mini cheesecakes are also incredibly versatile, and you can customize them to your liking. You can switch up the fruit toppings (instead of raspberries you can add blueberries, strawberries, cherries or other berries/fruit!) or add some chocolate or caramel drizzle on top to make them even more decadent. The mini size makes them perfect for sharing with your partner, or you can enjoy them as a single serving.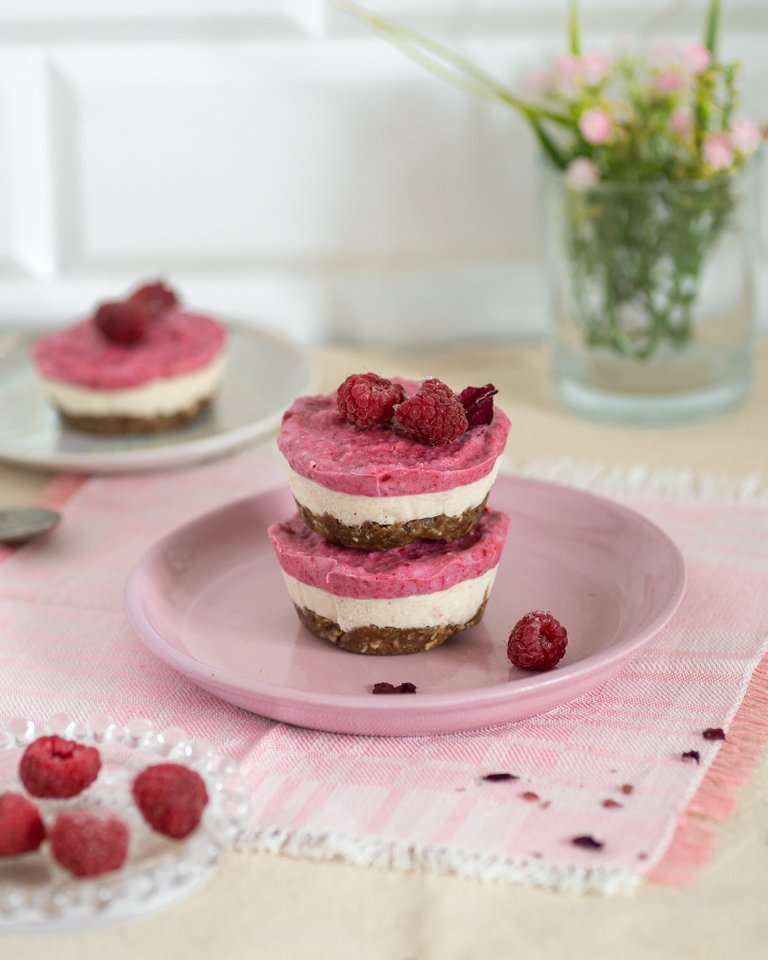 The vibrant pink color of the raspberries makes them a perfect treat for Valentine's Day, but they are also a great option for any occasion. With their rich flavor and adorable size, these vegan mini cheesecakes are sure to steal the show at any romantic dinner or special event.


You will need:
The recipe makes 6 mini cheesecakes
For the crusty base:
• 40 g. walnuts and 20 g. hazelnuts (you can only use 60g. walnuts)
• 40 g. oatmeal
• 4 pitted dates
• 5 ml. of melted coconut oil (about 1 teaspoon)
• a pinch of salt
• a pinch of cinnamon
For the white filling:
• 100 g. cashews
• 60 ml. coconut milk (full-fat)
• 30 ml. maple or agave syrup
• 10 ml. fresh lemon juice
• a few drops of vanilla aroma
• a pinch of salt
For the raspberry topping:
• 20 g. cashews
• 15 ml. coconut milk (full-fat)
• 10 ml. maple or agave syrup
• a pinch of salt
• 40 g. frozen raspberries
---
Preparation
Firstly, soak the cashews - ideally you can soak them overnight or for a few hours simply by pouring water to fully coat them. But if you don't have much time, separate 100 g. and 20 g. cashews into separate containers and pour hot water on top of them and leave to soak for 20-30 minutes.

Prepare the base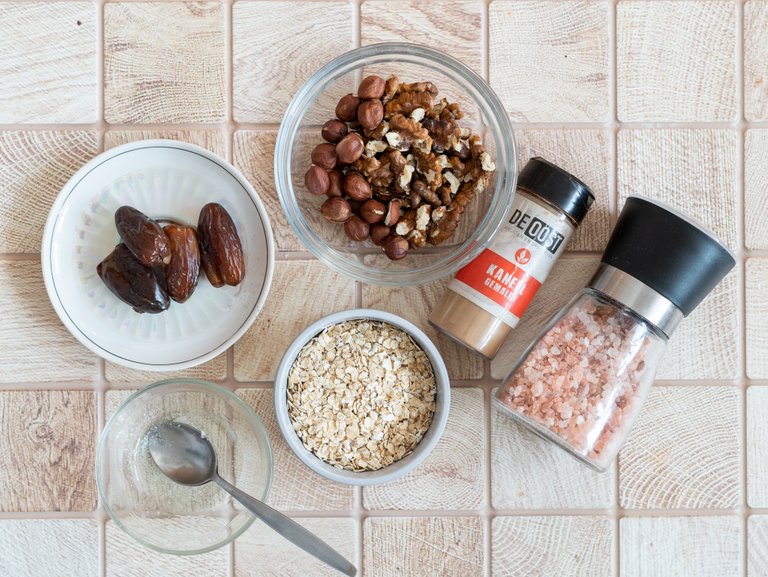 Using a hand blender or food processor, blend all the ingredients for the base (walnuts, hazelnuts, oatmeal, dates, coconut oil, salt and cinnamon) to a sticky mixture.

Take some baking paper and cut 12 strips of about 1 cm. wide and 8-10 cm. long. Put two strips into each form in the cupcake tin forming an "X". This is not necessary but it will strongly help you to remove the cheesecakes from the tin. They might be messy for now, but you will stabilize them by adding the base and other fillings.

Place the base mixture on strips of baking paper in the baking tin - divide it evenly among six cakes and press with your hands so that the surface is smooth. That should be about 1 tablespoon or a bit more to each mold. Set that aside.

Prepare the white filling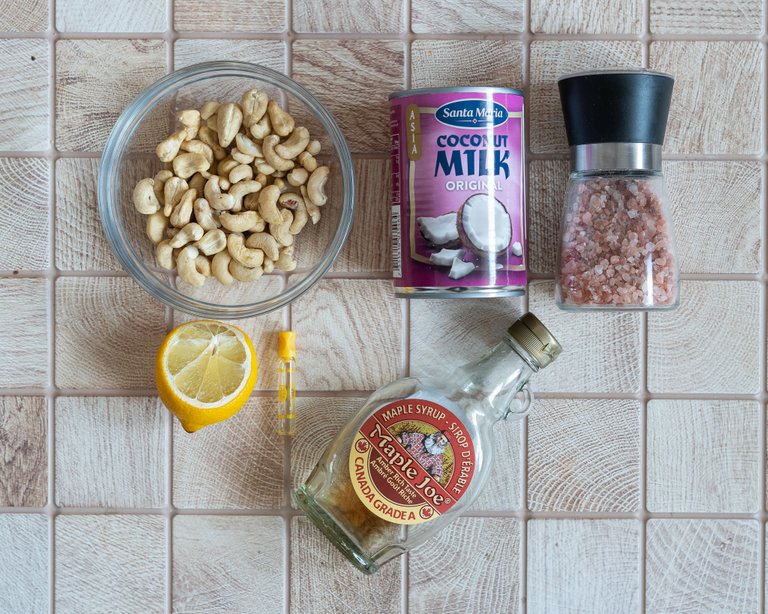 Grind all the ingredients (cashews, coconut milk, maple/agave syrup, lemon juice, vanilla aroma, salt) for the white filling (drain the water from the soaked cashews) to a smooth mixture.

Distribute all of this mixture into cakes by placing them on a base of ground nuts and smoothing the surface with a teaspoon. Each mold will fit about 1.5 tablespoons, leaving some room for the pink cream.

Place the entire baking tray in the freezer and keep for about 30 minutes.

Prepare the raspberry topping
Start preparing this topping once the cupcakes with white filling have been in the freezer for about 30 minutes.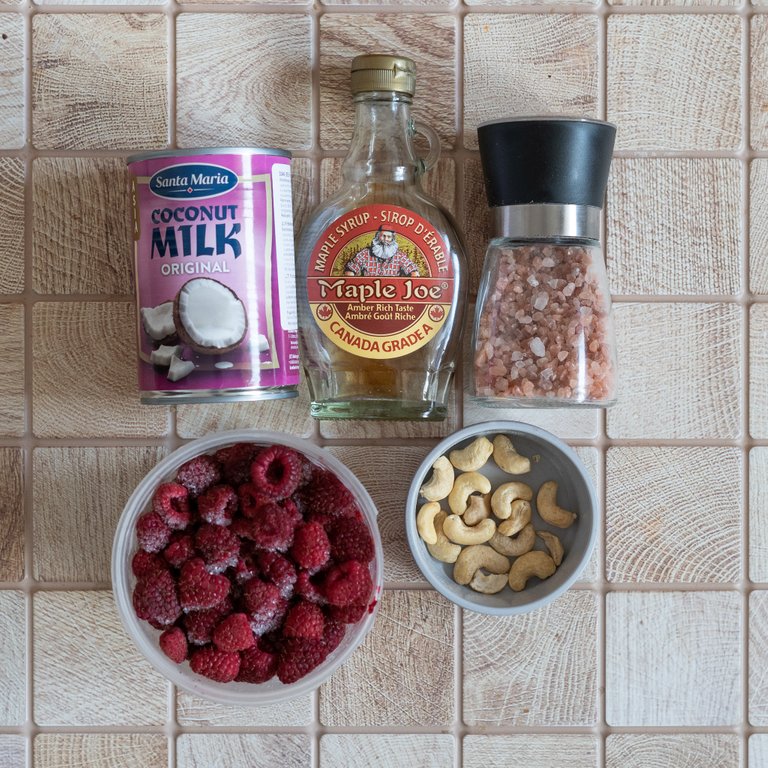 Grind all the ingredients for the pink topping (raspberries, coconut milk, cashews, maple/agave syrup, salt) until a smooth mixture that would look like ice-cream.

Remove the cakes from the freezer and spread all of the pink mixture on top of each cake, smoothing the surface. That would be a bit more than 1 teaspoon for each cake.

Keep the cheesecakes in the freezer for about 1 hour, and before eating, keep them at room temperature for 5-10 minutes to warm them up a bit. Remove by lifting the strips of baking paper by the edges.

Each part of the cheesecakes was so tasty on its own, so the combination of all of it was something close to perfection for me 😍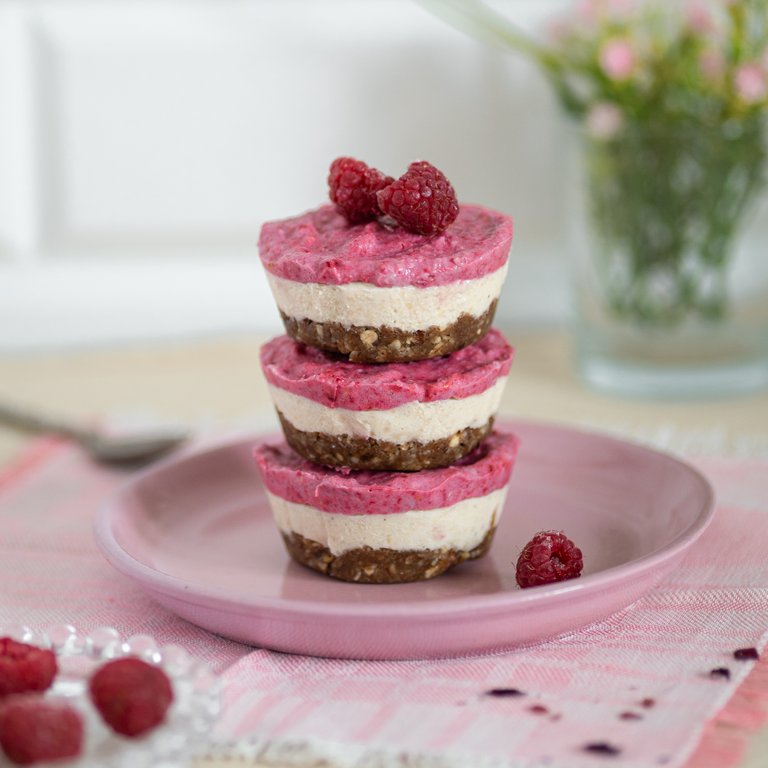 You can save this recipe for any other upcoming occasions, not only for Valentine or make it when you simply have some free time and want to treat yourself with some colorful and tasty plant-based desserts 🍧