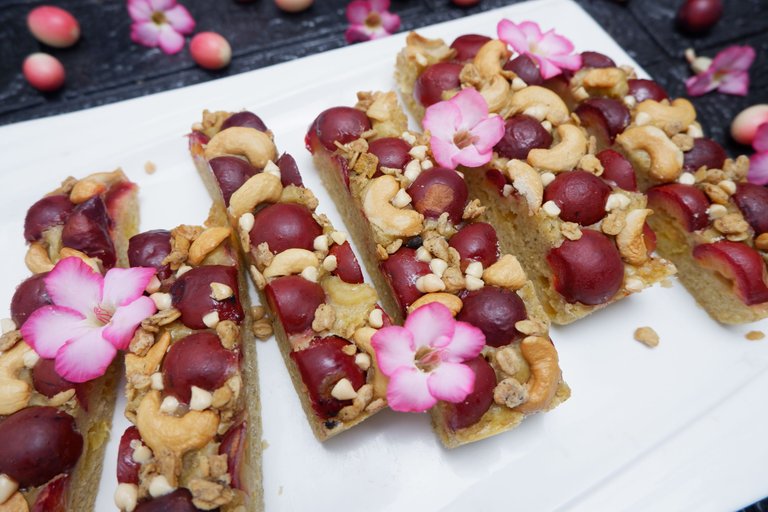 I hate throwing food, fruit, and veggies in any kind of term so instead of throwing them, I forced myself to eat them all while trying hard to create some alternative recipe and can finish them well as the way they should be.
So I decided to bake these Vegan Summer Blondie Bars because I have a few overripe bananas sitting on my counter and also a few ripe cherry plums and peach in the freeze call me to complete them.
And impossible to get wrong with blondie. If you are a rookie baker and wanna try to bake and put sweets in the oven. I highly recommend doing blondie because they never betray us. Just use a low temperature of 160 C or 350 F and keep an eye on them while they are baked.
The beauty of these vegan summer blondie bars is they can fit with any kind of fruit both winter, summer, or exotic fruits. Plum, mango, pineapple, apple, berry, pear, grape, melon, and millions more.
It's not difficult to make at all, just simple ingredients, and didn't require any special baking equipment. These vegan summer bars are perfect for healthy snacks, picnics, or as a sweet afternoon treat during the working day.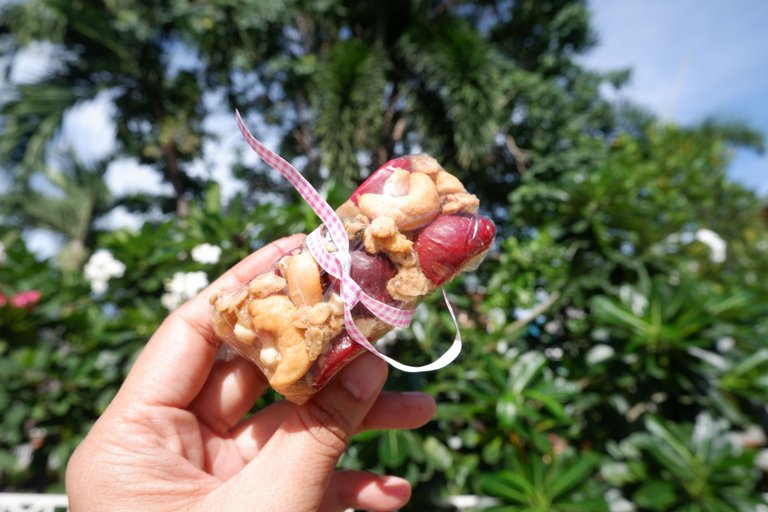 The ingredients for my Vegan Summer Blondie Bars are gluten-free flour, canola oil, cane sugar, rice vinegar, apple sauce, baking powder, baking soda, and the fruits I have on hand. I used overripe bananas as the main ingredients for my blondie bars.
I also make the peach sauce stuffing inside for this recipe. I like how the peach sauce in these vegan summer blondies as it creates a wonderful smell of a peachy and great mixture of moisture in these amazing blondie bars.
I also fall in love with the look on the top of this blondie bar, plug in through all bars with cherry plums, cashew nuts, proteins granola, and vegan white chocolate chip during the baking process. It'll give a sweet tangy refreshment and crunchy bites plus a nutty flavor. And this process also makes these vegan summer bars look quite beautiful. Just wrap them and turn the leftover fruits into the go healthy power bar.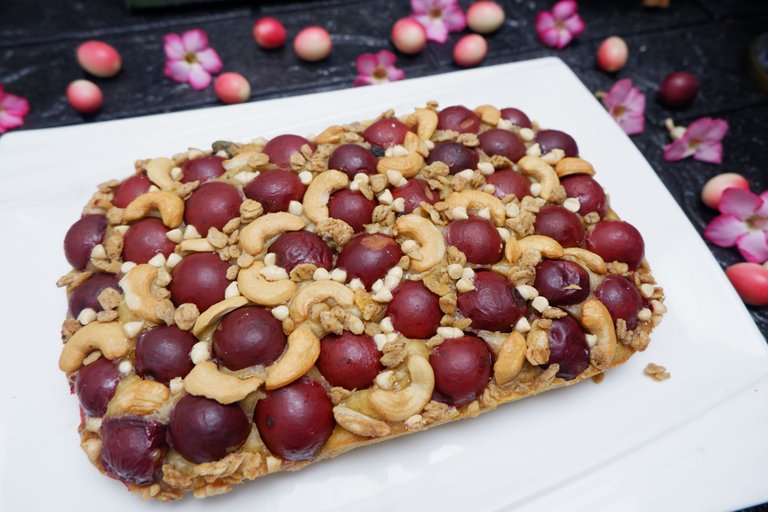 INGREDIENTS
2 Overripe Banana
1 Cup Cherry Plum
2 Peach
5 Tablespoon Peach Syrup
1 Tablespoon Margarine
1/4 Sea Salt
1 Tablespoon Brown Cane Sugar
1 Tablespoon Canola Oil
1 Tablespoon Rice Vinegar
3 Tablespoon Apple Sauce
1/4 Cup Cashew Nut
1/4 Protein Granola
1/4 Cup Vegan White Chocolate Chip
1.5 Cup Gluten-Free Flour
1.5 Teaspoon Baking Powder
1/2 Baking Soda
 
INSTRUCTIONS
STEP 1 - MAKING PEACH SYRUP
To make peace sauce, remove the pits from the peace and then slice each one into pieces. Add the sliced peaches and margarine to a small saucepot. Stir to combine.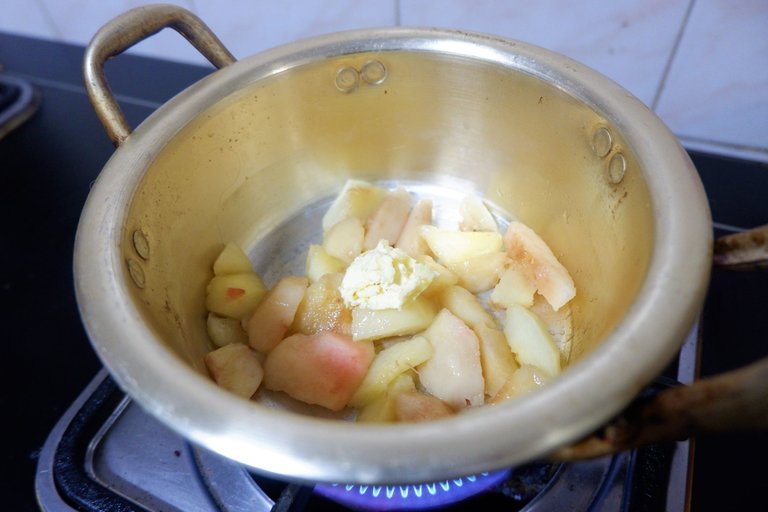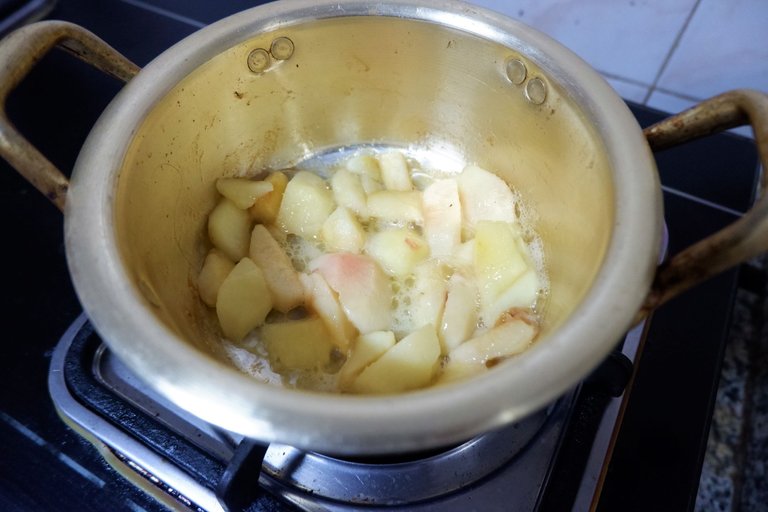 Bring the mixture to a boil over low heat and let the peach release their peachy juice. Then add the peach syrup and combine them and keep stirring to avoid burning and add the sea salt.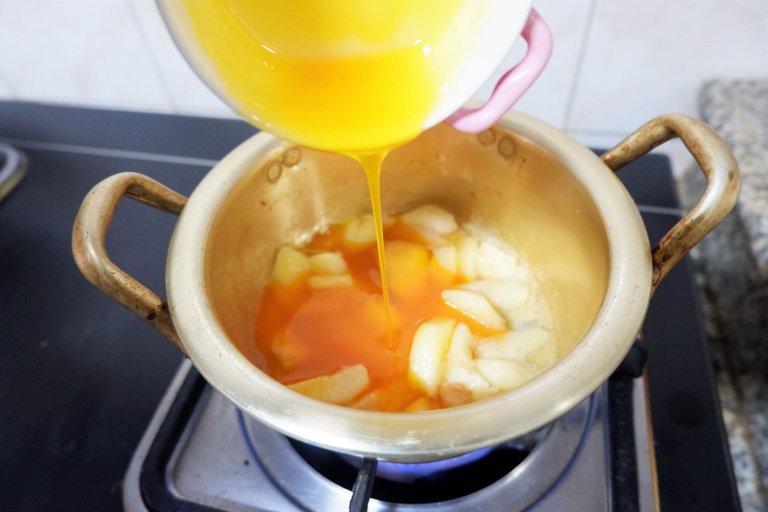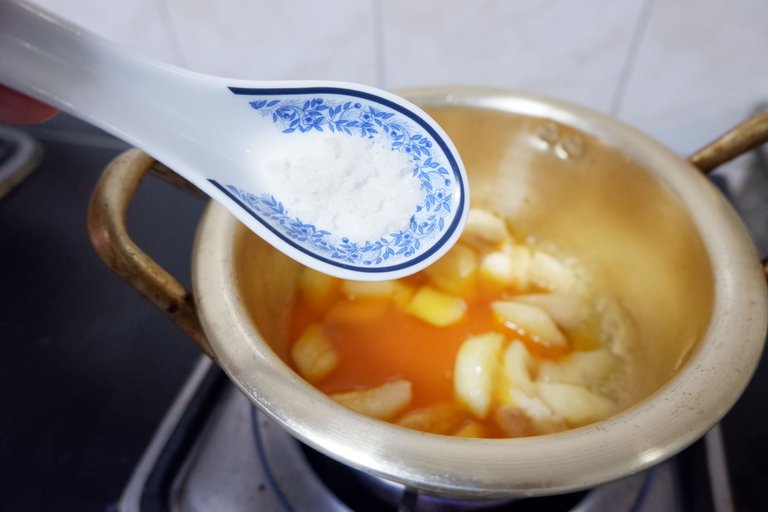 Continuously stir until the sea salt dissolves and the peach turns translucent. Let the mixture boil and stir often for 2-3 minutes. Then remove the pot from heat.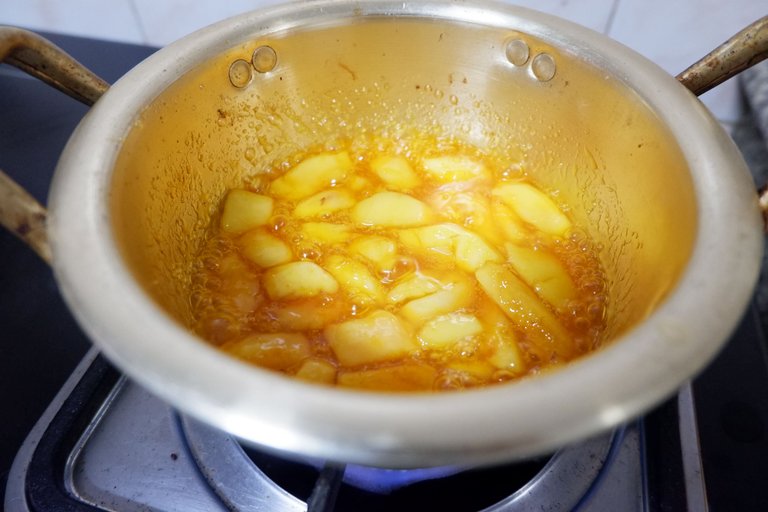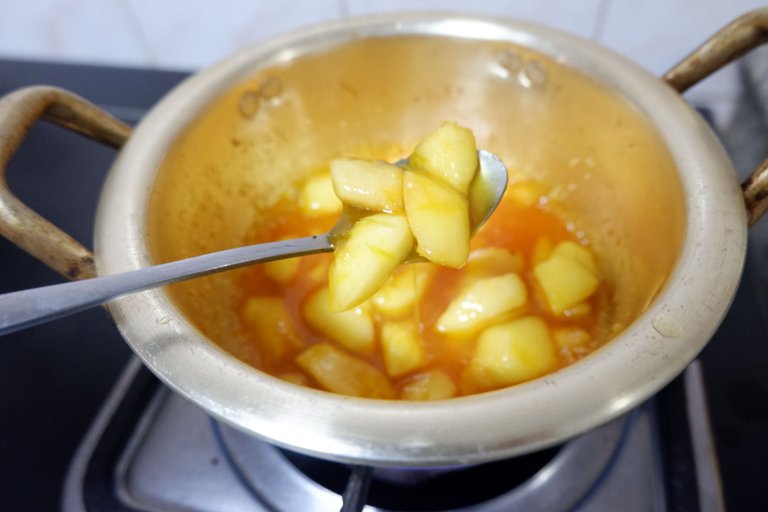 let the peach syrup cool. It will thicken as it cools and let the mixture completely cool for about 30 minutes before using them as the stuffing in the blondie bar.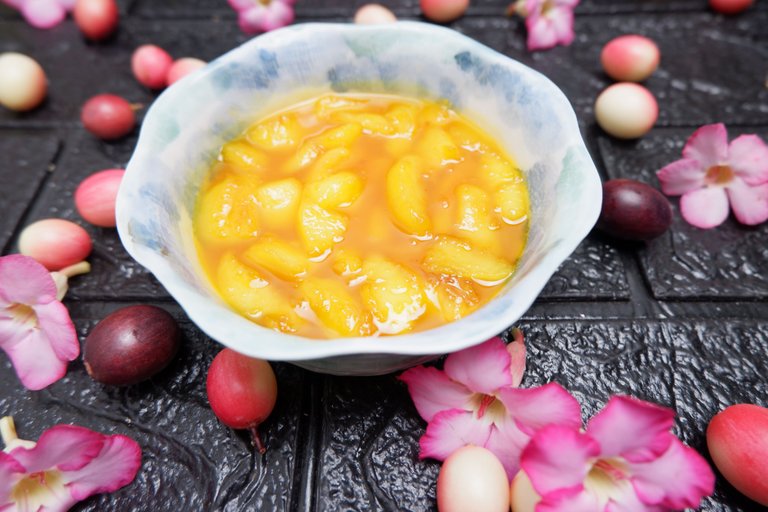 STEP 2 - PREPARE THE CHERRY PLUM
First rinsed and dried the cherry plums before cutting them. Cut a cherry plum in half and twist it.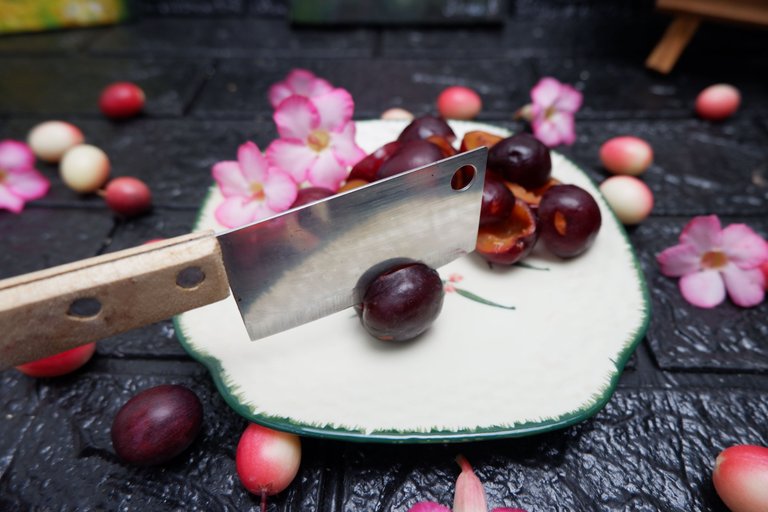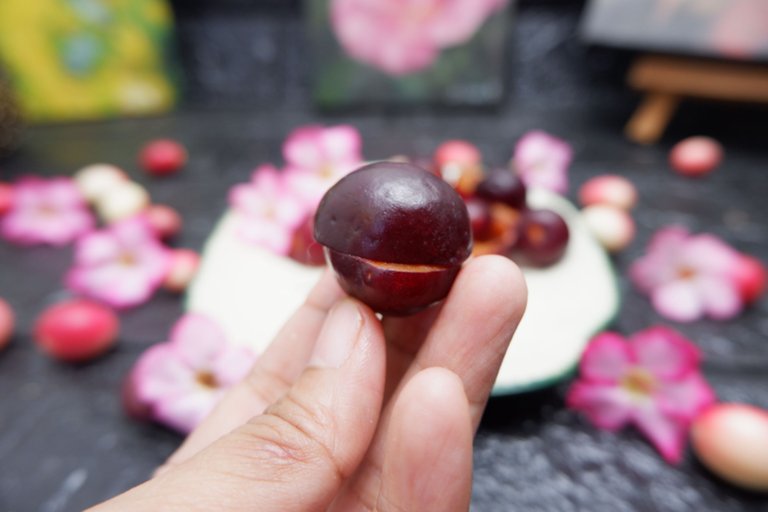 Open and use the seedless spoon to carefully dig off the pit. Gently lift out the pit and discard it.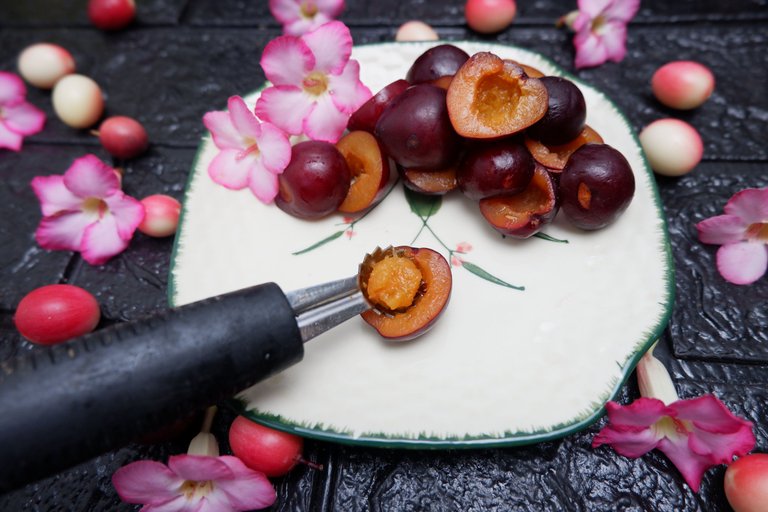 STEP 3 - HOW TO MAKE THE BLONDIE BARS BATTER
First, preheat the oven to 350 degrees F.
Second, Place the overripe the banana in the mixing bowl. Then mash the banana with a silicone spatula until they are completely pureed but possible to have a leftover lump.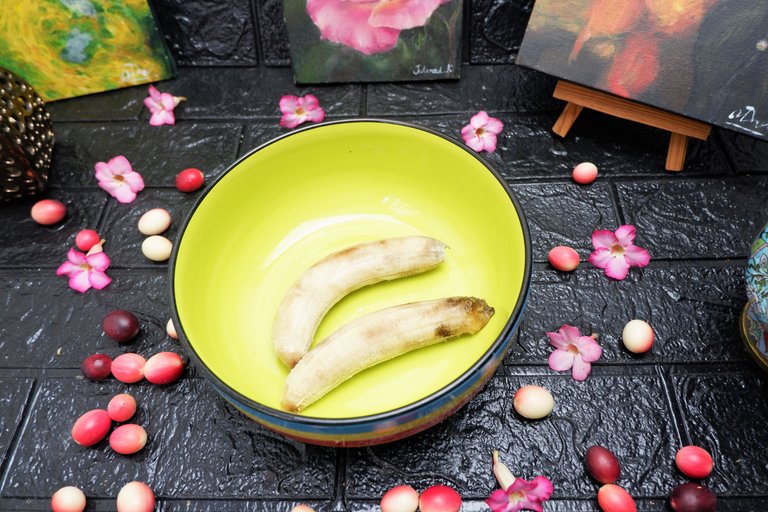 Follow with the other ingredients in a bowl. This includes Brown Cane Sugar, Canola Oil, Rice Vinegar, and Apple Sauce in the same mixing bowl.
Mix together until smooth and the sugar dissolves. Then set them aside.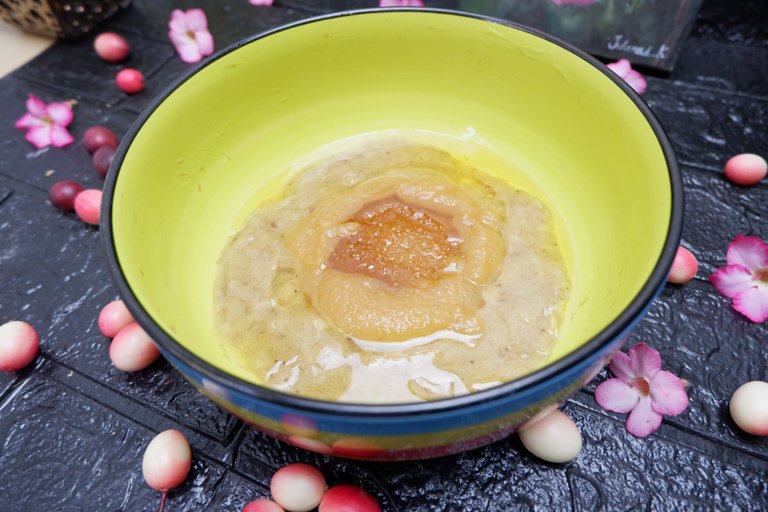 STEP 4 - COMBINE THE DRY INGREDIENTS
Next, add the dry ingredients, including Gluten-Free Flour, baking powder, and baking soda. Mix together until evenly incorporated and Sift them in the mixing bowl.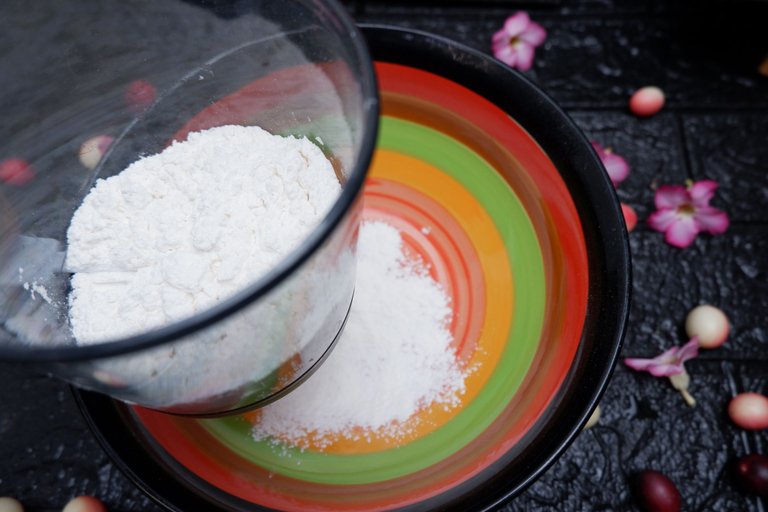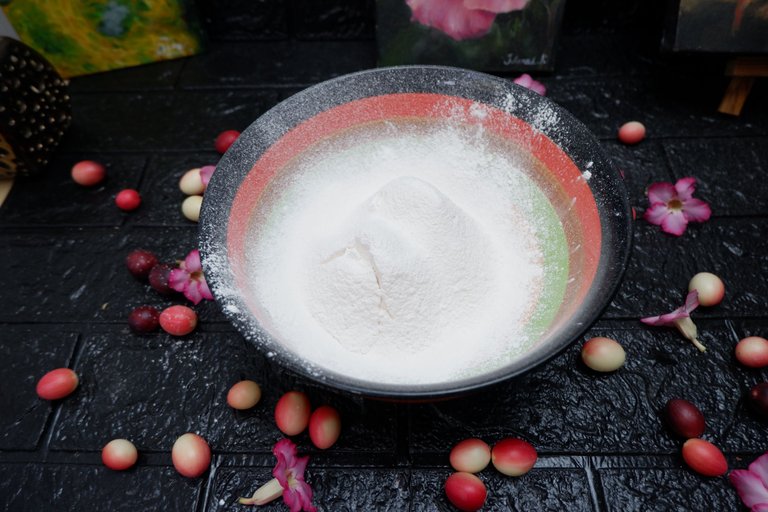 STEP 5 - COMBINE WET AND DRY INGREDIENTS
Pour the wet mixture into the dry mixing bowl.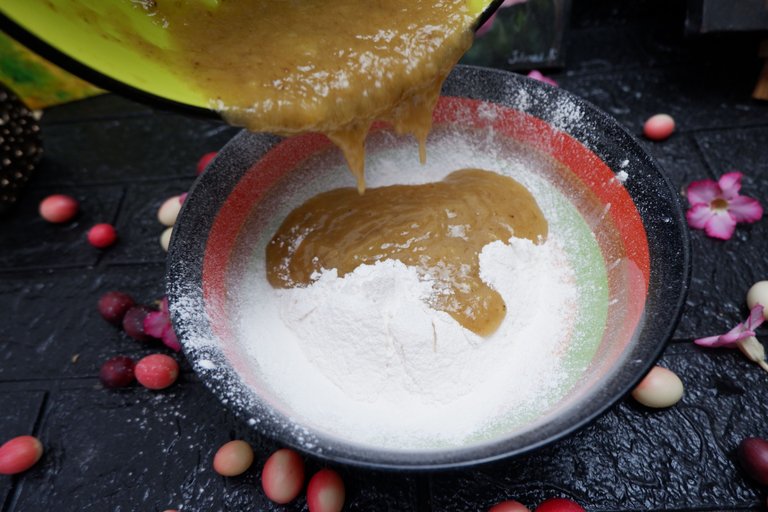 Mix together until evenly incorporated until no dry lumps remain but be careful not to over-mix the batter as that can make the blondies tough and dense.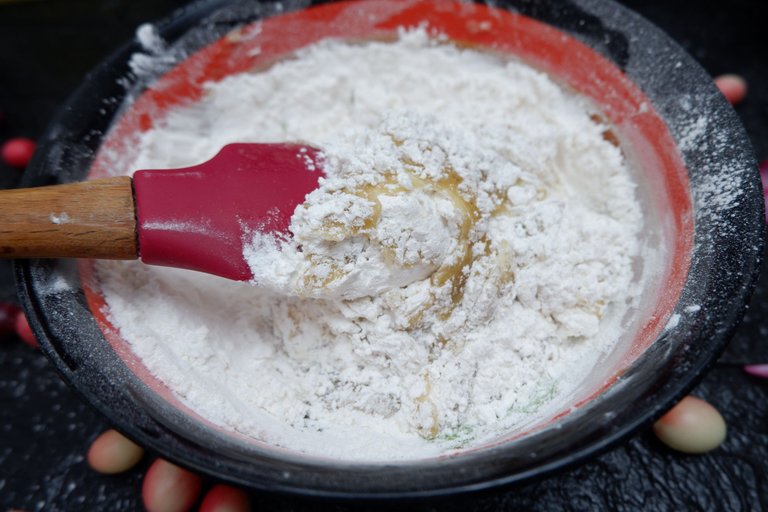 STEP 6 - ADD ON THE PEACE SYRUP
Transfer the peach syrup into the batter of blondie and gently combine until they are combined well.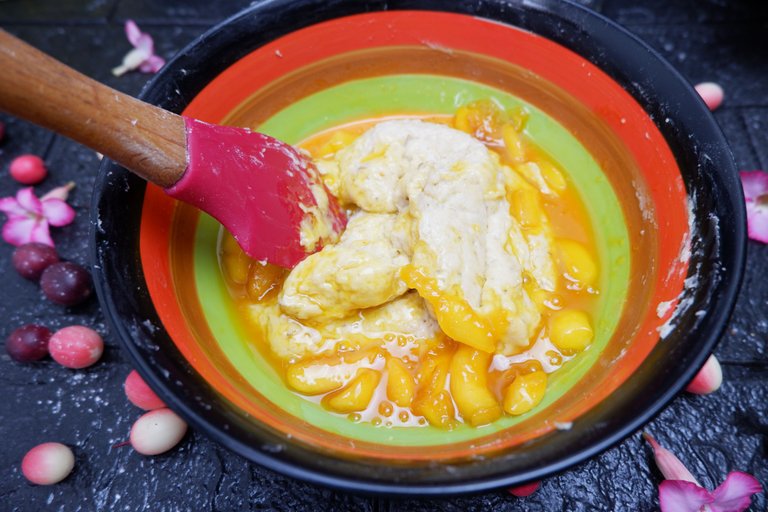 Bring out the baking tray which I use as a square baking dish at 10×6 inches. Grease the baking tray with margarine to be sure that the blondie can bring it out beautifully without any breaking.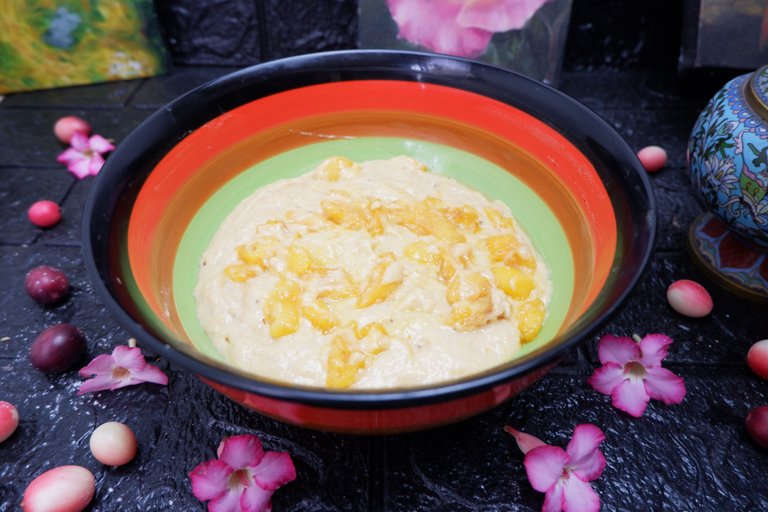 Brush all over the baking tray with the margarine and pour in the batter.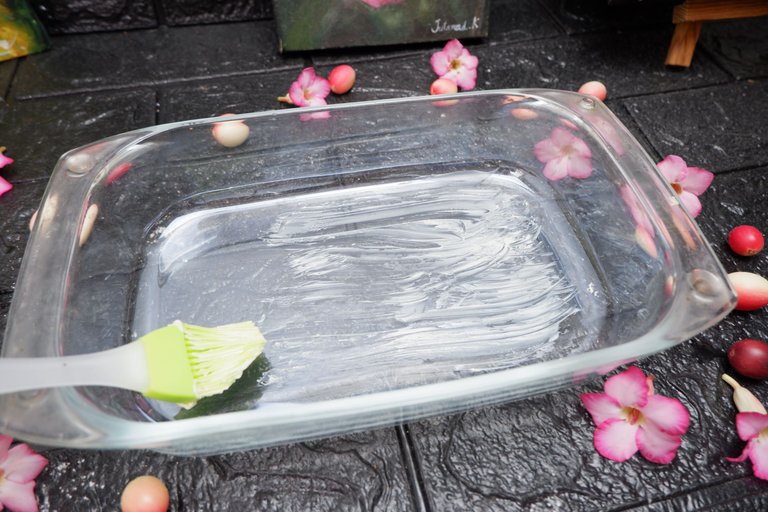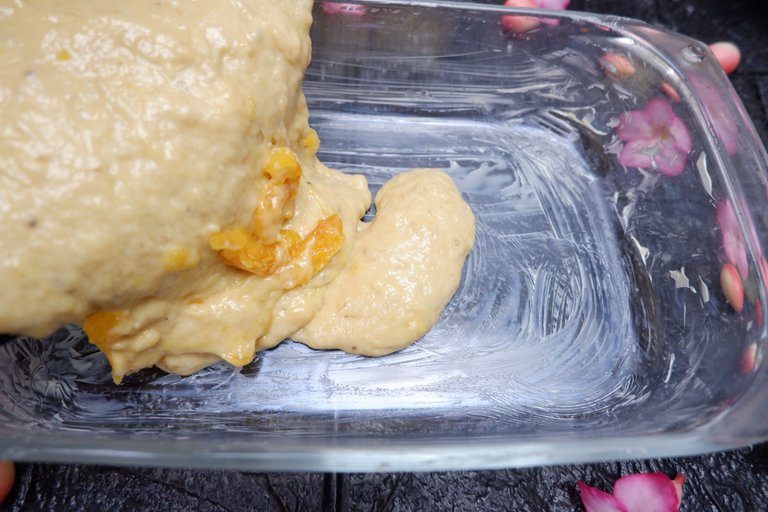 Use the silicone spatula and spread it level and equally thin.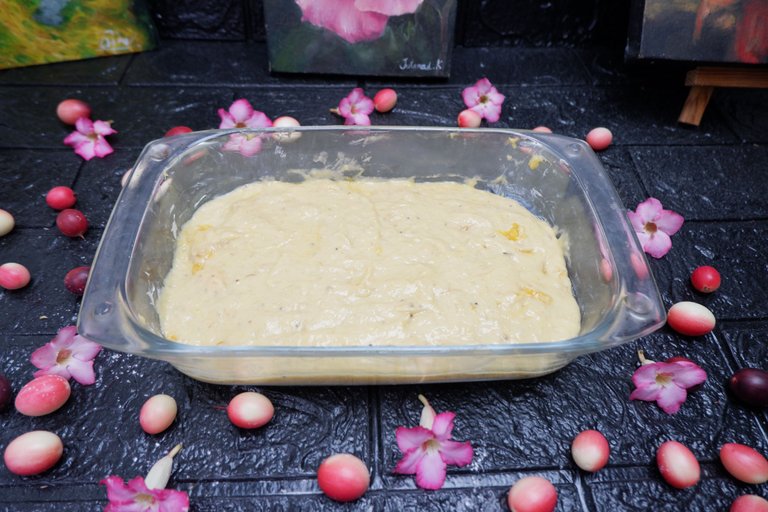 STEP 7 - TOPPING
Plug the cherry plum on top. Then sprinkle with cashew nut, proteins granola and vegan white choc chip.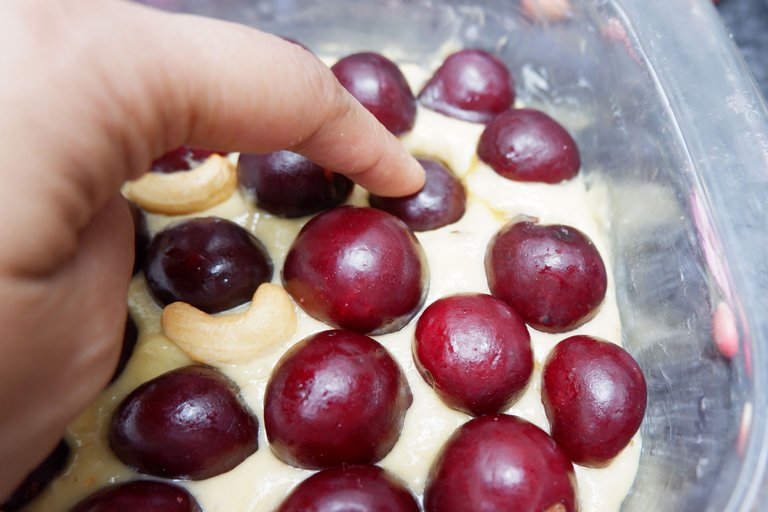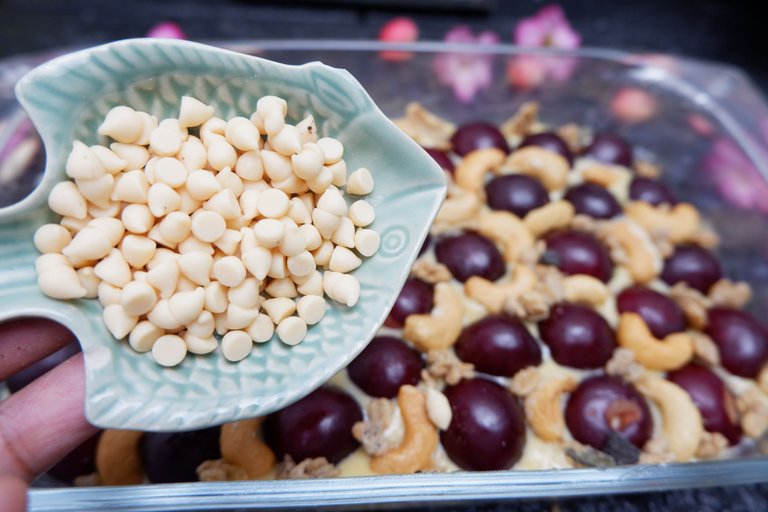 Be sure to let all the topping touch the batter. Otherwise, all the topping will fall apart after the baking is finished.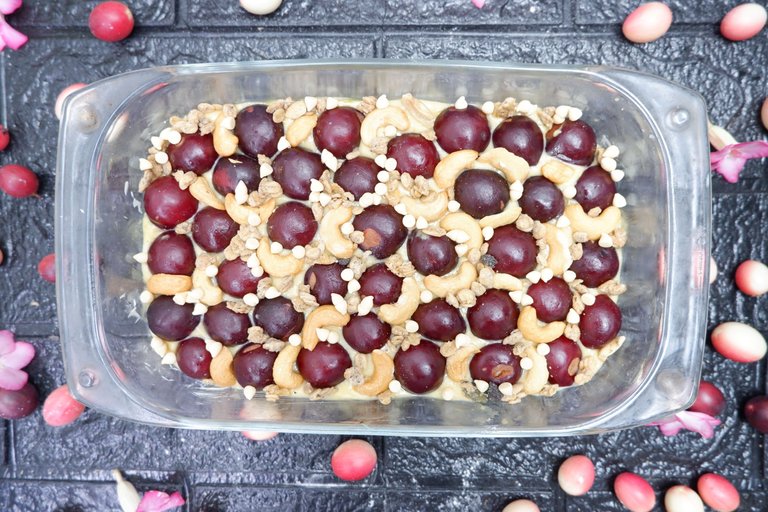 STEP 7 - BAKE IN THE OVEN
Bake at 350 F for 20 minutes until set and a skewer inserted into the center comes out with moist crumbs but no wet batter.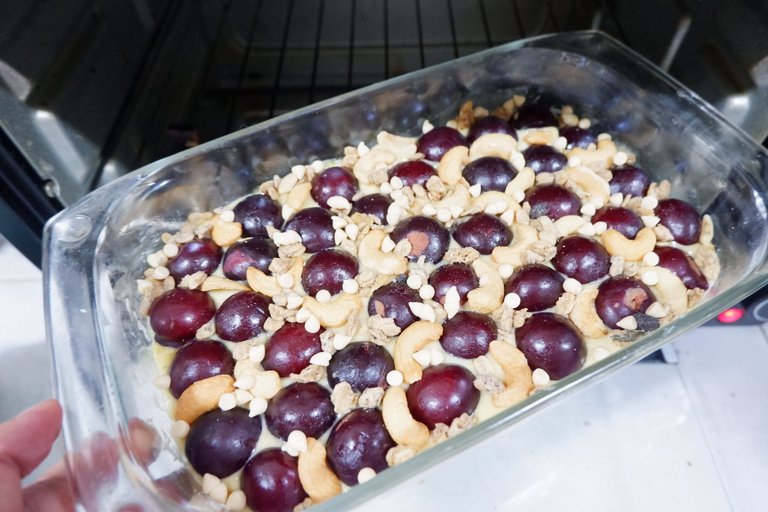 STEP 8 - PLATTER
After, remove the vegan summer bars from the oven. Let cool inside the baking tray for 30 minutes or until completely cooled.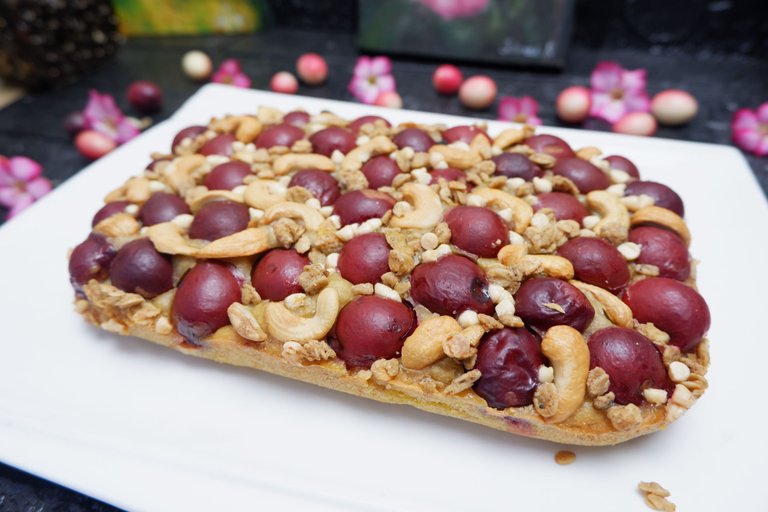 Gently lift the vegan summer bars out of the baking tray and slice them into bars and enjoy! These vegan bars are packed with bananas, peach, cherry plum, cashew nut, and nutrient granola. These vegan summer blondie bars are really moist, yummy, and healthy!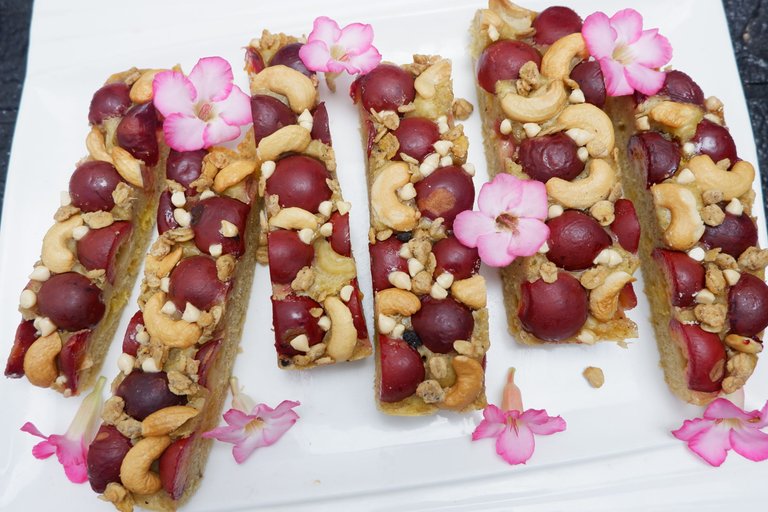 TIPS
I always wrap them in plastic wrap and bring them as an easy-to-grab snack. I prefer to cut them in a small tiny half size because this way of cutting will use less plastic wrap so I can travel with them with less guilt to use less plastic as less as possible.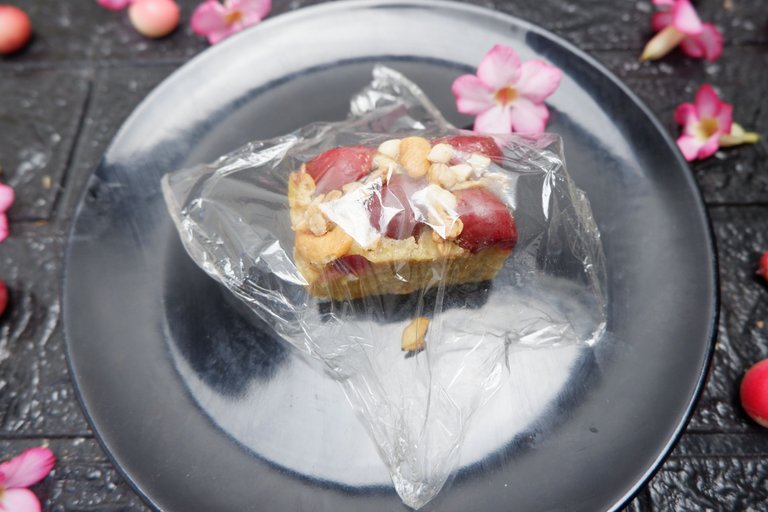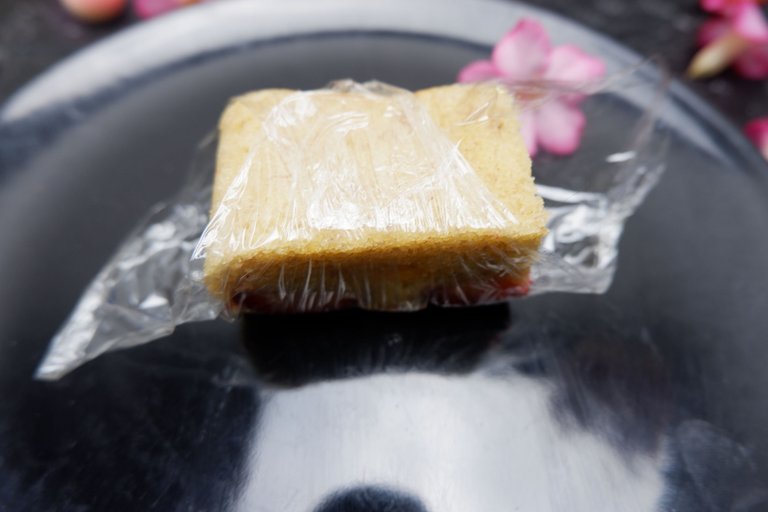 Wrap bars individually in plastic wrap and store them in a refrigerator for longer storage.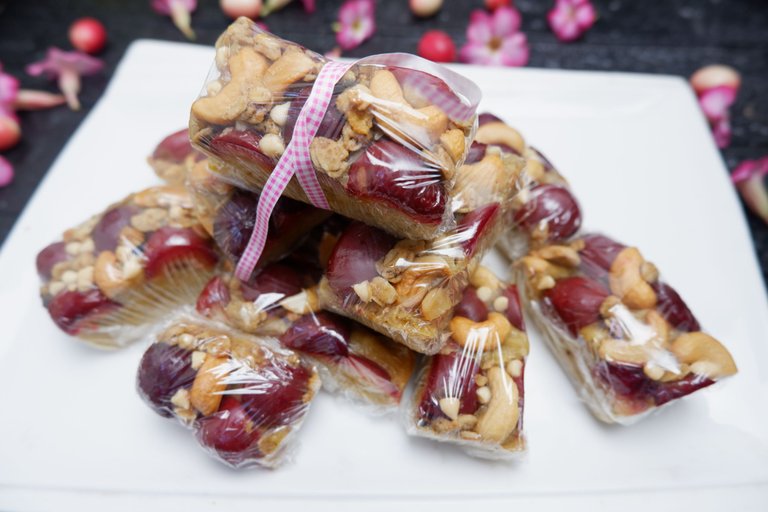 For those of us who have leftover bananas and other fruits in the freeze. I really recommend this recipe a try. It is taking just minutes to make and is incredibly delicious even without eggs or dairy. And I love this recipe and use the overripe fruits, especially in summer when the fruits are in the season.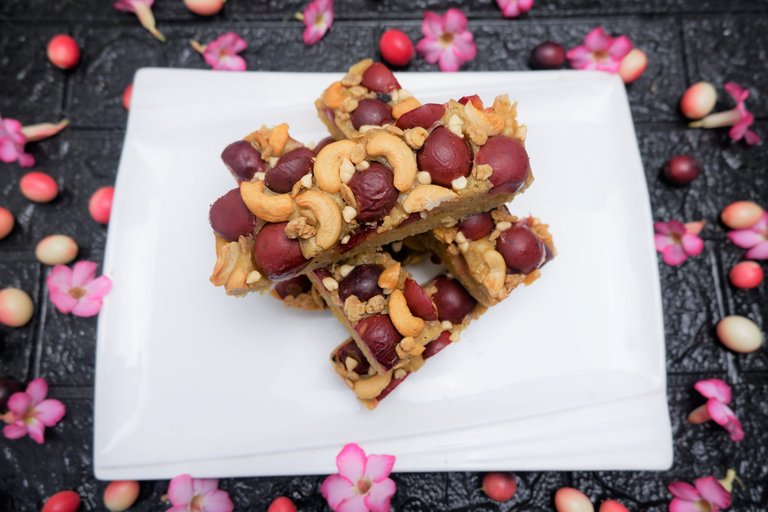 Hope you guys have a great week! 😀🌸🙏